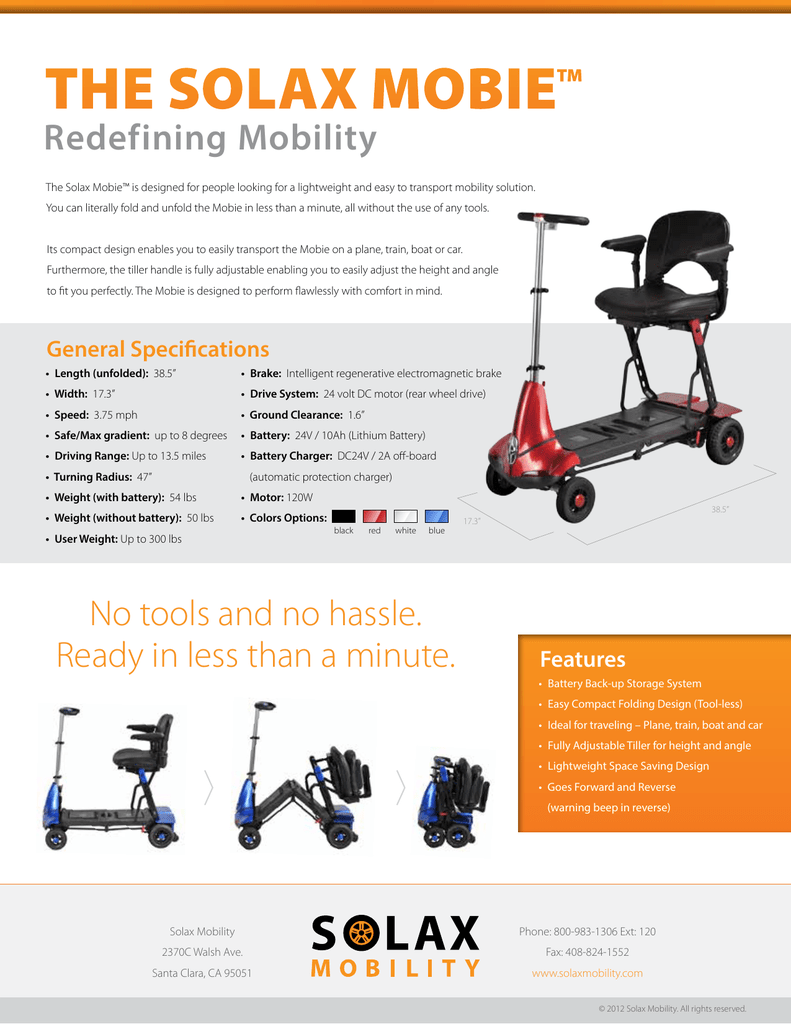 The Solax Mobie
TM
Redefining Mobility
The Solax Mobie™ is designed for people looking for a lightweight and easy to transport mobility solution.
You can literally fold and unfold the Mobie in less than a minute, all without the use of any tools.
Its compact design enables you to easily transport the Mobie on a plane, train, boat or car.
Furthermore, the tiller handle is fully adjustable enabling you to easily adjust the height and angle
to fit you perfectly. The Mobie is designed to perform flawlessly with comfort in mind.
General Specifications
• Length (unfolded): 38.5"
• Brake: Intelligent regenerative electromagnetic brake
• Width: 17.3"
• Drive System: 24 volt DC motor (rear wheel drive)
• Speed: 3.75 mph
• Ground Clearance: 1.6"
• Safe/Max gradient: up to 8 degrees
• Battery: 24V / 10Ah (Lithium Battery)
• Driving Range: Up to 13.5 miles
• Battery Charger: DC24V / 2A off-board
• Turning Radius: 47"
(automatic protection charger)
• Weight (with battery): 54 lbs
• Motor: 120W
• Weight (without battery): 50 lbs
• Colors Options:
• User Weight: Up to 300 lbs
38.5"
black
red
white
blue
No tools and no hassle.
Ready in less than a minute.
17.3"
Features
• Battery Back-up Storage System
• Easy Compact Folding Design (Tool-less)
• Ideal for traveling – Plane, train, boat and car
• Fully Adjustable Tiller for height and angle
• Lightweight Space Saving Design
• Goes Forward and Reverse
(warning beep in reverse)
Solax Mobility
Phone: 800-983-1306 Ext: 120
2370C Walsh Ave.
Fax: 408-824-1552
Santa Clara, CA 95051
www.solaxmobility.com
© 2012 Solax Mobility. All rights reserved.

* Your assessment is very important for improving the work of artificial intelligence, which forms the content of this project