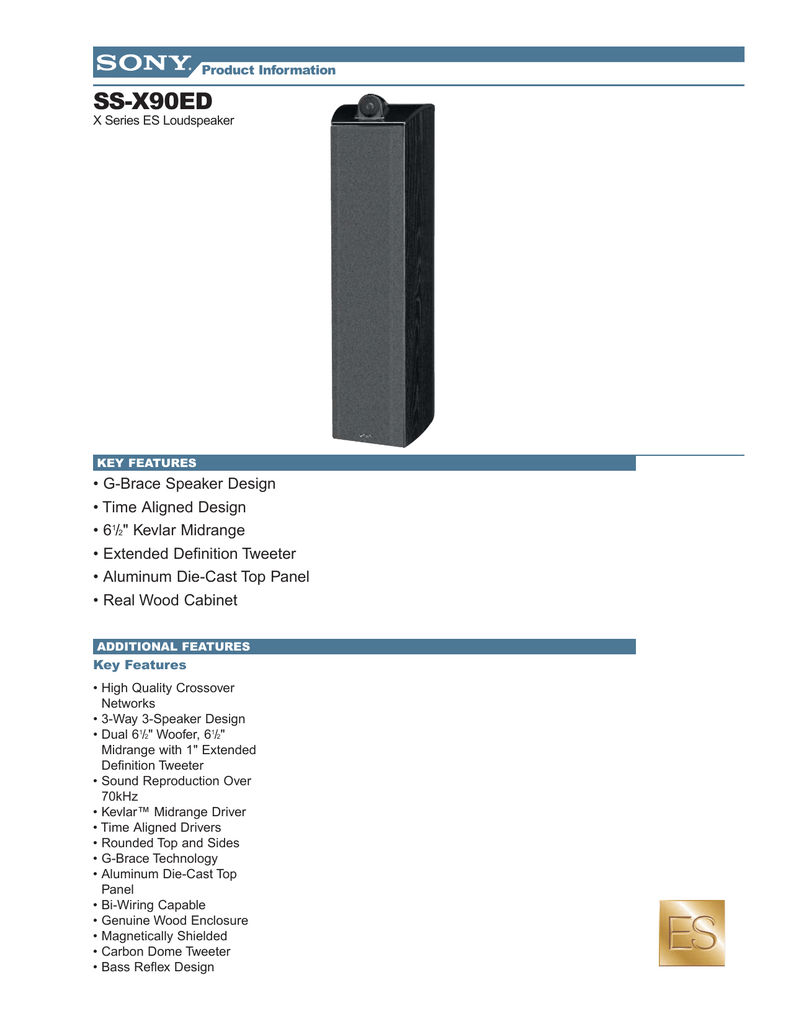 Product Information
SS-X90ED
X Series ES Loudspeaker
KEY FEATURES
• G-Brace Speaker Design
• Time Aligned Design
• 61/2" Kevlar Midrange
• Extended Definition Tweeter
• Aluminum Die-Cast Top Panel
• Real Wood Cabinet
ADDITIONAL FEATURES
Key Features
• High Quality Crossover
Networks
• 3-Way 3-Speaker Design
• Dual 61/2" Woofer, 61/2"
Midrange with 1" Extended
Definition Tweeter
• Sound Reproduction Over
70kHz
• Kevlar™ Midrange Driver
• Time Aligned Drivers
• Rounded Top and Sides
• G-Brace Technology
• Aluminum Die-Cast Top
Panel
• Bi-Wiring Capable
• Genuine Wood Enclosure
• Magnetically Shielded
• Carbon Dome Tweeter
• Bass Reflex Design
Product Information
SS-X90ED
X Series ES Loudspeaker
KEY TECHNOLOGY
The Structure of Great Sound What cannot be seen truly can be heard.
Inside of every Sony X-Series loudspeaker, one of the most elaborate bracing
structures ever used is employed. The G-Brace™ bracing structure represents
the "grounding" that is critical to an accurate soundstange. Traditional speaker
designs mount the drivers directly to the front baffle, which can introduce resonance and smear the image. A driver needs to be isolated properly from the
front baffle, otherwise the most critical of frequencies can drift as vibration
occurs. G-Brace substructure allows the driver to be mounted to a sub-structure
found within the speaker cabinet, not relying on the front baffle for support. Any
natural resonance created by the driver is transmitted away from the front baffle
and is absorbed by the bracing structure itself. Even when driven, the loudspeakers' image maintains focus allowing for accuracy at all levels.
ADDITIONAL FEATURES
Specifications
Accessories
Weights & Measures*
Audio
Supplied Accessories
• Frequency Response:
35-70,000 Hz
• Power Handling Capability:
200 Watts Continuous
• Sensitivity (dB/W/m):
90 dB
• Impedance: 4 Ohms
• Mid-Woofer Size/Type:
61/2" Kevlar™
• Woofer Size/Type:
61/2" Paper
• Tweeter Size/Type:
1" Carbon Dome
• Instruction Manual
• Spikes (4 Per Speaker)
• Dimensions (W x H x D):
10.2" x 39.3" x 11.1"
• Weight: 70.4 lbs.
*Weights and Measures are approximate.
©2002 Sony Electronics Inc. All rights
reserved. Features and specifications are
subject to change without notice.

* Your assessment is very important for improving the work of artificial intelligence, which forms the content of this project