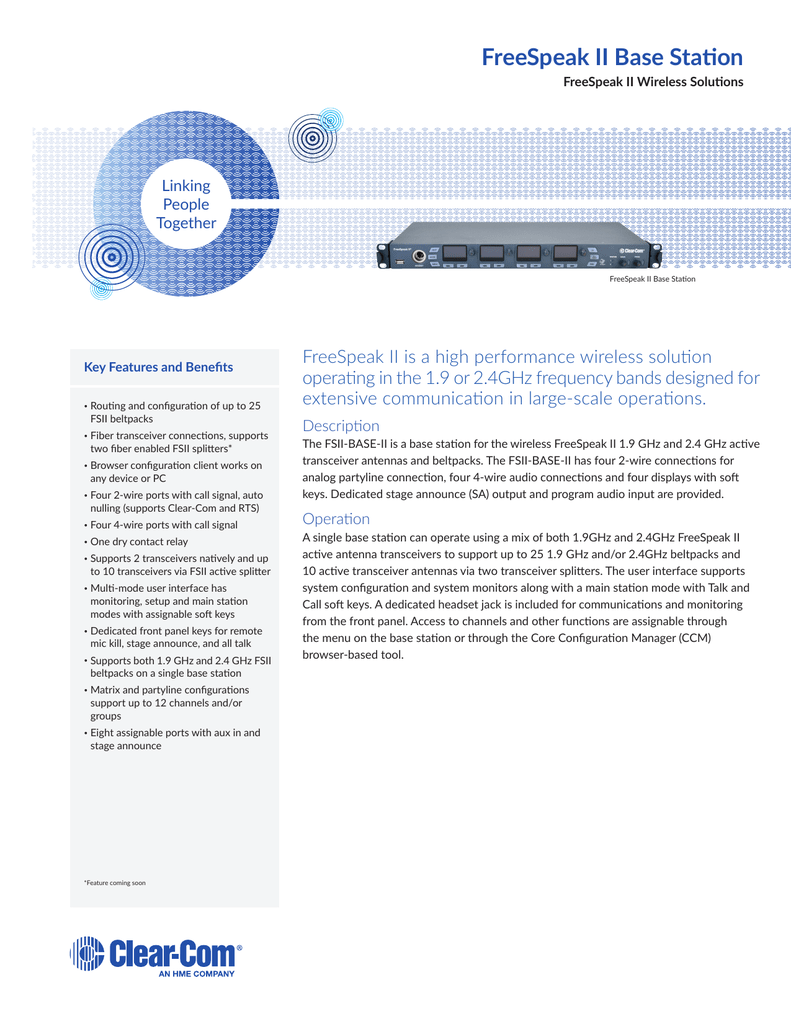 FreeSpeak II Base Station
FreeSpeak II Wireless Solutions
Linking
People
Together
FreeSpeak II Base Station
Key Features and Benefits
•
Routing and configuration of up to 25
FSII beltpacks
•
Fiber transceiver connections, supports
two fiber enabled FSII splitters*
•
Browser configuration client works on
any device or PC
•
Four 2-wire ports with call signal, auto
nulling (supports Clear-Com and RTS)
•
Four 4-wire ports with call signal
•
One dry contact relay
•
Supports 2 transceivers natively and up
to 10 transceivers via FSII active splitter
•
Multi-mode user interface has
monitoring, setup and main station
modes with assignable soft keys
•
Dedicated front panel keys for remote
mic kill, stage announce, and all talk
•
Supports both 1.9 GHz and 2.4 GHz FSII
beltpacks on a single base station
•
Matrix and partyline configurations
support up to 12 channels and/or
groups
•
Eight assignable ports with aux in and
stage announce
*Feature coming soon
FreeSpeak II is a high performance wireless solution
operating in the 1.9 or 2.4GHz frequency bands designed for
extensive communication in large-scale operations.
Description
The FSII-BASE-II is a base station for the wireless FreeSpeak II 1.9 GHz and 2.4 GHz active
transceiver antennas and beltpacks. The FSII-BASE-II has four 2-wire connections for
analog partyline connection, four 4-wire audio connections and four displays with soft
keys. Dedicated stage announce (SA) output and program audio input are provided.
Operation
A single base station can operate using a mix of both 1.9GHz and 2.4GHz FreeSpeak II
active antenna transceivers to support up to 25 1.9 GHz and/or 2.4GHz beltpacks and
10 active transceiver antennas via two transceiver splitters. The user interface supports
system configuration and system monitors along with a main station mode with Talk and
Call soft keys. A dedicated headset jack is included for communications and monitoring
from the front panel. Access to channels and other functions are assignable through
the menu on the base station or through the Core Configuration Manager (CCM)
browser-based tool.
FreeSpeak II Base Station
FreeSpeak II Wireless Solutions
Technical Specifications
Stage Announce Output: XLR-3M, transformer isolated, line-level output
Front Panel Headset: 4-pin male and 5-pin female options
Front Panel Displays: 4 OLED's with encoders and assignable soft keys
Front Panel Indicators: Antenna Status, Beltpack Status
External Power Supply Connection: 12VDC
Base Station Programming/Editing: Push-to-enter rotary encoder
Base-to-Beltpack Frequency Response: 100Hz - 7.1kHz
No. of Beltpacks per Base Station: 25
No. of Transceiver/ Antennas Supported by Base: 10
No. of Active Transceiver Ports: 2, one port can remotely power up to 1
FSII splitter or 1 FSII transceiver
PC Programming Port: 2 LAN RJ45
Relay Port: DB15, supports one set of relays and 2 GPI
Partyline A ,B,C,D (each): XLR-3F, on/off termination switch, ClearCom and RTS compatible
Partyline Power On/Off: A/B, C/D paired
Partyline Output Voltage: 26 - 28VDC, 850mA per pair (A/B or C/D)
Four-Wire/Matrix Connection: 4 RJ-45
Program Input: XLR-3F, transformer isolated, line-level input
Dimensions
1.75 x 19.0 x 10.2 in (HxWxD)
(44 x 483 x 259 mm)
Weight
5.57 lbs (2.5 kg)
Front Panel
Front Panel Legend
1. USB
7.
3.
8. 9. 11.
2. Headset Connector
3. Headset Button
4. Mode Button
5. Menu Button
6. Soft Keys
6.
1.
4. 5.
2.
10.
12.
13.
14.
7. Displays
8. Rotary control encoders
9. Stage Announce
10.Remote Mic Kill
Back Panel
7.
11.All Talk
11.
12. Status LEDs
2.
13.Main Level Encoder
14.Program Level Encoder
Back Panel Legend
1. IEC Power Connection (110-230 VAC)
3.
4.
5.
6.
8.
9.
10.
12.
2. Grounding Screw
3. External power supply connection
4. Fiber Transceiver connections (SFP)*
Order Codes
5. Copper Transceiver connections (RJ45)
Part Number and Description
6. DECT SYNC connections (RJ45)
FSII-BASE-II: FreeSpeak II Base
Station with XLR-4M headset
connector
7. 2-wire connections A,B,C,D (XLR3M)
FSII-BASE-II-X5: FreeSpeak II
Base Station with XLR-5F headset
connector
10.Stage Announce Out (XLR3M)
8. 4-wire connections, 1,2,3,4 (RJ45)
9. Program In (XLR3M)
11.LAN1, LAN2, (Ethercon RJ45)
12.GPIO relays (DB15F)
*Feature coming soon
Notice About Specifications
www.clearcom.com
® Clear-Com and the Clear-Com logo and Eclipse
are registered trademarks of HM Electronics, Inc.
Copyright © 2016. Clear-Com, LLC. All rights reserved.
While Clear-Com makes every attempt to maintain the accuracy of the information
contained in its product manuals, that information is subject to change without
notice. Performance specifications included in this manual are design-center specifications and are included for customer guidance and to facilitate system installation.
Actual operating performance may vary.
v.1_5/16
1.

* Your assessment is very important for improving the work of artificial intelligence, which forms the content of this project