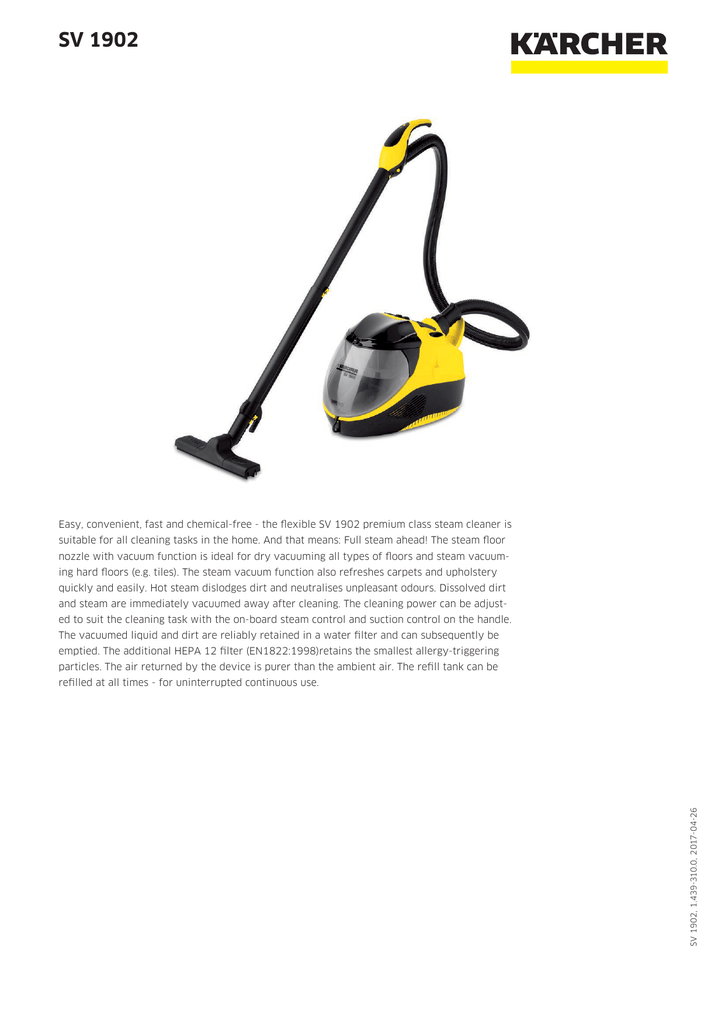 SV 1902
Easy, convenient, fast and chemical-free - the flexible SV 1902 premium class steam cleaner is
suitable for all cleaning tasks in the home. And that means: Full steam ahead! The steam floor
nozzle with vacuum function is ideal for dry vacuuming all types of floors and steam vacuuming hard floors (e.g. tiles). The steam vacuum function also refreshes carpets and upholstery
quickly and easily. Hot steam dislodges dirt and neutralises unpleasant odours. Dissolved dirt
and steam are immediately vacuumed away after cleaning. The cleaning power can be adjusted to suit the cleaning task with the on-board steam control and suction control on the handle.
The vacuumed liquid and dirt are reliably retained in a water filter and can subsequently be
emptied. The additional HEPA 12 filter (EN1822:1998)retains the smallest allergy-triggering
particles. The air returned by the device is purer than the ambient air. The refill tank can be
SV 1902, 1.439-310.0, 2017-04-26
refilled at all times - for uninterrupted continuous use.
SV 1902
 2-tank system for continuous use
Order No.
1.439-310.0
EAN code
4039784071544
Max. power
W
2300
Water capacity boiler
l
1.2
Refill tank
l
0.5
Max. steam pressure
bar
4
Water filter
l
1.2
Vacuum
mbar / kPa
210 / 21
Dimensions (L × W × H)
mm
520 × 340 × 340
Heat-up time
min
10
Equipment
Child safety lock/safety valve

Steam flow / suction strength control
5-stage / 4-stage
HEPA 12-Filter (EN 1822:1998)


Floor cleaning kit with steam vacuum
function
Upholstery nozzle
Crevice nozzle
FoamStop defoamer
Floor nozzle with attachments
Hand nozzle, detail nozzle, window
tool
2-tank system
 Included in delivery. 





SV 1902, 1.439-310.0, 2017-04-26
Technical data
Accessories for SV 1902
1.439-310.0
1
2
3
Order No.
4
Price
Description
Steam vacuum cleaner accessories
HEPA filter*
1 2.860-229.0
SV round brush kit
2 2.860-231.0
The HEPA high-performance filter (EN1822:1998) can be
relied upon to capture pollen, fungal spores, bacteria and

dust mite excrement. It filters 99.9% of all particles over 0.3
µm. *(EN: 1822: 1998)
Round brush set in four different colours for different uses. 
Cloth kit
Microfibre cloth kit, cover
3 2.863-174.0
Terry cloth cover
4 6.370-990.0
2 soft microfibre velour covers for hand tool. Ideal for
removing stubborn dirt, e.g. on cookers.
Set of 5 high-quality cotton cleaning cloths suitable for use
with hand tool


SV 1902, 1.439-310.0, 2017-04-26
 Included in delivery.  Available accessories. 
* Your assessment is very important for improving the work of artificial intelligence, which forms the content of this project