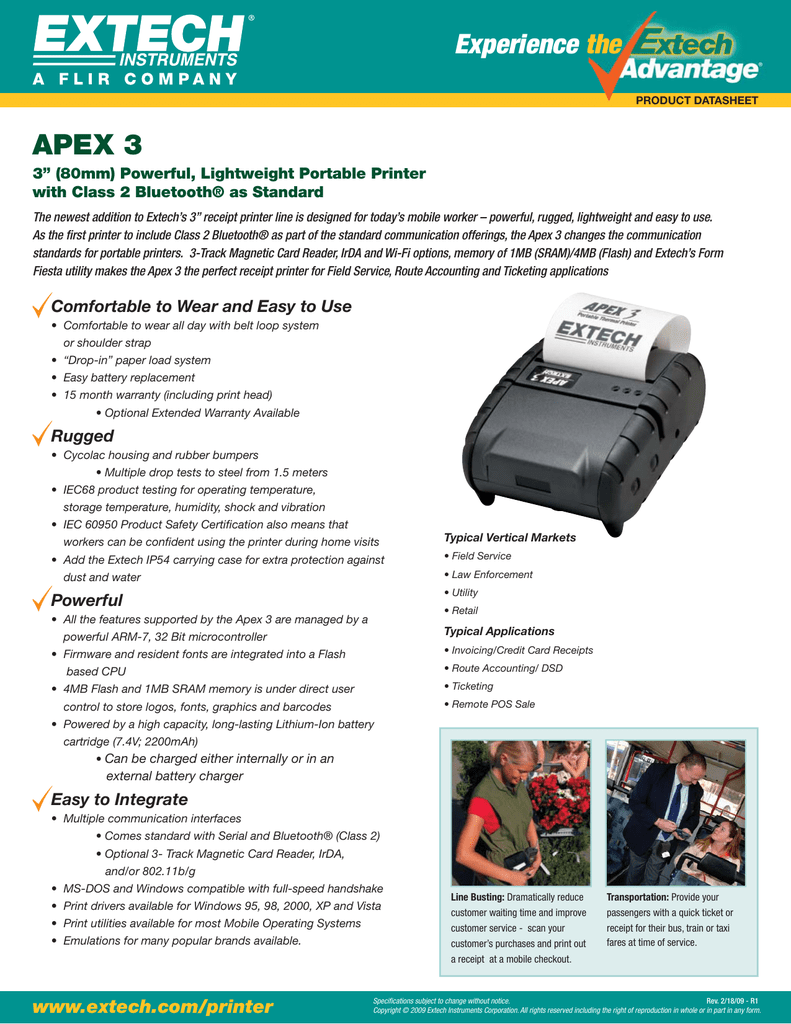 Experience the
PRODUCT DATASHEET
APEX 3
3" (80mm) Powerful, Lightweight Portable Printer
with Class 2 Bluetooth® as Standard
The newest addition to Extech's 3" receipt printer line is designed for today's mobile worker – powerful, rugged, lightweight and easy to use.
As the first printer to include Class 2 Bluetooth® as part of the standard communication offerings, the Apex 3 changes the communication
standards for portable printers. 3-Track Magnetic Card Reader, IrDA and Wi-Fi options, memory of 1MB (SRAM)/4MB (Flash) and Extech's Form
Fiesta utility makes the Apex 3 the perfect receipt printer for Field Service, Route Accounting and Ticketing applications
Comfortable to Wear and Easy to Use
• Comfortable to wear all day with belt loop system
or shoulder strap
• "Drop-in" paper load system
• Easy battery replacement
• 15 month warranty (including print head)
• Optional Extended Warranty Available
Rugged
• Cycolac housing and rubber bumpers
• Multiple drop tests to steel from 1.5 meters
• IEC68 product testing for operating temperature,
storage temperature, humidity, shock and vibration
• IEC 60950 Product Safety Certification also means that
workers can be confident using the printer during home visits
• Add the Extech IP54 carrying case for extra protection against
dust and water
Typical Vertical Markets
• Field Service
• Law Enforcement
• Utility
Powerful
• All the features supported by the Apex 3 are managed by a
powerful ARM-7, 32 Bit microcontroller
• Firmware and resident fonts are integrated into a Flash
based CPU
• 4MB Flash and 1MB SRAM memory is under direct user
control to store logos, fonts, graphics and barcodes
• Powered by a high capacity, long-lasting Lithium-Ion battery
cartridge (7.4V; 2200mAh)
• Can be charged either internally or in an
• Retail
Typical Applications
• Invoicing/Credit Card Receipts
• Route Accounting/ DSD
• Ticketing
• Remote POS Sale
external battery charger
Easy to Integrate
• Multiple communication interfaces
• Comes standard with Serial and Bluetooth® (Class 2)
• Optional 3- Track Magnetic Card Reader, IrDA,
and/or 802.11b/g
• MS-DOS and Windows compatible with full-speed handshake
• Print drivers available for Windows 95, 98, 2000, XP and Vista
• Print utilities available for most Mobile Operating Systems
• Emulations for many popular brands available.
www.extech.com/printer
Line Busting: Dramatically reduce
customer waiting time and improve
customer service - scan your
customer's purchases and print out
a receipt at a mobile checkout.
Transportation: Provide your
passengers with a quick ticket or
receipt for their bus, train or taxi
fares at time of service.
Rev. 2/18/09 - R1
Specifications subject to change without notice.
Copyright © 2009 Extech Instruments Corporation. All rights reserved including the right of reproduction in whole or in part in any form.
Apex 3
Print Mechanism:
Printing Method:
Print Resolution:
Printing Width:
Print Speed:
Paper-Out/TOF
Detection:
Service Life:
Pulse:
Abrasion Resistance:
Direct Thermal
203 dpi/ 8 dots mm
2.83" (72mm)
Up to 2" per second
Photo Interrupter
100 million MCTF
50KM
User Interface:
Status indicators:
User Switches:
Mechanical:
Construction:
Dimensions:
Operating Characteristics:
Printing Mode:
Extech Line Print Mode
Page Printing Mode
Character Set:
ASCII International
PC Line Draw
Various Resident Fonts
Int'l Character Sets:
Simplified & Traditional
Chinese, Hebrew, Arabic,
Polish, Greek, Cyrillic
Optional Character Sets: Downloadable
fixed-width fonts
Graphic Print:
Supports 8-bit graphic
printing, custom font, logo
downloading
Barcode Symbologies:
Linear:
Codes 39, Code128 A/B/C,
UCC/EAN-128, Interleaved2
of 5, UPC/EAN/JAN and
Codabar
2D:
PDF417
Memory:
2MB SRAM, 4MB Flash
CPL:
12, 28, 36, 48, 57, 64, 72
Print Contrast:
Auto and user selectable
Print Media:
Media Type:
Direct Thermal Paper
(Standard is Kansaki P390)
Paper Width:
3.125" (80mm)
Max Roll Size:
43' Length @ OD: 1.375"
Roll Core ID:
0.4"
Paper Rolls per Charge: ~5
Total Length per Charge: ~235 ft (71.6m)
Power:
Battery:
Battery Life:
Charging Time:
External Charging
Options:
DC Power Pack:
In-Vehicle Charger:
Power ON/OFF:
Internal Rechargeable 2 cell
Lithium-Ion battery
(2200mAh)
80% of original capacity
after 300 cycles
180 Minutes
100V~240V AC
Input 10V/1.32 output
10.6V~30C Cigarette
Lighter Adaptor
3 LEDs (2 are multi
functioning): Power/ERROR,
Charging, Ready/Fault
2 Switches - Power
(On/Off), Feed
Weight:
Warranty:
Standard:
Optional:
Cycolac Enclosure with
Rubber Bumpers
6.1"Lx5"Wx2.27"H
(156L x127.2Wx 57.6H mm)
14.9 oz (422g)
15 month standard
Up to 5 year programs at
extra charge
Environmental Specifications:
Operating Temp:
Storage Temp:
Charging Temp:
Humidity:
Drop:
14° to 122°F (-10° to 50°C)
-4° to 140°F (-20° to 60°C)
32° to 122°F (0° to 50°C)
122°F (50°C) @ 85% RH for
96 Hours
Exceeds industry standard
for drop
The Apex 3 comes complete
with the following:
• RS232
• Class 2 Bluetooth®
• Belt Loop System
• Battery
• 1 Roll of Media
• Universal Adaptor
• Cleaning Pen
• Quick Guide
• 15 month warranty
Communication Options:
Agency Approvals:
CC: Part 15 Subpart B, Class B
CE: EN60950
CE: EN55022 Class B;
CE: EN61000-3-2;
CE: EN61000-3-3;
CE: EN50024
AS/NZ: 3548 Class B
Complies with EMC Directive 89/336/EEC and Low
Voltage Directive 73/23/EEC
Conforms to ANSI/UL STD 60950 and Certified to
CAN/CSA STD C22.2 No. 60950-00
CB Certified, No. 60950-00
GS Certified, #04US00384-1
ETL Listed, control # 3046813
IEC 68 certified
IP54 Rated (with Environmental Case)
Software:
Extech Configuration Utility includes:
• Font Download
• Bluetooth® Set-up
• Wi-Fi Set-Up
• Communications Parameter set-up
• Printer Custom Attribute Set-up
• Logo Download
• IrDA
• Wi-Fi
• 3-Track Magnetic Card Reader
Optional Accessories:
• 2-Bay Battery Charger
• IP54 Environmental Case
• Shoulder Strap w/Quick Clip
• 10.6V~30V In-Vehicle Adaptor
• Coiled Cable, Straight Plug (RJ to D9)
Print Utilities available for:
• Windows CE
• Pocket PC
• WM5
• WM6
• Palm
Compatible with the
following SDKs:
• PrinterCE
• PrinterCE.NET CF
• PrintBoy
• Stevens Creek
Form Fiesta Page Printing Utility
Bootloader for Uploading Firmware
Power ON/OFF switch, or
by raising RTS input,or
sending a single
character through serial
input. Auto power down
timer can be set or disabled
through user application.
www.extech.com/printer
Rev. 2/18/09 - R1
Specifications subject to change without notice.
Copyright © 2009 Extech Instruments Corporation. All rights reserved including the right of reproduction in whole or in part in any form.