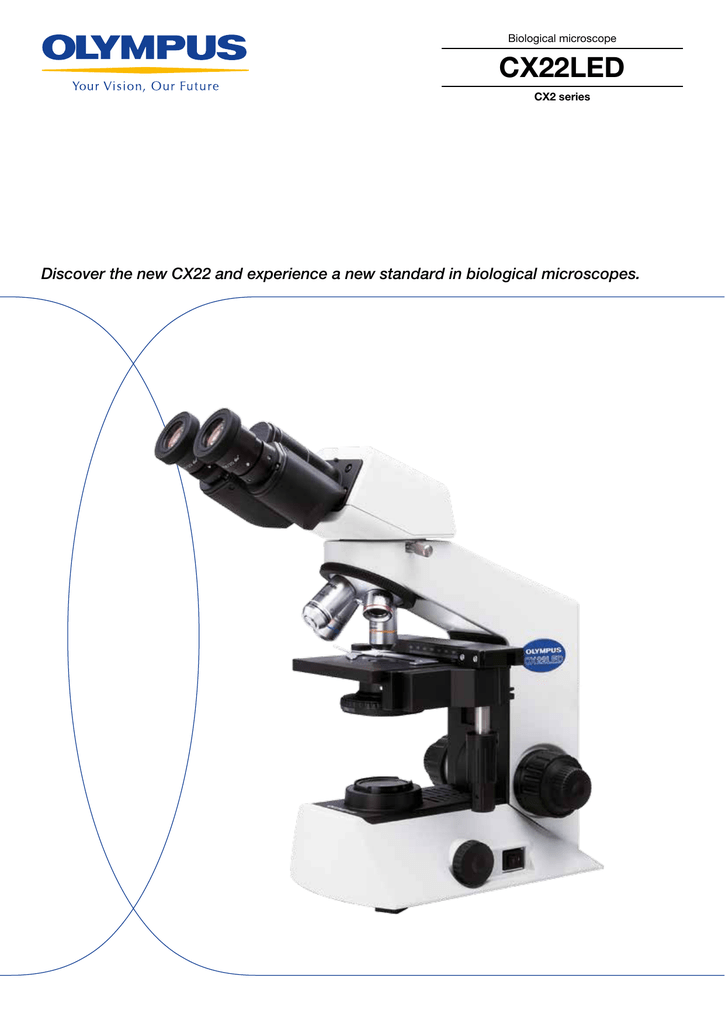 Biological microscope
CX22LED
CX2 series
Discover the new CX22 and experience a new standard in biological microscopes.
EXPAND YOUR VIEWING RANGE WHILE
MAINTAINING EXCEPTIONAL FLATNESS
Improved efficiency with a 23%
FN20
wider observation area
(compared to previous model)
A high-power view of a non-invasive
ductal carcinoma of the breast
Siedentopf binocular tube supports simple eye-point
adjustment
A new Siedentopf binocular tube enables a wider adjustment
range of eye-point height from 378 to 428 mm from the tabletop,
which allows more users of different physiques to comfortably
use the microscope. What's more, the interpupillary distance
can be adjusted within a range of 48 to 75 mm, with a scale
provided for easy alignment as well as a mechanism for dioptre
adjustment. This lets the user make quick and a
ccurate
adjustments to match the dioptre and interpupillary distance.
Specially designed pin keeps binocular tube from
falling off
With conventional microscopes, the binocular tube can
sometimes fall off when it is rotated. The CX22LED, however,
comes with a specially designed pin that effectively eliminates
such worries. The eyepieces, objectives, condenser and other
components are also secured to the microscope frame –
preventing them from falling off or being lost during transfer.
Siedentopf binocular tube
Pin keeps binocular tube from falling off
A rackless stage allows for unhindered access to
focusing and stage controls
The CX22LED features a wire-driven stage, offering smoother
operation and outstanding durability. Since there's no
protruding rack, there's also no risk of bumping your hand on
the stage.
Seize the coaxial handle for a smoother kind of focusing
Coarse focusing torque can be adjusted to suit the viewer's
preferences and usage needs. A coaxial focusing knob allows
both coarse and fine focal adjustment to be operated from
either the left or right side.
Rackless stage
Coaxial handle
Focus on safety, with a stopper that prevents specimen
damage
With the CX22LED, there's no need to worry about the objective
and the slide glass accidentally coming into contact. Simply
lock the upper frame in position to protect the objectives and
specimens from the possibility of damage. This function is also
useful for quick refocusing when changing specimens.
Anti-fungal coating for the objectives, eyepieces and
observation tube
Many microscopes are vulnerable to mould and fungi when
used in hot, humid environments. The CX22LED objectives,
eyepieces and observation tube have all undergone anti-fungal
treatment, enabling optimal viewing and greater durability.
CX22LED
The LED has a long service life of 20,000 hours, offers low power consumption and is designed to
deliver natural colour tone.
Sealed area
Focus stopper
Anti-fungal coating
CX22LED dimensions
Wooden storage box (optional)
(unit: mm)
50
60
70
75
191
291
385
384.5*
70
60
50
6
4
1
5
3
2
154
238
197.7
The length marked with an asterisk (*) may vary according to
interpupillary distance. Distance for figure shown is 62 mm.
Dimensions: 268 (W) × 309 (D) × 474 (H) mm
CX22LED specifications
CX22LEDRF(S1/S2)
Optical system
Infinity optical system
Illumination system
Built-in transmitted illumination system, 0.5 W LED
Focusing
Stage height movement (coarse movement stroke: 20 mm)
Fine focus graduation: 2.5 µm
Revolving nosepiece
Fixed quadruple nosepiece
Stage
Wire movement mechanical fixed stage: 120 × 132 mm
Travelling range: 76 mm (X) × 30 mm (Y)
Single specimen holder
Observation tube
30º inclined binocular tube
Interpupillary distance adjustment range: 48–75 mm; Eye-point adjustment: 377.8–427.7 mm
Condenser
Abbe type with aperture iris diaphragm NA: 1.25
Objectives
Plan objectives (anti-fungus)
4×
NA: 0.10 W.D.: 27.8 mm
10× NA: 0.25 W.D.: 8.0 mm
40× NA: 0.65 W.D.: 0.6 mm
100× Oil NA: 1.25 W.D.: 0.13 mm (CX22LEDRFS1)
Eyepiece (10×)
Field Number (FN): 20 (anti-fungus)
Optional accessories
Mirror unit, 15× eyepiece (FN 12, anti-fungus), wooden storage box, eyepiece micrometer, eyepiece wire
pointer, filter holder, darkfield stop, cord hanger.
Weight
Approx. 6 kg
Rated voltage/
electric current
AC 100–240 V 50/60 Hz 0.4 A
Power consumption
1.7 W
Art. code: E0438444 · Printed in Germany 11/2013
Model
Specimen courtesy of :
JAPANESE FOUNDATION FOR CANCER RESEARCH, Cancer Institute, Cancer Institute Hospital, Department of
Pathology: Futoshi Akiyama, M.D., Ph.D., Yuichi Ishikawa, M.D., Ph.D
•
•
•
•
•
•
OLYMPUS CORPORATION is ISO14001 certified.
OLYMPUS CORPORATION is FM553994/ISO9001 certified.
Illumination devices for microscope have suggested lifetimes.
Periodic inspections are required. Please visit our web site for details.
All company and product names are registered trademarks and/or trademarks of their respective owners.
Specifications and appearances are subject to change without any notice or obligation on the part of the manufacturer.
Postbox 10 49 08, 20034 Hamburg, Germany
Wendenstrasse 14–18, 20097 Hamburg, Germany
Phone: +49 (0)40 237 730, Fax: +49 (0)40 230 761
Email: microscopy@olympus-europa.com
CX22LED is the environmental conscious products according to OLYMPUS' own standards.
The manufacturer reserves the right to make technical changes without prior notice.

* Your assessment is very important for improving the work of artificial intelligence, which forms the content of this project