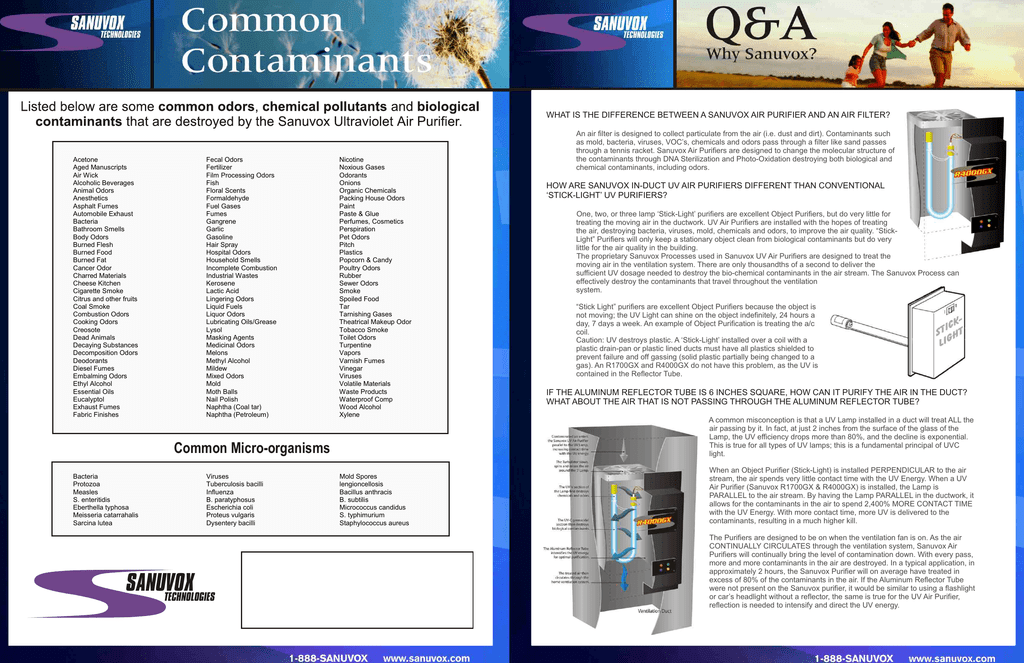 WHAT IS THE DIFFERENCE BETWEEN A SANUVOX AIR PURIFIER AND AN AIR FILTER?
Acetone
Aged Manuscripts
Air Wick
Alcoholic Beverages
Animal Odors
Anesthetics
Asphalt Fumes
Automobile Exhaust
Bacteria
Bathroom Smells
Body Odors
Burned Flesh
Burned Food
Burned Fat
Cancer Odor
Charred Materials
Cheese Kitchen
Cigarette Smoke
Citrus and other fruits
Coal Smoke
Combustion Odors
Cooking Odors
Creosote
Dead Animals
Decaying Substances
Decomposition Odors
Deodorants
Diesel Fumes
Embalming Odors
Ethyl Alcohol
Essential Oils
Eucalyptol
Exhaust Fumes
Fabric Finishes
Fecal Odors
Fertilizer
Film Processing Odors
Fish
Floral Scents
Formaldehyde
Fuel Gases
Fumes
Gangrene
Garlic
Gasoline
Hair Spray
Hospital Odors
Household Smells
Incomplete Combustion
Industrial Wastes
Kerosene
Lactic Acid
Lingering Odors
Liquid Fuels
Liquor Odors
Lubricating Oils/Grease
Lysol
Masking Agents
Medicinal Odors
Melons
Methyl Alcohol
Mildew
Mixed Odors
Mold
Moth Balls
Nail Polish
Naphtha (Coal tar)
Naphtha (Petroleum)
Nicotine
Noxious Gases
Odorants
Onions
Organic Chemicals
Packing House Odors
Paint
Paste & Glue
Perfumes, Cosmetics
Perspiration
Pet Odors
Pitch
Plastics
Popcorn & Candy
Poultry Odors
Rubber
Sewer Odors
Smoke
Spoiled Food
Tar
Tarnishing Gases
Theatrical Makeup Odor
Tobacco Smoke
Toilet Odors
Turpentine
Vapors
Varnish Fumes
Vinegar
Viruses
Volatile Materials
Waste Products
Waterproof Comp
Wood Alcohol
Xylene
Common Micro-organisms
Bacteria
Protozoa
Measles
S. enteritidis
Eberthella typhosa
Meisseria catarrahalis
Sarcina lutea
Viruses
Tuberculosis bacilli
Influenza
B. paratyphosus
Escherichia coli
Proteus vulgaris
Dysentery bacilli
SANUVOX
TECHNOLOGIES
Mold Spores
lengioncellosis
Bacillus anthracis
B. subtilis
Micrococcus candidus
S. typhimurium
Staphylococcus aureus
An air filter is designed to collect particulate from the air (i.e. dust and dirt). Contaminants such
as mold, bacteria, viruses, VOC's, chemicals and odors pass through a filter like sand passes
through a tennis racket. Sanuvox Air Purifiers are designed to change the molecular structure of
the contaminants through DNA Sterilization and Photo-Oxidation destroying both biological and
chemical contaminants, including odors.
HOW ARE SANUVOX IN-DUCT UV AIR PURIFIERS DIFFERENT THAN CONVENTIONAL
'STICK-LIGHT' UV PURIFIERS?
One, two, or three lamp 'Stick-Light' purifiers are excellent Object Purifiers, but do very little for
treating the moving air in the ductwork. UV Air Purifiers are installed with the hopes of treating
the air, destroying bacteria, viruses, mold, chemicals and odors, to improve the air quality. "StickLight" Purifiers will only keep a stationary object clean from biological contaminants but do very
little for the air quality in the building.
The proprietary Sanuvox Processes used in Sanuvox UV Air Purifiers are designed to treat the
moving air in the ventilation system. There are only thousandths of a second to deliver the
sufficient UV dosage needed to destroy the bio-chemical contaminants in the air stream. The Sanuvox Process can
effectively destroy the contaminants that travel throughout the ventilation
system.
"Stick Light" purifiers are excellent Object Purifiers because the object is
not moving; the UV Light can shine on the object indefinitely, 24 hours a
day, 7 days a week. An example of Object Purification is treating the a/c
coil.
Caution: UV destroys plastic. A 'Stick-Light' installed over a coil with a
plastic drain-pan or plastic lined ducts must have all plastics shielded to
prevent failure and off gassing (solid plastic partially being changed to a
gas). An R1700GX and R4000GX do not have this problem, as the UV is
contained in the Reflector Tube.
IF THE ALUMINUM REFLECTOR TUBE IS 6 INCHES SQUARE, HOW CAN IT PURIFY THE AIR IN THE DUCT?
WHAT ABOUT THE AIR THAT IS NOT PASSING THROUGH THE ALUMINUM REFLECTOR TUBE?
A common misconception is that a UV Lamp installed in a duct will treat ALL the
air passing by it. In fact, at just 2 inches from the surface of the glass of the
Lamp, the UV efficiency drops more than 80%, and the decline is exponential.
This is true for all types of UV lamps; this is a fundamental principal of UVC
light.
When an Object Purifier (Stick-Light) is installed PERPENDICULAR to the air
stream, the air spends very little contact time with the UV Energy. When a UV
Air Purifier (Sanuvox R1700GX & R4000GX) is installed, the Lamp is
PARALLEL to the air stream. By having the Lamp PARALLEL in the ductwork, it
allows for the contaminants in the air to spend 2,400% MORE CONTACT TIME
with the UV Energy. With more contact time, more UV is delivered to the
contaminants, resulting in a much higher kill.
The Purifiers are designed to be on when the ventilation fan is on. As the air
CONTINUALLY CIRCULATES through the ventilation system, Sanuvox Air
Purifiers will continually bring the level of contamination down. With every pass,
more and more contaminants in the air are destroyed. In a typical application, in
approximately 2 hours, the Sanuvox Purifier will on average have treated in
excess of 80% of the contaminants in the air. If the Aluminum Reflector Tube
were not present on the Sanuvox purifier, it would be similar to using a flashlight
or car's headlight without a reflector, the same is true for the UV Air Purifier,
reflection is needed to intensify and direct the UV energy.
HOW DOES ULTRAVIOLET LIGHT KILL BIOLOGICAL AND CHEMICAL CONTAMINANTS?
Sanuvox uses a proprietary "J" Lamp that produces UVC and UVV light (both wavelengths are fused into the Lamp).
UV-C is short-wave radiation; it attacks the DNA of the cell. This wavelength's primary uses are for the destruction of
bacteria, viruses, mold and other microorganisms that pass through the Aluminum Reflector Tube. The Centers for
Disease Control recommends this method for destroying viruses such as tuberculosis. UV-V is primarily used for
oxidization; this is the portion of the lamp that will destroy chemicals and odors such as cigarette smoke, VOC's, diesel
fumes and formaldehyde.
IS SANUVOX EFFECTIVE IN TREATING MOLD?
Sanuvox has both Air Purifiers and Object Purifiers that will destroy mold as well as hundreds of other microbial
contaminants.
IS THE SANUVOX AIR PURIFIER SAFE?
Sanuvox Air Purifier are CSA C/US certified and CE approved. Two factors relating to safety are: (1) exposure to UV
rays is damaging to the eyes and (2) direct UV exposure destroys plastic.
HOW MUCH ELECTRICITY DOES A SANUVOX PURIFIER CONSUME?
Electrical consumption varies according to residential models. Purifiers range from 15 watts to 85 watts.
DOES SANUVOX UV AIR PURIFIERS PRODUCE OZONE?
As part of the proprietary Sanuvox process involved in UV air treatment, the UVV (187 nm) portion of the lamp is fused
to the UVC (254 nm) portion of the glass. Sanuvox Lamps are not ozone generators; ozone is a bi-product of oxidation.
As the oxidation is emitted from the UVV portion of the Lamp, the UVC wavelength immediately starts to break down
residual ozone that may be present. Sanuvox is treating the chemical contaminants in the air at that moment in time; this
is one of the components of the Sanuvox U.S. patent. The amount of residual ozone produced by a Sanuvox UV Air
Purifier with the UVC/UVV 'J' lamp has been measured by independent accredited testing laboratories and found not to
exceed 0.0035 parts per million at the outlet of the purifier. This is less than 1/10 of the ASHRAE limit (0.05 ppm) and
less than 1/20th of the OSHA (0.10 ppm) standards for safe ozone levels. In fact, the UV process produces less residual
ozone than a photocopier or the arcing from an electronic air cleaner, and in documented air quality tests, zero ozone
levels have been found in the living or working area.
* All Sanuvox products are available as a G = Germidal UVC only or GX = Germicidal UVC & Oxidation UVV
WHAT ARE THE APPLICATIONS AND USES FOR SANUVOX UV AIR PURIFIERS?
Sanuvox Air Purifiers will destroy biological, chemical contaminants and odors such as bacteria, viruses, mold, mildew,
smoke, formaldehyde, cleaning solvents, etc. See back page for a partial list of contaminants treated by Sanuvox.
Sanuvox Purifiers are used in thousands of homes, doctors and dentists offices, hospitals, veterinary clinics, office
buildings, government facilities, railway stations, health clubs, day care centers, laboratories, class rooms, old age
homes, hotels, smoking rooms, bars and restaurants, mausoleums, funeral parlors and morgues.
IS A SANUVOX PURIFIER DIFFICULT TO INSTALL?
There are several Sanuvox models, from portable units, which only have to be plugged in, to in-duct units, which require
installation. We recommend installation to be done by a qualified HVAC Technician.
DOES A SANUVOX HAVE TO RUN 24 HOURS A DAY?
In-Duct models are designed to run 24 hours a day. That is not to say that they will. In-duct models have either a sensor
(R4000GX) or are hardwired (R1700GX) to the home's ventilation system, which means the purifier will only run when
the fan is on. The portable purifier (P800GX) can be used all day or when the need arises.
WHAT MAINTENANCE IS REQUIRED?
Besides the changing of the lamp, no other maintenance is required for a Sanuvox Ultraviolet Air Purifier (R1700GX,
R4000GX & P800GX). Sanuvox Saber APR requires periodic cleaning of the Lamp depending on where it is installed.
IF A 'STICK-LIGHT' HAS A (1) ONE-YEAR LAMP WARRANTY, HOW CAN THE SABER APR HAVE A (3) THREE-YEAR
WARRANTY?
Even though the Saber APR is an 'Object Purifier', like all other Sanuvox Purifiers, the Saber APR uses a Reflector to
intensify and direct UV that would otherwise be lost.
WHAT IS MY WARRANTY?
Sanuvox residential air purifiers are warranted for 3 years on parts including the UV Lamp (and all replacement Lamps).