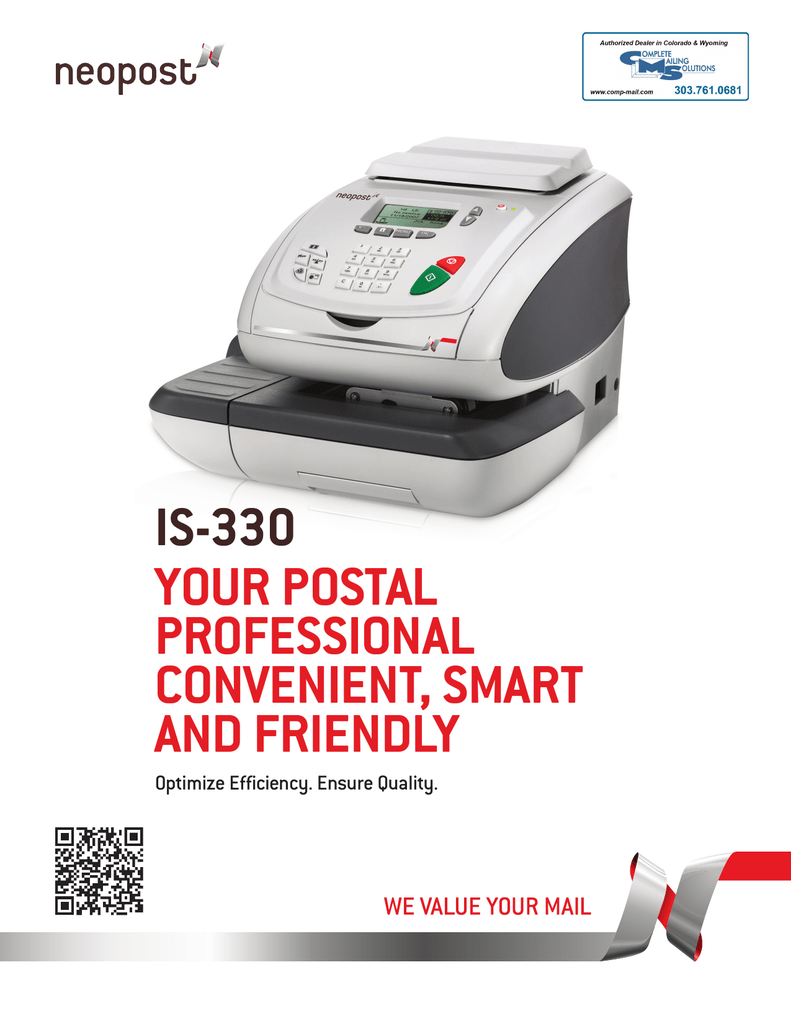 IS-330
YOUR POSTAL
PROFESSIONAL
CONVENIENT, SMART
AND FRIENDLY
Optimize Efficiency. Ensure Quality.
IS-330
DESKTOP MAILING SYSTEM
CONVENIENT, SMART AND FRIENDLY
Businesses today count on productivity tools to keep their offices running smoothly. The
Neopost IS-330 makes it simple to weigh, rate, post and track mail accurately. Equipped with
the Neopost iMeter™ Postage Meter and powerful Apps to manage your business, the IS-330
has been designed to integrate smoothly into your office and handle all of your mailing needs.
Experience seamless downloads with a
high speed internet connection – great for
refilling postage funds, downloading the
latest USPS® rate and system features
FAST ACCURATE, WEIGHING AND RATING
Differential weighing and Smart Start technology help provide a
simple mail processing experience with the IS-330. When using
differential weighing, simply place mixed weight mail on the
weighing platform, remove an envelope and the correct rate is
calculated. With Smart Start technology, each time an envelope
is removed from the weighing platform in differential mode, the
powerfeeder starts and is ready to process mail.
STAND OUT FROM THE REST
Personalize items and help promote your business with
ad slogans, custom text messages, QR codes and company
logos. The IS-330 always prints an IBI Lite indicia, optimizing
ink yield and minimizing replenishment.
Smooth, powerfeed
provides fast
batch processing
UNDERSTANDING RATES HAS NEVER BEEN EASIER
The Rate Wizard simplifies the process of selecting the correct postal rate and
class for your items. With concise step-by-step instructions, the selection process
has never been easier. Shortcut keys save time and eliminate keystrokes too. From
single envelopes to larger packages, you have the flexibility to weigh and manage
mail with ease.
• NEOPOST iMETER™ POSTAGE METER
2 lb. and 5 lb. integrated weighing platforms
handle postcards, envelopes and small packages
with ease. Add differential weighing to reduce
manual process and handling*
• SIMPLE MAIL PROCESSING
• WHISPER-QUIET OPERATION
• SPACE SAVING DESIGN
Display provides
clear descriptions
and prompts
NEOPOST iMETER™ POSTAGE METER
AND BUSINESS APPS
The Neopost iMeter™ postage meter is
an internet connected smart device
that provides functionality beyond the
traditional postage meter. The IS-330
and Neopost iMeter™ are connected
online to help you better manage your
mailing operations and control costs.
Low ink email alerts keep you abreast
of your ink usage and simplify ink
cartridge reordering. With the IS-330,
postal rate changes are hassle-free
thanks to direct rate downloads, which
ensure full postal compliance.
Save time and eliminate
keystrokes with the IS-330
shortcut keys
Optional automatic
moistener with easy
access reservoir ensures
a perfect envelope seal
POSTAGE EXPENSE MANAGEMENT APP
– YOUR KEY TO SAVINGS
Take control of your postage expenses. The
Online Postal Expense Manager™ App expands
the basic IS-330 postage reporting capabilities,
providing detailed usage by department, class
or time period. Create spreadsheets and colorful
graphs in minutes.
TRACK, CONFIRM AND SAVE
Using the E-Services with Electronic Return
Receipt™ App, you will save money by
applying USPS® discounted rates for eDelivery
Confirmation™, eSignature Confirmation™, and
eCertified with Electronic Return Receipt™. Email
alerts and online access save time by helping
you monitor, track, and confirm important
items, while providing the most accurate data.
WE'VE GOT YOU COVERED
Neopost customer support is there for you
with nationwide factory-trained, USA-based
technicians who are ready to assist. With the
Remote Diagnostics App, our technicians are
able to quickly analyze and troubleshoot any
issues or concerns you may have, ensuring
you sustain maximum uptime.
*Optional differential weighing available with 5 lb. weighing platform only
IS-330
DESKTOP MAILING SYSTEM
EFFICIENCY OPTIMIZED
• Ergonomically designed mailing system with integrated scale and clear
display simplifies mail processing
• Smart Start technology eliminates keystrokes and saves time. Each
time a mail piece is removed from the weigh platform, the system
automatically starts the feeder
• Powerfeed for fast batch processing
• Optional automatic moistener with an easy access reservoir ensures a
perfect envelope seal
• Quick and easy menu selection reduces keystrokes
• Shortcut keys save time and provide instant job setup
• Integrated 2 lb. and 5 lb. weighing platform handles postcards,
envelopes and small packages with ease
• Low ink email alerts let you know when it is time to re-order ink
• Endorse your business with ad slogans, custom text messages,
QR codes and logos
• Rate Wizard helps prevent errors and makes selecting the correct
postage value easy
• Default postage setting eliminates keystrokes, minimizes errors, and
saves time
• Control system usage and prevent misuse of postage funds with PIN
code authorization
• Expand the functionality of your IS-330 with Apps designed to help
manage your mail and control costs
SPECIFICATIONS
OPERATIONAL EFFICIENCY
Processing speed
Envelope minimum
Envelope maximum
Envelope thickness
Feeding capability Envelope orientation
Default rate setting
Postage meter tapes
Rate Wizard
Rate shortcut keys
Job / Imprint memories
Integrated scale MAIL QUALITY AND SECURITY
Advertising slogans
Personalized text messages
Postal mail class inscriptions
Incoming mail date stamp
4 digit PIN Code(s)
BUDGET OPTIMIZATION
Account tracking
Commercial Rates App
neoFunds® App
ONLINE MANAGEMENT
iMETER™ APPS
•
•
•
•
•
•
•
Postal Rates App
Online Postal Expense Manager™ App
Commercial Rates App
E-Services App
E-Services with Electronic Return Receipt™ App
neoFunds® App
Remote Diagnostics App
Method for postage refilling Online postage usage reporting
Enhanced online reporting
Low ink email alerts
E-Services App
E-Services with Electronic
Return Receipt™ App
PERIPHERALS
Differential weighing
Barcode scanner
USB memory key
External USB report printer
SYSTEM DIMENSIONS IS-330 mailing system
Up to 35 lpm
3.5" x 5"
10" x 13"
Up to 3/8"
Semi-automatic
Landscape or portrait
Yes
Yes
Yes
6
9
2 lbs. Available
5 lbs. Available
9 Standard/1 open
10 Custom
Automatic
Yes
10 (standard), up to
100 (optional)
10 Departments (standard)
100 Departments (optional)
Yes
Yes
Internet (standard),
Analog modem (optional)
Yes
Optional
Yes
Optional
Optional
Optional with 5 lb. weighing platform only
Optional
Optional
Optional
(L x H x D including moistener)
17" x 10" x 15"
WHY CHOOSE NEOPOST?
Neopost is a world leader in mailing and logistics solutions. Our innovative solutions bring simplicity and efficiency to your mailing process to make your
business run better. Neopost brilliantbasics benefits provide excellence in all our offers, from products to support and services. They bring you the best in
operational efficiency, mail quality and security, budget optimization and online management. Whether for advice or support, you enjoy our commitment
to supply first-class service – on the phone, on site, or online. Benefit from immediate response times and remote diagnosis at our call centers, and fast
dispatch of service engineers when needed. Find out more at www.neopost.com/brilliantbasics
www.neopostusa.com
Neopost® and the Neopost logo are registered trademarks of Neopost S.A. All other company and product
names may be trademarks and are the property of their respective owners. All information in this document, including descriptions of features, functions, performance and
specifications is subject to change without written notice at any time.
USPS®, Express Mail®, Priority Mail®, eDelivery Confirmation™,
eSignature Confirmation™, eCertified Mail™, and
Electronic Return Receipt™ are among the many
trademarks of the U.S. Postal Service.
©2012 Neopost USA Inc. All Rights Reserved.
80746-3 6/12
5M
ISO 14001 and OHSAS 18001
Registered by EAGLE Registrations Inc.