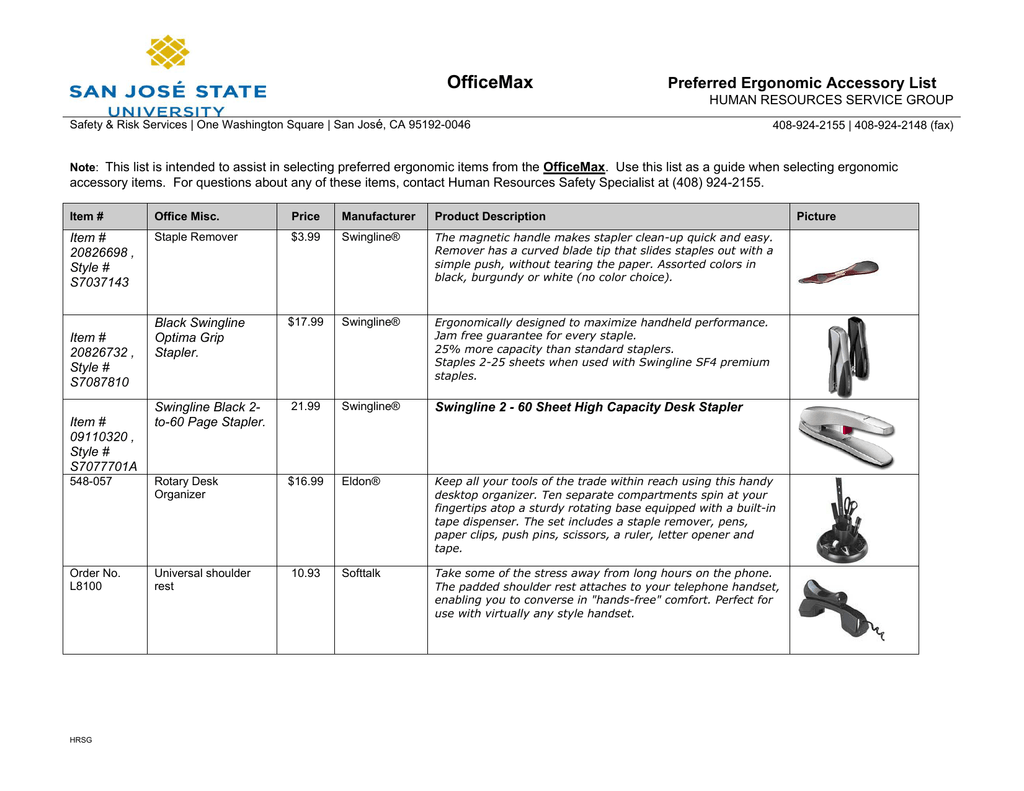 OfficeMax
Preferred Ergonomic Accessory List
HUMAN RESOURCES SERVICE GROUP
Safety & Risk Services | One Washington Square | San José, CA 95192-0046
408-924-2155 | 408-924-2148 (fax)
Note: This list is intended to assist in selecting preferred ergonomic items from the OfficeMax. Use this list as a guide when selecting ergonomic
accessory items. For questions about any of these items, contact Human Resources Safety Specialist at (408) 924-2155.
Item #
Office Misc.
Price
Manufacturer
Product Description
Item #
20826698 ,
Style #
S7037143
Staple Remover
$3.99
Swingline®
The magnetic handle makes stapler clean-up quick and easy.
Remover has a curved blade tip that slides staples out with a
simple push, without tearing the paper. Assorted colors in
black, burgundy or white (no color choice).
Black Swingline
Optima Grip
Stapler.
$17.99
Swingline®
Ergonomically designed to maximize handheld performance.
Jam free guarantee for every staple.
25% more capacity than standard staplers.
Staples 2-25 sheets when used with Swingline SF4 premium
staples.
Swingline Black 2to-60 Page Stapler.
21.99
Swingline®
Swingline 2 - 60 Sheet High Capacity Desk Stapler
548-057
Rotary Desk
Organizer
$16.99
Eldon®
Keep all your tools of the trade within reach using this handy
desktop organizer. Ten separate compartments spin at your
fingertips atop a sturdy rotating base equipped with a built-in
tape dispenser. The set includes a staple remover, pens,
paper clips, push pins, scissors, a ruler, letter opener and
tape.
Order No.
L8100
Universal shoulder
rest
10.93
Softtalk
Take some of the stress away from long hours on the phone.
The padded shoulder rest attaches to your telephone handset,
enabling you to converse in "hands-free" comfort. Perfect for
use with virtually any style handset.
Item #
20826732 ,
Style #
S7087810
Item #
09110320 ,
Style #
S7077701A
HRSG
Picture
Item #
20743466 ,
Style # S12
Telephone headset
system
$89.99
Plantronics®
"Light phone
use"
This full-featured amplifier is easy to install and works with
virtually any single or multiline corded telephone. Headset is
adjustable for over-the-head stability or over-the-ear
convenience, and provides improved sound quality. There is
also an adjustable volume control on incoming and outgoing
calls.
Item #
20703106 ,
Style # H171
H171 DuoPro
Convertible Headset.
$114.99
Plantronics®
"More
demanding
phone use"
i.e. reception
Unique design allows for use over the head or over the ear.
Noise-canceling model features unidirectional microphone.
Quick Disconnect lets you keeps your headset on, but unplug
it from your phone. Requires amplifier (not included). See the
vista M12 universal amplifier
Item #
20146717 ,
Style #
PLNM12
Vista M12 Universal
Amplifier
$129.99
Plantronics®
"More
demanding
phone use"
Item #
20620473 ,
Style # K8000038
Wireless Optical
Mouse
$34.99
Microsoft®
Universal amplifiers connect Plantronics headsets to just about
any other modular single or multi-line phone and offer
ergonomically designed volume, headset/handset, and mute
controls. With its easy-to-use, one-button selection of headset
or handset, Vista amplifiers deliver precise talking comfort,
superior protection and excellent audio performance to your
office telephone.
Microsoft Wireless Optical Mouse



Order No.
S9B7500092
Intellimouse Explorer
Optical Mouse
Item #
21017258
Style #
9675530403 SET
Logitech Cordless
Desktop MX
3000 Laser
Keyboard &
Mouse
$44.99
Microsoft®
99.99
Logitech
Ergonomic design for comfort
Tilt wheel technology lets you scroll left/right as well
as up/down
Battery last up to 3x longer
Revolutionary optical sensor makes for superior and precise
control. Works on virtually any surface, no mouse pad
needed and no mouseball to clean. Ergonomic shape with
rubberized sides makes this mouse easy to hold. Windows®
98 and 95 compatible
Wireless
Straight key shape
Keyboard / Mouse Combo
HRSG
Item #
20845052
Style # BX200004 EA
$79.99
Wireless Optical
Desktop 3.0
Ergonomic Curve
shape
79.99
Microsoft
Wireless Curved key
shape
Keyboard / Mouse Combo
Order NO.
S9F8E887BLK
Natural Keyboard….
USB - Black
$39.99
Microsoft®
This keyboard is split and gently sloped to encourage a
natural hand position, so you can type more comfortably and
has an integrated palm rest. The improved space-saving
design takes up less room on your desktop and fits easily into
keyboard trays. USB and PS/2 connection.
Order No.
S65933901
Mouse Pad
$5.99
Kensington®
Smooth, cloth surface helps improve mouse tracking and
keeps your mouse mechanism clean. Features a nonskid base
to keep the pad in place.
Gel Mouse
Wrist Pillow.
Item #
20140438,
Style # 62084
Pillow Gel Palm Rest
$14.99
Kensington®
This unique cradle is designed to increase your comfort and
productivity levels while using a mouse. The integrated design
of the mouse cradle allows the user to position the mouse for
proper wrist alignment. It easily attaches to a standard
mouse, creating a single unit with the mouse. Great for use
with optical mice.
3M GelFilled Wrist
Rest (Black)
Order No.
E6WR310M
B
Gel Keyboard
Wristrest in Blue
Color.
Item # 02223356 ,
Style # 98737
$15.99
3M
Cushioning gel supports and conforms to the natural contours
of your wrists and palms, distributing pressure evenly. Silkysmooth fabric is non-irritating, non-chafing and stain
resistant. Leak-free, oil-free construction protects skin,
clothes and desk surfaces. Nonskid base prevents the wrist
rest from shifting while you work.
Order NO.
E6WR314MB
Natural wrist rest
28.13
3M
Ergonomic keyboard wrist rest has soothing gel comfort for
hard plastic keyboard surfaces. Thin curved design fits
perfectly on ergonomic keyboards.
Order No.
E662086A
Item #
20147404 ,
Style #
KMW34702
Keyboard / mouse
contour gel-wrist rest
platform
$49.99
Kensington®
Working long hours at your keyboard can result in painful
wrists if you don't arm yourself with the proper support. Wrist
rests give you soft, balanced comfort and support by keeping
your wrists in a relaxed and natural position while typing at
the keyboard. Wrist rests with integrated keyboard platforms
are great for typing on your lap or for keyboard placement on
slightly uneven surfaces or in corner workstations and have an
Easy Flip Feature. Available in gels and foam for all comfort
needs.
HRSG
OfficeMax
order#
S6DH640
3M adjustable in-line
document holder
$74.99
3M
"Frequent use
and heavy
data entry"
Order No.
S621128
Premier Flex Arm
Copyholder
$29.99
Fellowes
"Frequent use
and heavy
data entry"
Designed to fit directly in front of your monitor, the 3M InLine Document Holder reduces head, neck, and eye
movements, increasing your comfort throughout the day.
Offers a broad range of angle and height adjustments. Clear
backplate is large enough to hold books, catalogs, and
landscape documents. Elastic band adjusts and removes
easily. Nonskid, grooved ledge holds a variety of document
sizes. Easy to set up and moves out of the way when not in
use. 18" x 11" x 11".
Position documents at eye level for optimum ergonomic
comfort. Flexible arm adjusts to a customized viewing height
and angle. Space Saver model features a metal weighted
base that slides between desk and computer to free up work
space.
Dark Gray
Adjustable
Foot Rest
Order NO.
E604653
Adjustable Footrest
$69.99
Rubbermaid
Safety-Walk™ surface has an extra wide 22-inch metal
platform that adds stability and slip resistance. Angle adjusts
up to 30°. Height adjustments ranges from four inches to 4
3/4 inches.
E682025
Back Rest
$49.95
Kensington
E682024
Seat Rest
$49.95
Each sold
separately
High-density memory cells in visco-elastic foam help relieve
back discomfort. Temperature- and pressure-sensitive foam
molds to your body's contours and provides maximum
support. Originally developed by NASA to relieve astronauts of
G-forces experienced during lift-off. Choose from either the
seat rest or the back rest. (Items sold separately.)
Mouse Bridge:
Goldtouch GTU0033 Adjustable
Ergonomic
Keyboard USB
GTU0033
129.99
HRSG
34.95
Mouse Bridge:
http://www.ergostar.com/mb_rear.shtml
The rear adjustable Mouse Bridge straddles the keyboard like the
standard mouse bridge and has a rear height adjustment feature,
which allows a 2" range of adjustment. Mousing surface area
approximately 7 3/4 inches by 8 3/4 inches.
The ability to adjust the Goldtouch USB Keyboard to
reduce tension by adjusting the keyboard halves and
to reduce excessive pressure on wrists by tenting
the keyboard halves is functional regardless of the
type of computer the keyboard is used with
http://www.ergodirect.com/
Tek Depot
#S1387625
HRSG
y-splitter cable
$3.99
StarTek
ALLOWS EXTERNAL KEYBOARD AND MOUSE TO BE ON A NOTEBOOK
COMPUTER
- WITH THE STARTECH.COM 6-IN. IBM PS/2 KEYBOARD/MOUSE YSPLITTER CABLE YOU CAN ENJOY THE SENSE OF FREEDOM THAT
COMES WITH HAVING A LAPTOP WHILE WORKING ON A FULL-SIZED
KEYBOARD AND MOUSE.