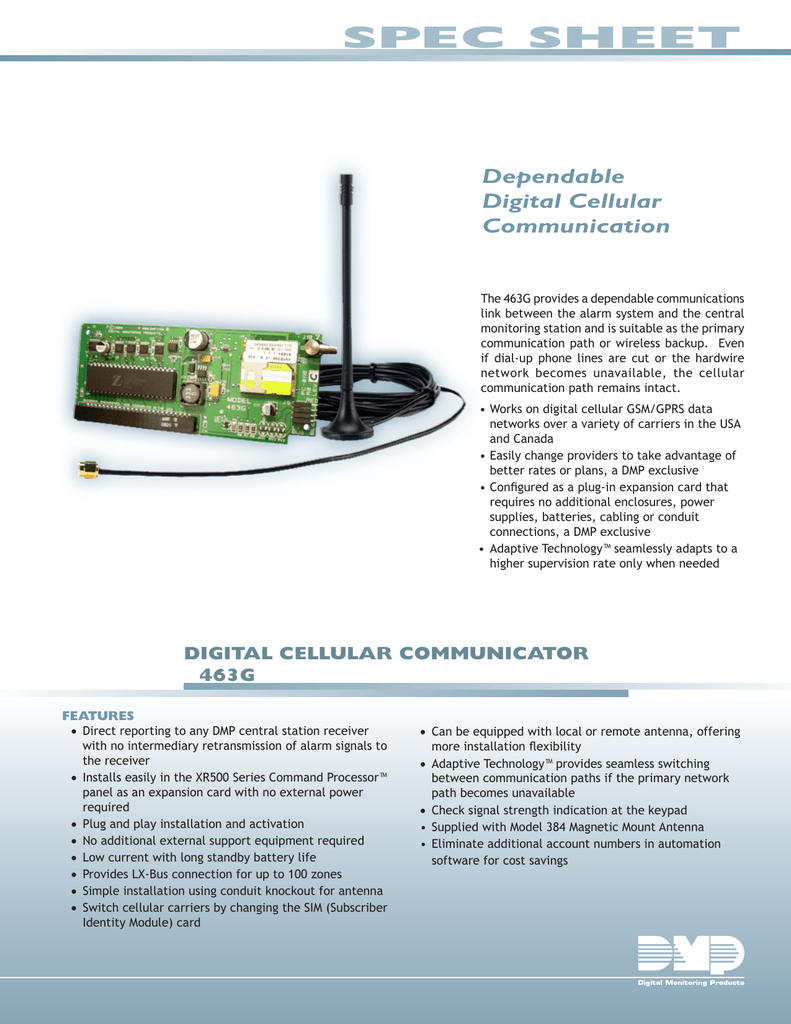 SPEC SHEET
Dependable
Digital Cellular
Communication
The 463G provides a dependable communications
link between the alarm system and the central
monitoring station and is suitable as the primary
communication path or wireless backup. Even
if dial-up phone lines are cut or the hardwire
network becomes unavailable, the cellular
communication path remains intact.
•Works on digital cellular GSM/GPRS data
networks over a variety of carriers in the USA
and Canada
•Easily change providers to take advantage of
better rates or plans, a DMP exclusive
•Configured as a plug-in expansion card that
requires no additional enclosures, power
supplies, batteries, cabling or conduit
connections, a DMP exclusive
• Adaptive Technology™ seamlessly adapts to a
higher supervision rate only when needed
DIGITAL CELLULAR COMMUNICATOR
463G
FEATURES
• Direct reporting to any DMP central station receiver
with no intermediary retransmission of alarm signals to
the receiver
• Installs easily in the XR500 Series Command Processor™
panel as an expansion card with no external power
required
• Plug and play installation and activation
• No additional external support equipment required
• Low current with long standby battery life
• Provides LX-Bus connection for up to 100 zones
• Simple installation using conduit knockout for antenna
• Switch cellular carriers by changing the SIM (Subscriber
Identity Module) card
• Can be equipped with local or remote antenna, offering
more installation flexibility
• Adaptive Technology™ provides seamless switching
between communication paths if the primary network
path becomes unavailable
• Check signal strength indication at the keypad
• Supplied with Model 384 Magnetic Mount Antenna
• Eliminate additional account numbers in automation
software for cost savings
DIGITAL CELLULAR COMMUNICATOR
PRIMARY COMMUNICATION
PATH
The 463G can be used as the primary
path, providing installation flexibility
and operational economies of digital
cellular communication. Used as the
backup path, the 463G provides the
security of a communication link that
continues to function, even when land
lines are cut or compromised.
DIRECT REPORTING
The 463G reports alarm messages
directly to DMP SCS-1R (SCS-101
line card) Central Station Receivers.
Messages aren't transmitted through
other servers or network operation
centers. Direct communication
between the system and central
station means faster response, with
no concerns about signals not being
properly relayed or the failure of
intermediate communication links.
The unit sends full reporting messages
to the DMP receiver: DMP Zones, Areas,
and Users, with all names and details
included.
ADD-ON TO XR500 BOARD
Most cellular communication devices
are separate units and require
connections to additional devices. The
463G is a compact board that installs
directly in the XR500 expansion slot. It
is protected by the panel's enclosure,
avoiding the cost of an additional
enclosure. Tamper protection is also
available for additional security.
REDUCED EQUIPMENT NEEDS
LOW CURRENT DRAIN
Drawing half the current of other
comparable units and long standby
battery life of the system batteries,
the 463G will continue to provide a
communications link for up to 80 hours,
during a power failure with appropriate
standby batteries.
ANTENNA PLACEMENT
Local and remote SMA (S-band multiple
access) antennas provide freedom and
flexibility during installation.
Order the 463G with a SIM card to take
advantage of SecureCom Wireless easy
activation process or order without the
SIM card to use the cellular provider of
your choice. No other manufacturer
offers this flexibility in digital cellular
communicators. Because the 463G is
a digital device, there are no worries
about the FCC "Sunset Clause" or being
stuck with obsolete analog systems.
Shown with Model 383 Antenna
ADAPTIVE TECHNOLOGY™
SUPERVISES YOUR SYSTEM
SIMPLE TO INSTALL AND
PROGRAM
Connect the 463G to the panel,
attach the antenna, and installation
is complete. Programming the 463G
is fast and simple via Remote Link
software. Program the 463G to any of
the eight communication paths of the
XR500 Series panels.
When used for backup communication,
the check-in rate can be set to a
longer interval to reduce airtime costs.
However, should the primary path
become unavailable, the backup 463G
can automatically ADAPT to the faster
check-in rate of the primary path
creating a seamless transition.
COMPATIBILITY
463G Cellular Communicator
463G NOSIM Cellular Communicator w/o SIM
Card
ACCESSORIES
380-400
381-12
381-25
383
384
385
SecureCom Replacement SIM Card
12 foot Coax Extension
25 foot Coax Extension
Rubber Duck Antenna
Magnetic Mount Antenna with 9' cable
Low Profile Smartdisc Antenna
(requires coax extension)
Antenna Wall Mounting Bracket
800 - 641 - 4282
LISTINGS AND APPROVALS
FCC Part 15 ID: MIVGSM0308
Industry Canada ID: 4160A-GSM0308
Underwriters Laboratories (UL) Listed
ANSI/UL 365 Police Station Connect Burglar Alarm Systems
ANSI/UL 985 Household Fire Warning System Units
ANSI/UL 1023 Household Burglar Alarm System Units
ANSI/UL 1076 Proprietary Burglar Alarm Units & Systems
ANSI/UL 1610 Central Station Burglar Alarm Units
INTRUSION
•
FIRE
•
ACCESS
•
NETWORKS
www.dmp.com
2500 North Partnership Boulevard
Made in the USA
S p r i n g fi e l d , M i s s o u r i 6 5 8 0 3 - 8 8 7 7
8321
22 mA
45 mA
DMP Command Processor panels XR500, XR500N, XR500E, XR2500F
using Software Version 202 or higher with 463G Level C hardware
LT-0966 © 2008 Digital Monitoring Products, Inc.
12 VDC from panel
ORDERING INFORMATION
386
To activate cellular service, download the
agreement from www.securecomwireless.
com. Once service is activated, enter the
SecureCom serial number in Remote Link
to enable the Activations module. As
part of programming, enter your SIM card
number and your cellular connection is
quickly activated.
CELLULAR SERVICE
SPECIFICATIONS
Primary Power
Current Draw
Standby
Alarm
ONE-STEP ACTIVATION
Other cellular backup equipment
requires additional enclosures, power
supplies, batteries, cabling, or conduit
connections. The 463G comes ready
to install, reducing initial costs and
simplifying both installation and
ongoing operation.

* Your assessment is very important for improving the work of artificial intelligence, which forms the content of this project