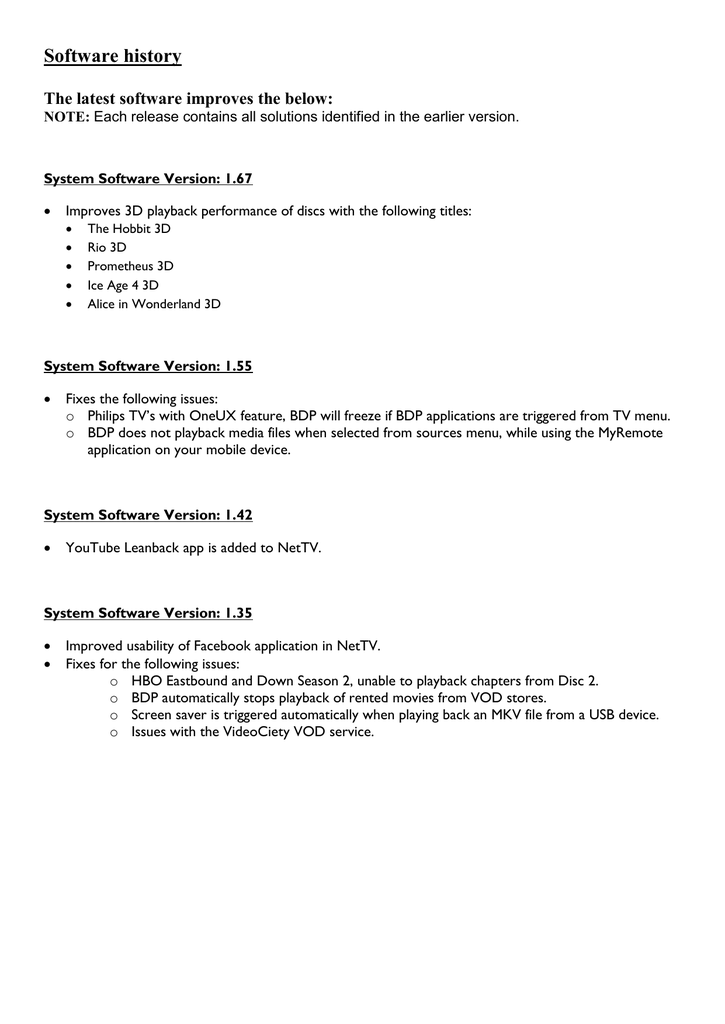 Software history
The latest software improves the below:
NOTE: Each release contains all solutions identified in the earlier version.
System Software Version: 1.67

Improves 3D playback performance of discs with the following titles:





The Hobbit 3D
Rio 3D
Prometheus 3D
Ice Age 4 3D
Alice in Wonderland 3D
System Software Version: 1.55

Fixes the following issues:
o Philips TV's with OneUX feature, BDP will freeze if BDP applications are triggered from TV menu.
o BDP does not playback media files when selected from sources menu, while using the MyRemote
application on your mobile device.
System Software Version: 1.42

YouTube Leanback app is added to NetTV.
System Software Version: 1.35


Improved usability of Facebook application in NetTV.
Fixes for the following issues:
o HBO Eastbound and Down Season 2, unable to playback chapters from Disc 2.
o BDP automatically stops playback of rented movies from VOD stores.
o Screen saver is triggered automatically when playing back an MKV file from a USB device.
o Issues with the VideoCiety VOD service.

* Your assessment is very important for improving the work of artificial intelligence, which forms the content of this project