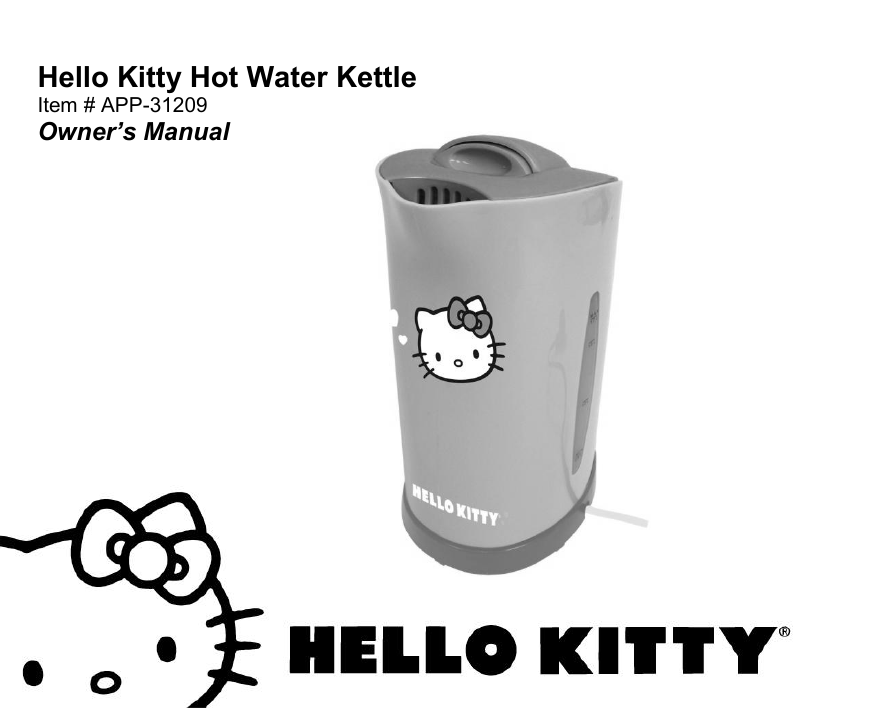 Hello Kitty Hot Water Kettle
Item # APP-31209
Owner's Manual
Important Safety Precautions
When using any electrical appliance, basic safety precautions should always be followed, including the
following:
1.
2.
3.
4.
5.
6.
7.
8.
9.
10.
11.
12.
13.
14.
READ ALL INSTRUCTIONS BEFORE USING YOUR HOT WATER KETTLE.
Do not touch hot surfaces. Always lift the lid by the handle.
To avoid any risk of electrical shock, do not immerse the cord or plug into water or other liquids.
Close supervision is necessary when using this appliance near children.
Disconnect the power plug from any power outlets when this device is not in use or before cleaning. Allow
it to cool before putting on or taking off parts, and before cleaning the appliance.
Do not operate this appliance if the cord or plug is damaged or if it malfunctions. If there is any damage of
any sort, send the unit to the nearest authorized service center for examination, repair or adjustment.
(ONLY technicians should open up the unit.)
The use of accessory attachments not recommended or sold by the appliance manufacturer may cause
injuries.
This appliance is for household use only. Do not use outdoors or for commercial purposes..
Do not let the power cord hang over the edge of a table or counter. Do not let it touch any hot surfaces.
Do not place on or near a hot gas or electric burner, or in a heated oven.
To disconnect, first turn the power switch OFF, and then disconnect the plug from the wall outlet.
Do not use this appliance for other than its intended use.
Be certain that the lid is securely in place before operating this appliance.
Scalding may occur if the lid is removed during heating.
SAVE THESE INSTRUCTIONS.
FOR HOUSEHOLD USE ONLY.
Other Important Safety Notes
WARNING: This appliance generates heat and escaping steam during use. Use proper precautions to prevent
burns, fires, or other injury to persons or damage to property.
1. All users of this appliance should read and understand these instructions before operating or cleaning this
appliance.
2. The cord to this appliance should only be plugged into a 120V AC electrical outlet.
3. DO NOT attempt to move an appliance containing hot liquids. Allow this appliance to cool completely before
moving.
4. Keep this appliance at least four inches away from walls or other objects during operation. Do not place any
objects on top of this appliance while it is operating. Place the appliance on a surface that is resistant to heat.
5. If this appliance begins to malfunction during use, immediately unplug the power cord. Do not use or attempt
to repair the malfunctioning appliance.
6. If this appliance falls or accidentally becomes immersed in water or any other liquid, unplug it immediately.
Do not reach into the water! Do not use this appliance after it has fallen into or has become immersed
in water. Contact Consumer Service for examination and repair.
7. Do not leave this appliance unattended during use.
8. Your Hot Water Kettle must be left to cool down sufficiently before adding more water to avoid splashing.
9. Do not use the Hot Water Kettle to heat oil, or to melt butter.
10. The Hot Water Kettle is not suitable for heating solid foods. Use water only.
11. Do not place any containers inside the Hot Water Kettle.
12. Before serving, make sure the power switch is in the OFF, and then disconnect the plug from the wall
outlet.
13. Do not place this appliance in a microwave oven.
Introduction
Thank you for purchasing the APP-31209 Hello Kitty Hot Water Kettle. You can use this device in order to boil
up to 1.7 liters of water in just minutes. Please read this manual carefully FIRST in order to get the most out of
your device.
Package Contents
1. Hello Kitty Hot Water Kettle
2. Owner's Manual with Warranty Information
Specifications
Rated Voltage: 120V/60Hz
Rated Power: 1500W
Maximum Capacity: 1.7 liter of water
Minimum Capacity: 0.6 liter of water
A Quick Look at Your Device
Before Using Your Device
Before using your hot water kettle for the first time, wipe the exterior with a damp cloth to remove all dust, and
then dry. Wipe the outer surfaces with a slightly damp, soft cloth or sponge. Do not use abrasive cleaners.
Rinse the hot water kettle out with cold water. Rinse and then dry thoroughly.
Do not immerse this device, the cord or the plug in water.
Set the appliance on a dry, clean and flat surface.
Using Your Hot Water Kettle
1. Fill your Hot Water Kettle with 0.6 to 1.7 liters of water.
2. Make sure the lid is closed, fitted securely in place. Place the kettle onto the power base.
3. Plug the power cable into a 120V AC outlet. Make sure that the Control Switch is in the ON position.
Note: The unit may emit an odor and/or smoke during the first few uses from oils used in manufacturing. This is
normal for a new appliance.
4. Lift the lid up to see if the water is boiling. Avoid contact with escaping steam.
WARNING: If the Hot Water Kettle has been in use, it may be full of steam, which will escape as soon as the
Lid is taken off. Keep all exposed skin clear of the area above the Hot Water Kettle. Wear oven mitts when
using the Hot Water Kettle.
5. Once the water boils, the Control Switch will automatically shut off.
6. Remove the Power Plug from the wall outlet. Lift the kettle off of the power base.
7. Slowly pour water out of the Hot Water Kettle. Make sure that the Lid is attached securely to the Hot Water
Kettle before pouring hot water. When pouring water, make sure to hold the Hot Water Kettle by the handle,
tilting carefully so that water will pour out of the pour spout.
8. To avoid the risk of splashing, pour slowly and do not tilt the Hot Water Kettle at extreme angles.
Cleaning and Maintenance
Other than the cleaning methods mentioned in this manual, no other servicing or maintenance of your device
should be required. Repairs, if necessary must be performed by an authorized service center.
Caution: Do not immerse the appliance, its cord or its plug in water.
-Before cleaning, when you are finished using your appliance, unplug the power cord from the wall outlet and
allow it to cool completely.
-Wash the inside of the Hot Water Kettle with warm soapy water. Rinse thoroughly to remove all traces of the
soap.
-Clean the outside of the Hot Water Kettle with a damp cloth.
- Do not allow water to get inside the power base of the Hot Water Kettle.
-Do not use harsh or abrasive cleaners or solvents.
- The plastic will discolor with use. This will not affect the performance of the Hot Water Kettle.
-To clean any possible food residue out of the pot, fill it with 2 cups of cold water, and dissolve one tablespoon
of cream of tartar into the water. Then boil for 3 to 5 minutes. Unplug from the electrical outlet, allow it to cool,
and then empty.
Technical Support
For technical support issues please visit our website at www.sakar.com. You can find manuals, software and
FAQ's at the website. Can't find what you are looking for? Fill out an online ticket and one of our technical
support team members will answer questions or call 1-877-397-8200 in the U.S. or 0-800-917-4831 in the UK
to access our technical support information on the phone.
Sakar Warranty Card
Sakar Warranty
This warranty covers the original consumer purchaser only and is not transferable.
This warranty covers products that fail to function properly UNDER NORMAL USAGE, due to defects in
material or workmanship. Your product will be repaired or replaced at no charge for parts or labor for a
period of one year.
What Is Not Covered by Warranty
Damages or malfunctions not resulting from defects in material or workmanship and damages or
malfunctions from other than normal use, including but limited to, repair by unauthorized parties,
tampering, modification or accident.
What To Do When Service Is Required
When returning your defective product (postage pre-paid) for service, your package should include:
1. Copy of original bill of sale
2. A detailed written description of the problem.
3. Your return address and telephone number (Daytime)
MAIL TO ADDRESS BELOW:
In the U.S.
Sakar International
Attention: Service Department
195 Carter Drive
Edison, NJ 08817
In the U.K.
Sakar UK
2D Siskin Parkway East
CV3 4PE, UK
You may also visit www.sakar.com for further assistance if necessary or call our technical support department
toll free at 1-877-397-8200 in the US, or 0-800-917-4831 in the UK.
This device complies with the part 15 of the FCC rules. Operation is subject to the following two conditions:(1)
this device may not cause harmful interference , and (2) this device must accept any interference received,
including interference that may cause undesired operation.
Caution: changes or modifications not expressly approved by the party responsible for compliance could void
the user's authority to operate the equipment.
NOTE: This equipment has been tested and found to comply with the limits for a Class B digital device,
pursuant to Part 15 of the FCC Rules, These limits are designed to provide reasonable protection against
harmful interference in a residential installation. This equipment generates. Uses and can radiate radio
frequency energy and, if not installed and used in accordance with instructions. May cause harmful
interference to radio or -television reception, which can be
determined by turning the equipment off and on, the user is encouraged to try to correct the interference by
one or more of the following measures:
__ Reorient or relocate the receiving antenna.
__ Increase the separation between the equipment and receiver.
__ Connect the equipment into an outlet on a circuit different from that to which the receiver is connected.
__ Consult the dealer or experienced radio/ TV technician for help.
A00-070713
Notes on Disposal
Dispose of the appliance, packing material and accessories only at specified
collection points. Follow the regional and national disposal requirements with
regard to the separation of material, waste collection and recyclable material
depots.