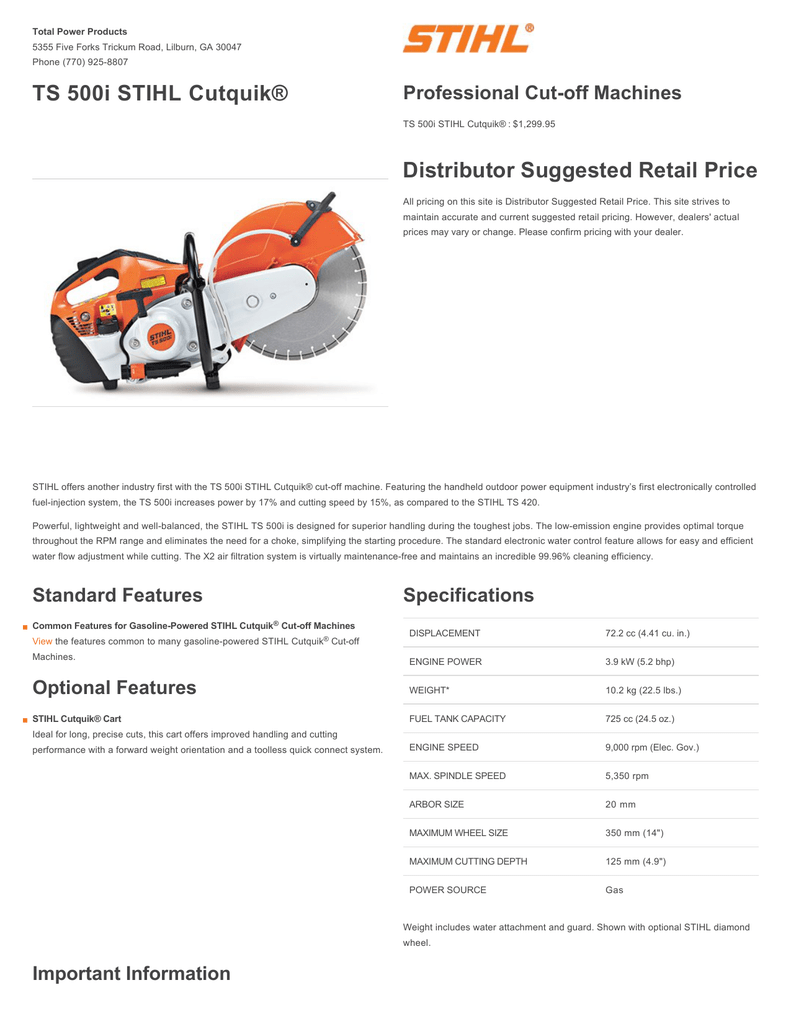 Total Power Products 5355 Five Forks Trickum Road, Lilburn, GA 30047
Phone (770) 925­8807
TS 500i STIHL Cutquik®
Professional Cut­off Machines
TS 500i STIHL Cutquik® : $1,299.95
Distributor Suggested Retail Price
All pricing on this site is Distributor Suggested Retail Price. This site strives to
maintain accurate and current suggested retail pricing. However, dealers' actual
prices may vary or change. Please confirm pricing with your dealer.
STIHL offers another industry first with the TS 500i STIHL Cutquik® cut­off machine. Featuring the handheld outdoor power equipment industry's first electronically controlled
fuel­injection system, the TS 500i increases power by 17% and cutting speed by 15%, as compared to the STIHL TS 420.
Powerful, lightweight and well­balanced, the STIHL TS 500i is designed for superior handling during the toughest jobs. The low­emission engine provides optimal torque
throughout the RPM range and eliminates the need for a choke, simplifying the starting procedure. The standard electronic water control feature allows for easy and efficient
water flow adjustment while cutting. The X2 air filtration system is virtually maintenance­free and maintains an incredible 99.96% cleaning efficiency.
Standard Features
Common Features for Gasoline­Powered STIHL Cutquik® Cut­off Machines Specifications
DISPLACEMENT
72.2 cc (4.41 cu. in.)
Machines.
ENGINE POWER
3.9 kW (5.2 bhp)
Optional Features
WEIGHT*
10.2 kg (22.5 lbs.)
STIHL Cutquik® Cart FUEL TANK CAPACITY
725 cc (24.5 oz.)
ENGINE SPEED
9,000 rpm (Elec. Gov.)
MAX. SPINDLE SPEED
5,350 rpm
ARBOR SIZE
20 mm
MAXIMUM WHEEL SIZE
350 mm (14")
MAXIMUM CUTTING DEPTH
125 mm (4.9")
POWER SOURCE
Gas
View the features common to many gasoline­powered STIHL Cutquik® Cut­off
Ideal for long, precise cuts, this cart offers improved handling and cutting
performance with a forward weight orientation and a toolless quick connect system.
Weight includes water attachment and guard. Shown with optional STIHL diamond
wheel.
Important Information
WARNING! Never use carbide­tipped, wood cutting or circular saw blades on cut­off machines. They can cause severe personal injury or death from reactive forces, blade
contact or thrown tips. Never cut wood of any type.
Note: STIHL recommends use of fuel with no more than 10% Ethanol content. Using fuel with greater than 10% Ethanol content may cause damage to your equipment and
may void your STIHL warranty. Learn More…
WARNING! Improper use of any power tool may cause serious or fatal injury. Read, understand and follow carefully the operating and safety instructions in your instruction
manual before using such products.
STIHL products sold through U.S. STIHL Dealers are for distribution in the United States only.

* Your assessment is very important for improving the work of artificial intelligence, which forms the content of this project