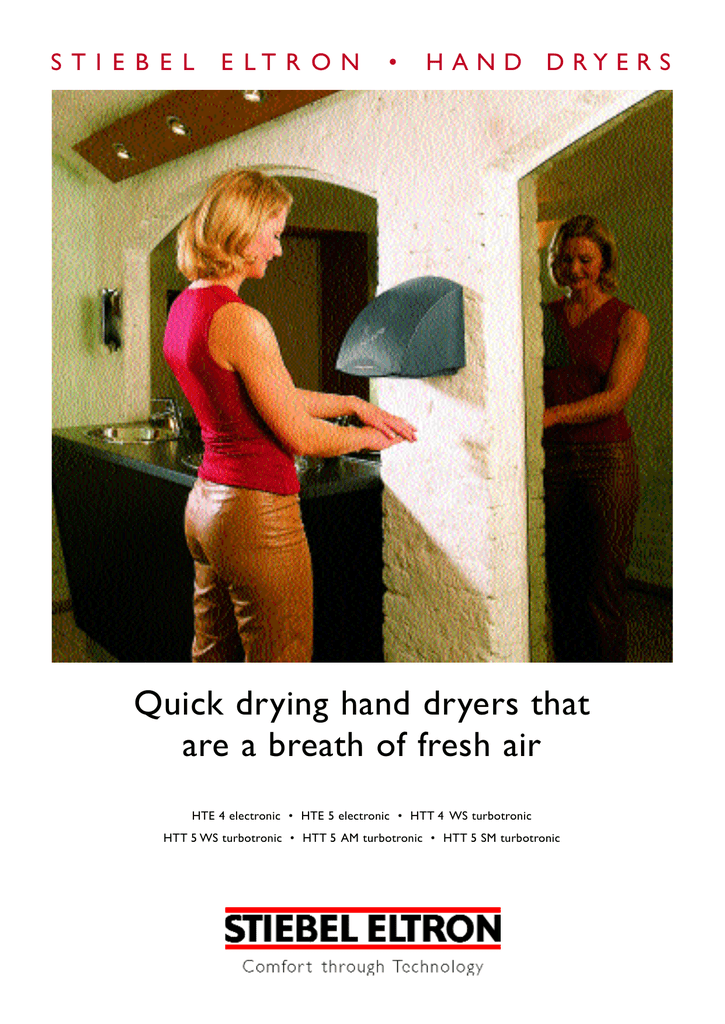 STI E B E L
E LT R O N
•
H A N D D RY E R S
Quick drying hand dryers that
are a breath of fresh air
HTE 4 electronic • HTE 5 electronic • HTT 4 WS turbotronic
HTT 5 WS turbotronic • HTT 5 AM turbotronic • HTT 5 SM turbotronic
Innovative design - coupled w
Convenient,
maintenance-free
and extremely
robust
The hygienic and effective hand drying solution
A truly convincing performance
The Stiebel Eltron range of
hand dryers have been
specifically developed for
use in all commercial,
industrial and public building
environments. They are
ideally suited for use in
hotels, restaurants, shops,
offices and factories. Stiebel
Eltron hand dryers are the
ideal choice wherever hands
need to be dried quickly and
economically, without having
to cope with all the
inconvenience and costs
associated with using paper
or fabric towels. Once
2
installed, they will give years
of maintenance-free service,
and the automatic 'no-touch'
infra red control ensures
that they remain
economical to run.
With either the HTE
Electronic or the HTT
Turbotronic to choose from,
there will always be a hand
dryer suited to your needs.
Quality assured
The HTE 4 and HTT 4 have
a very strong impactresistant polypropylene case,
but for the really tough
environments, the vandalresistant cast aluminium
cases of the HTE 5 and
HTT 5 are the best choice.
All models have a stylish
rounded design that not only
looks good but also has a
functional side to it as well.
The design prevents objects
from being placed on top
that may damage the unit.
All models use an infra red
proximity switch control.
This 'no-touch' infra red system switches the hand dryer
on when hands approach it
and immediately switch it
off again when the hands are
removed. The
sensor also ensures that the
hand dryer cannot continue
to run needlessly if it has
been obstructed. Each hand
dryer also contains a built-in
over-heat protection device
for extra safety.
with safety …
Award winning design
The HTE 4 has won
numerous design awards
around the world. This
underlines the outstanding
quality of the design. This
innovative design philosophy has now been carried
through and fine tuned with
the launch of the HTT range.
Design, performance and
quality working together in
harmony, summarises the key
features of the Stiebel Eltron
hand dryer range.
Winner of numerous prestigious
design awards.
HTE and HTT - features at a glance
• Fast drying time, approx
20 seconds (HTT)
• Hygienic and energy
efficient
Making a pleasant smell: Air fresheners for hand dryers
Hand drying with a breath of fresh air
A clean and tidy washroom
always makes a good
impression. Now, with the
Stiebel Eltron range of hand
dryers you can go one better
- A unique fragrance
dispenser in each hand dryer
freshens up the environment every time it is used.
Replacement cartridges are
available in 4 different
fragrances - citrus fruit,
flower, mint and fresh air.
They are readily available
and easily fitted.
• Infra red proximity
control
• Vandal-resistant, cast
aluminium case
(HTE 5, HTT 5)
• Choice of colours -
Alpine White, Anthracite
or Metallic Silver
• IP23 splashproof
• Very quiet (HTE)
dispenser as
• Reliable and maintenance- • Fragrance
standard
free
• EN 60 335-1 compliant
• Low operating costs
• Innovative design
• Impact resistant, UV-proof
polypropylene case
(HTE 4, HTT 4)
3
Efficient, clean and fast
HTT 4 WS turbotronic with
polypropylene case in alpine white
HTT 5 WS turbotronic with rugged cast
aluminium case
HTT 5 AM turbotronic with metal case
in anthracite
HTT 5 SM turbotronic with metal case
in metallic silver
Hand drying at turbo speed
The HTT hand dryers are
incredibly powerful and fast,
they dry your hands
hygienically and comfortably
in around 20 seconds.
are dried quickly and it also
minimises the wastage of
energy.
The HTE and HTT hand
dryers respond very quickly
when hands are being placed
under them. This quick
response ensures that hands
The hygienic solution
for public washrooms
Always neat and tidy
Clean and simple with the HTE and
HTT.
4
Piles of paper towels are a thing of the
past.
Discarded paper towels or
wet and dirty fabric towels
are unsightly, and also a
breeding ground for germs.
This can now be a thing of
the past. The HTE and HTT
ensure that your washroom
facilities always look at their
best.
A neat and tidy washroom,
with a pleasant aroma, will
always reflect well on you
and your business. Like they
say, it is the initial
impressions that count.
Savings resulting from Stiebel Eltron hand dryers compared
to other forms of hand drying over a 5 year period.
Costs in €
Cut costs
and increase
comfort!
Paper
Paper system
Fabric towels
Number of hand dries
Source: Efficiency study on hand drying by the ipi-Institute Esslingen 2000
Economy that is hard to beat
The above graph clearly
shows that warm air hand
dryers are the most costeffective solution for hand
drying when compared with
paper or fabric towels.
The fact that our hand dryers have minimal service
requirements makes their
economy even more
pronounced.
The infra red proximity
switch is a feature of all
Stiebel Eltron hand dryers
and contributes to the
overall economy.
The investment made in
STIEBEL ELTRON hand dryers will pay for itself many
times over.
The HTE 4 and HTE 5 bear the 'Blue
Angel' symbol to show that they help
to save both scarce resources and the
environment.
5
Technical features and insta
Installation is quick and easy
The HTE and HTT hand
dryers can be installed
very quickly.
Here is how it works:
1 Loosen the fixing screw
at the rear of the unit so
that the slide-lock can be
pulled down and the front
cover can be removed.
2 Use the enclosed
template to mark the
position of the screws on
the wall.
3 After drilling and plugging
the holes, screw the unit
to the wall and connect
the electricity cable.
Wall plug
4 Replace the front cover,
secure it in position with
the slide-lock, refasten the
fixing screw.
That's it! The only thing left
to do is to insert the
fragrance cartridge. This
should be replaced every
4 - 6 weeks.
1
Undo screw and pull slide-lock downwards. Remove front cover.
3
Screw hand dryer to wall and connect
electricity cable.
2
Use template to mark where holes
need to be drilled, then drill and plug
holes.
4
Replace front cover and secure slidelock with fixing screw
Easy to use and
inexpensive to run.
Technical highlights
• Infra red proximity switch • Heating element
electronics allows for a
'no-touch' operation
• High air flow volumes
• Maintenance-free fan
motor
Electronically commutated DC fan
motor for a low connected load but
high air flow rate.
6
optimised to give quick
drying time and
comfortable temperatures
• Splash-proof IP23
• Protection Class 1
llation
Technical Data
Type
Product code
Colour
Connection
Total connected load
Heating element W
Fan
W
Air flow
m3/h
Dim. (H/W/D)
mm
Weight
kg
Protection/Class
HTE 4 electronic
HTE 5 electronic
07 30 07
0730 08
alpine white
white, RAL 9003
1/N 220-240 V, 50 Hz
1/N 220-240 V, 50 Hz
1,800
1,800
1,730
1,730
70
70
146
146
250 / 238 /230
266 /257/230
2,5
4,0
IP 23 (splash-water proof) / II (protective insulation)
HTT 4 WS turbotronic
0744 64
alpine white
1/N 220-240 V, 50/60 Hz
2,600
2,500
100
250
250 /238/230
2,7
Technical Data
Type
Product code
Colour
Connection
HTT 5 WS turbotronic
07 44 65
white, RAL 9003
1/N 220-240 V, 50/60 Hz
HTT 5 AM turbotronic
18 20 52
anthracite
1/N 220-240 V, 50/60 Hz
Total connected load
Heating element
W
Fan
W
3
Air flow
m /h
Dim. (H/W/D)
mm
Weight
kg
Protection/Class
2,600
2,600
2,500
2,500
100
100
250
250
266 / 257 /230
266 / 257 /230
4,2
4,2
IP 23 (splash-water proof) / II (protective insulation)
Type
Order No.
Description
DPS 1
16 82 13
Refill including 5 fragrance cartridges
and one holder for fastening in the air
grille of hand dryers HTE 4 and HTT 4
HTT 5 SM turbotronic
18 20 53
metallic silver
1/N 220-240 V, 50/60 Hz
2,600
2,500
100
250
266 / 257 /230
4,2
Fragrance Cartridges
DPS 2
16 82 14
Refill including 5 fragrance cartridges
and one holder for fastening in the air
grille of hand dryers HTE 5 and HTT 5
7
www.stiebel-eltron.com
STIEBEL ELTRON is represented in
over 30 countries worldwide.
Headquarters
STIEBEL ELTRON International GmbH
Dr.-Stiebel-Straße
D-37603 Holzminden
Telephone
0 55 31/7 02-0
Fax
0 55 31/7 02-4 79
E-Mail: info@stiebel-eltron.com
Subsidiaries
Austria
STIEBEL ELTRON Ges.m.b.H.
Eferdinger Str. 73
A-4600 Wels
Telephone
07242/47367-0
Fax
07242/47367-42
www.stiebel-eltron.at
Hungary
STIEBEL ELTRON Kft.
Pacsirtamezö u. 41
H-1036 Budapest
Telephone
01-250 6055
Fax
01-368 8097
www.stiebel-eltron.hu
Switzerland
STIEBEL ELTRON AG
Netzibodenstr. 23 c
CH-4133 Pratteln
Telephone
061-8169333
Fax
061-8169344
www.stiebel-eltron.com
E-Mail: info@stiebel-eltron.at
E-Mail: info@stiebel-eltron.hu
E-Mail: info@stiebel-eltron.ch
Belgium
STIEBEL ELTRON S.P.R.L./P.V.B.A.
Rue Mitoyenne 897
B-4840 Welkenraedt
Telephone
087-881465
Fax
087-881597
www.stiebel-eltron.be
Netherlands
STIEBEL ELTRON Nederland B.V.
Daviottenweg 36
Postbus 2020
NL-5202 CA' s-Hertogenbosch
Telephone
073-6230000
Fax
073-6231141
www.stiebel-eltron.nl
Thailand
STIEBEL ELTRON Ltd.
No. 469, Building 77
Bond Street, Bangpood
Pakkred, Nonthaburi 11120
Thailand
Telephone
02-9601602-4
Fax
02-9601605
www.stiebeleltronasia.com
E-Mail: stiebel@skynet.be
E-Mail: stiebel@iaehv.nl
France
STIEBEL ELTRON International
7-9, rue des Selliers
B.P. 85107
F-57073 Metz Cédex
Telephone
03-87/74 38 88
Fax
03-87/74 68 26
www.stiebel-eltron.fr
E-Mail: secretdir@stiebel-eltron.fr
Great Britain
STIEBEL ELTRON LTD.
Lyveden Rd.
Brackmills,
Northampton NN4 7ED
Telephone
01604-766421
Fax
01604-765283
www.stiebel-eltron.co.uk
E-Mail: info@stiebel-eltron.co.uk
E-Mail: stiebel@loxinfo.co.th
Poland
STIEBEL ELTRON sp.z o.o
ul. Instalatorów, 9
PL-02-237 Warsaw
Telephone
022-668 20 06
022-846 48 20
Fax
022-846 67 03
www.stiebel-eltron.com.pl
The Czech Republic
STIEBEL ELTRON spol. s r.o.
k Hájum 946
CZ-15500 Prag 5 - Stodulky
Telephone
02-51116111
Fax
02-35512122
www.stiebel-eltron.cz
E-Mail: stiebel@stiebel-eltron.com.pl
E-Mail: info@stiebel-eltron.cz
Sweden
STIEBEL ELTRON AB
Box 206
S-64122 Katrineholm
Telephone
0150-487900
Fax
0150-487901
www.stiebel-eltron.se
United States of America
STIEBEL ELTRON INC
167, Chestnut Street
USA-Holyoke, MA 01040
Telephone
0413-538 78 50
Fax
0413-538 85 55
www.stiebel-eltron-usa.com
E-Mail: info@stiebel-eltron.se
E-Mail: info@stiebel-eltron-usa.com
Rechtshinweis:
Eine Fehlerfreiheit der in diesem Prospekt enthaltenen Informationen kann trotz sorgfältiger Zusammenstellung nicht garantiert werden. Aussagen über Ausstattung und Ausstattungsmerkmale sind unverbindlich.
Die in dieser Broschüre beschriebenen Ausstattungsmerkmale gelten nicht als vereinbarte Beschaffenheit unserer Produkte. Einzelne Ausstattungsmerkmale können aufgrund ständiger Fortentwicklung unserer
Produkte zwischenzeitlich verändert oder gar entfallen sein. Über die zur Zeit gültigen Ausstattungsmerkmale informieren Sie sich bitte bei unserem Fachberater. Die bildlichen Darstellungen im Prospekt stellen nur
Anwendungsbeispiele dar. Die Abbildungen enthalten auch Installationsteile, Zubehör und Sonderausstattungen, die nicht zum serienmäßigen Lieferumfang gehören.