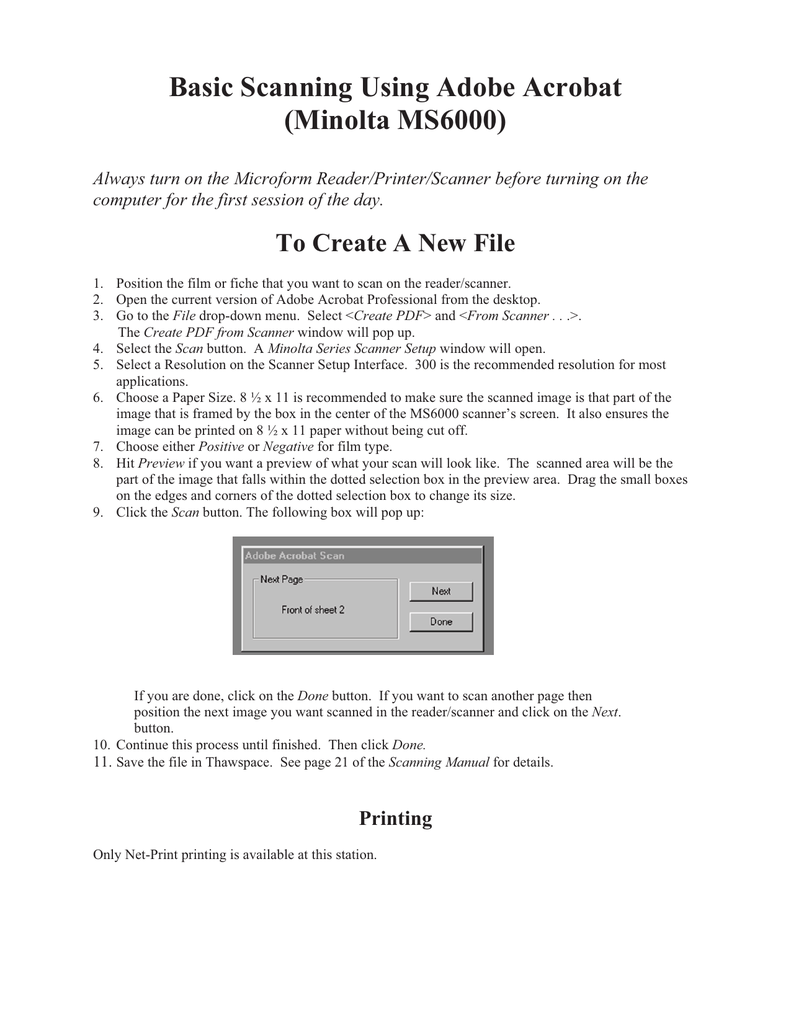 Basic Scanning Using Adobe Acrobat
(Minolta MS6000)
Always turn on the Microform Reader/Printer/Scanner before turning on the
computer for the first session of the day.
To Create A New File
1. Position the film or fiche that you want to scan on the reader/scanner.
2. Open the current version of Adobe Acrobat Professional from the desktop.
3. Go to the File drop-down menu. Select <Create PDF> and <From Scanner . . .>.
The Create PDF from Scanner window will pop up.
4. Select the Scan button. A Minolta Series Scanner Setup window will open.
5. Select a Resolution on the Scanner Setup Interface. 300 is the recommended resolution for most
applications.
6. Choose a Paper Size. 8 ½ x 11 is recommended to make sure the scanned image is that part of the
image that is framed by the box in the center of the MS6000 scanner's screen. It also ensures the
image can be printed on 8 ½ x 11 paper without being cut off.
7. Choose either Positive or Negative for film type.
8. Hit Preview if you want a preview of what your scan will look like. The scanned area will be the
part of the image that falls within the dotted selection box in the preview area. Drag the small boxes
on the edges and corners of the dotted selection box to change its size.
9. Click the Scan button. The following box will pop up:
If you are done, click on the Done button. If you want to scan another page then
position the next image you want scanned in the reader/scanner and click on the Next.
button.
10. Continue this process until finished. Then click Done.
11. Save the file in Thawspace. See page 21 of the Scanning Manual for details.
Printing
Only Net-Print printing is available at this station.

* Your assessment is very important for improving the work of artificial intelligence, which forms the content of this project