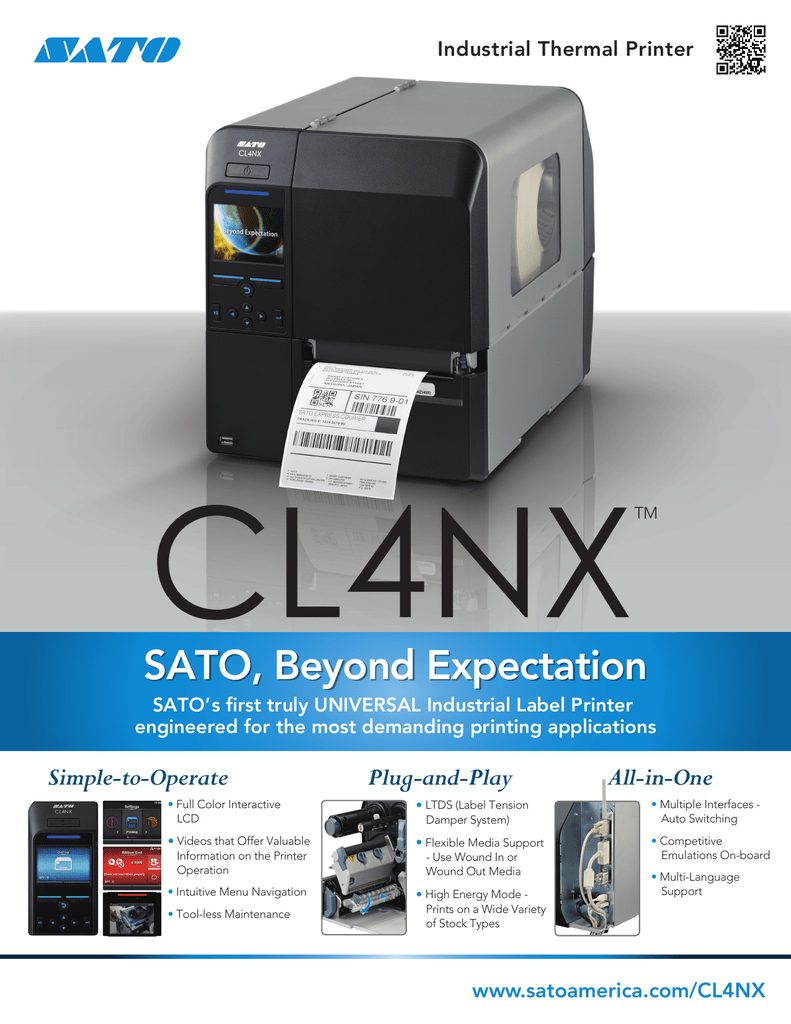 Industrial Thermal Printer
TM
SATO, Beyond Expectation
SATO's first truly UNIVERSAL Industrial Label Printer
engineered for the most demanding printing applications
Simple-to-Operate
Plug-and-Play
• Full Color Interactive
LCD
• LTDS (Label Tension
• Videos that Offer Valuable
• Flexible Media Support
Information on the Printer
Operation
• Intuitive Menu Navigation
• Tool-less Maintenance
Damper System)
- Use Wound In or
Wound Out Media
• High Energy Mode -
All-in-One
• Multiple Interfaces Auto Switching
• Competitive
Emulations On-board
• Multi-Language
Support
Prints on a Wide Variety
of Stock Types
www.satoamerica.com/CL4NX
GENERAL SPECIFICATIONS / CL4NXTM
PRINTER MODEL
MEMORY & PROCESSING SPECIFICATIONS
CL4NX
Dual CPU
PRINT SPECIFICATIONS
203 dpi
(8 dots/mm)
Print Speed
Large Status LED
305 dpi
609 dpi
(12 dots/mm) (24 dots/mm)
Blue/Red
PDF417, Micro PDF, Maxi Code,
GS1 Data Matrix, QR Code, Micro QR Code
and Composite Symbologies
Beep (3 volume setting)
Self Diagnosis
Continuous, Tear-off, Cutter, Dispense
Print Area
Display Panel
Head Check, Cutter-Cover Open,
Stand-by mode, Auto-Calibration
User Downloadable Fonts, Graphics or Format
Maximum 100MB
OPERATING & ENVIRONMENT CHARACTERISTICS
3.5" Full Color LCD
Maximum Width
Electrical Requirements
Tool-less Maintenance
4.1" (104.0 mm)
Maximum Length (Continuous mode)
59.06"
(1500.0 mm)
2D Symbologies
Alarm Sound
10 ips
8 ips
6 ips
(254.0 mm/sec) (203.2 mm/sec) (152.4 mm/sec)
Print Mode
98.43"
(2500.0 mm)
Code 39, Code 93, Code 128, CODABAR
(NW7), EAN8/13, GS1-DatabarTM, GS1-128
(UCC/EAN128), Interleaved 2/5, Industrial
2/5, JAN8/13, Matrix 2/5, MS1, Bookland,
PostnetTM, UPC-A/E
USER FRIENDLY SUPPORT TOOLS
Direct Thermal or Thermal Transfer
Print Resolution
15.75"
(400.0 mm)
MEDIA SPECIFICATIONS
Sensor Type
Print Head Replacement and Adjustment,
Platen Replacement
Multi National Language Support
47 Languages Scalable Fonts for Print
31 Languages for LCD Menu
Media Type
Multiple Instructional Videos On-board
(e.g. Error Resolution, Media Loading, Parts
Replacement and Cleaning)
Emulation
Roll (Continuous, Die-cut), Fan-fold, Tag, Ticket
Media
Auto detect - SBPL , SZPL , SDPL ,SIPL or
STCL®
®
®
®
®
Remote Maintenance
Width
SNMP Ver. 3, HTTPS
0.87" (22.0 mm) - 5.04" (128.0 mm)
Thickness (label & liner)
COMMUNICATION INTERFACES SPECIFICATIONS
Standard
0.002" (0.060 mm) - 0.011" (0.268 mm)
Roll Diameter
Maximum 8" (203.2 mm) on 3" (76.0 mm) ID Core
Optional 10" OD
Wind
Face-in / Face-out, No Setting Change Required
Ribbon
USB 2.0 (Type A, Type B),
Ethernet (IPv4/IPv6) on Rear Panel
USB 2.0 (Type A) on Front Panel
RS-232C, IEEE1284, EXT on Standard Interface Board
Bluetooth® Ver.3.0 (only for NA & EU)
Optional Wireless LAN Kit (Internal)
Wi-Fi® Certified, CCX (Cisco®) version 4
Certified, IEEE 802.11 a/b/g/n, Dual Band
(2.4 GHz, 5 GHz)
Width
1.55" (39.5 mm) - 5.04" (128.0 mm)
OPTIONS
Length
1,968.5 ft (600 m) on 1" (25.4 mm) ID Core
Roll Diameter
Maximum 3.54" (90.0 mm)
Cutter, Dispenser with Internal Liner
Re-winder, Real-Time Clock, UHF RFID
(ISO18000-6 Type C) ,W-LAN kit
FONT SPECIFICATIONS
Wind
Face-in / Face-out, No Setting Change Required
SATO Genuine Consumables
For Maximum Print Quality and Optimum
Use, SATO Recommends The Use of SATO
Genuine Consumables
Internal Fonts
Bitmap
Standards & Certification
Agency Approvals
cMETus, CE marking, FCC, NEMKO GS,
ICES-003, NMB-003, KC, CCC, S-mark,
Environment
Operating
32 to 104°F (0 to 40°C), 30 - 80% RH,
Non-Condensing
Storage
-4 to 140°F (-20 to 60°C), 30 - 90% RH,
Non-Condensing
PHYSICAL CHARACTERISTICS
Dimensions
Width: 10.67" (271.0 mm)
Depth: 17.99" (457.0 mm)
Height: 12.63" (321.0 mm)
Construction
Die-cast Aluminum
(Base, Frame, Front Cover, Ribbon Spindle,
Print Head Mechanism)
Side-cover
Bi-fold for Space Saving with Large Clear
Window
Mounting Chassis
3 Fixtures for Flat or Incline Setting
Weight
33.0 lbs. (15.1kg)
U, S, M, WB, WL, XS, XU, XM, XB, XL, OCR-A, OCR-B,
Chinese (GB18030, Big5), Korean (KSX1001)
Scalable
CG Times, CG TriumvirateTM, 13 SATO Fonts
- Unicode (47 Languages Supported)
CORPORATE
LABEL MANUFACTURING, SERVICE & SALES
10350-A Nations Ford Rd
Charlotte, NC 28273
Phone: (704) 644-1650
Fax: (704) 644-1662
satosales@satoamerica.com
NORTH AMERICA
Illinois
Florida
New Jersey
North Carolina
BRAZIL
Sao Paulo
Universal Auto-ranging Power Supply,
100-240VAC +/- 10%, 50/60Hz
Energy Star - Compliant
EN60950-1, UL60950-1/CSA C22.2
No.60950-1, C-Tick, CCC, KC, S-Mark
Operation Video
Adjustable Transmissive Sensor for Gap,
Adjustable Reflective Sensor for Black Mark,
Paper End, Ribbon Near-End/End
Barcodes
Linear
CPU1: 2GB ROM, 256MB RAM
CPU2: 4MB ROM, 64 MB RAM
Print Method
BARCODE SYMBOLOGIES SPECIFICATIONS
ARGENTINA
Buenos Aires
©2014 SATO America, Inc. All rights Reserved. Rev A • Specifications subject
to change without notice • Any unauthorized reproduction of this content,
in part or whole, is strictly prohibited • SATO is a registered trademark
of SATO Corporation and its subsidiaries in Japan, the U.S. and other
countries. All other trademarks are the property of their respective owners.
1-800-628-3888
sales@compsee.com
About Compsee
Partners
Who We Are
Compsee is a leading total solutions provider of GDWDcollection KDUGZDUH, VRIWZDUHand services2XUpURGXFWV
LQFOXGHEDUFRGHVFDQQHUV and printersPRELOHFRPSXWersEDUFRde ODEHOsDQGUibbonsRFID system equipment,
barcode verifiers, and a range of software to track materials and manage your technologies. We also provide a
complete suite of services to aid in the configuration, installation and management of your technologies.
30+ Years of Experience
Our product and service experts have been serving both small and large businesses since 1984. Identifying
better technologies and systems to manage your data is our expertise, and over the years we have built a solid
network of hardware manufacturers and software developers to provide you with the most advanced data
tracking solutions available. We aim to create a customized solution for your unique business needs.
Why Choose Compsee?
Expert Technical Support
Our experts are always available to suggest products and solutions for your needs. We pride ourselves on
staying up-to-date with the newest technologies and services and passing this information along to you.
Outstanding Access to Top Manufacturers
Compsee maintains strong strategic partnerships with the leading manufacturers in barcoding, mobile
computing, printing and RFID.
Complete Deployment Services
We specialize in custom sytem setups, including configuration and software loading on your newly purchased
equipment. We provide product activation & imaging, inspection, asset tagging, custom packaging and
shipping services to ensure your technologies arrive at your business ready for operation right out of the box.
Additionally, we are able to install the new technologies and train your employees.
Responsive Customer Service
Every phone call and email is responded to promptly, completely and accurately by our customer serviceWHDP
Lifelong Product Support
Our Life Cycle Services provide lifelong support of your technologies after initial installation, including product
repair, mobile device management, warranty management, product refreshes, and e-waste recycling. With
our advance exchange program, we keep replacement supplies in stock and immediately send them to you
to minimize system downtime.
Compsee Reduces Your Cost of Ownership
By leveraging our dependable and high quality managed services, you can rest assured that your Return
on Investment is maximized and total cost of ownership is kept to a minimum.
Contact us for product / service recommendations & to place an order
Control Solutions, Inc. | 1-800-852-3282 | compsee.com | sales@compsee.com
Compsee is a
registered trademark of
Control Solutions, Inc.