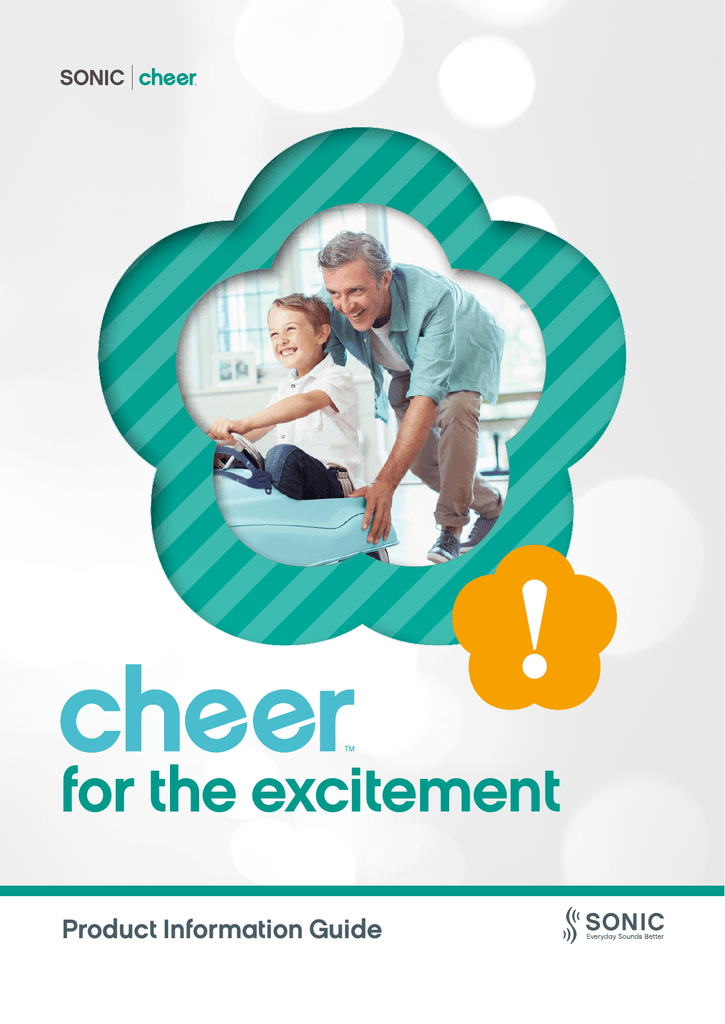 Sonic • Cheer for the excitement1
for the excitement
Product Information Guide
2
Sonic • Cheer for the excitement
Give a Cheer
Everybody, on your feet!
Sonic presents Cheer, a well-rounded lineup of products featuring impressive sound
quality stats. Cheer offers three technology levels, plus new power instruments, so
there's a device for nearly every hearing loss need. Multiple features add to a winning
sound performance on Sonic's Speech Variable Processing platform. Plus, many devices
include wireless connectivity. Better hearing every day. Now that's worth a Cheer.
Sonic • Cheer for the excitement3
Sonic has people Cheering
Over the years, Sonic has gained a true fan base thanks to what we call our
"4S Foundation." We commit to four principles that stand as the core of our products:
Sound that's natural, Speech understanding in noise, Simplicity in all we do, and Style that
stands out. Read on to learn how Cheer exemplifies these Sonic values in each and every way.
4
Sonic • Cheer for the excitement
Sound: Now this is winning performance
Natural sound begins with a digital signal processor that's
engineered for premium quality; we call it our Speech
Variable Processing platform. This industry-acclaimed
system can be layered with sophisticated features for an
unparalleled hearing experience.
Speech Variable Processing
Phoneme Focus – An extremely fast WDRC system, Speech
Variable Processing (SVP) with Phoneme Focus replicates
cochlear amplification to help keep sounds natural and
speech clear. Using Phoneme Focus, Cheer is able to
accurately measure the incoming signal and apply just the
right amount of gain at just the right moment to maintain
the clarity of individual sounds.
Envelope Focus – New! A slower WDRC system, this SVP
variant is designed for certain populations, considering
age, high frequency hearing thresholds and air-bone gap
information. With Envelope Focus, the contrast between
loud and soft phonemes is greater than traditional SVP and
will have a more linear behavior.
Adaptive Feedback Canceller
The Adaptive Feedback Canceller system in Cheer gets
to work fast – it proactively attacks feedback, resulting
in squeal-free, easy listening. It continually monitors the
frequency content of the input signal to detect oscillation
characteristics typical of feedback. Once feedback is
identified, the inverse phase canceller quickly applies a
counter signal to the offending component, which typically
eliminates feedback before it is audible. If an amplified
signal re-enters the microphone within 5 milliseconds of
exiting the receiver, the system recognizes that component
as a signal that has been previously amplified, and treats
the signal as feedback. This allows for very quick removal
of unwanted feedback.
l Speech Variable Processing
Sound
that's natural
l Adaptive Feedback Canceller
l Best Fit Fast SE
l Frequency Transfer
New Fitting Rationale: Best Fit Fast SE
Our proprietary Best Fit Fast fitting algorithm has a new
update for your convenience when fitting Cheer and other
Sonic instruments. Best Fit Fast SE (Speech Enhancement)
emphasizes speech intelligibility, making this fitting option
the perfect choice for patients who accept more gain at
their first fitting. Best Fit Fast SE joins the list of now seven
generic and proprietary fitting rationales included in our
EXPRESSfit fitting software.
Frequency Transfer Cheer 60 Exclusive
Working in conjunction with Speech Variable Processing,
Frequency Transfer technology offers an innovative
approach for managing severe high-frequency losses.
Frequency Transfer works by compressing high-frequency
input and transferring it to a lower frequency region that
has better residual hearing. Frequency Transfer improves
the access – and therefore the audibility – of speech cues.
The SVP platform keeps the bandwidth of the original
signal intact which promotes a smooth and seamless
sound. A premium-level technology, this feature can be a
game-changer at the Cheer 60 level.
Frequency Transfer
Sonic • Cheer for the excitement5
Something to shout about:
Speech understanding in noise
When it comes to better hearing, all sounds are not created
equal. Cheer uses multiple Sonic systems to identify
desirable sounds like speech, while weeding out unwanted
sounds that can be distracting and irritating.
Adaptive Directionality
LOW
1000Hz
1500Hz
2500Hz
HIGH
Wind Noise Reduction
Wind Noise Reduction makes time spent outdoors more
enjoyable by preventing wind sounds from being amplified.
When wind is detected, the Wind Noise Reduction
feature quickly sets the lowest frequencies to an optimal
directional response and applies maximum attenuation
across all frequencies, providing instant relief.
Soft Noise Reduction
While amplifying important speech signals is part of a
hearing device's basic function, amplifying annoying and
unwanted noise shouldn't be. This is particularly true of
low-level sounds: the whirring of a fan or the soft rumble
of a refrigerator. Soft Noise Reduction reduces these quiet
but distracting sounds without modifying the amplification
of important speech-related signals.
Speech
l Wind Noise Reduction
understanding
in noise
l Soft Noise Reduction
l Speech Priority Noise Reduction
Speech Priority Noise Reduction
A hearing device's primary goal is to maximize the ability
to understand speech. This can be difficult when speech
is mixed with noise. Correctly identifying what is speech
and what is noise can be very difficult, and often noise
reduction systems trade comfort for speech intelligibility.
Not so with the sophisticated Speech Priority Noise
Reduction found in Cheer.
Speech Priority Noise Reduction works to separate
speech from surrounding noise, making conversations
comfortable and clear. The system constantly monitors
the input and determines the modulation "fingerprint" of
the signal. Sounds that are highly modulated are most
likely speech and should be preserved; sounds that do not
show modulation characteristics are most likely noise and
should be reduced. By independently managing the noise
and leaving the speech signal intact, Speech Priority Noise
Reduction provides comfort and preserves underlying
speech signals.
Time in seconds
0.8
0.6
0.4
0.2
Amplitude
Adaptive Directionality Cheer 60 and Cheer 40 Exclusive
Adaptive Directionality is the directionality system patients
want for dynamic, everyday environments. In settings like
an office, a restaurant, or even a tour group, sounds are
coming from a variety of sources. Adaptive Directionality
quickly analyzes the incoming signal to determine the
location of the loudest sound within each of four frequency
regions. Upon identifying the location, the best polar
response is applied independently in each region to
improve the signal-to-noise ratio.
l Adaptive Directionality
0
-0.2
-0.4
-0.6
-0.8
0
0.2
0.4
0.6
0.8
1
1.2
1.4
1.6
1.8
2
6
Sonic • Cheer for the excitement
Score one
for Simplicity
Life is full of excitement. That means your patients'
listening environments can change in an instant. Cheer is
ready for the adventure with features that deliver simple,
accurate, hands-free operation. Many Cheer models (even
the Cheer 20 level) include wireless capabilities—a great
value in this family of instruments! Together, these easyto-use technologies help patients cheer on the day with a
seamless listening experience.
Universal Environment
All Cheer devices offer the hands-free advantage of the
Universal Environment. This legendary Sonic listening
program constantly monitors the listening environment
for specific characteristics like sound level, presence of
speech, frequency content, and harmonics. By analyzing
these different sound traits, the system determines which
combination of features and amplification will be beneficial
and then automatically adjusts accordingly.
Although the Universal environment addresses a variety
of listening situations, speech intelligibility gets special
attention. To achieve the best comprehension, the
Universal environment is specifically tuned to optimize
essential speech-related cues, maximizing speech
intelligibility in noisy situations.
Data Learning Cheer 60 Exclusive
Talk about simple—and smart. Data Learning (on Cheer 60)
tracks the volume changes a patient makes using the
instrument's volume control, SoundGate, or a Remote
Control device. By tracking volume changes over time,
this feature gradually adapts amplification settings to
automatically match the user's preferences.
l Universal Environment
Simplicity
in everything we do
l Data Learning
l Binaural Coordination
l Wireless Connectivity
Binaural Coordination*
With Binaural Coordination, Cheer can wirelessly transmit
actions between the left and right devices. Instead of the
listener having to adjust each device separately, Binaural
Coordination assures both instruments work together
seamlessly. Cheer the simplicity with:
• V
olume and Program Changes
Adjustments made to the volume level or a listening
program on one device are 'binaurally synchronized' to
the other. The desired change automatically occurs in
both devices simultaneously.
• N
on-Telephone Ear Control Cheer 60 Exclusive
When one ear engages its Auto Telephone listening
program, Cheer specifies the other device as the nontelephone ear and reduces gain or mutes the input on
that side. This reduces the distractions caused by sounds
in the environment and increases the perception of
volume from the telephone.
*Cheer wireless models only
Sonic • Cheer for the excitement7
Cheer for everyday
Connectivity
Cheer the convenience of Wireless Connectivity at a great value! Simplify your patient's hearing experience with wireless
features. Cheer 60 and Cheer 40 devices can connect to the full spectrum of optional wireless accessories – including the
new SoundLink App – while Cheer 20 models include wireless Remote Control and FittingLINK connection.
1
2
3
1 SoundGate 3*
The SoundGate 3 device provides wireless communication
between Cheer and nearly any external audio device that
uses Bluetooth® transmission. Just pair SoundGate 3 with
Cheer and patients can start enjoying hands-free mobile
phone use, binaural audio streaming, and basic remote
control operations.
2 SoundGate Mic*
Effortless hearing in challenging places becomes a breeze
with the new SoundGate Mic. Simply clip the SoundGate Mic
to a speaker's clothing or ask them to keep it nearby. Their
voice is transmitted via SoundGate 3 right into the patient's
hearing aids.
3 TV Adapter 2*
Sit back, relax, and enjoy the show. Connect the optional TV
Adapter 2 to a television, and SoundGate 3 streams the
audio directly to Cheer. Thanks to binaural wireless
reception, TV shows and movies always sound crystal clear.
4 Phone Adapter 2*
Don't forget about patients using landline phones. An
optional accessory, the Phone Adapter 2 provides a binaural
wireless link between landline phones and SoundGate 3,
making even non-mobile phone conversations clear and
vibrant.
*Cheer 60 and Cheer 40 wireless models only
**Cheer wireless models only
5
4
6
7
5 SoundLink App for iPhone® and Android™ smartphones*
Patients will applaud our newest app: The Sonic SoundLink
App along with SoundGate 3 lets listeners change volume,
programs, and listening sources right on their iPhone or
Android smartphone.1)
6 RC-N Remote Control**
All Cheer wireless devices can make the most of our newly
designed RC-N Remote Control. This small, simple-to-use
device with outstanding battery life fits in a pocket or purse
for easy, discreet program and volume changes. Patients
with dexterity issues especially appreciate the convenience
of this remote—no more fiddling with tiny buttons or dials
on their hearing instruments.
7 Wireless Programming with FittingLINK**
The FittingLINK is a small, lightweight wireless
programming device that minimizes your effort and
increases patient comfort during fitting sessions. Simply
place the programmer's flexible strap around a patient's
neck and launch EXPRESSfit on your fitting PC. EXPRESSfit
recognizes the connection to wireless instruments and
allows you to proceed with your fitting as usual. No cables
or connectors to computer or instruments means no extra
hassle—and you can put your full focus on your patient.
SoundLink App for iPhone runs on iPhone 6 Plus, iPhone 6, iPhone 5s, iPhone 5c, iPhone
4s, and iPhone 4, and requires Sonic wireless hearing aids and SoundGate 3 with firmware
3.1 or later. SoundLink App for Android smartphones requires Sonic wireless hearing aids
and SoundGate 3 with firmware 3.1 or later.
1)
8
Sonic • Cheer for the excitement
Cheer for the starting lineup:
Sonic Style
With so many styles and technology levels, Cheer can
really attract a crowd. You'll find features to meet a variety
of hearing needs. And with discreet sizes and even invisible
models, Cheer will have patients on their feet.
BTEs
The Cheer family of instruments includes four behindthe-ear models, all with contemporary designs. The
slim miniRITE and new Nano BTE are discreet options
for patients with mild to moderate hearing loss needs.
Patients with more severe hearing loss will appreciate
the new Power BTE or the sleek Compact Power Plus. All
Cheer BTEs come standard with wireless connectivity*,
and are available in six stylish colors.
New! miniFIT System
Fitting BTEs has never been easier with the new miniFIT
from Sonic. This complete system with updated thin
tubes, speakers, and domes offers peak performance and
convenience. The compact kits keep all Cheer BTE acoustic
accessories together and conveniently organized.
ITEs
Cheer is available in a wide range of custom options, too—
from the nearly invisible IIC (Invisible-In-Canal) to powerful
ITE (In-The-Ear) models. These models are custom molded
to the ear for a flawless fit, they come in a variety of colors,
and many are available with wireless connectivity.
lminiRITE
l Nano BTE
Style
l Power BTE
that stands out
l Compact Power Plus BTE
miniRITE**
beige
Nano BTE
taupe
IIC***
black
(IIC only)
brown
CIC
beige
Power BTE
grey
dark grey
ITC
light
brown
Compact
Power Plus
black
ITE
medium
brown
dark
brown
*Cheer 20 with limited wireless connectivity
**Cheer 60 and Cheer 40 only
***Cheer 60 only
Sonic • Cheer for the excitement9
10
Sonic • Cheer for the excitement
Model
Overview
Battery Size
Power Model
IIC***
10
CIC
ITC
ITE
MNR**
N
P
CPx
10
312
13
312
312
13
13
l
l
l
Power
Receiver
n
n
l
n
n
n
n
n
n
Directional Microphones
Program Button
l
l
n
n
Volume Control
l
l
n
n
Telecoil
l
l
n
n
Auto Telephone
l
l
n
n
n
l
l
n
n
n
Wireless Connectivity*
l
l
n
DAI/FM
n
n
Earhook
l
n
n
Thin Tube Adapter
n
l
l
IP57
IP58
IP58
IP Rating
Receiver Sizes
n STANDARD l OPTIONAL
IP58
Small (60)
Medium (85)
Power (100)
*Cheer 20 with limited wireless functionality
**Cheer 60 and Cheer 40 only
***Cheer 60 only
Sonic • Cheer for the excitement11
Feature
Overview*
Cheer60
Cheer40
Cheer20
Sound Quality
Signal Processing
3······················· Speech Variable Processing ·······················4
Phoneme Focus
n
n
n
Envelope Focus
n
n
n
8 kHz
8 kHz
8 kHz
n
Frequency Bandwidth
Frequency Transfer
n
Noise Management
Adaptive Feedback Canceller
n
n
Wind Noise Reduction
n
n
Soft Noise Reduction
n
n
n
4 Options
3 Options
3 Options
Omni Directionality
n
n
n
Fixed Directionality
n
n
n
Adaptive Directionality
n
n
Volume & Program Change
n
n
Non-Telephone Ear Control (Auto-T)
n
Non-Telephone Ear Control (Manual)
n
n
Universal Program
n
n
n
Manual Listening Programs
4
4
4
Environments
13
11
5
Data Logging
n
n
n
Data Learning
n
FittingLINK Wireless Programming
l
l
l
Real Ear Fit
n
n
n
Wireless Capability
n
n
n
Push Button Mute
n
n
Audible Performance Indicators
n
n
n
Start-Up Delay
n
n
n
Auto Telephone Detection
n
Speech Priority Noise Reduction
Directionality
Binaural Coordination
n
Programming Options
Patient Conveniences
n
STANDARD
l
OPTIONAL
*Not all features available in all models
© 2015 Sonic Innovations, Inc. All rights reserved.
Bluetooth is a registered trademark owned by
Bluetooth SIG, Inc, USA.
www.sonici.com
10.15 | 160895 | UK
Apple, the Apple logo, and iPhone are trademarks of
Apple Inc., registered in the U.S. and other countries.
App Store is a service mark of Apple Inc.