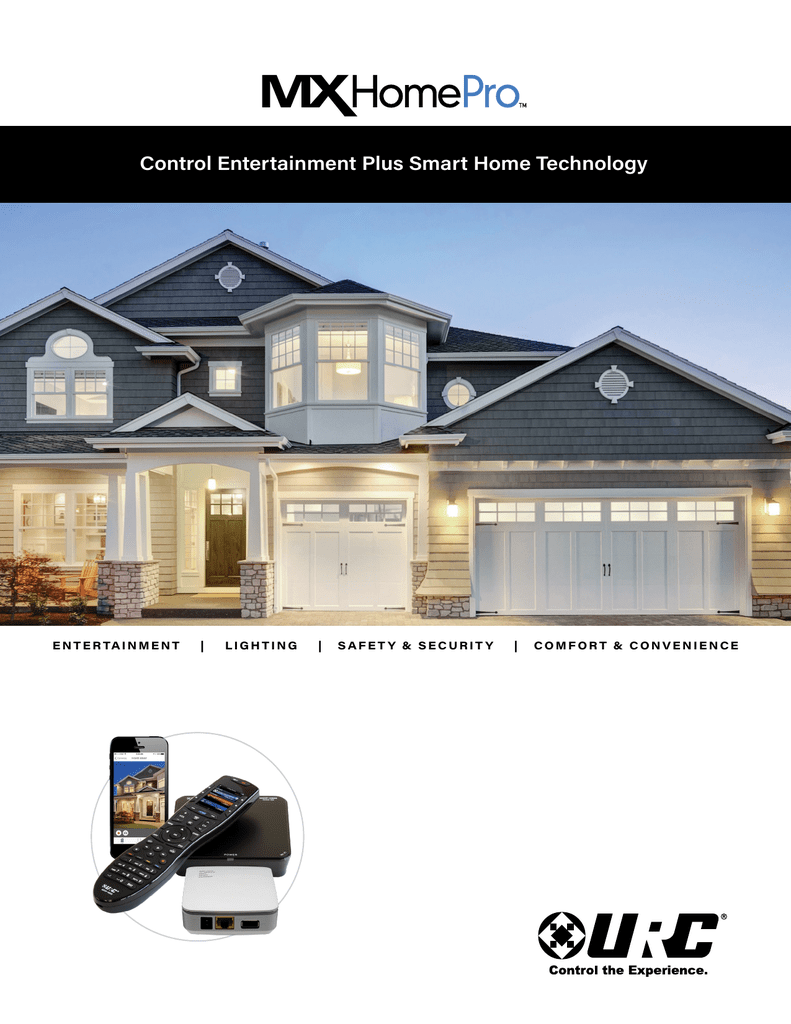 Control Entertainment Plus Smart Home Technology
E N T E R TA I N M E N T
|
LIGHTING
|
SAFET Y & SECURIT Y
|
COMFORT & CONVENIENCE
MX HomePro™ at a Glance
SMART HUB Connects via Wi-Fi or Ethernet. Controls main room of entertainment
plus smart home devices throughout the home.
MOBILE APP A free download, the MX HomePro™ App offers one-touch system
control at home or on the go. Controls multiple locations from a single smart device.
SMART REMOTE CONTROL Wi-Fi remote features a 2" color LCD. Controls an entire
room of entertainment plus smart home devices throughout the home. Features a
customizable Favorite Channels screen.
Z-WAVE® GATEWAY Controls all Z-Wave based lights, thermostats, door locks and
security cameras. Enables creation of one-touch Z-Wave scenes.
MX HOMEPRO™ EDITOR Offers dealers simple, web-based programming via PC,
Mac or Mobile. Cloud-based technology provides secure access and reliable file
storage. Service remotely without rolling a truck.
Enjoy Smart Home Installation
with MX HomePro
MX HomePro meets the needs of today's Connected Generation
and melds seamlessly into their unplugged lifestyle. Easy to install
and program, MX HomePro allows users one-touch control of their
home entertainment, as well as the Internet of Things: lighting,
thermostats, security cameras and popular Z-Wave products.
In addition to the ergonomic Remote Control and Smart Hub, the
MX HomePro App delivers on-the-go control via tablet and smart
phone. Simple programming allows installers and users to get
started quickly. And the MX HomePro Editor helps dealers maintain
systems from anywhere with web access, without rolling a truck.
Simple, reliable and powerful, MX HomePro is a leap forward in
integrated home control. It's ideal for single family homes,
townhouses, condominiums and apartments alike.
E N T E R TA I N M E N T
|
LIGHTING
|
SAFET Y & SECURIT Y
Connect with the Innovator in
Smart Home Control and Automation
|
COMFORT & CONVENIENCE
MX HomePro Offers Your Customer
Whether integrating their entertainment systems, or going for the
Connectivity and convenience
full smart home experience, today's tech-savvy consumer trusts
Secure, cloud-based technology
the leader in home automation and control. URC® has set the
Integration with popular brands
standard for innovation and customer satisfaction in a world that
demands seamless connectivity.
Z-Wave compatibility
We listen to users, create solutions that fit their lifestyles,
and then turn leading edge design into real world convenience.
Superior Brand Integration
Connectivity isn't a feature, it's a lifestyle. Users demand seamless
compatibility from an integrated control system. They also expect it to
easily adapt to future technology.
As we designed MX HomePro, URC worked closely with our
integration partners. These include leading names in A/V, lighting,
HVAC, surveillance and security, and many more—supported by the
industry's largest database of IR and IP control codes.
For the user, this partnership delivers a new standard of connectivity,
a greater selection of system components and a more satisfying
control experience.
(Smart)Home Life
with MX HomePro
MX HomePro and Z-Wave*
Offer Amazing Possibilities
Daybreak. MX HomePro wakes you with soft light
and music—right on schedule. Downstairs, the
Internet of Things springs to life. The blinds open,
the coffee brews and the morning news plays in
the background.
Heading for the door. You select the Away
setting on your remote or smart device.
Thermostat, lighting and door lock presets kick
in to keep your home safe and energy efficient all
day long.
Or, maybe you forgot to do that. No worries. Easy
access to your smart home system is a tap away
on your tablet or smartphone.
All back under one roof. Something different is
going on in every room. MX HomePro makes it
easy for everyone to do their own thing. Or even
come together for Movie Night.
Bedtime. MX HomePro goes into overnight mode.
Lights are off, locks are set. Time for the Connected
Generation to power down. Now, how about a little
white noise to help you sleep?
*Z-Wave Gateway required to create Z-Wave scenes.
Easy Installation, Service Simplicity
and Technical Support
URC enjoys strong and trusted relationships with integrators that are built on more than 25 years
of innovation, superior products, and ongoing support. With MX HomePro, these relationships will
only grow stronger.
MX HomePro installation is fast, and robust editing software offers convenient, web-based
programming via PC, Mac, smartphone or tablet. Service your customer from almost anywhere
without rolling a truck.
Our systems integrators enjoy award-winning training and support, both live and on the
web, that keeps you up to date on the latest URC technology. And our partner sales and
marketing programs are designed with your success in mind.
MX HomePro Dealer Benefits
Cloud-based Technology
Reduced Training
Simple, web-based programming
Program via PC, Mac, smartphone, tablet
Service remotely without rolling a truck
Client files never lost, stored safely in cloud
50% shorter training time
Train your way— in-person training, webinars,
self-paced tutorials
Less time training, more time integrating and selling
Build Your Business
Upgrade existing customers
Attract new customers
Ideal for homes, townhouses, condos, apartments
Save time and increase profitability
URC's fastest install ever—minutes not hours
Products
H500 Smart Hub
Secure, cloud-based technology
Wireless (Wi-Fi) or wired (CAT5) network connection
Controls main room of entertainment plus smart devices throughout the home
Controls up to five rooms—maximum three hubs per room
MX HomePro App
Download free from Apple iTunes™ or Google Play™
Controls system at home or while away
Features in-app launcher for third-party apps
Provides multi-location control for multiple residences
R500 Smart Remote
Color LCD Wi-Fi remote control
Controls main room of entertainment plus smart home devices throughout home
Provides two-way graphic feedback
LCD display shows security camera feeds
Allows for the creation of custom interface
TRF-ZW2 Z-Wave Gateway
Expand control for thousands of Z-Wave devices
Control lighting, door locks, sensors, cameras, thermostats and more
Create one-touch Z-Wave scenes
Taking the Lead in Home Control and Automation
URC is a global leader in smart home automation and control. Our technology is respected for unsurpassed performance
and reliability with over 100 million remote controls sold in the past 10 years alone. URC control systems are installed in
over 1.5 million homes worldwide, including many prestigious residences and celebrity homes. Our systems are installed
and maintained by a network of trained systems integration professionals.
What can URC do for you? Contact us today.
800.901.0800
mxhomepro@universalremote.com
www.universalremote.com
Specifications and screen designs are subject to change without notice. Universal Remote Control and MX HomePro are trademarks of
Universal Remote Control, Inc. All other trademarks are the property of their respective owners.
MX HOMEPRO BROCHURE 092016
© 2016 Universal Remote Control, Inc.