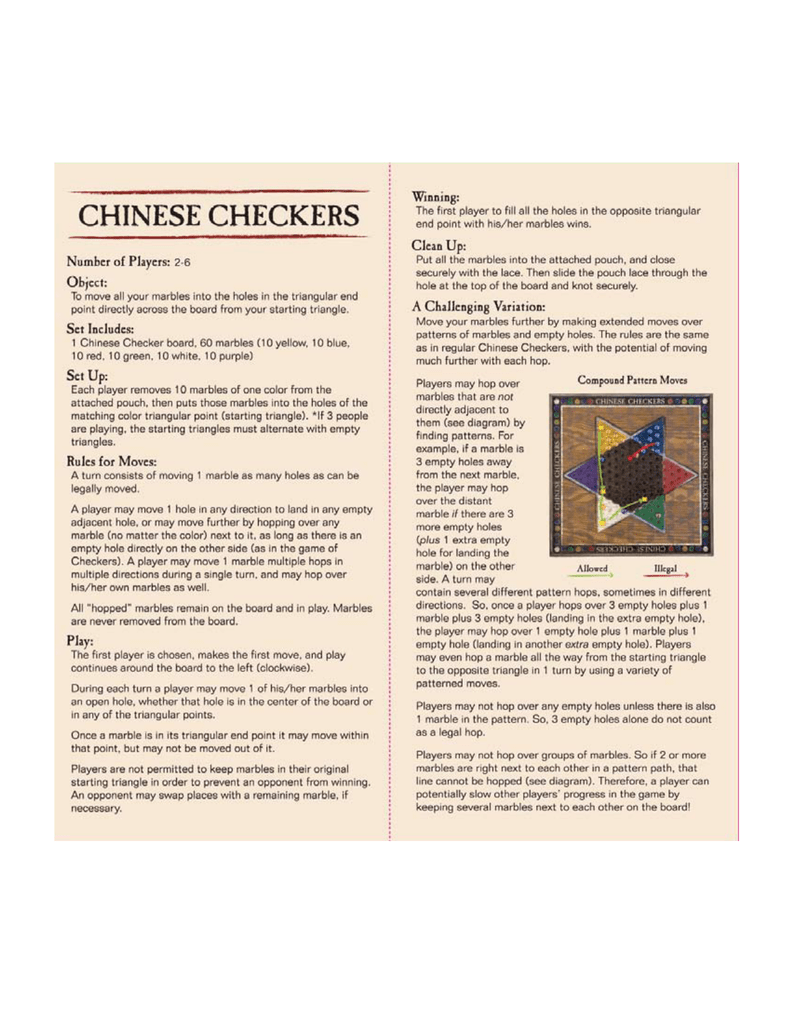 CHINESE CHECKERS
Number of Players: 2-6
Object:
To move all your marbles into the holes in the triangular end
point directly across the board from your starting triangle.
Set Includes:
1 Chinese Checker board, 60 marbles (10 yellow, 10 blue,
10 red, 10 green, 10 white, 10 purple)
Set Up:
Each player removes 10 marbles of one color from the
attached pouch, then puts those marbles into the holes of the
matching color triangular point (starting triangle). *If 3 people
are playing, the starting triangles must alternate with empty
triangles.
Rules for Moves:
À turn consists of moving 1 marble as many holes as can be
legally moved,
À player may move | hole in any direction to land in any empty
adjacent hole, or may move further by hopping over any
marble (no matter the color) next to it, as long as there is an
empty hole directly on the other side (as in the game of
Checkers). À player may move 1 marble multiple hops in
multiple directions during a single turn, and may hop over
his/her own marbles as well.
All "hopped" marbles remain an the board and in play. Marbles
are never removed from the board.
Play:
The first player is chosen, makes the first move, and play
continues around the board to the left (clockwise).
During each tum a player may move 1 of his/her marbles into
an open hole, whether that hole is in the center of the board or
in any of the triangular points.
Once a marble is in its triangular end point it may move within
that point, but may not be moved out of it.
Players are not permitted to keep marbles in their original
starting triangle in order to prevent an opponent from winning.
An opponent may swap places with a remaining marble, if
necessary.
wm om Em EEE ER ME EEE ECE CE ME ME ME EE CS TEN EM MM CE Me EE CE MEM MM CE CE CE ED ME MN MEME CE MEE CE mE me Mme mmm we meme
CACAO ACC MM ME = == ==
Winning:
The first player to fill all the holes in the opposite triangular
end point with his/her marbles wins.
Clean Up:
Put all the marbles into the attached pouch, and close
securely with the lace. Then slide the pouch lace through the
hole at the top of the board and knot securely.
A Challenging Variation:
Move your marbles further by making extended moves over
patterns of marbles and empty holes. The rules are the same
as in regular Chinese Checkers, with the potential of moving
much further with each hop.
Compound Pattern Moves
Players may hop over
marbles that are not
directly adjacent to
tham (see diagram) by
finding patterns. For
example, if a marble is
3 empty holes away
from the next marble,
the player may hop
over the distant
marble if there are 3
móre empty holes
(plus 1 extra empty
hole far landing the
marble) on the other
side. A turn may
contain several different pattern hops, sometimes in differant
directions. So, once a player hops over 3 empty holes plus 1
marble plus 3 empty holes (landing in the extra empty hole),
the player may hop over 1 empty hole plus 1 marble plug 1
empty hole (landing in another extra empty hole). Players
may even hop a marble all the way from the starting triangle
to the opposite triangle in 1 tum by using a variety of
patterned moves.
Allowed Шер!
Players may not hop over any empty holes unless there is also
1 marble in the pattern. So. 3 empty holes alone do not count
as a legal hop.
Players may not hop over groups of marbles. So if 2 or more
marbles are right next to each other in a pattern path, that
line cannot be hopped (see diagram). Therefore, a player can
potentially slow other players' progress in the game by
keeping several marbles next to each other on the board!

* Your assessment is very important for improving the work of artificial intelligence, which forms the content of this project