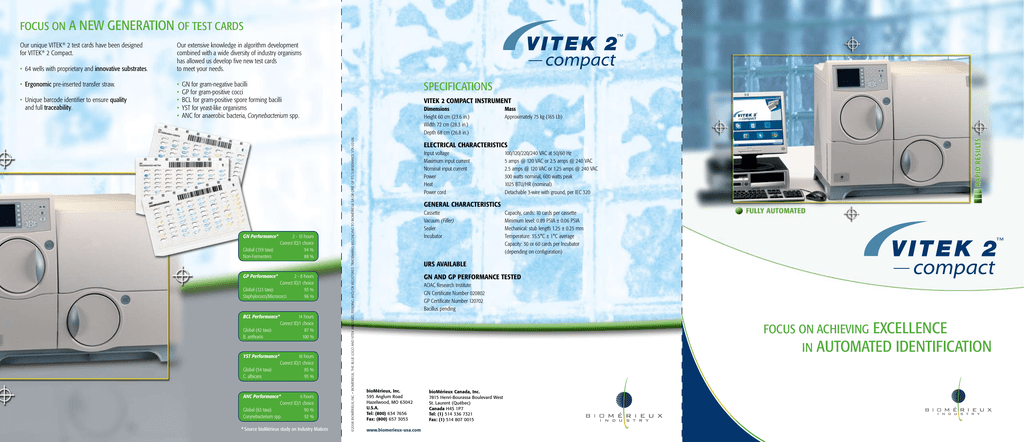 A NEW GENERATION OF TEST CARDS
Our unique VITEK® 2 test cards have been designed
for VITEK® 2 Compact.
• 64 wells with proprietary and innovative substrates.
• Ergonomic pre-inserted transfer straw.
• Unique barcode identifier to ensure quality
and full traceability.
Our extensive knowledge in algorithm development
combined with a wide diversity of industry organisms
has allowed us develop five new test cards
to meet your needs.
SPECIFICATIONS
• GN for gram-negative bacilli
• GP for gram-positive cocci
• BCL for gram-positive spore forming bacilli
• YST for yeast-like organisms
• ANC for anaerobic bacteria, Corynebacterium spp.
GN Performance* 2 - 10 hours
Correct ID/1 choice
Global (159 taxa) 94 %
Non-Fermenters 88 %
GP Performance*
2 - 8 hours
Correct ID/1 choice
Global (123 taxa) 93 %
Staphylococci/Micrococci 96 %
BCL Performance* 14 hours
Correct ID/1 choice
Global (42 taxa) 87 %
B. anthracis 100 %
YST Performance*
18 hours
Correct ID/1 choice
Global (54 taxa)
85 %
C. albicans
95 %
ANC Performance*
6 hours
Correct ID/1 choice
Global (63 taxa) 90 %
Corynebacterium spp. 92 %
* Source bioMérieux study on Industry Matices
VITEK 2 COMPACT INSTRUMENT
Dimensions Height 60 cm (23.6 in.) Width 72 cm (28.3 in.)
Depth 68 cm (26.8 in.)
©2008 bioMérieux, Inc. • biomérieux, the blue logo AND VITEK are used, pending and/or registered trademarks belonging to bioMérieux SA or one of its subsidiaries. VTK-02-08.
FOCUS ON
Mass
Approximately 75 kg (165 Lb)
ELECTRICAL CHARACTERISTICS
Input voltage Maximum input current Nominal input current Power Heat Power cord 100/120/220/240 VAC at 50/60 Hz
5 amps @ 120 VAC or 2.5 amps @ 240 VAC
2.5 amps @ 120 VAC or 1.25 amps @ 240 VAC
300 watts nominal, 600 watts peak
1025 BTU/HR (nominal)
Detachable 3-wire with ground, per IEC 320
GENERAL CHARACTERISTICS
Cassette Vacuum (Filler) Sealer Incubator Capacity, cards: 10 cards per cassette
Minimum level: 0.89 PSIA ± 0.06 PSIA
Mechanical: stub length 1.25 ± 0.25 mm
Temperature: 35.5°C ± 1°C average
Capacity: 30 or 60 cards per Incubator
(depending on configuration)
URS AVAILABLE
GN AND GP PERFORMANCE TESTED
AOAC Research Institute
GN Certificate Number 020802
GP Certificate Number 120702
Bacillus pending
FOCUS ON ACHIEVING EXCELLENCE
IN AUTOMATED IDENTIFICATION
bioMérieux, Inc.
595 Anglum Road
Hazelwood, MO 63042
U.S.A.
Tel: (800) 634 7656
Fax: (800) 657 3053
www.biomerieux-usa.com
bioMérieux Canada, Inc.
7815 Henri-Bourassa Boulevard West
St. Laurent (Québec)
Canada H4S 1P7
Tel: (1) 514 336 7321
Fax: (1) 514 807 0015
ACHIEVE EXCELLENCE
FOCUS ON
NEW INTUITIVE SOFTWARE
IN ROUTINE IDENTIFICATIONS
"...appropriate biochemical and phenotypic methods can be used for the
routine identification of isolates." FDA Guidance for Industry - Sterile drug
products produced by aseptic processing - Current Good Manufacturing
Practice, September 2004.
• User interface screen for immediate notification
of system status to increase productivity.
• Unique vacuum filler provides both safety
and the highest level of automation.
bioMérieux's Total Solution
IDENTIFICATION & TYPING
from Routine to Investigation
• New reader eliminates many manual steps:
- An automated internal barcode scanner
provides a validation of what the user
has entered into the software
- An automated loading mechanism eliminates
manual steps by the user increasing efficiency
- Reads every 15 minutes for greater speed
in identification
- Automatically prints the results when available,
if configured to do so, giving you flexibility.
• Intuitive icons require less technician training
resulting in higher productivity.
• Navigation tree shows actual status of all cards
increasing speed of results and resolution
of issues by staff.
Optional software includes
the VITEK®2 Compact Validation Package
to get your laboratory up and running
in the shortest time possible.
• 21 CFR Part 11 compliant.
• System uses Windows XP and security.
• Designed for simple temperature verification.
• SRF, Supplemental React File, a customizable
feature to track facility-specific organisms.
• Completed tests are automatically ejected into an
ergonomic trash container
• These organisms may be automatically transferred
to this area of the software and saved.
This eliminates typographical errors and increases
confidence and quality of results.
NETWORKING
Anywhere with any Hardware
• Complete networking guide
for remote print, view, back-up,
restore and archiving.
Api ®
• Freedom to use your hardware.
VITEK® 2 Compact
SIMPLISTIC WORKFLOW
DiversiLab®
Navigate to "virtual cassette"
workspace.
Inoculate tubes
and place in cassette.
Scan the appropriate card
and place it in the cassette.
Scan in the isolate
identification number,
or use the keyboard
to type it in.
Place cassette in filler.
Place cassette in reader.
Results print automatically
when card is complete.
Finished cards are
automatically sent
to waste bin for safe
disposal.

* Your assessment is very important for improving the work of artificial intelligence, which forms the content of this project