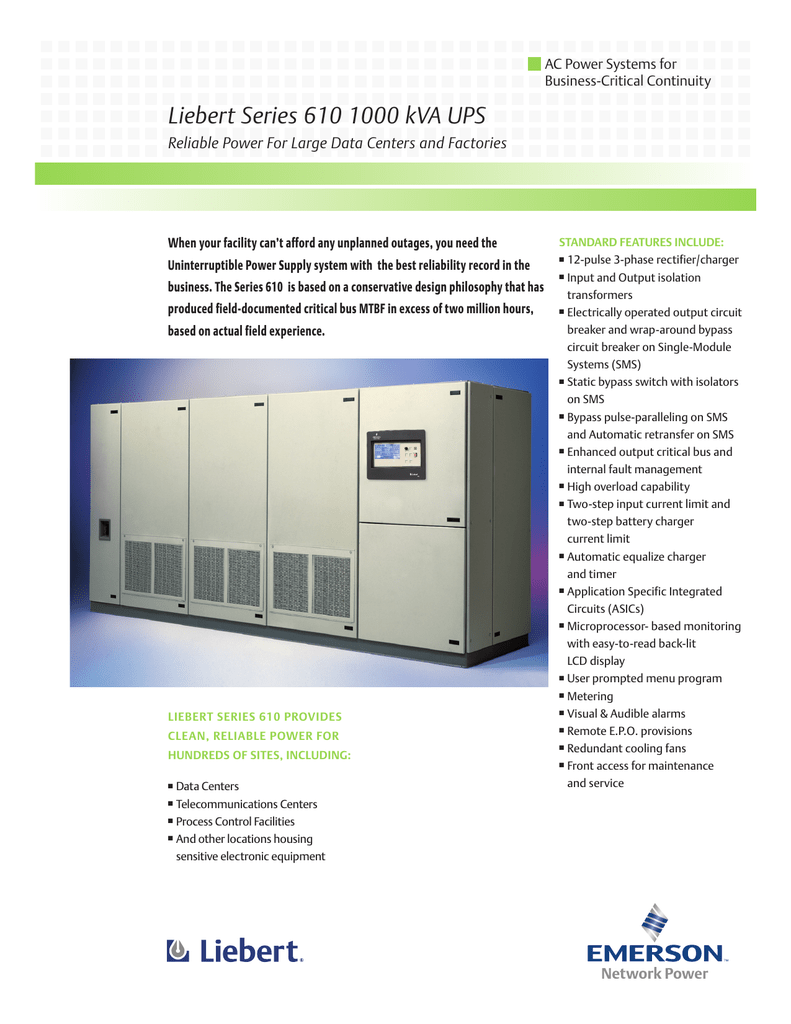 AC Power Systems for
Business-Critical Continuity
Liebert Series 610 1000 kVA UPS
Reliable Power For Large Data Centers and Factories
When your facility can't afford any unplanned outages, you need the
Uninterruptible Power Supply system with the best reliability record in the
business. The Series 610 is based on a conservative design philosophy that has
produced field-documented critical bus MTBF in excess of two million hours,
based on actual field experience.
STANDARD FEATURES INCLUDE:
n 12-pulse 3-phase rectifier/charger
n
Input and Output isolation
transformers
n Electrically operated output circuit
breaker and wrap-around bypass
circuit breaker on Single-Module
Systems (SMS)
n
Static bypass switch with isolators
on SMS
n Bypass pulse-paralleling on SMS
and Automatic retransfer on SMS
n Enhanced output critical bus and
internal fault management
n High overload capability
n Two-step input current limit and
two-step battery charger
current limit
n Automatic equalize charger
and timer
Application Specific Integrated
Circuits (ASICs)
n Microprocessor- based monitoring
with easy-to-read back-lit
LCD display
n User prompted menu program
n
n
LIEBERT SERIES 610 PROVIDES
CLEAN, RELIABLE POWER FOR
HUNDREDS OF SITES, INCLUDING:
n
Data Centers
Telecommunications Centers
n Process Control Facilities
n And other locations housing
sensitive electronic equipment
n
Metering
Visual & Audible alarms
n Remote E.P.O. provisions
n Redundant cooling fans
n Front access for maintenance
n
and service
General Specifications
Ups
Rating
Ac Input /
Output
Voltage
Liebert Corporation
Efficiency
Nominal
At 100%
Battery
Load
Requirements
Maximum Heat
Dissipation At
Full Load
Dimensions
WxDxH2
Approx.
Weight
(LB.)2
kVA
kW
Power
Factor
(VAC)
(%)
(CELLS)
(BTU/Hr)
(INCHES)
SMS
MMU
1000
900
0.9
480 or 600
93
240
231,200
177x44x82
16,700
16,555
Efficiency measured at rated power factor
2
Dimensions and weights do not include System Control Cabinet furnished with Multi-Module Systems
1
The Liebert Series 610 Gives
You Power Protection In Many
Configurations
• Single-Module Systems
• Multi-Module Systems
• Parallel Redundant Systems
• Isolated Redundant Systems
• Load Bus Synchronized Systems
TM
• Liebert Power-Tie Systems
Input
Voltage: 480 or 600 VAC, 3-phase,
3-wire plus ground.
Voltage Range: +10, -15% (no battery
discharge down to -20%)
Power Factor: 0.92 lagging at full load with
input filter (0.85 without).
Frequency Range: 60 Hz, ±5%.
Current Distortion: 4% maximum reflected
THD at full load with optional input filter
(9% without).
Subcycle Magnetizing Inrush: 5-8 times
normal full load current.
Walk-In: Configurable walk-in of 20% to
100% over 15 seconds.
Output and Bypass
Voltage: 480 or 600 VAC, 3-phase, 3-wire or
4-wire plus ground.
Voltage Adjustment: ±5%.
Voltage Regulation: ±0.5% for balanced load;
±2% for 50% unbalanced load.
Dynamic Regulation: ±8% deviation for 100%
load step. ±5% deviation for 50% load step.
±1% for loss or return of AC input. Manual
return of load to UPS: ±4%.
Transient Response Time: Recover to ±1% of
steady state within 50 milliseconds.
Voltage Distortion: For linear loads, 5% THD,
maximum total. 3% RMS maximum for any
single harmonic. Less than 5% THD for 100%
nonlinear loads without kVA/kW derating.
Phasing Balance: 120° ±1° for balanced load.
120° ±3° for 50% unbalanced load.
Frequency Regulation: ±0.1%.
Load Power Factor Range: Unity to rated
lagging power factor without derating.
Overload: 125% of full load for ten minutes.
150% for 30 seconds. 104% continuous.
Fault-Clearing Current: Up to 1000% for
16 milliseconds up to 500% for 40
milliseconds.
Environmental
Operating Temperature: 0° to 40°C
without derating.
Non-Operating Temperature: -20°C to 70°C.
Humidity: 0-95% relative humidity
without condensation.
Operating Altitude: Up to 4,000 feet (1200
meters) without derating.
Non-Operating Altitude: Up to 50,000 feet
(15,000 meters).
Audible Noise: 75 dBA typical, measured
5 feet from the unit.
Physical
ETL Listed to UL 1778 UPS standards, and CSA
certified. Meets requirements for safe high
performance UPS operation.
24 x 7 Tech Support
Standard Features
• 12-pulse, 3-phase rectifier/charger
• Easy-to-read backlit LCD monitor/control
display panel
• Self-diagnostics
• Input and output isolation transformer
• 2-stage battery charge current limit
• 2-stage input AC current limit
• Internal wrap-around bypass
• Automatic and programmable retransfer
• Automatic line-drop compensation
• Battery overdischarge protection
• Battery-time-remaining display and
battery statistics
• Automatic equalize charge timer
• Emergency Power Off (EPO)
• Front access for service and maintenance
While every precaution has been taken to ensure accuracy
and completeness in this literature, Liebert Corporation assumes
no responsibility, and disclaims all liability for damages resulting
from use of this information or for any errors or omissions.
© 2005 Liebert Corporation. All rights reserved throughout
the world. Specifications subject to change without notice.
All names referred to are trademarks or registered
trademarks of their respective owners.
® Liebert and the Liebert logo are registered trademarks
of the Liebert Corporation.
SL-30504 (R1/06)
Printed in USA
Emerson Network Power.
The global leader in enabling
business-critical continuity.
Options and Accessories
• Input filter/power factor correction
• Load Bus Sync™ (for dual load bus systems)
• Power-Tie® Dual-Bus Systems
• Bypass isolation transformer
• Maintenance bypass switchboards
• Power distribution unit
• Standard and custom switchgear packages
• Valve-regulated lead-acid battery packs
• Flooded rack-mounted battery systems
• SNMP capabilities
• Remote monitor panel
• Communications interfaces
• Alarm status contacts
• Customer alarm inputs
AC Power Systems
Connectivity
DC Power Systems
Embedded Power
Power Protection
Integrated Cabinet Solutions
Outside Plant
Precision Cooling
Site Monitoring and Services
Emerson Network Power and the Emerson
Network Power logo are trademarks and
service marks of Emerson Electric Co.
©2005 Emerson Electric Co.

* Your assessment is very important for improving the work of artificial intelligence, which forms the content of this project