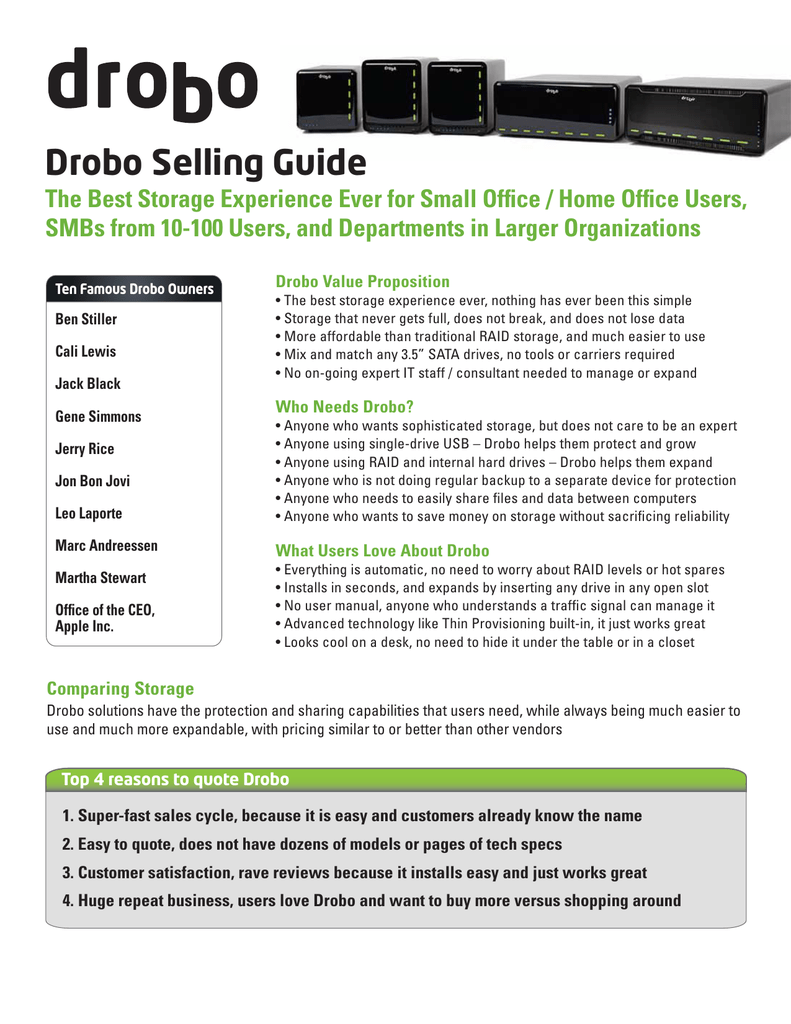 Drobo Selling Guide
The Best Storage Experience Ever for Small Office / Home Office Users,
SMBs from 10-100 Users, and Departments in Larger Organizations
Ten Famous Drobo Owners
Ben Stiller
Cali Lewis
Jack Black
Gene Simmons
Drobo Value Proposition
• The best storage experience ever, nothing has ever been this simple
• Storage that never gets full, does not break, and does not lose data
• More affordable than traditional RAID storage, and much easier to use
• Mix and match any 3.5" SATA drives, no tools or carriers required
• No on-going expert IT staff / consultant needed to manage or expand
Who Needs Drobo?
Leo Laporte
• Anyone who wants sophisticated storage, but does not care to be an expert
• Anyone using single-drive USB – Drobo helps them protect and grow
• Anyone using RAID and internal hard drives – Drobo helps them expand
• Anyone who is not doing regular backup to a separate device for protection
• Anyone who needs to easily share files and data between computers
• Anyone who wants to save money on storage without sacrificing reliability
Marc Andreessen
What Users Love About Drobo
Jerry Rice
Jon Bon Jovi
Martha Stewart
Office of the CEO,
Apple Inc.
• Everything is automatic, no need to worry about RAID levels or hot spares
• Installs in seconds, and expands by inserting any drive in any open slot
• No user manual, anyone who understands a traffic signal can manage it
• Advanced technology like Thin Provisioning built-in, it just works great
• Looks cool on a desk, no need to hide it under the table or in a closet
Comparing Storage
Drobo solutions have the protection and sharing capabilities that users need, while always being much easier to
use and much more expandable, with pricing similar to or better than other vendors
Top 4 reasons to quote Drobo
1. Super-fast sales cycle, because it is easy and customers already know the name
2. Easy to quote, does not have dozens of models or pages of tech specs
3. Customer satisfaction, rave reviews because it installs easy and just works great
4. Huge repeat business, users love Drobo and want to buy more versus shopping around
Top Four Uses for Drobo
Top Four Uses for DroboPro
1. Economical, protected primary or backup storage
for all types of data
2. Making a backup copy of data stored on other
Drobo systems
3. For storing of/backup both work/business and
personal files
4. Low cost disk-based backup of a server
1. Primary storage for a Windows server
2. Disk-to-disk backup for a Windows server
3. On-line archive
4. Storage for video editing
Top Four Uses for Drobo S
Top Four Uses for Drobo model B800i
1. Performance storage for video or photo editing
2. Add storage capacity to a server that is getting full
3. Disk-to-disk backup for a small Windows server
4. For storing and backing up both business and
personal files
1. iSCSI SAN storage for for 2-8 servers in companies
and departments <200 users
2. Server virtualization, certified with VMware vShpere
4.x, Citrix XenServer 5.6
3. IT applications such as Microsoft Exchange
4. Disk-based backup, certified with Symantec
BackupExec 2010
Top Four Uses for Drobo FS
1. Shared working storage at home or small office (up
to 10 users)
2. Backup target for a home or office of PC and/or Mac
users (up to 10 users)
3. For Mac users: network storage for Mac OS X's
Time Machine
4. Disk-based backup for a server
Top Four Uses for Drobo model B800fs
1. Shared working storage for a department or small
business (10-100 users)
2. Backup target for a workgroup of PC and/or Mac
users (10-100 users)
3. Simple offsite backup between two sites
4. Disk-based backup for servers
More Information
Contact Tricia Schooping at [email protected] or at 714-926-3375
or contact any of our other sales representatives at [email protected]
Drobo
1705 Wyatt Drive, Santa Clara, CA 95054
www.drobo.com
1-866-97-DROBO
Copyright 2011 Data Robotics, Inc. Data Robotics, DroboPro, Drobo, DroboShare, BeyondRAID, and Smart Volumes are trademarks of Data Robotics, Inc., which may be registered in
some jurisdictions. All other trademarks used are owned by their respective owners. All rights reserved. Specifications subject to change without notice.

* Your assessment is very important for improving the work of artificial intelligence, which forms the content of this project