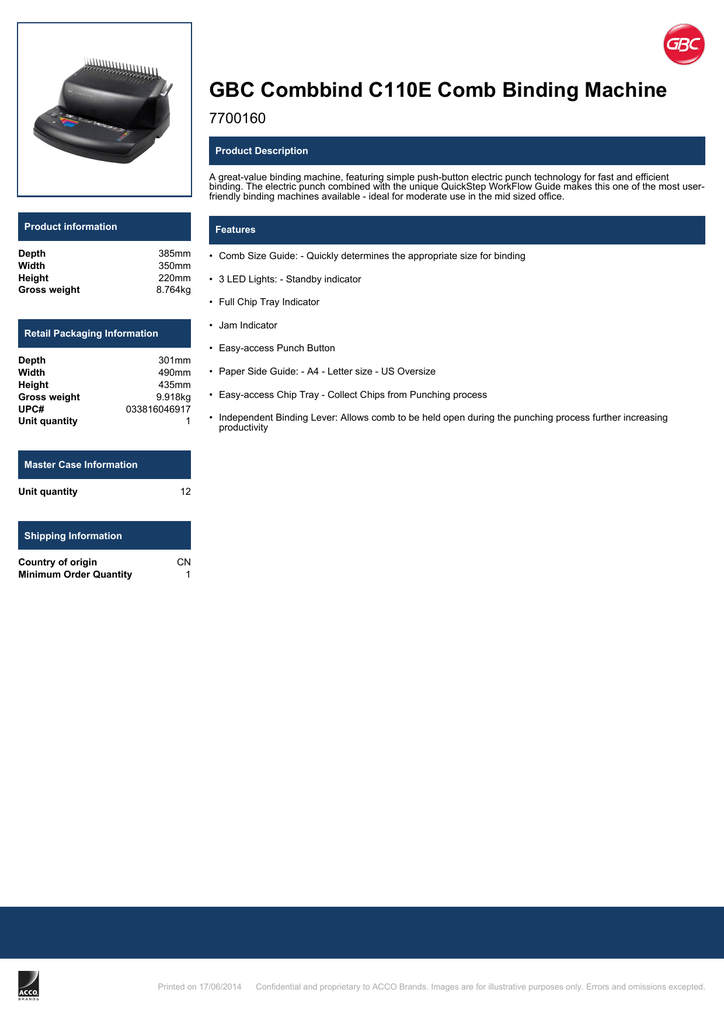 GBC Combbind C110E Comb Binding Machine
7700160
Product Description
A great-value binding machine, featuring simple push-button electric punch technology for fast and efficient
binding. The electric punch combined with the unique QuickStep WorkFlow Guide makes this one of the most userfriendly binding machines available - ideal for moderate use in the mid sized office.
Product information
Features
Depth
Width
Height
Gross weight
385mm
350mm
220mm
8.764kg
• Comb Size Guide: - Quickly determines the appropriate size for binding
• 3 LED Lights: - Standby indicator
• Full Chip Tray Indicator
• Jam Indicator
Retail Packaging Information
• Easy-access Punch Button
Depth
Width
Height
Gross weight
UPC#
Unit quantity
301mm
490mm
435mm
9.918kg
033816046917
1
• Paper Side Guide: - A4 - Letter size - US Oversize
• Easy-access Chip Tray - Collect Chips from Punching process
• Independent Binding Lever: Allows comb to be held open during the punching process further increasing
productivity
Master Case Information
Unit quantity
12
Shipping Information
Country of origin
Minimum Order Quantity
CN
1
Printed on 17/06/2014
Confidential and proprietary to ACCO Brands. Images are for illustrative purposes only. Errors and omissions excepted.

* Your assessment is very important for improving the work of artificial intelligence, which forms the content of this project