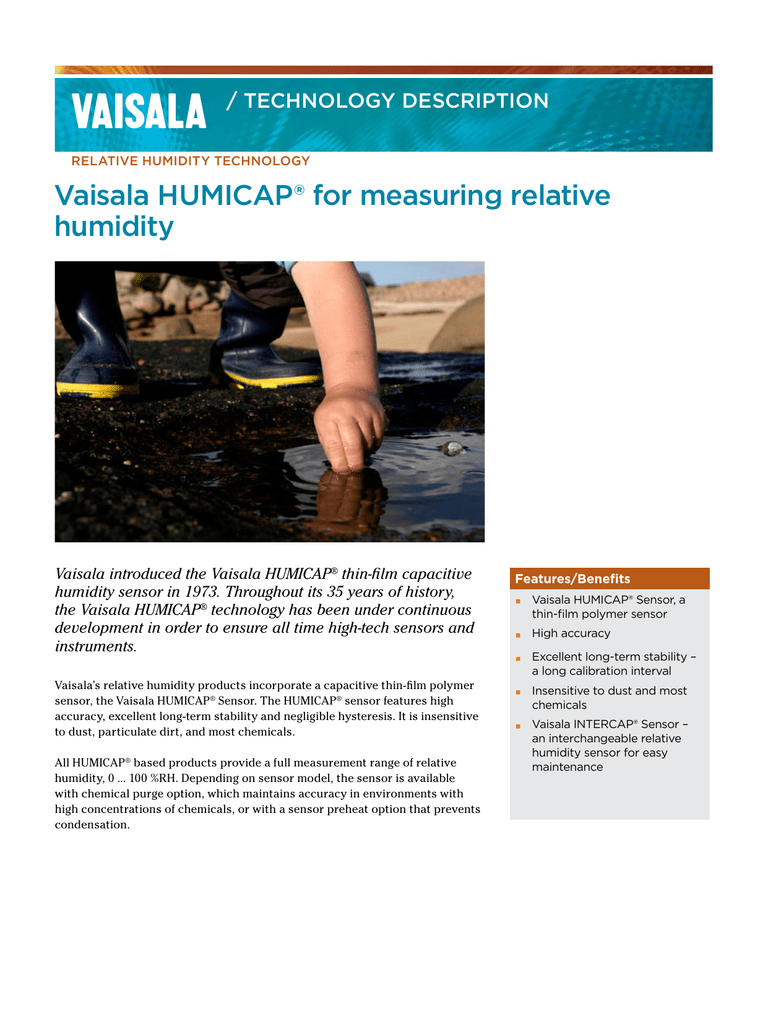 / TECHNOLOGY DESCRIPTION
RELATIVE HUMIDITY TECHNOLOGY
Vaisala HUMICAP® for measuring relative
humidity
Vaisala introduced the Vaisala HUMICAP® thin-film capacitive
humidity sensor in 1973. Throughout its 35 years of history,
the Vaisala HUMICAP® technology has been under continuous
development in order to ensure all time high-tech sensors and
instruments.
Box headline here
Features/Benefits
Vaisala's relative humidity products incorporate a capacitive thin-film polymer
sensor, the Vaisala HUMICAP® Sensor. The HUMICAP® sensor features high
accuracy, excellent long-term stability and negligible hysteresis. It is insensitive
to dust, particulate dirt, and most chemicals.
All HUMICAP® based products provide a full measurement range of relative
humidity, 0 ... 100 %RH. Depending on sensor model, the sensor is available
with chemical purge option, which maintains accuracy in environments with
high concentrations of chemicals, or with a sensor preheat option that prevents
condensation.
▪
Vaisala HUMICAP® Sensor, a
thin-film polymer sensor
▪
▪
High accuracy
▪
Insensitive to dust and most
chemicals
▪
Vaisala INTERCAP® Sensor –
an interchangeable relative
humidity sensor for easy
maintenance
Excellent long-term stability –
a long calibration interval
Operating principle
The thin-film polymer either absorbs
or releases water vapor as the
relative humidity of the ambient
air rises or drops. The dielectric
properties of the polymer film
depend on the amount of water
contained in it: as the relative
humidity changes, the dielectric
properties of the film change, and
so the capacitance of the sensor
changes.
The electronics of the instrument
measure the capacitance of the
sensor and convert it into a humidity
reading.
Vaisala INTERCAP® - easy
maintenance
The Vaisala INTERCAP® Sensor is
based on the same measurement
principle as the HUMICAP®
sensor. The INTERCAP® sensor
is factory pre-calibrated by laser
trimming which makes it a fully
interchangeable sensor needing
no additional calibration or
adjustment. The INTERCAP® sensor
is used in Vaisala's ±3 %RH accurate
instruments.
upper electrode
lower
electrode
thin-film polymer
glass substrate
Vaisala HUMICAP® sensor structure.
Applications
Vaisala offers you everything you need for humidity measurement. Vaisala has a
wide product range of relative humidity transmitters for industrial applications,
including the most demanding and potentially explosive environments.
The Vaisala product range includes a number of reliable humidity and
temperature transmitters for HVAC (Heating, Ventilation and Air-Conditioning)
applications and versatile humidity OEM modules designed for a variety of
applications.
For spot measurements Vaisala offers a wide selection of portable and handheld
meters suitable for several types of applications. In addition, Vaisala has
products for measuring the structural humidity in buildings and concrete.
The Vaisala product range includes also humidity calibrators and spot checking
instruments.
Next generation Vaisala
HUMICAP® sensor
The latest member of the Vaisala
HUMICAP® sensor family is the
Vaisala HUMICAP®180R.
This new type of capacitive humidity
sensor has been developed especially
to cope with chemical interference.
Extensive field and laboratory tests
show that the new structure and
polymer provide the sensor with
better than ever long-term stability
for relative humidity measurement.
Vaisala HUMICAP® sensors.
For more information, visit
www.vaisala.com or contact
us at [email protected]
Ref. B210781EN-B ©Vaisala 2009
This material is subject to copyright protection, with all copyrights
retained by Vaisala and its individual partners. All rights reserved.
Any logos and/or product names are trademarks of Vaisala or
its individual partners. The reproduction, transfer, distribution or
storage of information contained in this brochure in any form
without the prior written consent of Vaisala is strictly prohibited.
All specifications — technical included — are subject to change
without notice.

* Your assessment is very important for improving the work of artificial intelligence, which forms the content of this project