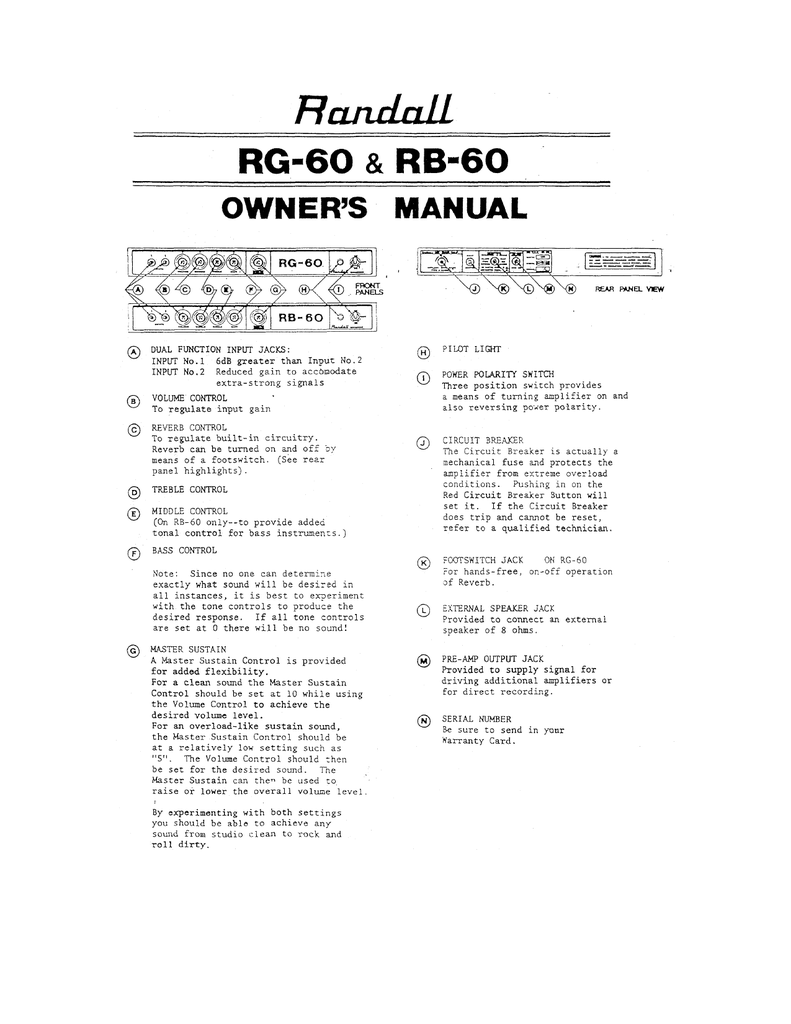 Randall
RG-60 2 RB-60
— OWNERS MANUAL
©) RB-60
©
OO
DUAL FUNCTION INPUT JACKS:
INPUT No.l 6dB greater than Input No.2
INPUT No.2 Reduced gain to accomodate
extra-strong signals
VOLUME CONTROL
To regulate input gain
REVERB CONTROL
To regulate built-in circuitry.
Reverb can be turned on and off by
means of a footswitch. (See rear
panel highlights).
TREBLE CONTROL
MIDDLE CONTROL
(On RB-60 only--to provide added
tonal control for bass instruments.)
BASS CONTROL
Note: Since no one can determine
exactly what sound will be desired in
all instances, it is best to experiment
with the tone controls to produce the
desired response, If all tone controls
are set at O there will be no sound!
MASTER SUSTAIN
A Master Sustain Control is provided
for added flexibility.
For a clean sound the Master Sustain
Control should be set at 10 while using
the Volume Control to achieve the
desired volume level.
For an overload-like sustain sound,
the Master Sustain Control should be
at a relatively low setting such as
"5". The Volume Control should then
be set for the desired sound. The
Master Sustain can then be used to
raise or lower the overall volume level.
By experimenting with both settings
you should be able to achieve any
sound from studio clean to rock and
roll dirty.
PILOT LIGHT -
POWER POLARITY SWITCH
Three position switch provides
a means of turning amplifier on and
also reversing poxer potarity.
CIRCUIT BREAXER
The Circuit Breaker 1s actually a
mechanical fuse and protects the
amplifier from extreme overload
conditions. Pushing in on the
Red Circuit Breaker Button will
set it. If the Circuit Breaker
does trip and cannot be reset,
refer to a qualified technician.
FOOTSWITCH JACK ON RG-60
ror hands-free, on-off operation
of Reverb.
EXTERNAL SPEAKER JACK
Provided to connect an external
speaker of 8 ohms.
PRE-AMP OUTPUT JACK
Provided to supply signal for
driving additional amplifiers or
for direct recording.
SERIAL NUMBER
Be sure to send in your
Warranty Card.

* Your assessment is very important for improving the work of artificial intelligence, which forms the content of this project