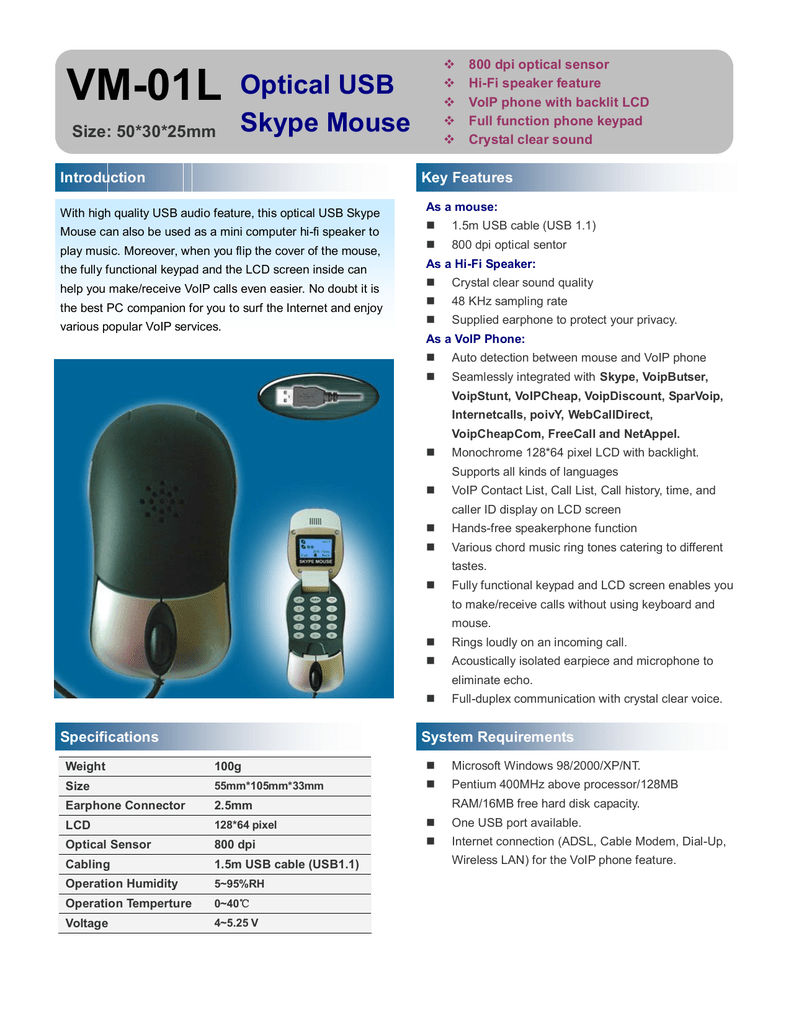 VM-01L
Size: 50*30*25mm
v
v
v
v
v
Optical USB
Skype Mouse
Introduction
800 dpi optical sensor
Hi-Fi speaker feature
VoIP phone with backlit LCD
Full function phone keypad
Crystal clear sound
Key Features
With high quality USB audio feature, this optical USB Skype
Mouse can also be used as a mini computer hi-fi speaker to
play music. Moreover, when you flip the cover of the mouse,
the fully functional keypad and the LCD screen inside can
help you make/receive VoIP calls even easier. No doubt it is
the best PC companion for you to surf the Internet and enjoy
various popular VoIP services.
As a mouse:
n
1.5m USB cable (USB 1.1)
n
800 dpi optical sentor
As a Hi-Fi Speaker:
n
Crystal clear sound quality
n
48 KHz sampling rate
n
Supplied earphone to protect your privacy.
As a VoIP Phone:
n
Auto detection between mouse and VoIP phone
n
Seamlessly integrated with Skype, VoipButser,
VoipStunt, VoIPCheap, VoipDiscount, SparVoip,
Internetcalls, poivY, WebCallDirect,
VoipCheapCom, FreeCall and NetAppel.
n
Monochrome 128*64 pixel LCD with backlight.
n
VoIP Contact List, Call List, Call history, time, and
Supports all kinds of languages
caller ID display on LCD screen
n
Hands-free speakerphone function
n
Various chord music ring tones catering to different
tastes.
n
Fully functional keypad and LCD screen enables you
to make/receive calls without using keyboard and
mouse.
n
Rings loudly on an incoming call.
n
Acoustically isolated earpiece and microphone to
eliminate echo.
n
Specifications
Full-duplex communication with crystal clear voice.
System Requirements
Weight
100g
n
Microsoft Windows 98/2000/XP/NT.
Size
55mm*105mm*33mm
n
Pentium 400MHz above processor/128MB
Earphone Connector
2.5mm
One USB port available.
Internet connection (ADSL, Cable Modem, Dial-Up,
RAM/16MB free hard disk capacity.
LCD
128*64 pixel
n
Optical Sensor
800 dpi
n
Cabling
1.5m USB cable (USB1.1)
Operation Humidity
5~95%RH
Operation Temperture
0~40℃
Voltage
4~5.25 V
Wireless LAN) for the VoIP phone feature.

* Your assessment is very important for improving the work of artificial intelligence, which forms the content of this project