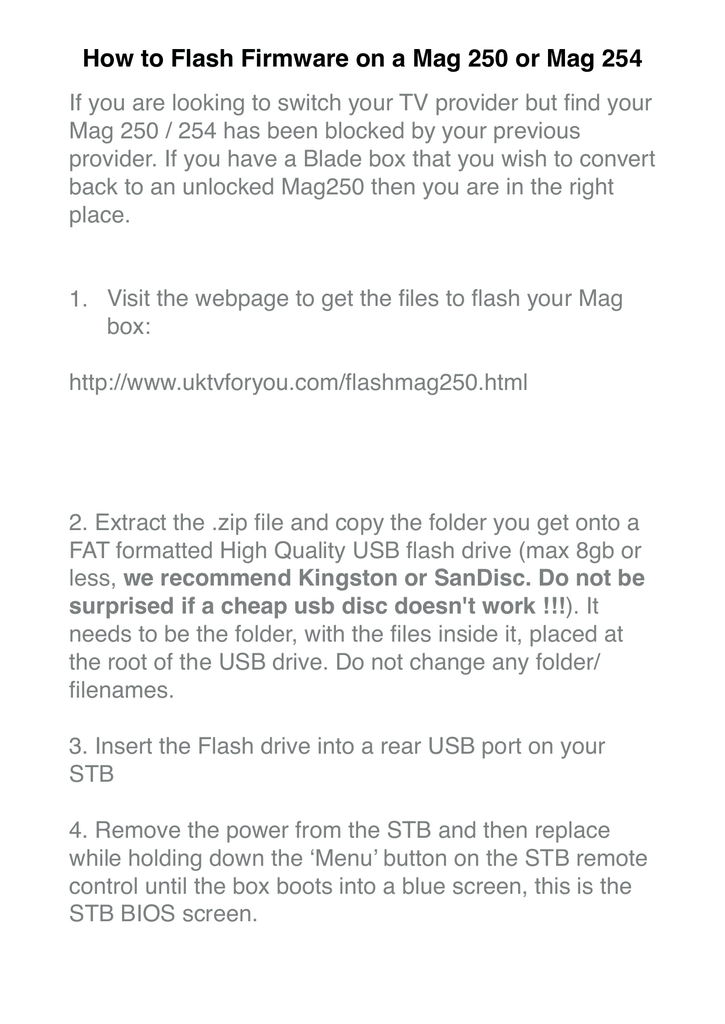 How to Flash Firmware on a Mag 250 or Mag 254
If you are looking to switch your TV provider but find your
Mag 250 / 254 has been blocked by your previous
provider. If you have a Blade box that you wish to convert
back to an unlocked Mag250 then you are in the right
place.
1. Visit the webpage to get the files to flash your Mag
box:
http://www.uktvforyou.com/flashmag250.html
2. Extract the .zip file and copy the folder you get onto a
FAT formatted High Quality USB flash drive (max 8gb or
less, we recommend Kingston or SanDisc. Do not be
surprised if a cheap usb disc doesn't work !!!). It
needs to be the folder, with the files inside it, placed at
the root of the USB drive. Do not change any folder/
filenames.
3. Insert the Flash drive into a rear USB port on your
STB
4. Remove the power from the STB and then replace
while holding down the 'Menu' button on the STB remote
control until the box boots into a blue screen, this is the
STB BIOS screen.
How to Flash Firmware on a Mag 250 or Mag 254
5. Navigate to 'Upgrade Tools', then 'USB Bootstrap' and
follow the onscreen messages to install the original
firmware.
6. Once completed and rebooted, enter 'Settings' and
then 'System Settings', scroll all the way down on the left
hand column and find the 'Software update' option.
7. Run the software update and you are done.
Now the important bit. If you have come to this page
simply to unblock your Mag Set Top Box. Would it
not be worth trying the service of a company that is
that confident in it's product that we don't need to
block our set top boxes. Especially if a full trial is
available for 48 hours FREE of charge. Simply
complete the form below and we will get your brand
new unblocked Mag 250 or Mag 254 connected to our
service today !

* Your assessment is very important for improving the work of artificial intelligence, which forms the content of this project