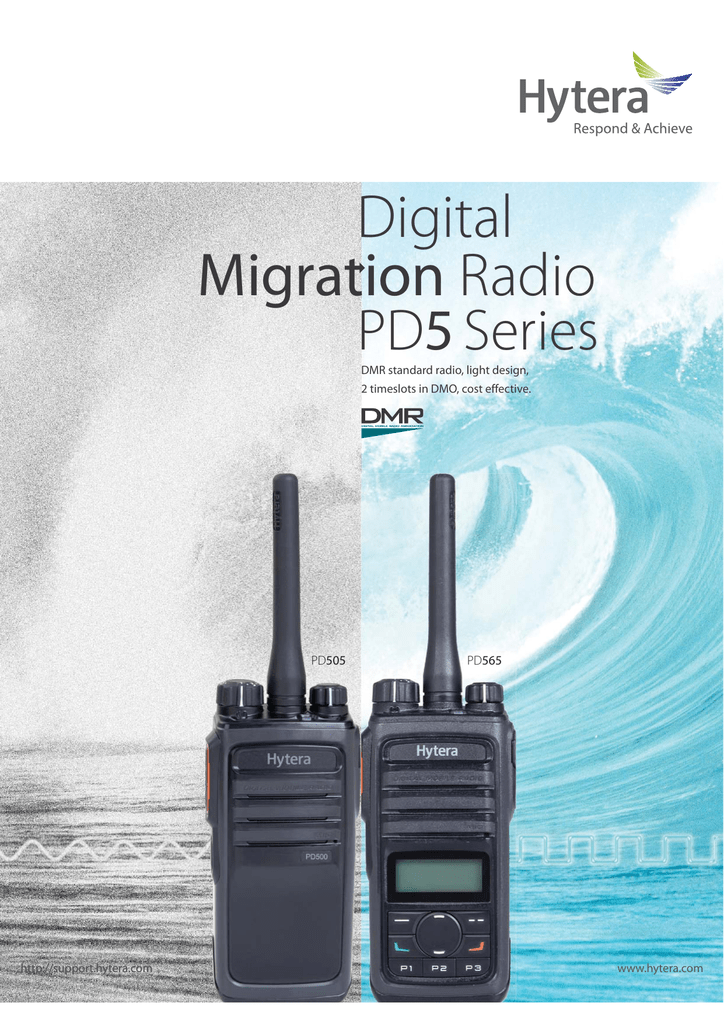 Digital
Migration Radio
PD5 Series
DMR standard radio, light design,
2 timeslots in DMO, cost effective.
PD
http://support.hytera.com
PD
www.hytera.com
Features
Small, Sleek, Light
Secure Communication
The size is 115 X 54 X 27mm (PD)/115 X 54 X 30mm (PD),
Provides basic digital encryption and Scrambler feature in analog
dual-color injection, weight is 260g (PD)/280g (PD).
mode.
Long Battery Life
Advanced Signaling
In digital mode, PD operates at least 16 hours under a duty
Supports multiple advanced analog signaling modes, including
cycle of 5-5-90.
HDC1200, 2-Tone and 5-Tone, providing better integration into
existing analogVF radio fleets.
Rugged & Reliable
It is compliant with MIL-STD-810 C/D/E/F/G standards & IP54.
DMRA Data Service
The data protocol is fully compliant to DMRA standard.
One Touch Call/Text
Supports One Touch features that comprise of Preprogrammed
Pseudo Trunk
Text Messages, Voice Calls and Supplementary Features.
This virtual trunking feature allocates a free timeslot for
urgent communications. This effectively enhances
frequency efficiency and allows you to communicate in a
Supplementary Features (optional)
timely manner in emergency situations.
PD50X can decode radio enable, radio disable, and remote
monitor, as well as Priority Interrupt.
Hyt
Dual Mode (AnalogVF & Digital)
Solt 1, Solt 2 are automatically
assigned to voice call 1 or voice
call 2.
Hyt
era
era
TIME
SLOT 1
Voice Call 1
(or data)
Hyt
era
Dual modes (analogVF & digital) operation
Voice Call 2
(or data)
Hyt
era
TIME
SLOT 2
ensures a smooth analogVF to digital migration.
DMO True 2-Slot
In DMO Hytera can provide 2-slot communication, which allows
for 2 talk paths on 1 frequency.
Hyt
Hyt
era
Voice Call 1
(or data)
Hyt
era
era
TIME
SLOT 1
TIME
SLOT 2
Hyt
era
Solt 1 used for voice call 1
Solt 2 used for voice call 2
Voice Call 2
(or data)
Preprogrammed Text Messages
Highlights
Ergonomic User-Friendly Design
Light & Durable
Compact Size & Clear Voice
Affordable
Target Markets
Retail
Education
Security
Shopping Malls with high noise level
require radios with good noise reduction.
PD has compact size for easy use that is
capable of reaching long communication
distance of a school or university campus.
Enriched with several encryption types PD
will make your communication more private.
Warehouse
Hotel
Rent
A durable battery allows for full shifts without
the need to recharge.
Heavy communication traffic require more
effective use of frequency resources.
The rent function is VTFGVM for UIPTFIJSJOH
MFBTJOHSBEJPT.
EAM15
Accessories
Versatile
Accessories
for Specific Tasks
ESM12
EHM18
3-wire Surveillance Earpiece
with Transparent Acoustic
Tube(Beige)
Earbud with
On-MIC PTT
BL1502
Earset with In-line
Microphone
EAM12
Li-ion Battery
(1500mAh)
Earpiece with On-MIC
PTT & Transparent
Acoustic Tube
CH10A07
SM13M1
General MCU Rapidrate Charger (for Li-Ion
/Ni-MH batteries)
Remote Speaker
Microphone (IP55)
MCA08
Adapter PS1026
Strap RO03
Antenna
BC12
BL2010 Li-ion battery(2000mAh)
MCA05 Battery optimizing system
EHM15 D-earset with In-line Microphone
SM08M3 Remote Speaker Microphone
MCU Multi-unit Charger
(for Thick Battery)
PC63 Data Cable (USB Port)
NCN011 Nylon Carrying Case (half-folded) (non-swivel) (black)
Belt Clip
Pictures above are for reference
only and may vary from actual products.
Specifications
Transmitter
General
Frequency Range
UHF: 400-470MHz, VHF: 136-174MHz
Channel Capacity
32 (PD50)/512 (PD56)
Zone Capacity
3 (PD50)/32 (PD56)
Channel Spacing
25/20/12.5KHz
Operating Voltage
7.4V
Battery
1500mAh (Li-Ion)
2000mAh (Li-Ion)
Battery Life (5/5/90 )
RF Power Output
VHF High power: 5W
VHF Low power: 1W
UHF High power: 4W
UHF Low power: 1W
FM Modulation
11K0F3E @ 12.5KHz
14K0F3E @ 20KHz
16K0F3E @ 25KHz
Analog: about 11 Hours
Digital: about 16 Hours
4FSK Digital Modulation
12.5KHz Data Only: 7K60FXD
12.5KHz Data & Voice: 7K60FXW
Weight
260g (PD50)/280g(PD56)
Conducted/Radiated Emission
-36dBm <1GHz, -30dBm >1GHz
Dimensions
115 x 54 x 27mm (PD50)
115 x 54 x 30mm (PD56)
Modulation Limiting
Frequency Stability
±0.5ppm
±2.5KHz @ 12.5KHz
±4.0KHz @ 20KHz
±5.0KHz @ 25KHz
FM Hum & Noise
40dB @ 12.5KHz
43dB @ 20KHz
45dB @ 25KHz
Adjacent Channel Power
60dB @ 12.5KHz, 70dB @ 20/25KHz
Audio Response
+1 ~ -3dB
Audio Distortion
≤3%
AMBE++ or SELP
Antenna Impedance
50Ω
Receiver
Sensitivity (Digital)
0.22μV / BER 5%
Sensitivity (AnalogVF)
0.22μV (Typical) (12dB SIN AD)
0.4μV (20dB SIN AD)
0.22μV (12dB SIN AD)
Adjacent Selectivity
Spurious
Response
Rejection
TIA-603
60dB @ 12.5KHz/70dB @ 20 & 25KHz
Digital Vocoder Type
ETSI
60dB @ 12.5KHz/70dB @ 20 & 25KHz
Digital Protocol
TIA-603
70dB @ 12.5/20/25KHz
ETSI-TS102 361-1,-2,-3
Environmental
ETSI
70dB @ 12.5/20/25KHz
Operating Temperature
-30℃~ +60℃
TIA-603
70dB @ 12.5/20/25KHz
Storage Temperature
-40℃~ +85℃
ETSI
65dB @ 12.5/20/25KHz
ESD
Hum & Noise
40dB @ 12.5KHz
43dB @ 20KHz
45dB @ 25KHz
IEC 61000-4-2 (Level 4)
±8kV (Contact)
±15kV (Air)
Dustproof & Waterproof
IP54 Standard
Rated Audio Power Output
0.5W
Humidity
Per MIL-STD-810 C/D/E/F/G Standard
Rated Audio Distortion
≤3%
Shock & Vibration
Per MIL-STD-810 C/D/E/F/G Standard
Audio Response
+1 ~ -3dB
Conducted Spurious Emission
<-57dBm
Inter-modulation
All specifications are subject to change without notice due to continuous development.
Ninehundred
Communications
Group
Hytera Communications Corporation Limited
Address: )ZUFSB)PVTF:FPWJM3PBE4MPVHI#FSLTIJSF4-/)6,
EN20140303A
are registered trademarks of Hytera Communications Co.,Ltd.
2013 Hytera Communications Co.,Ltd. All Rights Reserved.

* Your assessment is very important for improving the work of artificial intelligence, which forms the content of this project