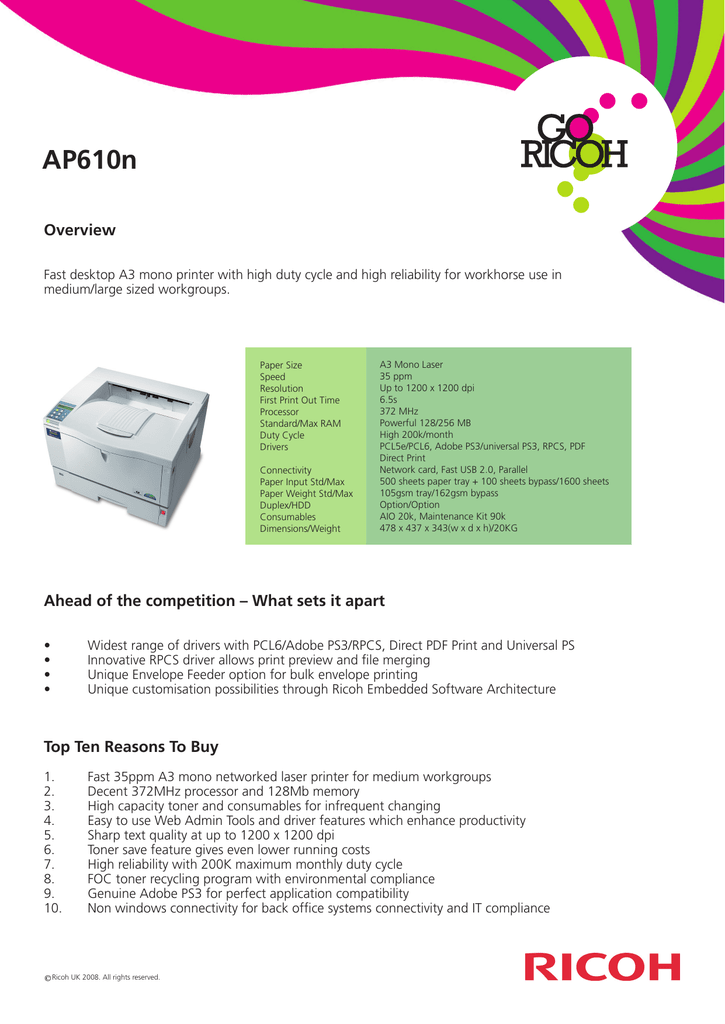 AP610n
Overview
Fast desktop A3 mono printer with high duty cycle and high reliability for workhorse use in
medium/large sized workgroups.
Paper Size
Speed
Resolution
First Print Out Time
Processor
Standard/Max RAM
Duty Cycle
Drivers
Connectivity
Paper Input Std/Max
Paper Weight Std/Max
Duplex/HDD
Consumables
Dimensions/Weight
A3 Mono Laser
35 ppm
Up to 1200 x 1200 dpi
6.5s
372 MHz
Powerful 128/256 MB
High 200k/month
PCL5e/PCL6, Adobe PS3/universal PS3, RPCS, PDF
Direct Print
Network card, Fast USB 2.0, Parallel
500 sheets paper tray + 100 sheets bypass/1600 sheets
105gsm tray/162gsm bypass
Option/Option
AIO 20k, Maintenance Kit 90k
478 x 437 x 343(w x d x h)/20KG
Ahead of the competition – What sets it apart
•
•
•
•
Widest range of drivers with PCL6/Adobe PS3/RPCS, Direct PDF Print and Universal PS
Innovative RPCS driver allows print preview and file merging
Unique Envelope Feeder option for bulk envelope printing
Unique customisation possibilities through Ricoh Embedded Software Architecture
Top Ten Reasons To Buy
1.
2.
3.
4.
5.
6.
7.
8.
9.
10.
Fast 35ppm A3 mono networked laser printer for medium workgroups
Decent 372MHz processor and 128Mb memory High capacity toner and consumables for infrequent changing
Easy to use Web Admin Tools and driver features which enhance productivity
Sharp text quality at up to 1200 x 1200 dpi
Toner save feature gives even lower running costs
High reliability with 200K maximum monthly duty cycle
FOC toner recycling program with environmental compliance
Genuine Adobe PS3 for perfect application compatibility
Non windows connectivity for back office systems connectivity and IT compliance
Ricoh UK 2008. All rights reserved.
Features that save printing and document creation time
•
Fast 35 ppm print speed in mono and 372 MHz processor/128 MB
standard RAM means no waiting around for prints
•
Fast 19s power on feature from energy saver mode saves waiting time
•
No slowdown in print speed when fitting optional duplex – unlike other printers
•
Electronic collation prints multiple copies of multi-page documents in the correct
numerical sequence using RAM memory - saving manual collation
•
Productive Driver Features
•
Booklet printing feature automatically arranges and paginates your document so you can easily fold and staple it into a booklet
•
Multi-page documents can be printed using different media types/colours for selected sections – avoiding time consuming insertions by hand.
•
One-click settings for frequently used jobs saves time (RPCS)
•
Print jobs from different applications can be merged "on the fly" to create one document – saving the time to do manual collation after printing (RPCS)
•
Fast Direct PDF printing without driver saves processing time and network traffic
•
"Virtual" documents from different applications can be created and saved with the FOC bundled utility DeskTopBinder – saving manual creation after printing
•
Volume Prints can be split between 2 or more printers with the FOC bundled utility SmartDeviceMonitor – drastically reducing the total print time
•
Job Notification informs when the print is outputted – saving unnecessary hanging around the printer
Features that save printer management time
•
•
•
•
Simple driver installation gets you printing with only a few clicks
•
Auto Configuration of Options on driver without any software makes the driver loading procedure easier and quicker.
Administrators can manage the printer remotely using Embedded Web Admin Tools – no need to visit the printer to change settings or load additional software
E-Mail Alert Function – warns users/administrators when it is running out of toner or when it has a status problem.
Recovery Printing redirects all prints to a specified backup printer in the event of down
time – giving IT administrators time to act
Features that give high quality prints
•
High quality 1200 x 1200 dpi resolution for sharp text
Features that save printing costs
•
•
•
Toner "save" feature means you can print more pages from the same cartridge
N-Up printing allows you to print up to 16 page images on one sheet of paper
High 200k/month Duty Cycle means excellent reliability and robust, long
lasting machine.
Ricoh UK 2008. All rights reserved.
Features that enhance office workflow and ease of use
•
•
Unique Envelope Feeder option for bulk envelope printing
Proof printing feature with optional HDD allows document checking as part of the
printing workflow, saving time
Features that help the environment
•
•
•
No environmentally sensitive materials (Lead, Chromium, PVC, Cadmium) have been used in manufacture.
Full environmental compliance with Energy Star, Blue Angel, WEEE and RoHS
Toner Recycle Program for sending used toner cartridges FOC back to Ricoh
– we dispose of them in an environmentally responsible way
Features that enhance network and document security
•
•
•
•
•
Data sent to the printer can be encrypted, protecting it from interception with the optional Network Data protection Unit.
Network Ports can be closed to protect against inbound security threats.
Confidential prints can be held on the optional HDD and released with a password
Driver Features
•
Unauthorised prints can be traced with the unique Driver Data Security Feature
•
Watermarks provide the ability to print text, such as "Confidential," in the
background of every page of a document
ID codes limit unauthorised printing access.
Features that enhance connectivity and ensure corporate IT compliance
•
•
•
•
•
Network ready for simple connection and shared use
Wide range of drivers - true Adobe PS3 and PCL5c/PCL6 industry standard drivers, with unique Ricoh RPCS driver and PDF Direct Print
Compatible with Mac and PC
Non-Windows connectivity including Unix/Linux, SAP/R3 environments, Novell NDPS Gateway, Citrix Metaframe and IBM AS/400 HPT
Network future proof with Firewire, Wireless LAN, Bluetooth options
Features that relate to specific vertical markets
•
•
Full range of Barcode fonts – For logistics/manufacturing
Ricoh Embedded Software Architecture enables customized applications to
meet unique customer workflows (forms/barcodes/transaction printing)
This guide is intended solely for the use and information of Ricoh Corporation, it's designated agents and their employees.
The information in this guide was obtained from several different sources that are deemed reliable by all industry standards.
However, neither Ricoh Corporation nor any of its agents or employees shall be responsible for any inaccuracies
contained herein.
Ricoh UK 2008. All rights reserved.

* Your assessment is very important for improving the work of artificial intelligence, which forms the content of this project