Central Boiler Classic Brochure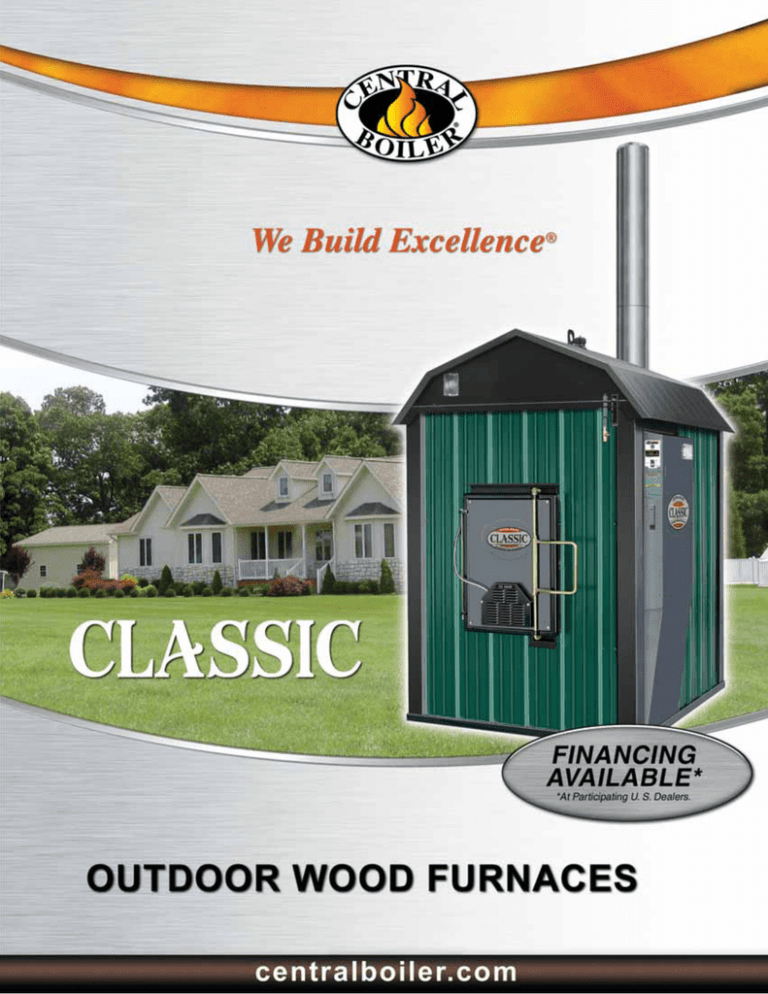 2
What's Inside
System Illustration
Welcome
System Installation View
Forced Air Illustration
. . . . . . . . . . . . . . . . . . . . . 2, 3
Creating the Standard
Detail Drawing
. . . . . . . . . . . . . . . . . . . . . . . . . . . 4
Insulation Comparison
Revolutionary Firebox Design
. . . . . . . . . . . . . . . . . . 5
Classic Quality
Dual Fuel System
. . . . . . . . . . . . . . . . . . . . . . . . . 6
Side Panel Pump Cover
Adjustable Digital Temperature Controller
Cast Iron Door
. . . . . . . . . . . . . . . . . . . . . . . . . . . 7
Parts and Accessories
Sample Parts List
. . . . . . . . . . . . . . . . . . . . . . . . . 8
ThermoPEX ® Insulated Pipe
Wall, Kickspace and Panel Heaters
Test Lab
Fuel Cost Comparison
. . . . . . . . . . . . . . . . . . . . . . 9
Models & Specifications
Dimensions and Specs for Specific Models
Burn Time Factors
Foundation Dimensions
Color Options
Furnace Sizing Worksheet
. . . . . . . . . . . . . . . . 10, 11
Illustrations
Forced Air vs. Radiant In-Floor Chart
Radiant Heat-Multi Zone In-Floor
Single Zone 8-Loop with Water Heater
. . . . . . . . . . . 12
Greenhouse/Suspended Space Heater
Multiple Buildings
. . . . . . . . . . . . . . . . . . . . . . . . . 13
Pools/Hot Tubs
Existing Boiler Directly Plumbed
Existing Boiler Pressurized
. . . . . . . . . . . . . . . . . . . 14
Baseboard/Forced Air
In-Floor Radiant/Forced Air
. . . . . . . . . . . . . . . . . . 15
Central Boiler Classic ®
General Information
. . . . . . . . . . . . . . . . . . . . . . . 16
Please note that wood should be placed no closer than 18 inches from the furnace.
Testimonial-
"My monthly gas bill for last January was $580.00.
I love my [Central] Boiler. Since installing it I have not used any gas and the house is 72 degrees.
The gas company wants to change the meter again, they just don't get it."
Paul, Massachusetts
Model CL 6048
The Classic Outdoor Wood Furnace
Can Work for You.
The Classic outdoor wood furnace is located outside, typically 30 to 200 feet (but as far as 500 feet) away from your home or business, and works with any existing heating system. A water jacket surrounds the furnace firebox and heat exchanger and heated water is circulated to the home or building through insulated underground pipes. Water-to-air or waterto-water heat exchangers or direct circulation conveys the heat into the structure's forced-air furnace, boiler or radiant floor heating system.
This allows for normal thermostatic control for safe, even, clean and comfortable heat. The ability to heat multiple buildings and domestic water can eliminate your heating bills. Outside burning removes the threat of devastating chimney fires, dangerous carbon monoxide or oxygen depletion which affects your indoor air quality. It also eliminates the smoke, ashes, odors and soot buildup on walls and ceilings inside your home that indoor burning creates.
Welcome to Central Boiler
We have been in business since 1984 and are North
America's largest manufacturer of outdoor wood furnaces. Our products are continually improved and refined. We make it our goal to provide our customers with the finest outdoor wood furnaces available anywhere. For you as a consumer, wood heat offers many advantages. Wood is renewable, inexpensive and often free. Conventional sources of heat such as propane, natural gas, fuel oil and electricity deplete our irreplaceable fossil fuels. They are also subject to constant price fluctuations. Our Classic outdoor wood furnace takes the age-old idea of burning wood and modernizes it. By keeping the fire outside the home, it eliminates the dangers and mess associated with traditional indoor wood stoves. Our innovative, industry-leading design maximizes efficiency. It provides a heat source free of foreign nation influence and "the grip of big oil." Our Classic offers you an alternative that will save you money. This brochure will provide answers to questions you may have about our clean, efficient approach to wood heat. Please browse through this brochure to learn how you can benefit from a Central Boiler outdoor wood furnace for your home or business.
Forced Air System with Heat Exchanger
For a closer look at other heating applications, refer to pages 12-15.
For illustration purposes only.
ThermoPEX ® insulated pipe can also be used above ground for quick, temporary winter installs.
Testimonial-
"I have been a volunteer fireman for 8 years.
Many people in this area heat with wood, most still indoors. This stove can surely save lives and homes."
Michael, Minnesota
3
4
Insulated Chimney
The chimney is a certified factory-built chimney for wood burning appliances.
Two 4-foot chimney sections are standard.
Vent Cap
Design eliminates evaporation.
Urethane Foam Insulation
Insulation is sprayed on and forms a 100% airtight, waterproof seal around the water jacket.
High Capacity Water Jacket
Receives multiple tests to ensure welding integrity. Certified high quality steel used no mixed metals.
Ripple Top Design
For increased heat transfer area and lower maintenance.
Large, Insulated Cast-Iron Door
Ergonomically designed with a large door for easy loading. Door is insulated for maximum efficiency. Door parts are powder coated for increased paint durability.
Automatic Draft Control
Thermostatically controls water temperature in system.
Ash Pan
3/8" thick, formed ash pan is durable and easy to clean.
All-Weather Steel Siding
All siding is overlapped for tighter weather seal. All panels and corners are fastened with high quality coated screws for greater durability.
Welded Steel Framework
Heavy-gauge framework engineered for enhanced strength of side panels and roof.
Skid Base Framework
Makes installation easy with or without cement foundation.
Only the CL 7260 and Pallet Burner require a slab.
Most Efficient Firebox Design
Our water-filled HeatLock Baffle traps heat and gases in the top of the firebox for the most complete combustion and heat extraction. The Ripple Top design provides optimum heat transfer surfaces in the most intense heat collection area.
Testimonial-
"We are very happy with our Central Boiler furnace. The wood and mess are all outside, also the house is very comfortable."
Bruce, Ontario
Rectangular Firebox
Engineered with stay pins won't collapse like round designs can.
Water-Filled HeatLock Baffle
Creates secondary combustion area. Traps heat in firebox - won't warp or burn out with extreme heat.
Rear Exhaust Outlet
Eliminates leaks and corrosion that competitors experience from chimneys that exit through the roof. Designed for easy inspection. Reduces heat loss by over 50%.
At Central Boiler, Inc., we created the standard that others wish they could meet, and we build it everyday. We rely on scientific testing to accurately verify the performance of our furnaces, which continues to set the highest performance levels in the industry. Our line of outdoor wood furnaces is unmatched! We have a better design and a more efficient firebox thanks to our exclusive Ripple Top
® construction and water-cooled HeatLock Baffle
®
. We spray on waterproof urethane insulation to keep the heat in and we use industrialquality siding to withstand the elements and time. That all adds up to faster recovery times and less wood consumption.
The large, insulated cast-iron door has the Central Boiler name proudly embossed on it. Our furnaces offer more surface area between the water and the fire to achieve better heat transfer. Better design, more insulation, more heat and the best recovery time...there is only one company that can deliver it all: Central Boiler.
Revolutionary Firebox Design
Sprayed-on
Urethane
Insulation
Trapped
Gases
Create
Secondary
Combustion
HeatLock
Baffle
Don't be mislead by inaccurate comparisons
Central Boiler is the company that sets the benchmarks for the outdoor wood furnace industry. As a result, many other manufacturers continually compare their furnaces to the
Classic. However flattering, this can be confusing and misleading for customers. When evaluating different furnaces, beware of inaccurate size comparisons. Some manufacturers stress water capacity. An excessive capacity of water doesn't necessarily improve furnace performance. In fact, when combined with a small firebox volume, it leads to a decreased burn time and increased heat loss. Others have a water volume that is too low for safe operation. The Classic provides a proven balance between firebox volume and water capacity for optimum performance and safety. Another comparison inaccuracy is pricing. When competing for price, others will often quote a furnace with a smaller heating capacity.
If you receive a quote from a competitor that is significantly lower than a quote on a Central Boiler furnace, most likely you are comparing furnaces of a different size.
Heat Coefficient
Heat coefficient is a result of the relationship between delivered efficiency, heat transfer effectiveness, heat loss and useable firebox volume.
Manufacturers may change furnace designs
There is no match for the urethane insulation we use on our furnaces. The sprayed-on urethane foam insulation provides a waterproof, airtight barrier that does not degrade or compress like fiberglass batt insulation does.
The urethane foam provides 2-3 times the effective "R" value of conventional fiberglass batt insulation. Consider that the most efficient water heaters use urethane foam.
Testimonial-
"In 1999, I started heating my residence with a Central
Boiler outdoor wood furnace. This furnace currently saves me $6000 to $7000 per year on fuel oil and $30 a month on my electric bill. There is no way I could afford to quit heating with my Central Boiler Classic."
Bob, Indiana
Even though some furnaces may appear similar in size, they don't compare equally to the Classic for delivered efficiency.
5
6
Dual Fuel
Burner Installed
Dual Ready Models
Model CL 6048 with Optional
Dual Fuel Burner
The Dual Fuel System gives the consumer the choice of four different modes of operation.
Central Boiler, known for their innovations in wood heating technology, has developed a Dual Fuel Ready model which allows the furnace to be fitted with a Fuel
Oil, Natural Gas or Propane burner. The Dual Fuel
System has four modes of operation; Wood Only,
Clean Start ™ , Dual Fuel Backup and Fuel Oil/LP/NG.
Laboratory tests have shown efficiencies over 85% with these fuels. This flexible Dual Fuel System allows you to adapt the furnace to your individual heating needs. The Dual Fuel Ready furnace allows for easy installation of the oil/gas burner (not included in furnace price).
The Dual Fuel System control switch is located on the exterior of the side panel pump cover.
Pertinent information for the
Dual Fuel System is mounted inside the panel.
Wood-
The most economical choice. The wood mode allows the user to operate the furnace burning only wood. Wood is a totally renewable resource.
Clean Start-
This wood burning mode allows the Dual Fuel burner to operate for a selected period of time at the beginning of each burn cycle to create immediate high temperature in the secondary combustion area of the Ripple Top and HeatLock
Baffle firebox design. This mode also provides automatic backup with alternate fuel.
Dual Fuel Backup-
This mode automatically initiates the
Dual Fuel burner as a backup if the operator does not refuel the furnace with wood.
Fuel Oil - LP/NG-
This mode allows operation of the furnace when not firing with wood. The Liquid Propane, Natural Gas and Fuel Oil burners are shipped with a 150,000 Btu rating and may be increased for certain applications.
For more information about this option, please contact your local dealer. Please review the owner's manual for installation and operation specifications.
Fuel oil must be of proper viscosity to operate correctly.
Draft Controlled
Fuel Nozzle
US patent number
6718889 B1
Optional
Dual Fuel Burner
Available in your choice of
LP, NG or Fuel Oil.
Side Panel
Pump Cover
Shown with options installed.
Central Boiler has developed a side panel pump cover for more convenient installation and easy access to pumps and power disconnect. It also provides a convenient location for the owner's manual and water test kit. The hinged cover has a handle that can be locked for safety and security.
Adjustable Digital Temperature Controller
Adjustable temperature settings.
Instruction Labels
For operating, installation and maintenance instructions and wiring diagrams.
Furnace Power Disconnect Switch
Convenient Holder
For water test kit and owner's manual.
Testimonial-
"I am heating two homes and a shop all from my Central Boiler furnace.
My home is an estimated 4000 square feet and my father's home is 2000 square feet and I also heat a shop that is 1000 square feet. I get 24 to 48 hour burn times heating all three buildings."
Charles, Arkansas
Insulated Cast Iron Door
Cam Loc ® Door Closure
The specially designed curved ends of the door latch fit precisely around the adjustable roller bearings, guaranteeing a tight seal each time the door is closed.
Automatic Draft Control
Solenoid is protected by louvered draft cover.
Adjustable digital temperature controller with LED display
The Classic comes standard with an adjustable temperature controller with a digital temperature gauge and a multifunction light switch. The light switch allows both lights to be manually controlled in the ON or OFF positions and also provides an automatic setting that controls the front light with a photo sensor. The adjustable temperature controller allows the user to adjust the operating temperature of the furnace within a specific range of operation.
The Classic offers an insulated door that is built to last. Each door is a molded piece of cast iron with hinges measuring 5/8" thick. The door is molded with a recessed cavity which holds two inches of high quality insulation. The door also houses the draft opening. Each door's draft seat is machine milled to 1/1000" to ensure the proper seal of the damper. The damper is connected to an electronic solenoid using a steel linkage. The linkage is held in place by hardened cotter pins.
The door's outside steel cover and louvered draft enclosure are cut and formed using state-of-the-art production machinery for the best fit and finish. The casting provides a uniform groove for the door gasket. The gasket performance is further enhanced with the unique Cam Loc ® door latching system. This latching system guarantees a tight seal each time the door is closed.
7
8
A complete line of parts and accessories
For the maximum performance and life of your furnace, always insist on using Central Boiler authorized system parts and accessories.
There is no need to chase from here to there for your parts, accessories and maintenance tools. Central Boiler has them all.
Central Boiler has thousands of square feet of space dedicated to inventory which our dealer network may access. Overnight, second day, three day, and ground delivery are available to our dealers five days a week.
To locate your nearest Central Boiler dealer, either visit our website at centralboiler.com and use the dealer locator or call
1-800-248-4681.
Testimonial-
"I can place an order with Central Boiler and it gets shipped the same day."
Scott
Central Boiler Dealer
Qty
1
1
1
1
1
1
1
1
*
1
4
8
1
1
1
1
1
1
396
296
1650
297
308
300
299
6593
Sample Parts List For
Forced Air Heating System
p/n
107
2053
591
171
224
190
118
198
1330
5978
Description
125,000 Btu Heat Exchanger Coil
Domestic Water Heater Fittings Kit
Domestic Water Heat Exchanger
Circulation Pump
Isolation Flange Kit, 3/4"
24 V Thermostat
3/4" Close Nipple
3/4" Ball Valve
3/4" MPT x 1" Pex Adapter
1" Stainless Steel Clamp
ThermoPEX
®
Insulated Pipe
Spark Arrestor (Optional)
Check Valve
1650XL Inhibitor Plus
Ashtrol
Hoe
Rake
Shovel
Ground Rod Kit
Illustration for forced air heating system is located on page 3
.
* Installation distance to the furnace will determine the quantities. Consult dealer on insulation options available.
Testimonial-
"Before, with our two indoor wood stoves, we had problems with smoke in the house, soot, and dirt. We were concerned about how safe they were, and we had to load them every three hours. With our Central Boiler Classic outdoor wood furnace, we feel much safer, and we only have to load it about every two days. Also, my son has asthma, and since we got the outdoor furnace, he's had fewer problems. I think it's because the air is much cleaner inside now. That was a real unexpected benefit. Probably the best one of all."
Amy, Vermont
ThermoPEX
®
Insulated Piping System
ThermoPEX is a flexible pre-insulated piping system that saves energy and maximizes the efficiency of your outdoor wood furnace. ThermoPEX consists of two 1-inch oxygen barrier Central PEX ® pipes or two 1-1/4 inch oxygen barrier
PEX pipes (supply and return) that are insulated with high-density urethane insulation and a thick, durable, waterproof, UV-protected polyethylene outer jacket. The corrugated design allows flexing for easier installation.
ThermoPEX is the best insulated piping system available for your outdoor wood furnace.
Radiators and Fan Forced
Hydronic Heaters
All-Around Comfort That's Quick and Easy to Control
A perfect solution to warm up those cold spots in your home. Whether it is your entry, kitchen or patio door area these radiators and fan forced hydronic heaters will provide comfort that's efficient, quick and easy to control.
They are quiet, elegant, stylish, and designed to blend in making the best possible use of space.
Within Central Boiler's Research and Development Department lies the most complete testing laboratory in the industry. Over the years,
Central Boiler has developed many industry firsts including the exclusive Ripple Top ® design, HeatLock Baffle ® and a long awaited, reliable dual fuel system. Since 1984, our R&D Department has been developing and testing products before the changes reach the assembly line. This facility has the ability to collect and analyze a wide range of data, including emissions and efficiency. This state-of-theart Test Laboratory allows our highly skilled engineers to develop the best. At Central Boiler, research, development, testing and refining are part of the everyday process - not a one time event.
Select Steel Panel Radiators
Will keep most any room comfortable and in style.
9
Door . . . . . . . . . . . . . . . . . . . 20" x 20"
Firebox . . . . . . . . . . . . 40" x 30" x 26"
Heat Transfer Area . . . . . . . 52 sq. ft.
Weight . . . . . . . . . . . . . . . . . . 1350 lbs.
Water Jacket . . . . . . . . . . 140 Gallons
Dual Fuel Ready models available.
Maximum Btu . . . . . . . . . . . . 250,000
Door . . . . . . . . . . . . . . . . . . . 23" x 23"
Firebox . . . . . . . . . . . . 50" x 36" x 30"
Heat Transfer Area . . . . . . . . 74 sq. ft.
Weight . . . . . . . . . . . . . . . . . 1670 lbs.
Water Capacity . . . . . . . . 196 Gallons
Replaces up to 250 gallons of fuel oil per month.
Dual Fuel Ready models available.
Maximum Btu . . . . . . . . . . . . . . . . 500,000
Door . . . . . . . . . . . . . . . . . . . . . . . 23" x 31"
Firebox . . . . . . . . . . . . . . . 60" x 48" x 36"
Heat Transfer Area . . . . . . . . . . . 119 sq. ft.
Weight . . . . . . . . . . . . . . . . . . . . . 2450 lbs.
Water Capacity . . . . . . . . . . . . 393 Gallons
Replaces up to 500 gallons of fuel oil per month.
Dual Fuel Ready models available.
Charcoal
Forest Green Brown Red Mocha Tan Ocean Blue Black White
Realtree
®
Camo
Testimonial-
"We own a CL 5648 and to say that the furnace has made a difference in our lives would be a huge understatement. Our first [electric heat] bill for the house was so low, the computer rejected it and I had to call them to see what was wrong. The lady explained that there had to be something wrong with the meter. Well for the next five weeks they came to my house to read the 'defective' meter every three days to finally realize that the furnace was making all the difference."
Jean, Quebec
Foundation
Dimensions
Furnace must be installed on a non-combustible surface or foundation that incorporates an enclosure that will prevent supply and return lines from any possible exposure to sunlight, fire, or physical damage that may be caused by an occurrence outside the furnace enclosure.
10
* Foundation optional on these models.
(All foundation dimensions are shown in inches)
Door . . . . . . . . . . . . . . . . . . . . . . . . 30" x 40"
Firebox . . . . . . . . . . . . . . . . 72" x 60" x 40"
Heat Transfer Area . . . . . . . . . . . . 170 sq. ft.
Weight . . . . . . . . . . . . . . . . . . . . . 3,910 lbs.
Water Capacity . . . . . . . . . . . . . 764 Gallons
Replaces up to 1,500 gallons of fuel oil per month.
Available in Charcoal only.
Dual Fuel Ready Standard.
This is an outdoor wood furnace intended for more than residential heating.
The business solution for high capacity commercial or industrial use. Burns pallets, wood remnants, cord wood, non-treated wood packing crates and more.
Forklift or hand-loading.
Door . . . . . . . . . . . . . . . . . . . . . . . 54" x 50"
Firebox . . . . . . . . . . . . . . . . 72" x 66" x 54"
Weight . . . . . . . . . . . . . . . . . . . . . 4,880 lbs.
Water Capacity . . . . . . . . . . . . . 556 Gallons
One year warranty.
Available in Charcoal only.
Dual Fuel Ready Standard.
**Not a Classic model.
CL 7260 and Pallet Burner models are shipped with fan draft as standard equipment.
Fan draft option available for all models.
Skid base frame under CL 7260 and Pallet Burner does not provide enclosed access area under furnace.
CL 7260 and Pallet Burner are to be installed on a concrete foundation.
Specifications and design may change without notice. Talk to your local dealer about proper furnace sizing.
Actual Classic Owner Testimonials-
• Poorly insulated home with high heat loss-
12 hour burn time at -20°F.
• Well insulated home with minimal heat loss-
48 hour burn time at -20°F.
• Home, workshop and domestic hot water-
24-48 hour burn times.
• Home, garage, swimming pool-
24 hour burn time.
• Well insulated low heat loss home-
96 hour burn time.
(Burn times per load will vary based on heat demand and furnace size.)
Testimonial-
"It cut my wood usage to less than half.
Two people I work with each have a
Classic. We are all totally satisfied."
William, Wisconsin
11
Multi Zone In-Floor
Installation with
Snow Melting Loop
Central Boiler outdoor wood furnaces can be used in a variety of heating applications.
Radiant Heat
Single Zone 8-Loop with Water Heater
12
centralboiler.com
Heat Multiple Buildings
Forced Air System
Suspended Space Heater
Greenhouse Heating Options
Suspended Space Heater
Testimonial-
"We purchased [a CL 4436] and have been very happy with the results, our water heater and the gas furnace haven't run since...and the house is very warm."
Tony, Wisconsin
centralboiler.com
Testimonial-
"After purchasing a CL 4436, my heating cost for the winter is $0 dollars. I wouldn't buy anything else."
Bobby, Indiana
13
Pool/Hot Tub Application
Existing Boiler
Direct Plumbed
Existing Boiler
Pressurized
14
centralboiler.com
Dual Heat System
Baseboard / Forced Air
Dual Heat System
In Floor Radiant / Forced Air
centralboiler.com
Testimonial-
"By installing Central PEX radiant floor heat in the family room we got away from the hassle of duct work and have a more constant and comfortable heat source. The entire home is more comfortable. The kids love to play on the floor in the family room and soak up the radiant heat."
James, North Dakota
15
Why You Should Choose
The Central Boiler Classic
®
Outdoor Wood Furnace
It's an alternative that eliminates the problems and increases the advantages of wood heat. It's a choice that can improve your family's living environment and standard of living while eliminating the fire hazards and time-consuming chore of tending a traditional wood stove.
The Central Boiler Classic outdoor wood furnace can heat 100% of your home and hot water. By virtually eliminating your heating costs, the Classic can often pay for itself in the first two years of use.
Over a ten year period, a homeowner or business may save $20,000 to $100,000 or more in heating costs. And generally the Classic uses 25% to 70% less wood compared to traditional wood furnaces or other brands of outdoor wood furnaces.
The Classic saves you time and means less work because it burns larger pieces of wood. There's less splitting which significantly reduces the time you spend preparing the wood. The large firebox is designed for easy loading of wood and removal of ash.
The Classic is beneficial for the environment because burning wood is natural. Wood is a totally renewable resource and, when burned, results in no net increases in carbon dioxide. On the other hand, fossil fuels when burned, release carbon dioxide which would otherwise be trapped in the earth. The burning of fossil fuels causes a net increase in carbon dioxide which is believed to be responsible for the heat trapping greenhouse effect.
Authorized Central Boiler Dealers located across the U.S. and Canada
When you're looking for a wood heating system for any need, your Central Boiler dealer is there to serve you. Your Central Boiler dealer can answer your questions, provide you with literature about the Classic outdoor wood furnace and help you choose the model right for your heating needs. To locate a Central Boiler dealer in your area, reference the dealer locator on the internet at centralboiler.com.
20502 160th Street • Greenbush, MN 56726
(800) 248-4681 or (218) 782-2575
centralboiler.com
© 2008 Central Boiler
® ™ Trademarks of Central Boiler, Inc.
Printed in the United States 5/08
Consider location and direction smoke may travel with prevailing winds before installing your furnace.
Wood smoke can be a nuisance to others.
Some applications may not be appropriate.
Content of this brochure is information in possession of Central Boiler at the time of the design of this publication and may not represent what was previously manufactured. Product specifications and appearance subject to change.
Ask your dealer about Outdoor Furnace Best Burn Practices.
p/n 2500
Qualified Individuals Working Together for a Common
Purpose: A High Quality Finished Product
Central Boiler is located in Greenbush, Minnesota and was established in 1984 and is North America's largest manufacturer of quality outdoor wood furnaces.
Based upon a desire to create safer and more efficient heating products, the company's innovations and patents have established Central Boiler as a leader in product quality. The uncompromising attitude to manufacture the best and always strive to make it better is at the core of the company's growth. Central
Boiler has a dealer network that has now established itself throughout the
United States and Canada.
Start Saving on Your Heating Bills Today
Central Financing is a quick and easy financing program that offers competitive rates. By installing a Central Boiler Classic outdoor wood furnace you can eliminate your heating costs and start putting more money into your pocket today.
For more information, call your local participating Central Boiler dealer.
Free 25 Year Limited Warranty
A free 25 year limited warranty is available on outdoor wood furnaces if registered at the time of purchase. Central Boiler leads the industry with its commitment to stand behind its outdoor wood furnaces. 25 year warranty not available on Pallet Burner model.
See Warranty Registration form for details.
Using wood as a heating fuel is endorsed by the U.S. Forestry Service.
Your Authorized Central Boiler Dealer
* Your assessment is very important for improving the work of artificial intelligence, which forms the content of this project