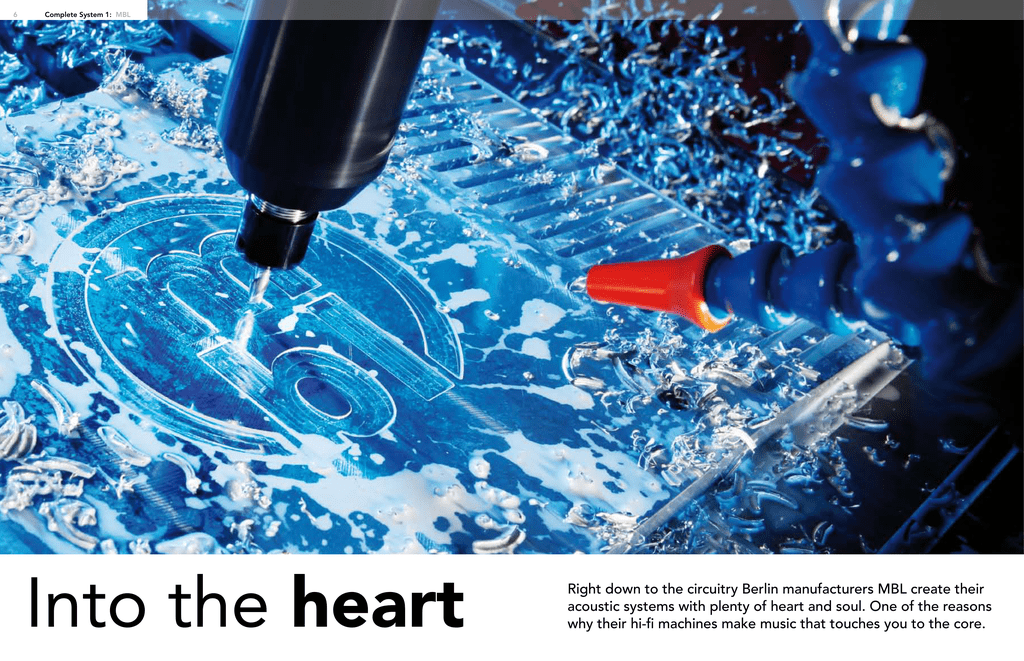 6
Complete System 1: MBL
Into the heart
Right down to the circuitry Berlin manufacturers MBL create their
acoustic systems with plenty of heart and soul. One of the reasons
why their hi-fi machines make music that touches you to the core.
8
Complete System 1: MBL
CD/SACD Drive
MBL 1622
DA Converter
MBL 1611 F
Pre Amplifier
MBL 6010 D
Main Amplifiers
MBL 9011
Speakers
MBL 101 E MK II
10
Complete System 1: MBL
Author: Wolfgang Tunze
S
tereo system! It's actually there in
black and white – in the opulent,
glossy literature that the manufacturer
very modestly calls a brochure. This mix
of understatement and self-irony creates
a special ambience as we approach the
object. For the stereo system towering
before us is more like a mountain range
of metallic weightiness and audacious
architecture, looking as if it should present magnificent acoustic art in great
dramatic fashion – using the specific
methods of the industry's aristocracy,
of course. In terms of gravity a number
can even be put on it: a proud 411 kilograms is what this monumental music
ensemble weighs in total. Delivery is
therefore a job for processionals with
grand piano expertise.
We are talking here about nothing
less than the combined components of
the Reference Line from Berlin manufacturers MBL (written here for the sake
of uniformity in capitals): a high-end
CD/SACD Drive
1622
Resonances have no chance
in the unit's drive mechanism:
a sandwich structure made of
four different materials keeps
the housing still and quiet,
while a sub-chassis construction decouples the sampling
unit. Even the hood above
the rotating disc behaves in
an acoustically neutral manner, an engraved spiral texture preventing any vertical
waves.
statement that looked at from the perspective of the capital cost certainly
equates in value to a pretty little property. Indeed, with wonderful double
meaning, "Wert-Anlage Audiosysteme"
(Audio System Investments) is the name
of MBL's exclusive distribution partner.
Its boss Wadim Gratschow admittedly puts the expenditure aspects into
perspective from the customer's point
of view by swearing that the company's
superb appliances give their owners
lifelong pleasure and practically never
lose any perceived or practical value,
even retaining these qualities beyond
the limitations of earthly human
existence. For the sheer resilience and
enduring acoustic integrity of these audio giants often enough get enjoyed
by the next generation.
Should we simply believe him? Well,
the equipment's initial look and feel
back up what he says: everything that
looks like solid metal, has indeed been
lathed, milled or cut from the same.
This is true of the power amplifiers' finely anodised, inch-thick, brushed aluminium cover plates adorned with glassblasted trademark initials, of the SACD
players' sturdy feet and of the heavy,
polished rotary knobs on the front of
the pre-amplifier. All as if made for eternity. Switches and knobs respond to
their master's touch with the sort of
smooth precision you might expect from
the locking mechanism of a safe, preferably one behind the doors of which
the House of Windsor keeps the crown
jewels. But, of course, it could also all
be mimicry.
To find the truth we traced the
company's history, paid a visit to their
production facility and above all: let the
electro-acoustic output exert its influence on ears and soul for many an hour.
But first back to the roots: the MBL
story all began with a sketch. It showed
a peculiar assembly that could also have
passed as an elaborate version of the
Vostok space capsule - only much more
intricate and with a surface structure
Partners not
only in spirit:
MBL has been
working closely
with top
chamber
orchestra
'Concerto Köln'
for many years.
that from afar was reminiscent of the
segments of a peeled lemon. That was
1979. Does anybody remember something happening in this year?
The apparently weightless UFO with
its ellipsoid central corpus was admittedly never intended to fly: it was the
theoretical answer to every criticism that
electronics engineer Wolfgang Meletz-
ky had in relation to traditional acoustic
transducers with their bulb-shaped,
oscillating membranes, spreading the
sound at relatively high frequencies,
preferably in one direction. 99 or more
percent of all speakers work this was.
The ideal loudspeaker ought to radiate sound in all directions across the
entire frequency spectrum, just as na-
tural sources of sound generally do. To
achieve this Meletzky had conceived a
membrane corpus that as a radial speaker was to write hi-fi history. The principle was this: an object like a rugby
ball made of light alloy slats, fixed at
one end and connected at the other
with a moving coil, would inflate and
contract in sync with the electrical
>
12
Complete System 1: MBL
audio frequency signals like a vibrating
balloon, acoustically illuminate the room
in this way in evenly balanced fashion
and thus produce a ratio of directly experienced and reflected sound better
than anything else possible.
From the drawing came initial prototypes and from the technical idea a
company named MBL. But until the
original radial loudspeaker ultimately
evolved into the product that now sets
the tone in the Reference Line it took
decades of endless experimenting with
materials, dimensions and fine adjustments. They were all undertaken by
head developer Jürgen Reis, who joined
the company shortly after the start of
the radial loudspeaker project.
The trained electrical engineer, recording specialist and passionate musician today makes no secret of the
transducer's initial failings. And why
should he? For initially the revolutionary loudspeaker could only be sensibly
used with an equalizer in order to get
the still far from perfect amplitude path
D/A Converter
1611 F
The clever feature of this
high-quality converter module
is its USB interface. Computers can dock on here to
directly feed in their audiophile gems. The USB unit takes
over the master clock role
from the computer. The music
is thus saved from any errors
in the signals' timing (known
as jitter) that harm audio
quality.
Christian Hermeling, CEO
We are driven by a
desire to produce
equipment that lets
you forget it is there,
removing boundaries
of time and space.
It has to be equal to
every challenge.
under control to such an extent that the
merits of this form of sound distribution
had any effect at all. Despite this, Reis
never doubted the sense of what he
was doing. There were simply no technical role models for radial loudspeakers
– therefore no previous experiences at
all, on which he could have drawn. the-
re was nothing to copy. It was all new
territory.
Today, the stage of battling to find
elementary playback parameter is history. Meletzky has long since been
enjoying his retirement and the concept
of the radial loudspeaker has become
firmly established in the globalised
world of fine sound.
Customers in Korea and enthusiasts
from California to Cologne are all avid
fans of the loudspeaker. Reis, however,
has to this day never stopped fine-tuning the transducer principle.
A vivid impression of that is provided
by visiting the production facility near
Eberswalde, about 70 kilometres northeast of Berlin. Made of an aluminium/
magnesium alloy, every slat of the 'melon' – the endearing nickname given by
the MBL team to the large low-frequency element of the 101E Mk II loudspeaker – visibly embodies experiences
matured over three decades.
A seasoned specialist sits there in
front of the 'artificial knee', a rigidly
installed plastic roll the size of a breakfast plate, and pulls each of the stamped
but still flat blanks over this shape in
such a way that precisely the right curve is produced.
If he had to, the man could even do
this in his sleep, using his own leg as
the template. Layers of polyurethane
foam stuck onto the back of the slats
provide that well-balanced combination
of damping and mass that help the melon achieve its top form. And on the
outside MBL's precision specialists stick
thick reddish copper wires into the vertically stamped recesses of each slat.
They too provide defined additional
mass and also underscore the futuristic,
high-tech look with an extra decorative
touch.
Performed with similar scrupulous
precision is the assembly of the midwoofers and tweeters, which interpret
the large role model's transducer principle for shorter wavelengths. For several years, MBL has been using ultralight carbon fibres here as a tried and
tested material for the slats. Their preparation, adhesion and assembly are a
chapter in themselves (see page 15).
Here let it suffice to say that every
aspect, including the melodious sound
of the smaller all-round membrane at
the peak of the loudspeaker stands or
falls with the precision of the fine-tuning,
for instance with the correct filling of
the delicate sound box with soundabsorbing fibres.
Only the low bass range remains a
domain of conventional acoustic transduction: there a 30-centimetre conical
membrane in a bandpass enclosure with
two sound channels provides pressure
and a solid foundation. A look at the
back of the low bass enclosure shows
solid copper terminal clamps for the
signal supply, split incidentally for the
bass and middle/high-frequency ranges,
plus patch bays for contact bridges.
They make it possible to acoustically fine tune the high and mid-frequency
reproduction: should the radial transducers go about their work more
>
Reckoning with everything: Via
mbl link from the company's
own SACD player the 1611 F
DAC also accepts digital data.
14
Complete System 1: MBL
Pre Amplifier
6010 D
This is where all signal paths
come together. The pre-amplifier can coordinate a large
array of components – both
those with balanced connections and appliances with
phono contacts. The volume
of all inputs can be adjusted,
as it can also for both output
groups.
quickly, in a more neutral fashion or
perhaps a tad more softly? Anyone imagining that this is done with measurable
configuration variants generated by
crossover components with differing
values is on the wrong track: for the
alternative signal paths in the highfrequency sector all Reis used was different cabling materials and in the midfrequency range different coil cores.
And that is supposed to be audible?
Without pre-empting the description
of the overall acoustic impression too
much, we can say even now that we
have examined these subtle variants
once before in an earlier test and they
are indeed identifiable – impressive
evidence of the extreme sensibility and
extraordinary resolution of these exceptional speakers.
Standing for a very different form of
extremism are the 9011 power amps,
which function both as stereo amplifiers and in mono mode. One alone weighs
around 90 kilograms and when, as in
our configuration, it works as a mono
block, the output wattage is in the mid
four-figure range. Is that actually needed? While the 101E Mk II radial speakers are admittedly no world champions
in efficiency, they can certainly also play
magnificently with far more diminutive
amplifiers of equal quality.
Nevertheless, power reserves
9011-style are never to be scoffed at
and they prove especially beneficial
when the speakers are performing in
very large or particularly noise-absorbing rooms and possibly also to large
audiences.
There is also the unwritten hi-fi law:
power is fine, as long as it does not
come at the expense of finesse and
delicacy, especially at low, intimate levels of volume. It is to this principle that
the circuitry philosophy is tailored: at
up to around 100 watts of output the
power amp works in the extremely lowdistortion Class A mode and only above this mark, looking to achieve a sensible level of efficiency, transfers to AB
mode. Another detail of audiophile re-
levance is that each power amp's mighty main transformer can be boosted by
two further units fed via a dedicated
mains cable – not to drive the output
further in the direction of opulence, but
to influence the sound: the additional
transformers lower the entire power
supply's internal resistance and thus
increase control of the loudspeaker,
which, for example, can result in more
precise, tighter bass reproduction.
The next step towards the front end
of the playback chain leads to a whopping unit that announces its mission in
beautiful calligraphy on its front panel:
'Der Vorverstärker'.
Even MBL fans on the other side of
the Atlantic and Pacific can now spell
the name themselves and would probably fight tooth and nail to resist any
attempts that there may ever be to have
it translated. Named in less poetic style with the code 6010D, the controller
unit is essentially an age-old part of the
MBL portfolio – albeit one that on its
inside has experienced many mo>
Carbon membranes
Unprecedented lightness of design
MBL entrusts the playback of mid
and high frequencies to carbon
fibres, a material that combines
low mass and high rigidity in ideal
fashion. That was not always the
case. Initially MBL relied on very
thin aluminium slats. Later tweeters
made of yellowish epoxy resin were
also used.
Head developer Jürgen Reis came
upon the idea of using carbon fibre
via his musical hobby. A friend of
his was involved with bass guitars,
where carbon was used to produce lighter, more durable necks.
Reis thus began to experiment
with using the black material for
membranes.
As the base material today MBL
uses what are known as prepeg pa-
nels. These are thin, pre-impregnated elements that are made of 54%
carbon fibre and 46% resin coating.
In its basic state this material can
be kept for about two months, by
the end of which time it has to be
used. To make membranes it is
shaped accordingly and then baked
in a special kiln.
This bonds the synthetic resin and
carbon fibres together as one –
ready for cutting into appropriate
slats. These intricate elements are
then finally stuck individually to
the moving coil with painstaking
precision.
Making one chassis takes all in all
around 21 hours – such a sophisticated transducer cannot be made
any faster.
Taking a close look: fixing the
ultra-light carbon slats in place is
precision work.
16
Complete System 1: MBL
difications of its electrics. In its functionality and overall look admittedly little
has changed: the 6010D is and remains
an audiophile tool that accepts a whole
arsenal of input devices of any sort –
both those with balanced XLR outputs
and those with phono connections.
And because the level of not only all
of the inputs but also the two output
groups, with their symmetrical and
asymmetrical interfaces, can be precisely adjusted the 6010D – unlike almost
any other pre-amplifier – lets the user
make direct comparisons and perform
acoustic sampling at a professional level
of all contributing devices – Hi-fi gourmet, what more could you want?
The selected input device in our configuration spreads its functionality across
a congenial tandem made up of two
components: the 1622 SACD player,
which as a sideline is also an expert on
what's left of the almost extinct DVDAudio format, and the separate 1611F
digital-to-analogue converter. All totally digital? Yes, but: the experience
gained from the analogue era that the
acoustic properties of a drive mechanism are closely linked to the sound that
the device passes on via the amplifier
chain to the loudspeakers also applies
to a certain extent to a modern drive
mechanism apparently reading binary
code from optical media in emotionless
and incorruptible fashion.
Inspired by the great analogue turntables, Reis therefore developed a sandwich design, in which all of the materials concerned effectively prevent each
other from self-oscillation. That starts
on the highest level of the top cover:
sitting there, in a shape reminiscent of
Batman's wings, is a tool made of aluminium. Extending below it is a relatively large brass plate.
It sits in turn on the player's actual
housing, a kind of hood made of grey
cast metal that would ring like a bell if
you were to let it. Underneath, inside
the device, an MDF board kills any unwanted oscillation. Stuck and screwed
to each other, all four components form
a cohesive whole and don't allow the
emergence of any sound-impairing resonance.
Just how far the MBL perfectionism
goes is shown by another detail: even
the pivoting hood that closes over the
rotating disc audibly contributes to the
sound with it acoustic properties, claims
Reis, clarifying this with reference to the
spiral grooves cut into the inside of the
hood in order to sabotage the formation of any vertical waves. Reis finally
devised the ultimate shape of the grooved structure after noticing in tests that
different geometric variants had different audio qualities.
It is thus no wonder that MBL ideally recommends its SACD player be used
exclusively for playing this high-resolution media. Of course, it can play CDs
as well, but for these MBL also offers a
different model, the 1612A. This is because SACDs run on average at eight
times the rotary speed of a standard
CD and therefore need a drive unit tailored to very different parameters than
in a player exclusively for CDs – with all
the consequences for speeding up,
slowing down and specific mechanical
fine-tuning, not to mention optimising
the quartz-controlled clock circuitry to
the different flows of binary data.
The matching 1611F transducer module is equally happy with either player
and naturally gets on fine too with thirdparty peripherals: it accepts digital signals either in studio style via balanced
AES/EBU inputs or incorporates them
optically via Toslink. S/PDIF phono sockets are also available as a further alternative. The really clever feature is the
integrated USB socket, which is used
to process streams of digital data direct
from music archives on a notebook.
And it does this not in fast-food MP3
style, but, if you please, in high-end
fashion: in the first place the USB connection, just like the S/PDIF input, is
galvanically decoupled from the rest of
the device in order to keep any highfrequency noise away from the transducer. And secondly, in relation to the
computer, the USB interface acts as the
master clock: it imports the packages
of data from the computer based on
the clock's instructions – an effective
measure against jitter, the acoustic rust
arising from time lapse errors.
>
The Rating
Premium audiophile components
or combinations such as the MBL
set-up are beyond judgement based on any absolute scale of 'better' or 'worse'. It is more a case of
them having 'character' profiles
that are more or less pronounced.
An acoustic concept based on
strict neutrality does not therefore
have to automatically also lead to
grippingly emotional reproduction.
In order to give some pointers as
to what type of listener an appliance or set-up is best suited,
AUDIOphile has developed the
bar chart shown below.
AUDIOphile Profile
The strengths
Maximum dynamics
Full, firm bass
Lots of detail at every level
Strict neutrality
Gripping emotionality
Great feel-good factor
Breezily effortless nuances
Great flexiblity
Modest footprint
CD/SACD Drive
MBL 1622
D/A Converter
MBL 1611 F
Pre Amplifier
MBL 6010 D
List price: 21,000 Euro
Guarantee period: 5 years
Dimensions WxHxD (cm):
48 x 20 x 45
Weight: 28 kg
Finish:
black/gold, white/gold, black/
chrome, white chrome, silver/chrome
Connections: proprietary mbl link
Interface to the D/A Converter
List price: 19,500 Euro
Guarantee period: 5 years
Dimensions WxHxD (cm):
48 x 16 x 45
Weight: 23 kg
Finish:
black/gold, white/gold, black/
chrome, white chrome, silver/chrome
Connections: S/PDIF koaxial, optisch,
AES/EBU, USB, pro­p. mbl link interface
List price: 18,000 Euro
Guarantee period: 5 years
Dimensions WxHxD (cm):
52 x 24 x 36
Weight: 22 kg
Finish:
black/gold, white/gold, black/chrome,
white chrome, silver/chrome
Connections: 2 outputs Cinch/XLR, 2 x
Tape, Inputs 3 x XLR, 5 x Cinch, processor
Main Amplifier
MBL 9011
Radial Loudspeakers
MBL 101E MK II
MBL
Contact
List price: 36,000 Euro (pair)
Guarantee period: 5 years
Dimensions WxHxD (cm):
48 x 32 x 91
Weight: 90 kg (each)
Finish:
black/gold, white/gold, black/
chrome, white chrome, silver/chrome
Connections:
Cinch / XLR
List price: 48,000 Euro (pair)
Guarantee period: 5 years
Dimensions WxHxD (cm):
45 x 150 x 52
Weight: 80 kg (each)
Finish:
black/gold, white/gold, black/
chrome, white chrome, silver/chrome
Connections:
Bi-amping with charakter switching
MBL Akustikgeräte GmbH & Co. KG
Einemstraße 22
10785 Berlin
0049 (0)30 / 2300 5840
Internet: www.mbl.de
Sales and distribution:
Wert-Anlage Audiosysteme GmbH
Clayallee 299; 14169 Berlin
Telefon: 0049 (0)30 / 8049 6088
Internet: www.wert-anlage.de
The stability:
Power in abundance
Normally the three-dimensional diagram depicting the stability of power
amps stops on the y-axis at 60 volts.
For the MBL 9011, which can emit
almost 70 volts at almost any load,
it was extended 'upwards'. The amp
also achieves this output of power
with very minimal, even distortion
(below).
18
Complete System 1: MBL
Main Amplifiers
9011
The system's powerhouse
functions in stereo mode and
as a mono block. Its power
reserves are simply inexhaustible. Nevertheless it always
retains a feel for the delicate:
in the output range below
100 watts the amp works in
the extremely low-distortion
Class A mode, only transferring to AB operation above
this mark.
How you configure the computer so
that the complete USB duo achieve the
greatest possible audio gain is described in detailed instructions that can be
downloaded from the MBL website –
both for Windows machines and the
Mac. And finally to be but on the record
for the sake of completeness: the transducer processes all standard sampling
frequencies up to 96 kilohertz.
It can also play back recordings of
even higher frequencies: computers,
for example, use 192-kilohertz signals
on flows of audio data with half sampling frequency.
All these details admittedly pale immediately into what feels like insignificance as soon as the mighty ensemble
starts to pursue its actual concertante
purpose. For this system creates a
unique world that speaks directly to our
emotions – with an intensity achieved
by only a very few acoustic reproduction
chains on this earth. Time, space and
atmosphere form themselves, for instance, without any consideration for
the physical dimensions of the as yet
still real surroundings: the radial speakers defy these with an ingenious lightness and automatic nature in order to
devote themselves exclusively to the
demands of acoustic art.
Even their own presence becomes
imaginary. Within the incredibly vivid,
colourful and differentiated sounds the
loudspeakers simply do not exist as an
identifiable audio source.
This illusion, not unlike an acoustic
holograph, succeeds equally well with
a large symphony orchestra in a big
concert hall as with a jazz trio in a small,
smoke-filled bar – or with a stage performance of the sort that makes a genius singer immortal. For example, Elvis:
as you listen, you almost believe you
can feel the heat of the spotlight and
see the pearls of sweat on the brow of
the then still young pop icon.
Fingers being snapped to the left,
acoustic bass being plucked to the right
– clearly contoured, very dry, very selfcontained and precisely identifiable
within the whole. "Never know how
much I love you..." - all the controlled
tension in the voice is as if you could
reach out and touch it. "Fever" really
is what the listener experiences as this
magnificent recording is reproduced
and it gave goose bumps to our fascinated testers.
Time for a change of scene, a different genre, another age and another
culture. Russia in the late 19th century:
in St. Petersburg the Tsar still rules and
Nikolai Rimsky-Korsakov has just composed the opera Snow Maiden, based
on an old Russian fairytale. The radial
speakers perform the 3rd Act, The
Dance of the Tumblers. Cascades of
symphonic sound make the colourful
costume world of the travelling players
performing in front of the Tsar's box
sparkle and glitter in your mind's eye,
while the driving rhythm sends the imaginary dancers whirling across a stage
that exists only in your perception. The
creation of such illusions is a quality that
is difficult to capture using the usual
analysis criteria for loudspeakers.
There are two aspects, however, that
we want to address more closely. According to one popular view, it would
be impossible with radial loudspeakers
for a listener to place an instrument
Jürgen Reis, Head Developer
A degree in electrical
engineering is certainly very helpful when
developing complex
high-end equipment. As
a musician and sound
engineer, however, I
need a lot more in order
to be satisfied.
within a room as precisely as with more
direct acoustic transducers. However,
the MBL radial speakers map sounds
– not least those of very full orchestral
pieces – in such a spatially differentiated
manner that listeners frequently believe
they can point to individual instruments.
Evidently the speakers' typical, breezy
conveyance of the music in no way excludes spatial precision.
The second aspect is something that
we mention here in order to final>
Turning beautifully: MBL's love of detail extends all the way to the
rotary knob. Here a batch of the gold-plated controls.
20
Resort
Complete
Geschichte
System 1: MBL
ly and emphatically banish some early
phases of radial speaker technology to
the history books. To put it positively:
the sensitivity with which these great
speakers define and light up natural
sounds is difficult to surpass, regardless
of whether it is the sound of violins with
their sometimes resinous, caustic harmonic spectrum, the warm character of
woodwind instruments or the specific
timbre of voices, be they from opera,
folk, rock or jazz. In this discipline too
these radial loudspeakers are without
doubt among the best that you can
currently buy. Away from all discussion
of detailed qualities, however, one thing
Creating a concept:
The modest term 'loudspeaker' is barely good
enough for these unique
radial beauties.
Speakers
101 E MK II
With their unmistakable
silhouette, the radial speakers give the system its
one-off look: unique chassis
structures provide an even
all-round radiation of sound in
low, mid-range and high frequencies. Only for the lowest
of bass tones does the tall
speaker put a conventional
30-centimetre conical membrane to work.
is for sure: this MBL set-up is an impressive combined masterpiece, to which
all of the components involved make
essential contributions. To be allowed
to live with a system of this calibre can
confidently be said to be a privilege.
The Author
Wolfgang
Tunze
Test editor of the legendary 'HiFi Stereophonie' and also AUDIO editor: there
are few places in the German hi-fi press
where Wolfgang Tunze has not been
active. Since 1989 he has been running
an editorial office in Stuttgart, focussing
on all areas of home entertainment and
writing weekly articles for the Frankfurter Allgemeine Zeitung.