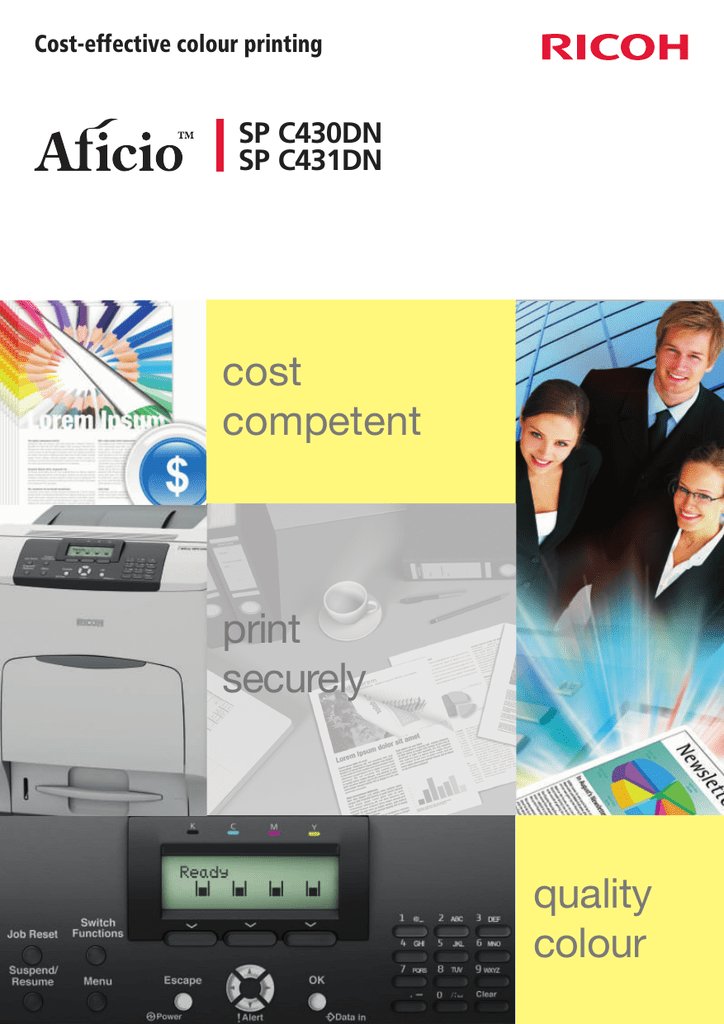 Cost-effective colour printing
SP C430DN
SP C431DN
cost
competent
print
securely
quality
colour
The best choice for of? ce colour printing
The Aficio™ SP C430DN/ SP C431DN provide an excellent solution for cost-efficient colour
printing. With printing costs amounting to a significant percentage of your company's turnover,
a low cost per print is simply essential. In addition, the SP C431DN supplies security features such
as Enhanced Locked Print NX as standard. High quality, fast printing at up to 40 colour pages per
minute (SP C431DN), along with a 50-second warm-up time, optimise office productivity.
• Low Total Cost of Ownership: low cost per print and high duty cycle
• Document protection: Enhanced Locked Print NX is standard (SP C431DN)
• Productive: up to 40 colour or B/W pages per minute (SP C431DN)
• User-friendly: easy-to-use operation panel
• Flexible printing: wide range of media possibilities
Productivity and performance
LOW TOTAL COST OF OWNERSHIP
A number of features contribute to a low Total Cost of Ownership.
Affordable in-house document creation means there is no need
for outsourcing. A high duty cycle results in minimal maintenance.
Long yield of consumables leads to a low cost per print. And
built-in duplexing reduces paper consumption.
DOCUMENT PROTECTION
The SP C431DN offers extensive security features as standard.
Protect confidential and proprietary information with Enhanced
Locked Print NX. Your document will not print until you enter your
ID and password on the printer. For organisation-wide document
protection, network administrators can even set this as the
default.
HIGH PRODUCTIVITY
The Aficio™ SP C430DN/ SP C431DN are fast, efficient and
productive. After a warm-up time of 50 seconds, the first B/W
print is ready in 10 seconds; the first colour page in 15 seconds.
The SP C430DN prints 35 colour and B/W pages per minute; the
SP C431DN is even faster, printing 40 colour and B/W pages per
minute. What's more, there is no reduction in print speed in
duplex mode. For efficient networking, a Network Interface Card
is provided as standard.
EASY OPERATION AND MAINTENANCE
Operation of both devices is straightforward via an intuitive
4-line LCD operation panel which clearly displays all
functions. Toner and paper replacement are simple tasks as
the devices are accessible from top and front. Animated
procedures help you troubleshoot in seconds.
FLEXIBLE MEDIA HANDLING
Looking for an affordable colour printer product that can handle
many different media types? With the SP C430DN/ SP C431DN you
can print covers and flyers on heavy paper up to 256 g/m². Or print on
your preferred envelopes, labels, card stock and transparencies.
Output quality is an excellent 1,200 x 1,200 dpi. Paper capacity is an
outstanding 2,300 sheets when the three additional paper trays are
installed.
EASILY ACCESSIBLE
Front/top accessibility means these devices can be located against
a wall or even in a corner. No parts stick out and get in the way.
The front-loading paper tray slides back underneath the machine
so you will never accidentally knock or damage it.
ENVIRONMENTALLY FRIENDLY
At Ricoh we help you lower the environmental impact of
your office as well as lowering your Total Cost of Ownership. The
SP C430DN/ SP C431DN have eco-friendly and money-saving
features such as low power consumption, fast duplex printing,
ultra-low sleep mode, short warm-up time and increased toner
yield. Thus they save paper, time and energy while reducing waste
and costs. In addition, Ricoh products are Energy Star compliant.
This means less CO2 is produced in providing the energy needed to
run Ricoh devices.
SP C430DN/ SP C431DN
GENERAL
Technology:
Print speed:
Warm-up time:
First print speed:
Dimensions (WxDxH):
Weight:
Power source:
Power consumption:
Energy-saver mode:
Duty cycle:
4 drums tandem method, laser beam
scanning, electro photographic
printing and dual component toner
development
SP C430DN: 35 ppm
SP C431DN: 40 ppm
Less than 50 seconds
Full colour: Less than 15 seconds
B/W: Less than 10 seconds
444 x 658 x 490 mm
57 kg
220 - 240 V, 50 - 60 Hz
Maximum: 1,510 W
Less than 6 W
150,000 pages per month
Additional feature:
PAPER HANDLING
Paper input capacity:
CONTROLLER
Processor:
Printer language:
Resolution:
Memory:
Hard Disk Drive:
Drivers:
Fonts:
Option: Bi-directional IEEE 1284, Wireless
LAN (IEEE 802.11a/b/g),
Gigabit Ethernet, PictBridge
PDF Direct Print
600MHz
Standard: PCL5c, PCL6, PostScript 3,
PDF, XPS
600 dpi (1-bit)/600 dpi (2-bit)/1,200 dpi
SP C430DN (Std/Max): 384 MB/768 MB
SP C431DN (Standard): 768 MB
80 GB (standard for SP C431DN)
PCL5c/PCL6: Windows® 2000/ XP/ Vista/
Server 2003/ 2003R2/ Server
2008 PostScript 3: Windows®
2000/ XP/ Vista/ Server 2003/2003R2/
Server 2008, Macintosh 8.6 – 9.2.x
(OS X Classic), Macintosh X
Native (v.10.2 or later), UNIX
(Mac OS X 10.1 available through web
download)
PCL: 45 fonts + 13 fonts (International
Fonts)
PostScript 3: 136 fonts
CONNECTIVITY
Standard: 1 x 550-sheet paper tray
100-sheet bypass tray
Maximum: 2,300 sheets
Paper output capacity: Standard: 500 sheets
Paper size:
Paper trays: A6 - A4
Bypass tray: A6 - A4
Paper weight:
Paper trays: 52-220 g/m²
Bypass tray: 52-256 g/m²
Duplex tray: 60-163 g/m²
Media:
Plain paper, recycled paper, middle thick
paper, thick paper, thin paper,
transparencies, letterheads, labels, coated
paper, water proof paper, pre-printed
paper,envelopes
CONSUMABLES
Toner1 :
Black: 21,000 sheets2
C, M, Y: 24,000 sheets2
OTHER OPTIONS
Internal options:
External options:
Wireless LAN (IEEE 802.11a/b/g)
Camera Direct Print Card
HDD Encryption Unit
Data Overwrite Security Unit
Bi-directional IEEE 1284
Gigabit Ethernet Board, NetWare
HDD (80GB)3, 256 MB Memory3
512 MB Memory3, VM Card3
550-sheet paper tray (maximum 3)
Caster table4
1The
Network protocol:
TCP/IP (IPv4, IPv6), AppleTalk, IPX/SPX
Supported environments:Windows® 2000/ XP/ Vista/ Server
2003/2008 (32 bit, 64 bit)
Novell® NetWare® 6.2 or later
Macintosh 8.6 or later
Interface:
Standard: Ethernet 10 base-T/100 baseTX, USB 2.0 (Type A & B),
SP C430DN/SP C431DN ships with a starter kit.
2Declared yield value in accordance with ISO/IEC 19798.
3Optional for SP C430DN only
4Caster table is required if printer is placed on floor with optional
paper trays installed.
For availability of models, options and software, please consult
your local Ricoh supplier.
ISO 9001: 2000 certified
ISO 14001 certified
Ricoh has designed these
products to meet EC ENERGY
STAR guidelines for energy
efficiency.
All brand and/or product names
are trademarks of their
respective owners.
Specifications and external
appearance are subject to
change without notice. The
colour of the actual product
may vary from the colour shown
in the brochure.
URL: http://www.ricoh.co.in
For more information, please contact:
CORPORATE OFFICE: 52-B, Okhla Industrial Estate Phase-III, New Delhi - 110 020
Tel: (011) 41613010-18 Fax: (011) 41612221/ 3019 Email: [email protected]
REGISTERED OFFICE: 1104, Arcadia, NCPA Road, Nariman Point, Mumbai - 400 021
Tel: (022) 22881953/ 54/ 55 Fax: (022) 22881950
Ahmedabad, Bangalore, Bhopal, Bhubaneshwar, Chandigarh, Chennai, Coimbatore,
Delhi, Guwahati, Hyderabad, Jaipur, Kochi, Kolkata, Lucknow, Mumbai, Nagpur,
Patna, Pune, Ranchi, Visakhapatnam.