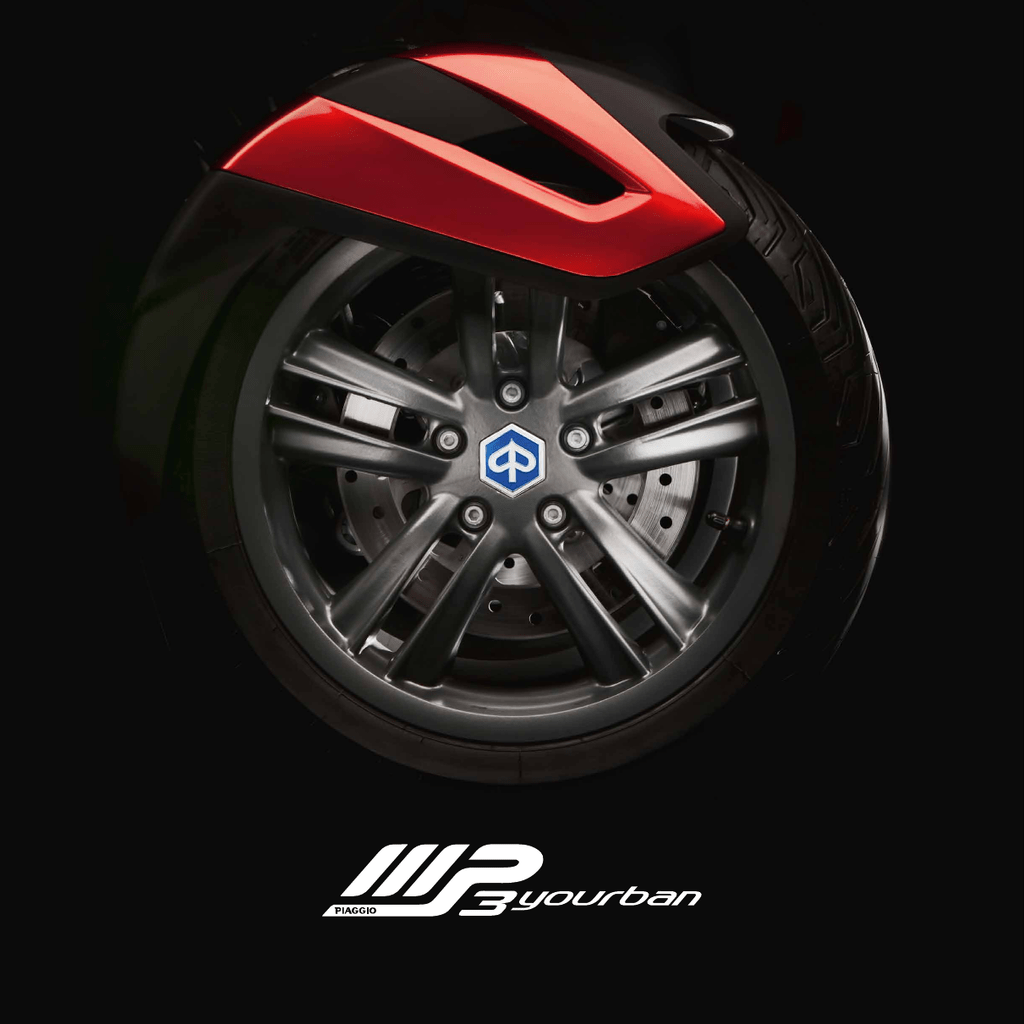 MP3 YOURBAN LT 300
MP3 YOURBAN LT 300 SPORT
MP3 YOURBAN: ELEGANT, COMPACT, DYNAMIC AND
IDEAL FOR CITY TRAFFIC. DEDICATED TO THOSE WHO
DEMAND EXTRA STABILITY FROM THEIR SCOOTER,
BUT DON'T WANT TO SACRIFICE FUN.
MP3 YOURBAN LT 300 CAN BE RIDDEN BY HOLDERS
OF A UK CAR LICENCE AGED 21 OR OVER*, SO ITS
TALENTS ARE ACCESSIBLE TO MANY COMMUTERS
AND OTHERS WHO WANT TO FREE THEMSELVES
FROM THE DAILY GRIND.
*PIAGGIO RECOMMENDS THAT CAR DRIVERS WITHOUT SCOOTER
EXPERIENCE UNDERTAKE SUITABLE TRAINING BEFORE RIDING
AN MP3 YOURBAN.
MP3
YOUR URBAN CHAMPION
Stylish, sleek and compact with a choice
of subtle or vibrant colours, MP3 Yourban
LT 300 combines innovative design
with high quality components to give a
striking presence on the city streets.
MP3
YOURBAN
FUN COMES
AS STANDARD
PIAGGIO REVOLUTIONISED THE SCOOTER WORLD IN
2006 WITH THE INTRODUCTION OF THE PATENTED
DUAL FRONT WHEEL LAYOUT WITH INDEPENDENT,
TILTING SUSPENSION. THIS INNOVATION LETS THE
RIDER REACH NEW HEIGHTS OF ENJOYMENT IN
TRUE MOTORBIKE STYLE, BUT WITH THE ADDED
SECURITY OF THE THIRD WHEEL GIVING NEW LEVELS
OF AGILITY AND GRIP IN ANY CONDITIONS.
With its 13" front wheels and compact dimensions, MP3
Yourban handles with razor-sharp precision: whether in
a bend, overtaking, riding on cobblestones or over
tramlines, nothing else carves through the traffic
with the same exhilarating confidence.
3 wheels + 3 brake discs =
20% MORE BRAKING POWER
in critical conditions than on
a conventional two-wheeled
scooter.
With its wide front track, central daytime running light,
extended turn indicators and integrated brake system with
combined brake pedal, the MP3 Yourban LT may be ridden
with a standard UK passenger car licence by those aged 21
or over and allows unrestricted access to dual carriageways
and motorways.
As nimble as a conventional scooter
and boasting unrivalled stability and
striking looks, the MP3 Yourban LT
300 offers an original and attractive
alternative to the car or public
transport for city use.
Combined front and rear wheel
braking, via the pedal on the
footrest platform, or individual
braking, via the handlebar levers.
BRILLIANT
PRACTICALITY
MP3
YOURBAN
The MP3 Yourban means you can park anywhere*. Its light weight and
compact dimensions make it easy to use for anyone with an appropriate
licence, at any time and in all metropolitan situations. What's more, the
innovative front suspension roll lock system lets you stop at a traffic light
without putting your feet down, or even park without the stand: yet another
exclusive advantage of the MP3 family.
*subject to local parking regulations
SUPERIOR
COMFORT
The MP3 Yourban has a 300 cc,
4 stroke, 4 valve, fuel injected engine
and CVT automatic transmission for
lively performance and miserly fuel
consumption.
MP3
YOURBAN
Instrument panel with stylish blue
backlighting and LCD information display.
An ergonomic and comfortable two-person
saddle conceals a spacious compartment
with room enough for two jet helmets with
visors when you are parked, or shopping or
gym kit when you are riding.
MP3 YOURBAN
SPORT
THE MP3 YOURBAN SPORT ADDS
A SLICE OF ATTITUDE WITH TWO
AGGRESSIVE COLOURS "GRIGIO
TITANIO OPACO" AND "BIANCO LUNA".
DETAILING IS IN CONTRASTING GLOSS
BLACK COMPLEMENTED BY BLACK
WHEELS, MATT BLACK EXHAUST
PROTECTOR AND A BLACK SADDLE
HIGHLIGHTED WITH RED STITCHING.
ORIGINAL
OPTIONS
Make your MP3 Yourban your
MP3 Yourban with genuine
Piaggio accessories, including:
•Quick release top box kit
• Windshield
• Large windshield
• Hand guards
• Comfort gel saddle
• Leg cover
• Scooter cover
• E-power electronic anti-theft system
• Handlebar lock anti-theft system
• A selection of Piaggio helmets
MP3
YOURBAN
ROSSO
IBIS
NERO
COSMO
SPORT
GRIGIO TITANIO
MATT
SPORT
BIANCO
LUNA
MP3 YOURBAN LT 300 / SPORT
Engine
Single cylinder, 4 stroke, 4 valves
Engine capacity
278 cc
Bore x stroke
75 mm x 63 mm
Power
16,7 kW (22,7 hp) at 7,750 rpm
Torque
24 Nm at 5,750 rpm
Valve actuation
Single overhead camshaft (SOHC)
Fuel system
Electronic injection
Cooling system
Liquid
Lubrication
Wet sump
Starter
Electric
Transmission
CVT with torque server
Clutch
Automatic, centrifugal dry clutch
Frame
Closed double cradle in high strength tubular steel
Front suspension
Articulated quadrilateral
Rear suspension
Twin dual-action hydraulic shock absorber
with adjustable preload
Front brakes
Two 240 mm Ø discs
Rear brake
240 mm Ø disc
Front wheels & tyres
Aluminium alloy 13" x 3.00 with tubeless 110/70 x 13
Rear wheel & tyre
Aluminium alloy 14" x 3.75 with tubeless 140/60 x 14
Length / Width
2,040 mm / 760 mm
Wheelbase
1,440 mm
Seat height
780 mm
Fuel tank capacity
11 litres
NOTE: All UK-specification MP3 Yourban LT 300 models feature front indicators extending from the handlebar cowl, not integral with it.
YOUR LOCAL RETAILER
Piaggio reserves the right to modify technical specifications and visual appearance without prior notice. Only original Piaggio spare parts offer a guarantee of quality and
ensure that your vehicle continues to function as intended by the manufacturer. Piaggio reminds you to always wear a helmet and to ride carefully at all times.
The PIAGGIO logo is the property of Piaggio & C. S.p.A.

* Your assessment is very important for improving the work of artificial intelligence, which forms the content of this project