Nikon Binocular Resource Guide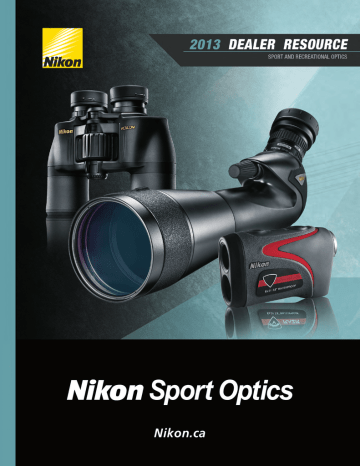 Nikon.ca
Binocular Uses
• Hunting
• Bird Watching
• Boating and Marine
• Star Gazing
• Surveillance
• Travel
• Opera and Theatre
• Spectator Sports
• Camping
• Photography
Key Buying Times
• Fall Hunting (Summer purchase)
• Spring Hunting (late-Winter purchase)
• Father's Day
• Mother's Day
• Fall Migration
(June)
(May)
• Spring Migration (May)
(October)
• Christmas (Fall)
Sales Tip
B inoculars can Be used for almost any outdoor activity and will enhance the user
' s experience
.
About Nikon
Nikon is the world leader in Sport Optics and is globally recognized for setting standards in product design and performance. The unique strength of the Nikon brand is attributable to the company's unwavering commitment to quality, performance, technology and innovation. Nikon Canada Inc. markets and distributes Binoculars, Riflescopes and
Fieldscopes through a network of Authorized
Nikon Canada Dealers.
To learn more about Nikon Canada, please visit Nikon.ca
The cutting edge in Hunting Optics. An adventurous spirit and dedication to success demands performance above all else.
The world's greatest adventurers have trusted Nikon's legendary ED glass in
NIKKOR® lenses to capture some of the most breathtaking imagery ever attempted.
Sales Tip
h aving the right Binoculars or fieldscope to suit an individual
' s needs is very important
. a sk aBout the use and season to help choose
.
PROPER FOcUsing
How to properly adjust for your vision
STEP 1: Set the diopter ring to the centre of the adjustment scale.
Cover the right objective lens with your hand.
STEP 2: Pick an object in the middle distance zone, about 10 - 30 metres (10 - 30 yards) away, then move the focus ring until your object is sharply focused.
NOTE: EVEN THOUGH YOU ARE USING ONLY
YOUR LEFT EYE TO FOCUS, TRY TO KEEP
BOTH EYES RELAXED.
STEP 1
STEP 3: Cover the left objective lens with your hand. Look at the same object, and turn the diopter ring to bring the object into
sharp
NOTE: ENSURE THE CENTRE FOCUS KNOB
DOES NOT CHANGE. KEEP BOTH EYES OPEN,
DO NOT SQUINT
STEP 4: Remove your hand from the left lens
NOTE: PLACE A MARK ON THE DIOPTER-
RING SETTING NOTING THE CORRECT
ADJUSTMENT. IF YOUR VISUAL ACUITY
CHANGES DURING THE YEAR, YOU MAY NEED
TO RESET THE DIOPTER.
STEP 3
Sales Tip
p roper Binocular focusing will eliminate headaches and eye soreness
, and ensure a Bright
, crisp picture quality
.
STEP 2
inTERPUPiLLARY DisTAncE
How far apart should the eyepieces be?
Interpupillary distance (IPD) is the distance between the pupils of your eyes measured from centre to centre when your eyes are focused on infinity. It varies from person to person.
The same term applies to the distance between the centres of a binocular's exit pupils.
To take full advantage of the field of view and light from your binoculars, the binocular's IPD should be the same as your IPD. Because
IPD varies between people and uses, virtually all binoculars have adjustable IPDs.
In general, lower-power, smaller objective size binoculars can be set at smaller IPDs.
If you don't have the IPD correctly adjusted, you'll see only part of the scene you're looking at, as the beams of light from the eyepieces are partially missing your pupils. Adjust IPD by moving the two tubes of the binoculars towards or away from each other. Some pairs of binoculars have a scale on the centre pivot to help with the proper adjustment.
NOTE: ALL BINOCULARS ARE HINGED AT THE CENTRE FOR
THIS PURPOSE.
When this adjustment is made correctly, the sight picture forms a single round circle. This indicates to the user the IPD is correctly set.
Sales Tip
p roper
ipd ensures users see only a single image of the oBjects they are viewing with crisp image quality
.
BinOcULAR TYPEs
Design differences to suit all uses
PORRO PRISM DESIGN
The Porro prism was invented by Ignazio Porro in mid 19th century Italy. All of its reflective surfaces are completely reflective, so it loses no light and such binoculars are easy to produce. However, the optical path is bent like the letter Z. Accordingly, this prism system takes up considerable space, so that binoculars with a Porro prism are larger than those with a roof (Dach) prism.
ROOF (DACH) PRISM DESIGN
The first prism of the roof prism system has one surface that does not feature total internal reflection, resulting in the loss of some light. To minimize this loss, it is necessary to apply a coating on the surface to raise reflectivity. Also, to produce the roof surface of the second prism so that it delivers sharp images without a double image or flare, a highly advanced technology is required that processes the edges precisely. And as the optical path of the roof prism binoculars is straight, a slim and compact body is realized.
Sales Tip
t he design of the Binocular must fit the Budget and needs of the customer
. B e sure to discuss this Before making any recommendations
.
Roof or
Porro prism?
ROOF PRism
√
√
√
√
√
√
√
Slimmer Design
Most popular style today
Easier to waterproof (vs. Porro)
Narrower - more compact
Light is refracted six (6) times
More durable than Porro
More models available at the mid to high-end
√
√
√
√
√
Great value - starter binocular
Low to mid-range - typically best optical performance
Less expensive to manufacture (vs. Roof)
Light is refracted four (4) times
More efficient in light transmission than Roof
PORRO PRism
Sales Tip
w eight and size are factors for an all day excursion
. s ome designs are
Better suited for hiking while others are for stationary viewing
.
What do the numbers mean?
10
Magnification
(Power)
x
42
5.7
o
Objective
Diameter
Angle of View
mAgniFicATiOn
Magnification is the process of enlarging something only in appearance, not physical size.
Typically magnification is related to scaling up visuals or images to be able to see more detail. In all cases, the magnification of the image does not change perspective of the image.
OBjEcTivE DiAmETER
The objective is the optical element that gathers light from the object being observed and focuses the light rays to produce a real image. Objectives can be single lenses or mirrors, or combinations of several optical elements. The diameter refers to the size of the objective lens and directly affects the amount of light entering the binoculars and the field of view.
NOTE: THE LARGER THE OBJECTIVE THE BETTER THE
ABILITY OF THE OPTIC TO "GATHER" LIGHT
AngLE-OF-viEw
Angle-of-view is the breadth of a subject as seen by a binocular system. It is usually stated for the diagonal of the image, and sometimes the vertical and horizontal. A large angle shows a lot of things very small, and a small angle shows fewer things, but larger. This is a common binocular and lens specification.
1
AOV, like a circle is made up of 360°, 1° is = 15.97m at 914.4m (52.4 ft at 1000 yards)
By multiplying the constant of 15.97 by the Angle of View of the binocular, we get the AOV
15.97 x 7 = 111.8m. Therefore FOV is 11.8m at 914.4m
(52.4 x 7 = 366 ft, FOV is 366 ft at 1000 yards)
Sales Tip
c onsider the customer
' s use for Binoculars
. t all suBjects may require a larger
aov to reduce Binocular movement for full image viewing
.
FiELD OF viEw
FOV is the visible area seen through the binocular at a distance of 1000m
(Riflescope FOV is measured at 91.4m or 100 yards)
Wide Field of
View Binoculars
Regular
Binoculars
Binoculars with a FOV greater than
122m are considered Wide Angle
EYE RELiEF
Eye relief is the distance from the outer surface of the eyepiece lens to the position where the exit pupil is formed (eyepoint).
Eyepiece lens
Eyepiece lens
Field of view cannot be fully ensured.
If eye relief is too short, you cannot place your eye on the eyepoint, which may result in vignetting occuring in the field of view.
Eye Relief Too Short
If eye relief is long enough, eyeglass wearers can use binoculars while wearing their glasses and observe the field of view without vignetting.
Eye Relief OK
Most eyeglass wearers require a minimum of 14mm
Sales Tip
p roper use of eyecups ensures a customer is seeing the complete viewing area of the lens
. i f this is not done
, it will result in dull images
.
EXiT PUPiL
Exit Pupil is the circle of light seen when the binocular is held at arms length.
Example: 8 x 42 binocular
42 / 8 = 5.3mm
Exit pupil = The effective diameter of the objective lens/magnification.
WHy IS exIt pupIl IMpOrtant?
Matching the exit pupil with the dilation of your eye's pupil is essential in low-light situations.
Sales Tip
c onsider the customer
' s use
. i f using in low
light
, keep this calculation in mind
. r ememBer
, a human eye dilates to
7 mm
.
LigHT gATHERing
Why do both large exit pupil binoculars and small exit pupil binoculars provide the same bright images in bright conditions?
The human pupil normally opens about 2mm in daylight and 7mm in the dark.
If you use binoculars with an exit pupil of over 2mm in daylight, you won't perceive dark images. Brightness will not vary whether you use binoculars with a 7mm or 2mm exit pupil.
On the other hand, if you use binoculars with a small exit pupil in the dark, the image will not appear as bright as when seen with the naked eye.
8x20 Binoculars:
Pupil diameter of human eye: 7mm
Exit pupil of binoculars: 20 ÷ 8 = 2.5mm
Because the 2.5mm exit pupil of binoculars is smaller than the 7mm human pupil, you will perceive images as dark.
7x50 Binoculars:
Pupil diameter of human eye: 7mm
Exit pupil of binoculars: 50 ÷ 7 = 7.1mm
Because the human pupil is about the same size as the binocular's exit pupil, you will perceive images as bright as when seen with the naked eye.
LigHT TRAnsmissiOn
Light transmission is the percentage of light that hits the objective lens and passes through the lenses of the optics and exits the eyepiece to your eye.
Lens surface
(incidence surface)
Reflected light
Part of the light passing through the lens is reflected by the front
(incident light) and rear (exiting light) surfaces. This reduces the amount of light passing through the lens so the image appears to be dark. Also, the reflected light may cause ghosting and flare, affecting image contrast. To minimize reflection on the lens surfaces and ensure clear, sharp images, Nikon applies anti-reflective coatings.
Lens surface
(light exiting surface)
Reflected light
WHAT MAKES LIGHT PASS
THROUGH GLASS MORE
EFFECTIVELY?
Coatings are applied to both surfaces of the lens. There are two main types of coatings: single layer and multilayer (usually 3-5 layers). A multilayer coating effectively reduces reflected light that cannot be eliminated with a single-layer coating, and increases the transmittance of light.
mULTi cOATing...THE OnLY wAY TO gO
LigHT TRAnsmissiOn vs. LigHT gATHERing
Despite many opinions to the contrary, these two terms are NOT the same. Light transmission is based upon the quality of the glass as well as the type and amount of coatings used. Light gathering is a function of the riflescope exit pupil and has NO reference to quality.
Sales Tip
l ens coatings are the single most important consideration
. c larity
,
Brightness and crispness of the image depend upon this factor
.
TEsTing BinOcULARs FOR qUALiTY
Choosing the RIGHT binocular is important!
Tips:
Lens quality: Look for high quality glass, meticulous grinding and polishing.
Take the time to compare several models of binoculars against each other using these six simple tests.
TEST 1: LENS DISTORTION CAUSED BY UNEQUAL IMAGE MAGNIFICATION
Focus on the top and sides of a flat image with straight edges. Bowing or curvature
of the edges at the top or sides means poor correction.
TEST 2: EXCESSIVE CURVATURE, WHICH PREVENTS EDGE-TO-EDGE SHARPNESS
Focus on a flat image as a whole. If you are unable to focus sharply on all areas of
the image at the same time, it is an indication of excessive curvature of the lenses.
TEST 3: INTERNAL BLACKENING TEST
Look into the binocular objective at a 45° angle. You should see darkness. If you can
clearly see internal metal parts, this binocular probably has image degradation in the
form of distracting glare and reduction of overall light transmission.
TEST 4: MISALIGNMENT OF LENS ELEMENTS, WHICH CAUSES PARTIAL IMAGE BLOCK OUT,
REDUCTION OF LIGHT TRANSMISSION AND OVERALL VIEWING DISCOMFORT
Hold binocular level, looking through eyepiece lenses at arm's length. Exit pupils
should be exactly in the centre of each ocular and round, not fuzzy or irregularly
shaped.
TEST 5: UNMATCHED BARREL ALIGNMENT, WHICH CAUSES SEVERE EYESTRAIN AND HEADACHES
Focus on a reference image. When it's sharp, put binocular down and rest your eyes
for a few seconds. Bring binocular back to your eyes and with one hand cover one
of the front lenses, then drop your hand. Image should stay sharp; if image is out of
focus then slips into focus when you drop your hand, the barrels are misaligned and
your eyes are compensating.
TEST 6: MEASURE A BINOCULAR'S ABILITY TO DISTINGUISH FINE DETAILS. LARGER OBJECTIVE
LENSES TEND TO IMPROVE RESOLUTION, SO BE SURE TO COMPARE BINOCULARS WITH
SIMILAR OBJECTIVE SIzES
Start with the smallest objective you are considering - say 32mm. Focus on a test
reference. Can you read the small print? How about the black and yellow reticle
image? Are the lines sharp and crisp? Now try it with other binoculars with the same
size of objectives. The better the glass, the better the resolution at any given
objective size.
THE OPTicAL TRiAngLE
To maintain resolution integrity, there is an optical axiom that needs to be understood.
Think of Power, Eye Relief and Field of View (FOV) as the three points of a triangle that balance each other out:
• Increase Power: Eye Relief & Field of View are reduced
• Increase Eye Relief - Field of View decreases - and vice versa
• Increase Eye Relief & Field of View - Power must be lower.
AS MAGNIFICATION INCREASES FOV AND EYE RELIEF DECREASES
pOWer
FOV
EYE RELIEF
8 x 42 Monarch
10 x 42 Monarch
12 x 42 Monarch
100m (300ft) 19.6mm
96m (314ft) 15.5mm
90m (262ft) 15.4mm
LAsER RAngEFinDERs
What do they do?
A laser rangefinder measures distance by projecting laser beams to a target and measures the time it takes the laser beam to reflect off the target and arrive back at the instrument.
Sales Tip
r angefinders can Be used to acquire the distance of many types of targets
.
• Golf
• Surveying
• Hiking/Backpacking
• Military
• Hunting
• Target Shooting
• 3D Modeling
• Forestry
• Steel Industry - Inventory
• Real Estate
• Construction/Renovation
If you are golfing, hunting or conducting a forestry survey, knowing the right distance is essential. Known industry-wide for superior optical technologies and cutting-edge design capabilities, Nikon takes pride in delivering innovative, high-quality products. Nikon's Laser Rangefinder lineup extends from a high-spec model with angle measurement functions to models exclusively designed for golfing and hunting, each perfectly suited to its particular purpose.
RAngEFinDER TEcHnOLOgY
• Traveling at the speed of 300,000 km/second. A laser beam could travel around the earth 7.5 times in one second.
• Laser beams can travel great distances without dispersing, creating pin-point accuracy.
• When taking a measurement, an LRF emits hundreds of laser beams in approximately half a second to boost accuracy.
• This can greatly improve accuracy as a single laser beam could miss a target that is too small to pin-point which is why Laser Rangefinders were developed with this technology.
class -1 Laser Beam
• Class-1 Laser-Beam is used for all consumer
Laser Rangefinders.
• Safe for the eyes - human and animal.
• Military sometimes use greater than Class-1
Lasers, but these are for specialized work and not available for consumer use.
TRU-TARgET TEcHnOLOgY
FIRST TARGET PRIORITY MODE
Allows confident ranging of smaller targets that are often ignored by conventional rangefinders by relaying the distance to the very first target the pulses hit, regardless of size.
DISTANT TARGET PRIORITY MODE
Displays range to the furthest target among the targets measured by the series of pulses. This mode allows for accurate ranging in normal hunting conditions where the target can be partially obscured by brush.
AcTivE BRigHTnEss cOnTROL viEwFinDER
Automatically detects brightness of
FOV and utilizes an improved LCD display with an LED backlighting that allows selection of the mode that contrasts best against subject and background.
iD TEcHnOLOgY
Nikon's advanced ID (Incline/Decline)
Technology compensates for various incline or decline shooting angles—up to an incredible +/- 89 degrees (nearly vertical up or down).
wHY cHOOsE niKOn RAngEFinDERs
• Ease-of-Use (one number in the display, uncluttered)
• Accuracy (to tenth of a yard, 0.1 measurement)
• Single Button Control
• Active-Brightness Reticle
• Speed - Best in Class
• Accuracy on Soft Targets
• Waterproof/Fogproof
Sales Tip
r angefinders help to ensure the first shot is the right shot
. n ikon r angefinders also work as a
6x monocular
.
Fieldscopes, classified as one type of terrestrial telescope, are used for viewing magnified images of distant objects. Unlike binoculars, a Fieldscope only requires viewing with a single eye for observation. It is always used with an eyepiece, the choice of which determines the magnification. It is designed to produce an erect image with prisms and can be used to observe wild animals or birds, for astronomical observation or for target confirmation in archery or shooting. Generally, a Fieldscope's magnification is higher than binoculars and is usually used attached to a tripod.
TwO TYPEs OF FiELDscOPEs
A Fieldscope has a body and eyepiece arranged parallel or in a straight line. It is easy to capture a subject inside the
Field of View and is recommended for observing several subjects.
A Fieldscope with an eyepiece that mounted at an angled position is recommended for observing subjects at higher positions such as in a tree with elevation angle posture, with several people, or while seated.
NOTE: FIELDSCOPES
MAY ALSO BE KNOWN
AS SPOTTING SCOPES.
Above is an example of the ratio of the apparent size of an object in comparison with what a viewer sees with the naked eye. For instance, an object 1,000m away viewed through a
Fieldscope with 50x eyepiece looks about equal in size to an object 20m away viewed with the naked eye. The magnification can be changed with a mounted eyepiece.
Sales Tip
g enerally
, a
f ieldscope
' s magnification is higher than a Binocular and is usually used attached to a tripod
.
• Archer's Choice and Archer's Choice MAX are trademarks of Archer's Choice Media Inc.
• ARD (Anti-Reflective Device) is manufactured by Tenebraex.
• Buckmasters is a registered trademark of Buckmasters, LTD.
• Team Realtree, Realtree APG, Realtree XTRA Green, Realtree HDWS Green HD, and Realtree MAX-1,
High Definition and all respective logos are registered trademarks of Jordan Outdoor Enterprises, LTD.
• Mossy Oak, Mossy Oak Break Up and Mossy Oak Brush and all respective logos are registered
trademarks of Haas Outdoors, Inc.
• All Nikon trademarks are the property of Nikon Corporation.
• Features and specifications are subject to change without notice.
• No reproduction of this material without the express written consent of Nikon Canada Inc.
Nikon.ca
©
2013 Nikon Canada Inc.
1366 Aerowood Dr
Mississauga ON L4W 1C1
* Your assessment is very important for improving the work of artificial intelligence, which forms the content of this project