Page 1 Page 2 Page 3 Page 4 Page 5 The innovative slideout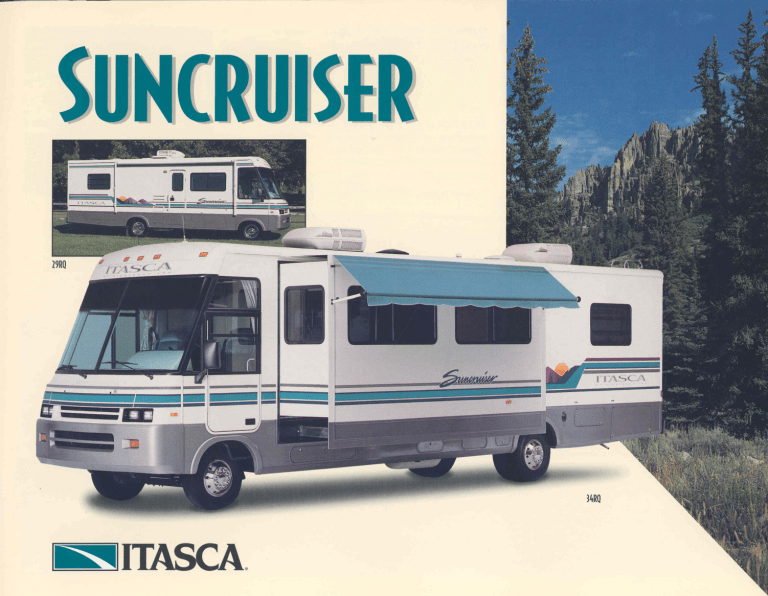 ES
E
a
№
МА
si a AL \
FAN
eddy fi
Tias
MEAR
| PREFER TO CARVELIT
nee are
When you think about it, skiing is really a
pretty simple concept: You go up the
mountain, and then you come back
down again. But there's much more
to it than that. There's a thrill you
get when you're standing at the top
of a mountain that you just can't find
anywhere else. And skiing offers
something for all ages, shapes, sizes and styles.
There's more than enough room for snow-
plowers, mogul skiers, black-diamond skiers and
snowboarders.
Itasca has designed the Suncruiser to stand out from the
competition. Flush-mounted storage doors and running lights
complement the sleek graphics and aerodynamic design.
| esti
ss LI,
le"
While there are many ways to go down the
mountain, more and more people are
discovering there's only one way to
go to the mountain — the Itasca®
Suncruiser®. Over 35 years of
Winnebago® Industries' experience
has been poured into each and
every Suncruiser, resulting in unmatched
construction strength and unbeatable comfort.
And Suncruiser's high storage design means
there's plenty of room to take everyone's skis,
poles, boots and bags. Suncruiser. Just imagine
the fun you'll have.
йе
The front end has a
4 large wraparound
Во (windshield mounted
in steel for safety and
a tinted shade band
for added protection
from the sun.
The available entertainment center
includes a removable table, AM/FM —
cassette, speakers, outlets and TV 29RQ A color coordinated awning is available to
connections. The lockable compart- protect you from the hot sun or cool rain.
ment protects all components.
PT ;
| — BO. de : BAT
- I aU DI ss
34RQ
The slideout
incorporates an
automatic cover and
a full-view window
awning. The cover
prevents debris from
falling on the roof
and helps the
awning block out
the sun's heat.
34RQ
Itasca's new solar panel is an
extraordinary available feature
created to extend the useful life
of the RV battery(ies). The 10- No need to bring the dirt inside. Suncruiser
watt solar system trickle has an exterior wash station for cleaning up
charges the at the end of the day. It provides access to
battery(ies) in hot and cold water and a pump switch.
sunlight.
Large, locking, pass-through
compartments are ideal for
storing luggage and more.
The carpeted flooring,
rubber gaskets and steel
construction protect
contents from the elements.
J9R0 | | 29RQ
— ONETRIP DEEP SEA FISHING
The custom-built
available slideout design
allows for ample lounge
space and maneuverability —
even when closed. The raised-
panel overhead storage
compartments beautifully
accent the interior fabrics.
Fishing in a lake and fishing in an ocean are
about as much alike as church softball and the big ~~
a
e
leagues. Imagine reeling in a 250 pound
largemouth bass and you start to geta =
picture of what deep sea fishing is all á
about. But it isn't just the fish that are #
bigger. The boats are bigger, the wind and
waves are bigger and even the rods, reels and lures
are bigger.
The difference between Suncruiser and other
high storage Class-A motor homes is
a lot like comparing deep sea fishing to
fishing in a pond with a cane pole —
there's just no comparison. Take, for
instance, Suncruiser's available slideout living
area. This revolutionary addition slides out in under
20 seconds to offer increased living room. It's just
one of the many innovations that make Suncruiser
stick out from the crowd. Once you see all it has to
offer, you can't help but get hooked.
i e
TY a iy
[Ts à
The innovative slideout feature is designed with your needs in mind. The added space provides increased comfort and efficiency to
make the living area more inviting. The slideout is standard on the 37RW, available on the 34RQ and 34RQ pusher.
y F5 Some days you just can't win. On the first hole Just when you're starting to think the
| WAS 1) MEN PAR it's your driver that won't work. On the —. problem may be the course, ltasca
+ | second, it's your putter. And just about ED provides a solution. The 1995
r aera the time you figure out those two clubs \ Suncruiser. Imagine the possibilities.
AND IN LN JUST I you start having trouble with your irons. ea 77 When you've had a bad round, throw
| And those are just your clubs. There are a " your clubs in a large exterior storage
| also doglegs, water hazards, out of NED" bay, conveniently misplace your scorecard
ТНЕ НСТ l'E HOLES. bounds, sand traps and small greens to and move on to greener fairways. But remember,
contend with. No, golf is not an easy game. don't wear your spikes while driving a motor
Maybe that's why it's so much fun. home and always replace your divots.
The available six-way
adjustable driver's seat
enhances the ride by
providing more comfort
while on the road. The seat
swivels and slides to add a
new dimension to the
lounge area and comes
with a lumbar system to
support your back.
Space is not a problem in the new Suncruiser. The available slideout feature extends
the lounge area for plenty of entertaining space. Windows on the slideout's three
walls provide an expansive view of the great outdoors.
Whatever your cooking needs are — from a sandwich 34R0
to a three course meal — the Suncruiser's galley allows
you to prepare food with ease. Standard features
include a four-burner range top, touch-control
microwave oven, large double-door refrigerator/freezer
and stainless steel sink.
The available 9" color
television rests in
LEE li a bedroom cabinet
The 34RQ features a on the 34RQ.
unique slideout hamper
for added convenience.
Surrounded by windows, the bedroom's bright
interior is beautifully coordinated with handcrafted woodwork
and wainscoting. The Sealy® innerspring queen size mattress is
fully appointed with matching bedspread, pillows, pillow shams,
and throw pillow.
The well-designed
bathroom uses every
available inch to offer the
most storage and
convenience. Standard
features include makeup
lights, medicine cabinet,
large rectangular sink,
single-piece shower, tissue
holder and towel ring.
To make packing easier,
Suncruiser features a large
wardrobe for hanging
clothing. It's designed with
carpeted flooring, a light
and a mirrored door.
ENEE:
The angled galley design on the 29RQ offers all = : x =
of the comforts of home. Vinyl flooring is | EF | | e === a
available throughout the kitchen and bath to | aa TE 5
provide a durable, easy-to-clean surface. To
assure great drinking water, an advanced
water purification system comes standard on
every Suncruiser.
In this high-tech world of e-mail,
computers and instant cash machines,
it's nice to see something that hasn't
changed much over the years.
The basic concept of sailing is
the same as it's always been —
catching the wind. Just about the
For some, a day on the water is the next best
thing to — well, a day in a motor home.
Everybody needs to come to land sometime,
and when they do, Suncruiser is ready and
waiting to welcome them home. Our twenty-
six floorplan combinations mean there's a
model that's perfect for just about anyone.
time other boats are heading in for And our wide range of available features
the day because it's too windy, sailboats are allows travelers the opportunity to custom
heading for the open water. Eager for another design their Suncruiser. There's never been a
day of riding the wind. motor home quite like this before. And that's
precisely why Suncruiser is so popular.
ul |
=. ый. La
pa a EE ——__
To make sleeping comfortable, both the couch and dinette
convert to beds. This feature provides additional sleeping
space for up to four persons.
Itasca created everything in the Suncruiser to fit the traveler's needs. The overhead storage is ideal for stowing food, games or
clothing. Large picture windows are tinted to protect your eyes and the interior from the bright sun.
Take a pinch of horseshoes, volleyball and While Suncruiser won't hold an entire family
TH croquet. Add in a dash of barbecue, several ; reunion, it will hold quite a few people
LAST WEEKEND 1 GOT TOGET |
: i - large portions of desserts and a complete comfortably. The driver's area is roomy and
dat | я family tree and you have all the ingredients well-equipped. The galley features everything
WITH MW FAMILY. IT WAS NICE || for a full-blown family reunion. After all, a gourmet needs in a kitchen. The living
a
TE reunions are one of life's more area is the perfect place to relax at
memorable events. It's always fun to
meet distant relatives and find out how
AE
ETA
the end of a long day. And, of course,
Suncruiser features a nice, comfortable
you're related. You can learn things at a 4 bedroom. Because no matter how large or
AAA family reunion that you just can't learn small your extended family is, someone is bound
LA 4, anywhere else. (Like Aunt Arlene's famous to end up sleeping on the floor.
pumpkin bread recipe.)
An unbelievable amount of storage is The available VCR and
located under the bed for extra towels, switching system allow
blankets, or clothing. Gas springs make video viewing on either ae Ok special care to
accessing the storage easy (prop rods on the front or available make the bathroom perfect.
34RQ pusher). rear TV. It features wood-doored
cabinetry, makeup lights,
towel ring and extra
counter space.
ay | A» | The shower is designed
= with molded single-piece
walls, a flexible shower
head and a textured glass
shower door (29RQ E 37RW).
Large Sealy*
innerspring mattress,
TV stand, wainscoting,
matching bedspread, pillow
shams and throw pillows are
some of the features that make the
bedroom so comfortable and charming.
mal
FIBERGLASS
The weight of the sidewall
is fully supported by the
floor structure through
the design of a unique
joint lock.
The roof incorporates a
similar locking joint to
secure it to the sidewall.
Its crowned, overlapping
design promotes excellent
water run-off.
Steel beam reinforced front bumper mounted directly to
chassis
Class II hitch mounted directly to chassis
Windshield & wipers securely
mounted in steel
Steel cab, dash & floor ~~
structure ! AM : = | |
Steel appliance tie-downs
Large, steel storage
compartments
Aluminum underbelly
Full welded aluminum sidewall
and roof structure
Solid steel foundation welded to chassis
Rust-free aluminum rear bumper
JC
29R0
A variety of seating options
are available to suit your
needs. The efficient, angled
galley design puts
appliances at your
fingertips. Choose from
either the queen bed or
twin beds.
32R0
The large wardrobe is
placed directly across from
the bathroom for added
convenience. Dining area -
offers you the choice of a
comfortable dinette or
dining table and chairs.
Overhead storage cabinets are
standard above the dinette and couch
on the non-sliding floorplan.
OPTIONAL
SLIDEOUT
SLIDE IN HAMPER
34RQ
The innovative slideout
drastically increases the
overall floorplan square
footage. Rear twin beds are
available with either the
standard or slideout
configuration.
This unique side aisle design
provides more privacy in the
bedroom and two entrances
to the bathroom; one from
the bedroom, the other from
the galley. This floorplan
comes with a beautiful
corner hutch.
т = E BARA SUNCRUISER INTERIOR DECORS
SANDSTONE
Main Fabric
Accent Fabric
Overhead storage cabinets are Ca r p et
standard above the dinette and couch
on the non-sliding floorplan.
OPTIONAL
SLIDEOUT
SLIDE IN HAMPER
se 3kRQ PUSHER
The rear diesel increases
power, prolongs engine life
and rides quieter than the
standard 34RQ. All this
with the same efficient use
of space and an available MULBERRY
slideout that extends with Main Fabric
the push of a button. Accent Fabric
Carpet
SLIDEOUT
37RW
Store more with three
wardrobes, one linen closet
and a handy pantry. The
swiveling driver and passenger
chairs extend the standard
slideout's benefit further to
offer an abundance of
entertaining space.
Standard Vinyl Optional Vinyl
Note: Dimensions shown are for sleeping space only
and dashed lines denote overhead storage area.
1995 SUNCRUISER
VYVYVYVYVV
29R0
178" a
de gal | gal.
60 Ibs. | 3058,
TBD 5
Eu 77
"14,800 lbs. 16,000
NA NA
AUTOMOTIVE
32RQ
208"
106 gal.
11'6'
8'
77
Ibs.
NA
ия Em
75 gal.
100 5 |
118
34RA 37RW
228 228' + Tag
| 75 gal. 75 gal.
> ; 6
Gs
11'6" | 1 110 |
TT Tr
bs. 16,000 Ibs. FP
NA NA
29R0 32RQ 34RQ 34RA 37RW 34RQ Pusher
>» > > >»
BB BP
> PP b> Г
FP
>
>
FP
>
> >
Chassis - Chevrolet 7.4L 454 V-8 Fuel-
Injected Gasoline Engine, Automatic
Transmission w/Overdrive & Cooler, Front
Suspension: Independent, Coil Spring
w/Aux. Air Springs, Rear Suspension: Leaf
Spring, 630-CCA Battery/105-Amp.
Alternator
Chassis - Chevrolet 6.5L Turbo Diesel
Engine, Automatic Transmission
w/Overdrive & Cooler, Front Suspension:
Gas, Rear Suspension: Leaf Spring, 630-
CCA Battery/105-Amp. Alternator
Chassis - Ford 7.5L 460 V-8 Fuel-Injected
Gasoline Engine, Automatic Transmission
w/Overdrive & Cooler, Front Suspension:
Mono-Beam Axle w/Leaf Spring, Rear
Suspension: Multi-Leaf Spring, 650-CCA
Battery/130-Amp. Alternator
Chassis - Oshkosh 5.9L 230-HP Turbo-
Charged, After-Cooled Cummins Rear
Diesel Engine, Automatic Transmission
w/Cooler, |-Beam w/Leaf Spring Front
Suspension, Leaf Spring Rear
Suspension, Engine Block Heater,
Fuel/Water Separator, Air Flow Indicator,
923-CCA Battery/100-Amp. Alternator
Shocks (Gas) Front, Chevrolet
Springs (Air) Tag Axle
Tires (Radial) w/Spare
228"
NA
92 gal.
NA
TT
130 Ibs.
NA
19,840 Ibs.
DRIVER CONVENIENCES
34RQ Pusher
Interior Width
Wheelbase
Fuel Capacity - Ford
LP Capacity
Exterior Height w/Roof Air - Ford'
Exterior Width
GVWR - Chevrolet
GVWR - Oshkosh
29RQ 32RQ 34RQ 34RA 37RW 34RQ Pusher
WVVVV
YVvYy V VVV YVVYYY
YVYYY
уу ту VO YYY YVVYYY
vVvyvyy
yvy V ¥YVYVY YVVYYY
yvyvwy
YvYVvYy V Туту YVVYYVY
Y VY YY
YvVvyy V YYY YVVYYVY
ууу тт
YvyYy \у ¥YVYVY ту ут
12-V Electrical Supply/Lighter
Battery Charge Control Dual, Automatic
Battery Charger (Solar) Wiring Prep
Battery Charger (Solar)
Battery Disconnect Auxiliary
Cabinet Center Console
Convenience Tray
Cruise Control
Curtain w/Track Front Wrap-Around
Defroster Auxiliary 2-Speed
Driver's Door
Heating/Air Conditioning Automotive
Blend Air System
Hood Release Exterior Key Locks
Map Light
Mirrors (Rear View) Low Mounted,
Includes Convex Element
Mirrors (Rear View) Low Mounted,
Electric w/Remote & Defrost
Rear View Monitor System Cable Ready
Rear View Monitor System Video/Audio
Seats w/3-Point Retracting Seat Belts
Reclining High-Back Design, Hinged
Armrests, Lumbar Support, Swivel/Slide
Pedestal w/Manual Remote Control
> > >
> > >
> > >»
> > >
> > >
> > >»
> Bb DB
> > >
> > >»
У
»
VvVYy VvyYYYV
У
>
VYYYYYWV
У
>
Seat Six-Way Manual Adjust Driver's Seat
Service Light Driver's Side
Start Circuit Auxiliary
Steering Power Assisted w/Tilt Wheel
Storage Cabinet (Front Overhead)
Sunvisors Multi-Adjustable
Upgrade - Driver's Convenience Package
Carpeted Floor Mats, Wall-Mount Map
Pockets
Windows (Driver/Passenger) Sliding,
w/Screens
Windshield Wipers (Intermittent)
ENTERTAINMENT
29R0 32R0 34R0 34RA 37RW 34R0 Pusher
> > > > > >
> > DB
> PP DB
> >} >
> > >
> > >
> > Г
> >
> D> DB
> Bb Db
> > >
>
>
vv
У
У уу у VW
>
>
У у
У уу V VW
>
>
У у
У
У уу у VW
Antenna (Radio) Roof-Mounted, Flexible
Rubber
C.B. Prep Kit Antenna, Coax Wiring, 12-V
Power Connection
Entertainment Center (Patio)* DC
Receptacle, 110-V Outlet, TV Jack, Radio
Antenna, AM/FM Radio Cassette, Speakers
(2), Removable TV Table, Locking Door
Inverter 110-V for TV/VCR
Stereo Power Switch For Main or
Auxiliary Battery Use
Stereo w/Digital Clock (Cab) Electronic
te AM/FM/Cassette Deck w/Speakers
Stereo w/CD Player (Cab) Electronic Tune
AM/FM w/Speakers (4)
TV* (9" Color) w/Remote Located in
Bedroom
TV* (19" Color) w/Remote
TV* (19" Color) & VCR w/Remotes
Switching System, Cabinet Exchange
TV Enhancement Package Antenna
APTO DC Receptacles (2), Interior
acks (2), Goax Wiring, Cable Input,
Exterior Antenna Jack; TV Shelf, Stand or
abine
WI]
29RQ 32RQ 34RQ 34RA 37RW 34RQ Pusher
>
>
>
Slideout Room (Driver's Side)
Approximately 13' Long w/36" Extension,
Switch Located on Instrument Panel,
Decorative Wall a Decorative Dinette
Light, Coffee Table f ), Cover & Window
Cra (Option NÁ on 34RQ w/Chevrolet
assis
29RQ 32RQ 34RQ 34RA 37RW 34RQ Pusher
> >> >»
>» » >» > > >
> > >
>» > >»
>
>
>
Cabinets Wood Doors
Carpeting w/Pad Stain Resistant
w/Scotchgard™ Protector
Ceiling Padded Vinyl Headliner
|
> >> > > > >
> >> > > » >
> > 55 D> > >
> > > > > >
» > >
> >> > > >
> > E
>
> > > >
> > > > >
> >> > > > >
> > >> > > >
>
> > > > > >
> > D> > D D>
Ceiling Lights
Ceiling Vent Non-Powered, Lounge,
Galley, Bedroom
Ceiling Vent Powered Ventilator Fan,
Galley (Lounge 29RQ)
Ceiling Vent Powered, Bathroom
Clock Decorator Style
Color Themes psn} Choice of
Mulberry (Orchid), Sandstone (Taupe)
Divider Folding Door (Bi-Fold 34RQ &
34RQ Pusher)
Divider Hinged Door
Divider Sliding Door (2 Doors on 37RW)
Lamp(s)* Decorator Style, Wall-Mounted
in Lounge
Light (Aisle Courtesy) By Entrance Door
Mini Blinds Galley
Washer/Dryer Combination
Windows Tinted w/62% Light Transmittal
Windows* Dual Glazed, Thermo-Insulated
29RQ 32RQ 34RQ 34RA 37RW 34RQ Pusher
> > 5 > > >
> > > b> > DP
> 5 5 > > DD
>
>» ›» >» > > >
> > >»
> > >
> >» >» >» > >
> » ›» > > >
>» >» >» >» > >
> > > > > >
> > > >» D >
>
> > 5 kb Bb DP
>» >» >» > > >
Coffee Maker
Flooring (Vinyl)
Folding Chairs (2)
Hutch
Microwave Oven
Pantry
Picture* Framed
Range Hood w/Light, Powered Vent
Range w/Large Glass-Doored Oven 4-
Burners, Bi-Fold Range Cover
Refrigerator/Freezer Large, Double-Door,
Flush-Mounted
Sink (Double) Stainless Steel, Recessed
w/Countertop Cover
Storage Below Dinette Seats
Storage Cabinet 2 Shelves, 3 Drawers
Table & Chairs (4)
Water Purification System
LA QU
29RQ 32RQ 34RQ 34RA 37RW 34RQ Pusher
> >» ›» > D >»
> >
> >» >» >»
>» >» > >» > >»
>» >» >» >
> +
>» > >» >» » >
>» >» >» > > >
Bedspread(s), Pillows, Pillow Shams,
Throw Pillow
Hamper*
Lamp(s) Decorator Style, Wall-Mounted
Mattress(es) Sealy® Innerspring w/Non-
Slip Mat, Access to Storage below, Gas
Springs (Prop Rods on 34RQ Pusher)
TV Shelf Also Available on 32RQ w/Twin
Bed Option
TV Stand
Wainscoting
Wardrobe Mirrored Doors, Carpeted Floor,
Drawers (NA on 29RQ & 3280), Light
BATHROOM
29RQ 32RQ 34RQ 34RA 37RW 34RQ Pusher
ут уу ту
v Vvy Y Y Y
vy
тут
т тт
у
vy
т ут v v Y Y
У
v Y
>
>
>
»
>
>
у ут ут
У
У
Flooring (Vinyl)
Lavatory Cabinet
Linen Cabinet
Makeup Lights (3)
Makeup Lights (4)
Medicine Cabinet 2 Mirrored Doors on
37RW, 1 Mirrored Door on 34RA
Medicine Cabinet Wooden Doors
Mirror Wall-Mounted
Shower/Tub Flexible Shower Head,
Molded Single-Piece Walls
Shower Curtain w/Rod
Shower Door (Glass)
Sink Rectangular, Molded Soap Dishes
Skylight
Tissue Holder Surface Mount
Toilet w/Sprayer Marine Style
Towel Bar
Towel Rack (4)
Towel Ring
29RQ 32RQ 34RQ 34RA 37RW 34RQ Pusher
>
>
>
У
ут ту YVYY Y VYYVYYYYYY
>
>
>
у
ут т тут ту У YYVYVVYYVYYY
V
>
>
>
у
VYYY YVYY Y WYYYYYYY
>
>
»
у
VYYY YVYY Y VWYVYYYYYY
>
>
>
у
vy vYYYYYYY
v VYY
ут
>
>
>
У
ут ту YVYY у YYVVYVYYVYYY
Awning Rail
Awning
Bumpers Rustproof, Front: Steel
Reinforced, Rear: Formed Aluminum
w/End Caps
Entrance Door w/Screen Door Latch &
Deadbolt Locks, Electric Step w/Door
Jamb Switch
Holding Tank (Heated Compartment)
Ladder
Mud Flaps Rear
Outlet 110-V, Curbside
Porch Light Interior Switch
Power Cord Storage Compartment
Sewer Hose & Storage Compartment
Storage Compartments Floor Lining, Steel
Construction, Locks, Hold-Ups, Lignts
Tire Tools Wrench, Leverage Bar, Tire
Hoist Rod on 34RQ Pusher
Trailer Towing Package w/Class II Hitch
Trailer Wiring Extension
Undercoating
Wash Station Pullout wWater Pump
witc
Water Fill Door Lockable
Water Tank Drain
Wheel Covers
Wheel Liners Stainless Steel
29RQ 32RQ 34RQ 34RA 37RW 34RQ Pusher
>
>
vy vv VY
»
> >
>
РРР LP
>
> >
> >
> >
> >
> >
> >
> >
> |
> >
> >
> >
PP
> >
> >
у у ут Y
у"
>
>
>
vy Vv VU
>
Air Conditioning Pre-Wiring Roof
Air-Conditioner Roof, 14,800-BTU
Air-Conditioners Roof, Front/Rear:
13,500/13,500-BTU
Air-Conditioners* Roof, Low-Profile,
Front/Rear: 13,500/13,500-BTU
Batteries (2) Deep Cycle RV, in Stepwell
Compartment
City Water Hook-Up
Electrical Control Center 110-V AC/12-V
DC, 9-Amp. Battery Charger, 45-Amp.
Converter, DC Automotive Fuses, À
Circuit Breakers, 30-Amp. Power Cord
Furnace Ducted, Low Profile, Electronic
Ignition, 35,000-BTU
Furnace Ducted, Low Profile, Electronic
Ignition, 40,000-BTU
e Ducting System Rigid, below
oor
Generator Prep Kit Gas Line (NA on 34RQ
Pusher), 12-V Wiring
rat 4 000, 5,000 or 6,500-Watt,
as
Generator* 6,500-Watt
Leveling io by HWH* (Mandatory
Option on 34RQ & 34RQ Pusher
w/Slideout Option)
LP Tank Permanent Mount w/Gauge
Monitor Panel Water, Holding & LP Tank
Levels, Battery Condition Gauge, Water
Heater Ignition Switch w/Pilot Indicator
Light, Water Pump Switch, Located in
Galley .
Water Heater 6-gal., Electronic Ignition
Water Heater (Motoraid) & Rear
Automotive Heater
Water Heater Winterization By-Pass
Valve
Water Pump (Demand) 3 Switches
29RQ 32RQ 34RQ 34RA 37RW 34RQ Pusher
Y Y Y Y Y Y Y Y Y
vY Y Y Y Y Y Y Y Y
v Y Y Y Y Y Y Y Y
vY Y Y Y Y Y Y Y Y
vY Y Y Y Y Y Y Y Y
Y Y Y Y Y Y Y Y Y
Assist Handle Interior & Exterior
Assist Strap Interior
Carbon Monoxide Detector/Alarm
Fire Extinguisher (10-B.C.)
Ground Fault Interrupter
LP Leak Detector/Alarm
Smoke Detector/Alarm
Windshield Laminated Safety Glass
Window Escape
* The height of each model is based on the curb weight of a typically equipped unit on the standard chassis. The actual height
of your vehicle may vary by as much as 2" depending on chassis or equipment variations.
Pp Standard
* Not all options available in combination. See dealer for details.
> Optional
FP Feature Pending TBD To Be Determined
Winnebago Industries' continuing program of product improvement makes specifications, equipment, model availability and
prices subject to change without notice.
ITASCA - Itasca motor homes are named after the
source waters of the Mississippi River in Northern Minnesota's
ltasca State Park. ltasca, derived from the Latin phrase Veritas
Caput, means "True Source". Itasca motor homes are the
perfect vehicles to carry the Itasca name because they're the
"True Source" of fun, adventure and family togetherness.
FACTORY /DEALER - Itasca motor homes are built to
exacting standards in our Forest City, lowa, factory; the most
advanced RV production facility in the industry. The majority of
components found in Itasca motor homes are
manufactured here - from the welded steel cabs and
coach floor support structure to the Thermo-Panel®
sandwich wall and roof structure. This is one reason
why Itasca motor homes have developed a reputation
for superior fit and finish. Stop by your nearest dealer
and take a look at the complete line of new Itasca
motor homes. Free tours of the factory are available
year round. Please contact your dealer or call Winnebago"
Industries at (515) 582-3535 for more information.
WARRANTY / PREFERRED CARE - Down the road, factory
support is never far behind. Twenty-four-hour emergency road
service pays for towing to a factory authorized dealer at no cost
to you. With over 20,000 locations across North America,
quality assistance is just a phone call away with our Preferred
Care Program. Plus, our warranty program is one of the most
comprehensive in the industry, starting with the 12-month or
15,000-mile protection. In addition, structural
components are covered for 36 months/36,000 miles.
Furthermore, a 10-year limited warranty protects the
roof and walls.
As if this wasn't enough, a one year membership in the
Winnebago Industries Preferred Care Program is
included with every 1995 Itasca motor home. After the first
year, membership in the Preferred Care Program can be
extended through membership in the WIT club.
SAFETY - Nothing's more important to our designers and
engineers than safety. That's why Itasca motor homes are
loaded with safety features throughout including 3-point safety
belts, a solid steel foundation welded to the chassis, a steel cab,
dash and floor substructure, and a windshield mounted in steel.
WIT - If there's ever been a club on the
move, this is it. In addition to giving old and
new friends the perfect excuse to get
together, the Winnebago-ltasca Travelers
(WIT) Club provides Winnebago
Industries motor home owners with an
outstanding magazine and important
services like professional trip routing and
mail forwarding. For more information on the
WIT Club see your Itasca dealer or call (515) 582-6874.
MOTORSPORTS - Finally, a club for motorsports lovers.
When you join the Winnebago Motorsports Team you'll be right
at home at racing events across America. ltasca motor homes
are part of the Winnebago Industries family of motor homes
that have been designated the Official Motor Homes of
I/ NASCAR | and are closely associated with several
NHRA drag racing teams. Also, a growing number of NASCAR
and NHRA drivers are involved with the Winnebago
Motorsports Team. Motorsports membe
enjoy many benefits including a quarterly Pas
newsletter, a racing merchandise catalog MWINNEDACO
and the opportunity to participate in
special on-track events at selected races, 7107050015 AE
For Sales and Service Information Contact:
IRXITASCA.
©1994 Winnebago Industries, Inc. Printed in the U.S.A.

* Your assessment is very important for improving the work of artificial intelligence, which forms the content of this project