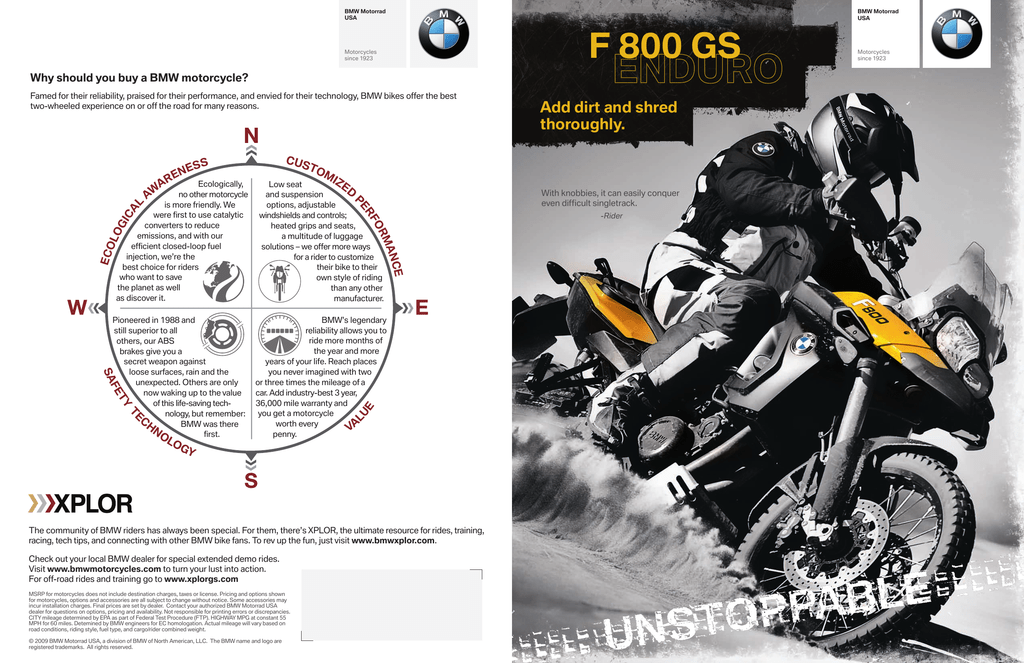 BMW Motorrad
USA
Motorcycles
since 1923
Why should you buy a BMW motorcycle?
Famed for their reliability, praised for their performance, and envied for their technology, BMW bikes offer the best
two-wheeled experience on or off the road for many reasons.
SS
NE
E
Ecologically,
AR
W
no
other
motorcycle
A
CUS
TO
MI
ZE
Low seat
D
and suspension
Pioneered in 1988 and
still superior to all
others, our ABS
brakes give you a
secret weapon against
loose surfaces, rain and the
unexpected. Others are only
now waking up to the value
of this life-saving technology, but remember:
EC
BMW was there
HN
first.
O
BMW's legendary
reliability allows you to
ride more months of
the year and more
years of your life. Reach places
you never imagined with two
or three times the mileage of a
car. Add industry-best 3 year,
36,000 mile warranty and
you get a motorcycle
worth every
VA
penny.
TY
FE
SA
T
LO
GY
LU
E
E CO
LO
GI
CA
L
options, adjustable
windshields and controls;
heated grips and seats,
a multitude of luggage
solutions – we offer more ways
for a rider to customize
their bike to their
own style of riding
than any other
manufacturer.
NCE
MA
OR
RF
PE
is more friendly. We
were first to use catalytic
converters to reduce
emissions, and with our
efficient closed-loop fuel
injection, we're the
best choice for riders
who want to save
the planet as well
as discover it.
The community of BMW riders has always been special. For them, there's XPLOR, the ultimate resource for rides, training,
racing, tech tips, and connecting with other BMW bike fans. To rev up the fun, just visit www.bmwxplor.com.
Check out your local BMW dealer for special extended demo rides.
Visit www.bmwmotorcycles.com to turn your lust into action.
For off-road rides and training go to www.xplorgs.com
MSRP for motorcycles does not include destination charges, taxes or license. Pricing and options shown
for motorcycles, options and accessories are all subject to change without notice. Some accessories may
incur installation charges. Final prices are set by dealer. Contact your authorized BMW Motorrad USA
dealer for questions on options, pricing and availability. Not responsible for printing errors or discrepancies.
CITY mileage determined by EPA as part of Federal Test Procedure (FTP). HIGHWAY MPG at constant 55
MPH for 60 miles. Detemined by BMW engineers for EC homologation. Actual mileage will vary based on
road conditions, riding style, fuel type, and cargo/rider combined weight.
© 2009 BMW Motorrad USA, a division of BMW of North American, LLC. The BMW name and logo are
registered trademarks. All rights reserved.
BMW Motorrad
USA
F 800 GS
Add dirt and shred
thoroughly.
With knobbies, it can easily conquer
even difficult singletrack.
-Rider
Motorcycles
since 1923
F 800 GS
Are you an off-road fan who wants an enduro motorcycle that can tackle everything from fire roads to power
line trails and still rack up hundreds of miles a day in total comfort? Then the ready-to-roost F 800 GS is your
ride. 85 feisty horses housed in a parallel twin engine uncork blistering power. And with a dry weight of just
392 pounds, switchable ABS, and over 50 mpg, everything from singletrack to sport rides and touring is a
breeze. The F 800 GS. Lightweight. And hardcore.
Engine
Frame & Suspension
Type
Water-cooled twin-cylinder
Frame
Tubular steel frame
Displacement
798 cc
Front Suspension
45 mm USD fork
Bore x Stroke
82 mm x 75 mm
Rear Suspension
Horsepower
85 bhp @ 7,500 rpm
Double sided aluminum swingarm
with direct mounted shock
Torque
62 lb/ft @ 5,750 rpm
Valve Gear
DOHC, chain driven with
cam followers
Spring Travel
Front / Rear
9.0 inches / 8.5 inches
No. of Cylinders
2
Compression Ratio
12.0:1
Engine Management
BMW engine controller – BMS K
Valves per Cylinder
4
Valves
2 x 32 mm intake /
2 x 27.5 mm exhaust
Fuel Tank
Brakes
Equipment/Accessories
Low Seat (33.5 inches)
Sunset Yellow
Price
Base
Standard
Premium
AcceSsories
no cost
Accessory Power Socket
X
•Slip on street legal exhaust
system without catalytic
converter for off-road use.
X
Heated Grips
$250
X
ABS (anti-lock brakes switchable for off-road riding)
$900
X
On-Board Computer
$295
X
White Turn Signals
$60
X
•Fits the standard manifold.
•Outer is titanium and internals
are made of special steel.
Akrapovic Sport Exhaust
Anti-Theft Alarm
$395
• Volume approx. 25-35 liters.
Center Stand
$150
Hard Side Bags (ea.)
(expandable: 28-38 liter vol.)
$398
• Extremely water resistant,
optional inner bags are
waterproof.
10.4 inch (265 mm) single rotor
Top Case
(expandable: 25-35 liter vol.)
$452
Hydraulic, DOT 4 Fluid
36,000 Miles / 3 Year Warranty
Brake System
Front and rear disc with optional ABS
Front Brakes
Four-piston floating calipers x 2
Front Rotor
11.8 inch (300 mm) dual rotors
Rear Brakes
Two-piston floating caliper
Rear Rotor
HDPE, internal pump and
internal filter
Actuation
Alternator W
400 watts @ 14 volts
Wheels & Tires
Battery
12 volts / 14 amps/hour
maintenance-free
Front Wheel
2.15 x 21 spoked wheel with
aluminum rim
Rear Wheel
4.25 x 17 spoked wheel with
aluminum rim
Drivetrain
Dark Magnesium Metallic
Clutch
Wet multi plate
Front Tire
90/90-21 tube-type
Gear Box
6 speed
Rear Tire
150/70-17 tube-type
Primary Drive
1:1.943
1st Gear Ratio
2.46:1
2nd Gear Ratio
1.75:1
3rd Gear Ratio
1.38:1
4th Gear Ratio
1.17:1
5th Gear Ratio
Vario Top Case
X
Base Price
Standard Price
Premium Price
$10,995
$12,500
n/a
91.0 inches
Overall Width
34.2 inches
Wheelbase
62.1 inches
1.04:1
Seat Height
34.6 inches
6th Gear Ratio
0.96:1
Dry/Wet Weight
Final Drive System
Chain
Dry: 392 lbs. / Wet: 455 lbs.
excluding options
Final Drive Ratio
2.62:1
Maximum Load
975 lbs. GVWR
Fuel Capacity
4.2 U.S. gallons
Fuel Mileage
City: 54.2 mpg / Hwy: 61.9 mpg
•Volume approx. 28-38
liters and can be adjusted
conveniently with one hand
by moving a bar.
•Water resistant.
Vario Side Cases
Dimensions
Overall Length
X
The most dirt-friendly adventure bike
BMW has ever built.
-Dirt Bike
www.bmwmotorcycles.com
• High impact plastic.
•High impact.