No category
AMS 508SE 5 x 8 Integrated Reception Switch • AMS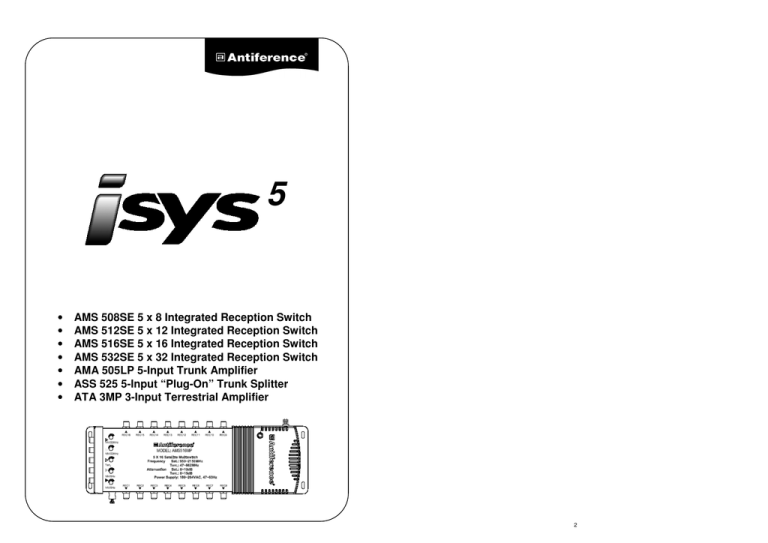 5
• AMS 508SE 5 x 8 Integrated Reception Switch
• AMS 512SE 5 x 12 Integrated Reception Switch
• AMS 516SE 5 x 16 Integrated Reception Switch
• AMS 532SE 5 x 32 Integrated Reception Switch
• AMA 505LP 5-Input Trunk Amplifier
• ASS 525 5-Input "Plug-On" Trunk Splitter
• ATA 3MP 3-Input Terrestrial Amplifier
2
Installation Guide
ISYS
5
- Integrated Reception Switches
AMS508SE
AMS512SE
AMS516SE
AMS532SE
5x8 Integrated Reception Switch with 1200mA SMPS PSU
5x12 Integrated Reception Switch with 1200mA SMPS PSU
5x16 Integrated Reception Switch with 1200mA SMPS PSU
5x32 Integrated Reception Switch with 1200mA SMPS PSU
ATA505LP
ATA3MP
ATS525
Line-Powered 4 x SAT + 1 Terrestrial Trunk Amplifier
Mains-Powered FM / DAB/ UHF Terrestrial Systems Amplifier
4 x SAT + 1 Terrestrial Trunk Splitter
AMS 508L
AMS 508S
AMS 512S
ATA 505LP Trunk Amplifier
ATS 525 Trunk Splitter
ATA 3MP Terrestrial
Amplifier
`
AMS 516S
3
Contents
Introduction
Safety
Earth-Bonding
Antiference Earth-Bonding String
Test and Measurement
Coaxial Cables and Connectors
Dish and LNB
ASA505LP 5-Wire Trunk Amplifier
ATS525 Trunk Splitter
UK IRS Colour Coding Protocol
DC Blocking of Trunk Cable
Terrestrial Signals and Aerials
Filtering
Terrestrial Amplifiers
Minimum Outlet Levels
Outlet Sockets
"Remote Link" Distribution to other rooms
Sky+
TM
and multiple satellite receivers
Cable attenuation chart
Sample Integrated Reception Systems
Basic 8, 12 & 16-way systems
32 to 64-points High Rise
16 to 64 -points Low Rise
Specifications
Fault Finding
4
16
17
18
15
15
16
16
19
20
22
13
14
14
10
11
11
12
13
9
9
9
7
7
5
7
Introduction
The ISYS
5
range of 5-input Integrated Reception Switches is designed for easy professional installation and reliable long life performance. Each model has been designed specifically for
UK use incorporating the latest technology to ensure the excellent results in small to medium sized systems.
ISYS
5
Integrated Reception Switches are designed for single satellite reception on 4
"polarities" from 950-2150MHz using the standard 14/18V for vertical and horizontal reception and 22 kHz tone for access to the high band. The terrestrial input is designed for all frequencies from 45-862MHz.
All models have active satellite and terrestrial circuitry for enhanced performance and subscriber cable reach with an input level control on each polarity for optimum signal level adjustment especially where several of these switches are used in an extended system.
Additional amplification of either the satellite or terrestrial signals may be required in certain circumstances where signals are weak or long trunk cable runs are required.
Primarily, these mains powered Integrated Reception Switches are designed for stand-alone radial installations, where the switch forms the heart of the system. However, with the use of the ASS525 5-wire trunk splitter, two or more switches can be connected together to build larger systems. This is particularly useful where switches are required at the extremes of long buildings or where it is more convenient for switches to be located on more than one floor.
ISYS
5
Integrated Reception Switches are designed to provide adequate signals with up to 70 metres of cable from the ISYS
5
unit to the subscriber's outlet.
For economic installations, AMS508L has a linear power supply for up to 600mA load and is designed for single switch and LNB installation.
Models AMS508S, 512S and 516S incorporate a high power, Switch-Mode Power Supply
(SMPS). This high stability power supply allows cooler operation, higher current capability to the LNB feed and a greater ability to withstand sudden changes in mains supply voltages.
The switch-mode power supply will provide a total of 1000mA at 18v for powering a trunk amplifier in addition to the LNB where longer trunk cable runs are demanded.
Input Level Controls
Mains Power
Cord fitted with
UK 3-pin plug
Outputs
Power Indicator
Vertical High
Band Input
Horizontal High
Band Input
Terrestrial
Input
Horizontal Low
Band Input
Vertical Low
Band Input
Outputs
Colour Coded inputs to UK protocol
Earth Post
High Stability
Power Supply
5
80cm to 1.0m dish and
"Quatro"LNB
A typical Integrated Reception System
UHF
DAB FM
Signal Diplexer
UDF100 / UDF400
Earth-Bonding to building PME
80m
5-Core
Coaxial cable
Subscriber
"drop" cable
"Triplexed" Outlet Plate
SW740 or
Multi-service SWRT740
ISYS 5 Integrated Reception Switches are designed for up to 80m of cable from LNB to outlet in a stand-alone environment.
Note: Earth-Bonding of Subscriber Cables and Dish / Aerial Input
6
Safety
ISYS
5
Integrated Reception Switches are designed for indoor or weatherproof cabinet use only. Do not allow moisture to leak into, or build up around, these units. They are mains powered. Ensure adequate ventilation to avoid overheating. Roof spaces can get extremely hot in summer.
Choose a convenient head-end location keeping all cable runs as short as is practical. Fix the Integrated Reception Switch to a wall or head-end mounting board. If the Integrated
Reception Switch is fitted in a service riser make sure it is securely mounted away from other services and cables. Do not allow the unit to hang on its cables, as this may strain the connections and damage the printed circuit board.
Earth-Bonding
Before connecting the switch to any coaxial cables, make sure they are all earth-bonded to the building PME using a method in accordance with current legislation and codes of practice. If in doubt about how to achieve this consult a qualified electrician to provide a
4mm
2
earth wire to the building PME. Do not rely on the "earth" wire in a 13amp supply as this is unlikely to comply with current regulations. Separate earth-bonding to the building
PME is required.
Earth-bonding protects the installation engineer and the resident user from possible electric shock from a faulty TV or other appliance connected to the coaxial cable. It is important to ensure the continuity of the earth-bonding of the coaxial cables, even when equipment is removed from the system.
Antiference Earth-Bonding String
To make earth-bonding simpler and more flexible than using fixed size earth-bars, the
Antiference AEB01 earth-bonding string has "quick-F" male to female connectors with a
4mm
2
earth wire attached in continuous string. This "string" can be cut to the required number of inputs and outputs at each switch and connected to the earth conductor in the trunk cable to the head-end.
Once all the coaxial cables are loomed to the head-end board and earth-bonded they can be connected to the Integrated Reception Switch. Connect the cables from the Quatro LNB and terrestrial aerials, which should also be earth-bonded.
When all the connections are made the Integrated Reception Switch can be powered up from the mains supply. To avoid accidental short-circuiting of the PSU do not power the system until all connections have been made.
Single IR Switch Earth-Bonding
Earth Bonding of
LNB, Dish &
Aerial Coaxial
Cables
Earth-Bonding of
Subscriber
Coaxial Cables
Indicates 4mm
2
Earth Wire
7
4mm
2
Earth Wire to building PME
Earth-Bonding on extended systems using 5-Core + earth coaxial cables
ATS525
Trunk Splitter
Head-end Board
To Building PME
Long Cable Run
ASA505LP Trunk
Amplifier
Short Cable Run
Earth Bar
Indicates 4mm
Wire
2
Earth
Antiference AEB21 "Earth-Bonding String
75mm 4mm green
2 earth-wire in yellow and
Final / end
wire
Crimped Brass
"Eye" Tag
"F" female to quick
"Eye" tags and connectors at 75mm intervals to connect Earth-
Bonding via trunk to PME.
8
Test and Measurement
It is rarely possible to successfully install an Integrated Reception System without being able to accurately measure both digital satellite and terrestrial signals. Signal measurement in systems is more critical than in simple domestic installations.
It is vital that the IRS technician is able to measure accurately signal level, C/N ratio, BER, dish and aerial optimum alignment. Without a suitable field strength meter or analyser these measurements are impossible. Correct set-up of the signal levels will avoid call-back and customer complaints.
We therefore strongly advise using an adequate field strength meter, capable of measuring digital and analogue signals at all stages of the installation.
When commissioning an installation we recommend testing the minimum and maximum signal levels of the longest and shortest subscriber cables from each Integrated-Reception-
Switch. (See page 14 for optimum signal levels)
Coaxial Cables and Connectors
Use only double screened coaxial cable suitable for digital TV. Most common makes of these have a 1.00mm centre conductor and perform well up to 100m. Antiference 5540 cable with foam dielectric, copper tape and braid double screening is ideal and will give excellent results.
Where cables have a centre conductor larger than 1.00mm (1.25mm or 1.65mm), it is important that the correct connector is used with a centre reducing pin. This will ensure that the female connectors on the switch are not damaged by having oversize conductors inserted and straining the delicate cable contacts.
5-core coaxial + earth-wire cable is ideal for the "trunk" feed from the LNB to the multiswitch.
5-core coaxial cable is colour coded and will speed installation and make the sealing of any fire-wall between dwellings easier to achieve. These cables are readily available through specialist wholesalers.
Make sure all coaxial cables are securely and regularly clipped to wall or across roof spaces.
5-Core coaxial cables are normally fixed with a 19mm pipe clip. Hanging cables can be dangerous and if allowed to drape in hot conditions may damage the construction of the cable. Never allow cables to lie in puddles on a flat roof. Mount the cables in a cable tray or on battening away form the surface. In public areas cables should be contained in secure cable ducts. Securing the cable properly will reduce service calls.
With all cable sizes, we recommend only using high quality "crimped" connectors designed for the cable, and crimped with the correct tool. This will ensure reliable, low-loss connections. "Twist-On" connectors cannot be relied on to make consistent connections.
Poor connections can cause signal reflections or a poor "return-loss" and loss of programmes.
Dish and LNB
In professional installations, where several dwellings are connected to an Integrated
Reception System, carrier-to-noise ratio is important to avoid loss of signal, particularly in poor weather. Loss of signal may cause residents to complain at not being able to watch a subscription service they are paying for.
Because of the extra devices, amplifiers, splitters and longer cable runs, the quality of the signal being distributed needs to be higher than in a domestic installation to overcome the additional "network losses". Poor reception at the dish will be reflected over the network!
9
In IRS installations a minimum dish diameter of 80cm for most of the UK will ensure secure reception on BSkyB services from Astra 28.2
0
. In the extreme north of England and
Scotland, near the edge of the satellite footprint, we suggest installing a 90cm or 1.0m dish for improved reliability particularly in poor weather.
Larger dishes do not necessarily give commensurately higher signal levels but as they are more directional can help to exclude noise and therefore improve carrier to noise ratios.
When signal levels fall, due to poor weather, the received carrier to noise ratio must be adequate to provide a secure signal. Signal levels can fall by 3dB on a cloudy day, particularly in heavy rain.
Careful dish and LNB alignment can also have a dramatic effect on the received level, quality and carrier to noise ratio. Check that the LNB is "skewed" correctly in the mounting bracket for maximum signal and that the vertical and horizontal alignment of the dish is correct.
Use only a high quality, "known-brand", Quatro LNB. The quoted "noise figure" of an LNB is largely immaterial in an IRS installation. Take care to connect the LNB outputs to the correct
"polarity input" of the switch. ISYS
5
Integrated Reception Switches use the standard UK polarity colour-coding protocol.
Normally, a Quatro LNB will provide about 76dBuV of signal on each output polarity. This will provide enough signal level at the Integrated Reception Switch output to have a total of 80m of coaxial cable from the LNB to the furthest outlet, assuming a minimum satellite signal level of 55dBuV at the outlet plate.
AMA505LP 5-Wire Trunk Amplifier
Where long trunk cables between the LNB and the ISYS
5
switch cannot be avoided, we recommend using AMA505LP line-powered satellite/terrestrial amplifier in the feed from the
LNB to the switch inputs.
This 5-way amplifier can be powered from the AMS508SE, AMS512SE, AMS516SE &
AMS532SE with SMPS power supply.
This 5-input amplifier (4 x SAT + 1 Terr input) has 20dB of gain on each satellite polarity and
20dB gain on the terrestrial input. The satellite amplifiers have 5dB sloped gain to equalise the different cable attenuation at high and low frequencies. Each input has a level control.
The ASA505LP is usually best positioned nearest the LNB to lift the signal to adequate levels before any long cable runs cause attenuation. We do not recommend using more than one
ASA505LP in cascade. Separate amplifiers on each leg of a split trunk can work well and allows independent adjustment of the level on each trunk cable.
ASA505LP 5-Wire Trunk Amplifier
SAT (950-2150MHz)
Gain 20dB
4 x SAT +
1 X Terrestrial
Inputs
Level Controls
4 x SAT +
1 X Terrestrial
Outputs
Terr (47-862MHz)
Gain 20dB
10
ASS525 Trunk Splitter
Where more than one multiswitch is used in a system, each trunk cable from the dish and aerials will need to be split. Normally this is done by connecting 5 separate splitters, one for polarity (4 x SAT + 1 TERR.
ASS525 trunk splitter is low loss and ideal for splitting the trunk cable signals to each
Integrated Reception Switch. This enables the switches to be positioned in convenient locations around the building. The ATS525 will pass up to 2.0A DC from the master switch to the LNB and trunk amplifier. The ATS525 incorporates 5 splitters, one splitter for each polarity, in a single housing.
ASS525 is supplied with 5 "quick F-male connectors to plug straight onto the inputs of an
5
ISYS Integrated Reception Switch switch for quick installation.
ATS525 Trunk Splitter
Splitter Loss
SAT (950-2150MHz) 4.5dB
Terr (47-862MHz) 4.0dB
Through Loss
SAT (950-2150MHz) 4.5dB
Terr (47-862MHz) 4.0dB
UK IRS Colour Coding Protocol
The UK industry has agreed to standard colour marking for each "polarity" of satellite and terrestrial signals. The colour coding also helps speed installation and fault finding with quick identification of individual trunk cables.
The standard applies to the following devices.
5-core coaxial cable
Quatro LNB's
5-Input multiswitches (4 x SAT + 1 Terr)
5-Input Satellite/Terrestrial Amplifiers
Trunk Splitters and Taps
The standard Colours relate to the following satellite polarities:-
18v 22KHz Yellow Horizontal High Band
Red Vertical High Band 14v 22KHz
Green Horizontal Low Band
Black Vertical Low Band
18v 0Hz
14v 0Hz
White Terrestrial Signals
All of Antiference, ISYS
5
Integrated Reception Products adhere to this standard.
11
DC Blocking of Trunk Cable
ISYS
ISYS
5
Integrated Reception Switches provide 14 and 18v to power an LNB or trunk amplifier.
5
Integrated Reception Switches are fitted with DPS.
The inputs to ISYS
5
multiswitches have "DPS" (Diode Protection System) and are DC blocked to stop the voltage from a second switch trying to power the first. However other makes of multiswitch may not be DC blocked or have DPS. Where ISYS
5
integrated reception switches are used in conjunction with other makes it is recommended that separate
DC blocks are inserted at the input to those multiswitches.
If this is not done, then the ISYS
5
unit may try to power the other switches, causing DC overload. DC blocks allow the RF signals to pass but stop DC voltages in either direction.
By "DC blocking" the trunk cable, the "master" Integrated Reception Switch can power the
LNB and any amplifiers while the DC provided by other switches is not required. This will also allow the additional switches to be powered up independently without them feeding power to the master switch.
The additional switches will require mains power to supply the internal electronics and the active terrestrial amplifier.
14/18v DC to LNB
ISYS 5 Integrated
Reception Switch with DPS
14/18v DC to LNB
No DC
DC
Blocked
"F" to "F" DC Blocks
Non- ISYS 5 multiswitch without
"DPS"
DC "Blocks" fitted to the second Integrated Reception Switch
12
Terrestrial Signals and Aerials
IRS installations need high quality terrestrial signals. High quality aerials mounted securely are vital for professional results.
Where TV signals are weak, we recommend using a larger, higher gain aerial before considering a pre-amplifier. Poor reception or ghosted signals cannot be improved by amplification alone.
For digital terrestrial reception we recommend a CAI "benchmarked" and approved digital aerial. The XG10EW is benchmarked "type 2" and designed for wideband digital reception to cover most areas. Make sure the chosen aerial covers all the channels required or fit a recommended wideband aerial.
In areas of high UHF signal level a high quality log-periodic aerial will normally give better results than a "Yagi" design as it is more directional and has excellent F/B ratio and impulse noise rejection properties.
When using Integrated Reception Switches with a single terrestrial input it may be necessary to diplex the VHF/FM and DAB signals into the UHF feed before entering the input of the switch. Use only good quality fully-screened diplexers when combining the TV and radio signals.
For VHF/FM radio reception we recommend an FM aerial with 2, 3 or 4 elements to avoid
"multipath" distortion caused by reflected signals. FM omni aerials are not suitable for system installations and may cause poor reception and interference of the other terrestrial signals.
VHF/DAB digital radio signals are not affected by multi-path reception but a multi-element
DAB aerial may secure reliable reception where signals are too weak for a DAB omni aerial.
In all cases, cheap aerials are false economy in system installations as the cost of the aerial array is shared over a number of dwellings. Many IRS reception problems are caused by a poor choice of aerial.
Filtering
ISYS
5
Integrated Reception Switches have a filtered broadband terrestrial input from 40-
860MHz. However additional filtering may be necessary where interference is experienced.
Pay particular attention to TETRA radio at 380-460MHz and 870-930MHz as well as GSM cell-phone transmissions at 930-950MHz. A UHF band-pass filter will exclude or reduce most interference problems and help to reduce UHF interference in the SAT IF low-band.
"Cluster" filters can be used but it is important to remember that most filters are passive devices which will exhibit some insertion loss to the required signal. This should be taken into account when choosing the aerial array.
Careful positioning of the aerial can often be just as effective as a filter. If the source of the interference is known, such as a GSM cell-phone mast, try moving the aerial away by using the building to screen the aerial from unwanted signals.
Antiference Extragain.
XG10EW CAI Benchmarked.
Also available as
XG8A
XG10B
XG10CD
13
Terrestrial Amplifier
The ISYS
5
, ATA3MP FM/DAB/UHF 3-input amplifier will mix and amplify the terrestrial TV and radio signals at the headend where long cable runs attenuate the signal. This amplifier will also enable control of the signal levels for each frequency band. Do not over amplify the signal as re-attenuating can cause the signal to become noisy. Overloading the Integrated
Reception Switch will also cause poor reception. ATA3MP is mains powered and will power a
UHF masthead amplifier at 12v 100mA.
Where the subscriber "drop" cable is 50-70m long it will be necessary to achieve an input level to the Integrated Reception Switch of 72-76dBuV for UHF analogue TV. If this is not available directly from the aerial then it may be possible to use a masthead pre-amplifier installed near the TV aerial. Avoid using a masthead amplifier with too much gain.
The maximum terrestrial signal input to the Integrated Reception Switch is 90dBuV. The minimum input level is 60dBuV for analogue TV and 57dBuV FM radio. The correct levels are dependent on the cable runs. However it is advisable to set the VHF/ FM radio signal levels
6dB lower than the UHF TV.
It is important to ensure adequate terrestrial analogue signals for clean, noise free TV pictures and ensure reliable terrestrial digital reception. As a "rule of thumb" if the "off-air" analogue TV signals are below 65-70dBuV then the digital TV signals are unlikely to work reliably. If this cannot be achieved then consider a larger aerial or an alternative transmitter.
Normally, the minimum off-air digital terrestrial signal level should be 50dBuV or higher.
Digital signals below this level may fail in poor weather or where there is a risk of impulse noise such as from motor vehicles or thermostat switches.
Minimum Outlet Levels
Each signal received, whether terrestrial or satellite has a minimum and maximum level requirement to provide optimum reception regardless of weather and other local conditions.
The minimum reception levels for an IRS are normally higher than in domestic installations due to the additional equipment and network losses. We recommend exceeding the minimum levels by 3-5dB at least, to ensure secure reception. Do not exceed the maximum level or overload may occur.
Refer to the chart below for ideal signal levels at each outlet.
Minimum & Maximum Outlet Levels Min Signal Max Signal Min C/N
SAT Level At Outlet 55dBuV 75dBuV 9dB
UHF TV Analogue at Outlet 60dBuV 80dBuV 42dB
UHF TV Digital at Outlet 50dBuV 70dBuV 28dB
VHF DAB Radio 216-230MHz 45dBuV 65dBuV 28dB
Ideal C/N
>12dB
>44dB
>30dB
>30dB
VHF FM radio 88-108MHz 60dBuV 70dBuV 42dB >44dB
It is vital in an IRS installation that the signal levels are neither too low for reliable reception nor exceed the maximum input to TV's, set-top boxes or other equipment. The chart above gives typical signals levels for most IRS systems.
Input level attenuators are provided on all ISYS
5
Integrated Reception Switches to achieve levels within these parameters and provide each dwelling with optimum signals.
14
Outlet Sockets
Only use fully screened outlet wall plates on an IRS installation. It is false economy, having gone to the trouble of using double screened cable, fully-screened amplifiers and multiswitches to then use unscreened outlet plates.
Digital TV is more susceptible to interference and impulse noise, which can have catastrophic effects on reliable reception. Often the outlet plate and fly-leads behind a TV set is the area most susceptible to interference as there is combination of mains leads, aerial leads and AV leads in a confined space.
The Antiference range of fully screened outlet sockets is designed for IRS installation and includes both triplexed and multi-service models.
Care must be taken not to crush the cable dielectric or collapse the coaxiality of the cable when fitting these outlets. Damaging the coaxial cable will destroy its performance and may cause loss of one or more frequencies.
"Remote Link" Distribution to other rooms
Where the multi-service outlet is fitted a "Remote-Link" distribution amplifier can be added to distribute satellite or Freeview programmes to other rooms in the apartment and pass IRremote control commands back to the set top box.
Feed from Integrated
Reception Switch
SWRT740
Wall Plate
"RF2"
Output
UHF "off-air" signals + settop box output
IR Remote
Commands
Set Top Box
"Remote Link" distribution amplifier
"Remote Link Eye"
"Sky" Remote
To other rooms
DC-Pass wall plate
TV
Normally the living room TV is fed by the RF1 output of the set-top box or via a SCART lead.
Antiference offer mains and line powered "Remote-Link" distribution amplifiers. In modern apartments, where the developer has planned for multi-room TV, the distribution amplifier is located in a cupboard, inside the apartment.
"Remote Link" amplifiers must not be used for distribution of signals to adjoining dwellings.
15
Sky+
TM
and multiple satellite receivers
Sky+ is becoming ever more popular with the ability to record one satellite programme while watching another. The Sky+ PVR has 2 satellite tuners and therefore requires 2 independent satellite feeds so that each tuner can receive separate programmes regardless of the polarity or frequency.
Where a subscriber upgrades from Sky to Sky+ the broadcaster is recommending the use of the original receiver in another room. This will require an additional satellite feed.
Sky+ requires two independent satellite feeds from the Integrated Reception Switch so an 8way switch will now only provide signals for 4 dwellings. If the original receiver is also used in another room, then 3 satellite feeds will be required. This means that those 4 dwellings require a 12-Way Integrated Reception Switch.
This must all be taken into account when planning the system. Access for 3 x 1.00mm coaxial cables may be limited, particularly in older building upgrades. Small "multi-wire" coaxial cables are available but consideration for additional signal losses must be made.
Cable attenuation chart
Type "100" 1.0mm Cables
100MHz FM Radio
200MHz DAB radio
470MHz UHF TV Channel 21
860MHz UHF TV Channel 68
1000MHz Low Band SAT
2150MHz High Band SAT
Typical Attenuation dB / 100m
6.5dB
10.0dB
14.0dB
18.5dB
20.0dB
30.0dB
Sample Integrated Reception Systems
We have provided some sample system designs to aid system planning. They are intended as aids only and may be dependent on signals levels, cable types and other local factors outside the control of Antiference.
The plans are based on the use of 1.00mm coaxial cable with a loss of 30dB/100m at SAT frequencies and 20dB/100m at UHF.
In all cases we have planned for the UHF signal level at the furthest outlet at a minimum of
70dBuV and the satellite signal at 55dBuV.
When planning it is advisable to start calculating network losses at the furthest outlet and work back towards the headend. We recommend checking the signal losses at 2150MHz,
860MHz, 200MHz and 100MHz. This will ensure that the system will work at all reception frequencies. Consult the table of attenuation for a 1.00mm coaxial cable.
We strongly advise a site survey of signal quality and levels as well as cable runs and lengths before installation. This will save considerable time and money in commissioning the system before hand-over to the landlord or residents.
16
Basic 8, 12 & 16-way systems
80cm to 1.0m dish and
"Quatro"LNB
UHF
UPF15U or
UPF25U
DAB FM
Signal Diplexer
UDF100 / UDF400
Earth-Bonding to building PME
SAT 76dBµV
TERR 83dBµV
5-Core
Coaxial cable
PSF1200
12v PSU
Up to
70m
Subscriber
"drop" cable
AMS508
AMS512
AMS516
SAT 55dBµV
TERR 66dBµV
"Triplexed"
Outlet Plate SW740 or
Multi-service WRT740
ISYS
5
Integrated Reception Switches are designed for up to 70m of subscriber cable. Where cables are long, use a masthead amplifier or ATA505LP for SAT /
TERR or ATA3MP for TERR only.
Note: Earth-Bonding of Subscriber "Drop" Cables and Dish / Aerial Input
17
32 to 64-points High Rise
20m
ATA505LP
SAT/TERR
Amplifier
4m
ATS525
Trunk Splitter
4m
ATS525
Trunk Splitter
4m
14/18v DC
ATS525
Trunk Splitter
50m
50m
50m
AMS508
AMS512
AMS516
18
50m
SAT 55dBuV
TERR 70dBuV
16 to 64 -points Low Rise
UPF15U
PSF1200
Trunk Cable to 50m
Subscriber Drop Cable Up to 50m
UPF15U
PSF1200
Trunk Amplifier
ASA505LP
Trunk Cable 30m
Trunk Splitter
ATS525
Trunk Cable 30m
Trunk Splitter
ATS525
Subscriber Drop Cables Up to 50m
16 to 48 points. The multiswitches in these systems can be 8, 12 or 16 way or a combination.
19
Specifications
Model
No of Inputs
No of Outputs
Frequency range of
SAT Inputs
Frequency range of
Terr Inputs
Sat Gain
Terr Gain
Gain Adjustment
Maximum Output SAT
EN50083-3
IMA3-35
Maximum Output Terr
EN50083-3
IMA3-60
Isolation SAT/SAT
Isolation SAT / TERR
AMS 508SE
4 SAT
1 Terr
8
47-862MHz
5dB
5dB
SAT 15dB
Terr 20dB
100dBµV
85dBµV
AMS 512SE
4 SAT
1 Terr
12
950-2150MHz 950-2150MHz 950-2150MHz 950-2150MHz
47-862MHz
6dB
6dB
SAT 15dB
Terr 20dB
100dBµV
85dBµV
AMS 516SE
4 SAT
1 Terr
16
47-862MHz
6dB
6dB
SAT 15dB
Terr 20dB
100dBµV
85dBµV
AMS532SE
4 SAT
1 Terr
32
47-862MHz
6dB
6dB
SAT 15dB
Terr 20dB
100dBµV
85dBµV
>28dB
>28dB
>28dB
>28dB
>25dB
>25dB
>25dB
>25dB
Isolation Terr / SAT
Isolation between
Outputs
Switching commands
Switching voltage
LNB power supply
>25dB
>28dB
13V,18V,
13V/22kHz,
18V/22kHz
15+1V
Max 600mA
>25dB
>28dB
13V,18V,
13V/22kHz,
18V/22kHz
15+1V
Power Supply
Earth Post Cable Size
230VAC,50Hz
± 10%
UK Plug
4mm
2
180-264V AC
± 10%
UK Plug
4mm
2
>25dB
>28dB
13V,18V,
13V/22kHz,
18V/22kHz
15+1V
Max 1000mA Max 1000mA Max 1000mA
180-264V AC
± 10%
UK Plug
4mm
2
>25dB
>28dB
13V,18V,
13V/22kHz,
18V/22kHz
15+1V
180-264V AC
± 10%
UK Plug
4mm
2
Connectors "F" Female "F" Female "F" Female "F" Female
20
Specifications cont'd
Model
Description
Input Frequency SAT
Input Frequency TERR
AMA505LP
SAT/TERR
Trunk Amplifier
950-2150MHz
85-862MHz
ATA3MP
Terrestrial
Amplifier
FM 85-108MHz
DAB 216-240MHz
UHF 470-862MHz
ATS525
Trunk Splitter
950-2150MHz
47-862MHz
Gain / Loss SAT
Max +20dB
5dB Slope
- -4.5dB
Gain / Loss TERR
Gain Adjustment
+20dB
SAT 10dB
TERR 10dB
FM +20dB
DAB + 20dB
UHF + 25dB
FM 15dB
DAB 15dB
UHF 15dB
-4.0dB
-
Max Output SAT
EN50083-3 IMA3-35
Max Output TERR
EN50083-3
Power Required
DC Pass
110dBuV
110dBuV
18V 300mA
400mA Max
-
110dBuV
240V 50Hz
12v 100mA to UHF
-
-
-
2.0A Max
Temperature Range
-5
0
to + 50
0
C
Antiference ©2005. The contents of this booklet are copyright. Copying or reproduction of any pictures or text held within this booklet is forbidden without prior permission of
Antiference.
Antiference reserves the right to change or alter specifications and features without prior notice. E&OE.
The specifications, plans, diagrams and schematic drawings in this document form no guarantee of operation or function, nor does Antiference warrant that these diagrams conform to any current legislation, regulation or codes of practice. Antiference accepts no liability for the function of any system or installation derived from these schematic diagrams.
The information held in this document is for assistance only in using the products described herein.
It is the installer's responsibility at the time of installation to ensure that the equipment installed will function correctly and that any installation conforms to any current legislation, regulation or codes of practice.
Sky and Sky+ are the trade marks of BSkyB.
21
Fault Finding
We all make mistakes! We have tried to make our IRS products as simple and quick to install as possible but with the complexity and number connections, mistakes will occur.
To speed fault finding a signal analyser, multimeter and patience will be useful.
When fault finding, follow a logical and systematic procedure starting at the LNB and aerials through the trunk cables to each switch and then the output. Follow the signal path. Random testing at various points on the system will often make fault finding take longer.
Most faults in IRS installations are due to bad connections and short circuit of the 14/18v supply to the LNB. Dish and LNB alignment is also a major cause of problems.
A small "whisker" of screening braid touching the centre conductor in an F-Connector will short circuit the DC feeds to the LNB and shut down the Integrated Reception Switches.
If you have used "quick" male F-Connectors on the earth-bonding system, make sure the centre-pin is not bent. This is a very common fault on IRS installations.
Before fault finding ensure that all connections are good. Make sure any unused switch outputs are terminated with a 75Ω F-Terminator. (Part No TF75)
Antiference ISYS
5
Integrated Reception Switches have a power saving feature which means that 14/18v must be applied to a switch output for satellite signals to be received. Terrestrial signals will be available at all times.
Use a satellite receiver or the LNB voltages in a signal analyser to receive satellite signals at that output. The electronic switching inside the switch is receiver powered.
No Satellite or Terrestrial Signal.
Good signal at input but…
No signal at any output
Check Mains Power.
Is there a short circuit on any input cable?
Is there a short circuit on trunk cable? is the switch powered?
Check input coaxial cable connections.
Is 14/18v applied to the output connection
No signals from one output
No SAT signal from one output
No SATELLITE Signal on trunk
ONE SAT polarity missing
Check connections of subscriber cable.
Check 14/18v applied.
Test Sky Box on another output.
Is LNB powered? Measure voltage at each LNB connection.
Test LNB.
Check F-Connectors at trunk connections on splitters in/out, amplifier in/out, and input to switches.
Check connections for short circuit.
Check dish alignment.
Check LNB is "skewed" correctly
Check trunk cables are not crossed over.
Check level controls.
22
Some SAT signals missing Is dish alignment correct?
Is LNB "skewed" correctly?
Check trunk cables not crossed over.
Check signal levels are not too high.
Check signal levels are not too low.
Check C/N ratio.
Check for interference.
Note: When some satellite signals on a single polarity are missing but other are available, this indicates poor C/N. Align the dish and LNB "skew" on the weakest multiplex. Usually the low-band horizontal or vertical (14v / 18v 0Hz) will cause problems. The multiplex levels are unlikely to be flat across the band.
Terrestrial Problems.
Ghosted Analogue TV pictures
Poor or grainy picture
Interference from TETRA or GSM
Check aerial alignment.
Fit more directional aerial.
Consider aerial location.
Consider Log-Periodic aerial.
Low signal levels.
Fit aerial with higher gain.
Consider masthead pre-amplifier.
Check amplifier levels.
Check that signal level is not too high!
Check interference.
Measure "out of band" frequencies from
380-470MHz and 860-950MHz. If any signals are present consider filter or position of aerial.
Fit UHF band-pass filter. ATF1
We recommend fitting a band-pass filter to all IRS installations as a precaution and protection against future interference. The cost is low but as RF transmissions increase, systems are always at risk.
No digital terrestrial signals
Intermittent or missing DTT channels
Check post-code service area.
Is DTT available?
Check aerial type and levels.
Check signal level. If DTT is below
45dBuV off-air fit a higher gain aerial.
Is the aerial "CAI Benchmarked"?
Fit low-noise screened masthead amplifier
Check C/N ratio.
Check BER.
Check amplifiers / switches are not overloaded.
Check analogue level is not too high.
Impulse noise disturbs DTT Try repositioning aerial away from road.
Check for mains borne interference.
Reposition coaxial cables.
Earth-bond all coaxial cables
23
Antiference, Fradley Distribution Park, Wood End Lane, Fradley Park, Lichfield WS13 8NE www.antiference.co.uk email: [email protected]
24
* Your assessment is very important for improving the work of artificial intelligence, which forms the content of this project