Avent SCF706/00 User manual User manual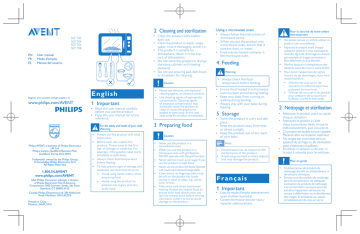 2 Cleaning and sterilization
• Clean the product before/after
each use.
• Clean the product in warm, soapy
water; rinse it thoroughly, and dry it.
• The product is suitable for
dishwashers. Wash it in the top
rack of dishwashers.
• Do not store the product in drying/
sterilizing cabinets with heating
elements.
• Do not use scouring pad, dish brush
or scrubbers for cleaning.
SCF 702
SCF 704
SCF 706
SCF 708
EN
FR
ES
User manual
Mode d'emploi
Manual del usuario
Caution
Register your product and get support at
www.philips.com/AVENT
Eng lis h
• Never use abrasive, anti-bacterial
cleaning agents, or chemical solvents.
• Use cleaning agents of appropriate
concentration. Cleaning agents
of excessive concentration may
eventually cause the product to
crack or cause the graphics to
bubble or peel away. In this case,
stop using the product immediately.
1 Important
• Read this user manual carefully
before you use the product.
• Keep this user manual for future
reference.
For the safety and health of your child
Warning
3 Preparing food
• Always use this product with adult
Caution
supervision.
• Before each use, inspect the
Philips AVENT, a business of Philips Electronics
UK Ltd.
Philips Centre, Guildford Business Park,
Guildford, Surrey, GU2 8XH
Trademarks owned by the Philips Group.
© Koninklijke Philips Electronics N.V.
All Rights Reserved.
1.800.54.AVENT
www.philips.com/AVENT
USA: Philips Consumer Lifestyle, a division
of Philips Electronics North America
Corporation. 1600 Summer Street, 5th Floor,
Stamford, CT 06905-5125
Canada: Philips Electronics Ltd, 281 Hillmount
Road, Markham, ON L6C2S3
Printed in China
Phoenix_NAM_V4.4
•
•
product. Throw away at the fi rst
sign of damage or weakness. For
example, if the graphics label starts
to bubble or peel away.
Always check food temperature
before feeding.
To help prevent signs of damage and
weakness, we recommend you to:
• Avoid using metal cutlery when
preparing food.
• Avoid using the product to
prepare oily, sugary and very
acidic food.
• Never put the product in a
conventional oven.
• When you use the product in a
•
•
•
•
microwave oven with grill feature,
NEVER operate with the grill function.
Never add too much oil or sugar if you
use the product to heat food.
Never use the product for foods flavored
with much oil or lemon/orange peels.
Color stains, or lingering odors may
be left on the product by foods
strong in color or odor, e.g. carrot
juice, onions.
Take extra care when microwave
heating. Always stir heated food to
ensure even heat distribution and
test the temperature before serving.
Use plastic cutlery to stir to avoid
damage to the product.
Using a microwave oven
• Always follow the instructions of
microwave ovens.
• When you put the product into
a microwave oven, ensure that it
contains food, or water.
• Food may be heated unevenly in
the microwave oven.
4 Feeding
Warning
• Always check the food
temperature before feeding.
• Ensure food heated in a microwave
oven has been stirred during heating.
• Keep your baby from running or
walking during feeding.
• Always stay with your baby during
feeding.
5 Storage
• Store the product in a dry and safe
place.
• Keep the product away from heat
or direct sunlight.
• Keep the product out of the reach
of your baby.
Note
• Discoloration has no impact on the
performance of the product.
Pour la sécurité de votre enfant
Avertissement
• Ne laissez jamais un enfant utiliser ce
produit sans surveillance.
• Inspectez le produit avant chaque
•
•
utilisation. Jetez-le si vous constatez le
moindre signe de dommage ou d'usure,
par exemple si l'image commence à
être déformée ou à se décoller.
Vérifiez toujours la température des
aliments avant de nourrir votre enfant.
Pour éviter l'apparition de signes
d'usure ou de dommages, nous vous
recommandons :
• D'éviter de vous servir de
couverts en métal lorsque vous
préparez la nourriture.
• D'éviter de vous servir du produit
pour préparer de la nourriture
huileuse, sucrée et très acide.
2 Nettoyage et stérilisation
• Nettoyez le produit avant ou après
chaque utilisation.
• Nettoyez le produit à l'aide
d'eau savonneuse tiède, rincez-le
méticuleusement, puis essuyez-le.
• Ce produit est lavable au lave-vaisselle.
Placez-le alors sur le panier supérieur.
• Ne rangez pas ce produit dans un
appareil de séchage ou de stérilisation
doté d'éléments chauffants.
• N'utilisez ni tampon à récurer, ni
brosse à vaisselle pour le nettoyer.
• Avoid using any hard or sharp objects
that may damage the product.
Mise en garde
• N'utilisez jamais de produits de
Fr an çais
1 Important
• Lisez ce mode d'emploi attentivement
avant d'utiliser le produit.
• Conservez-le pour pouvoir vous y
reporter ultérieurement.
nettoyage abrasifs ou antibactériens, ni
de solvants chimiques.
• Servez-vous de produits de nettoyage
dont la concentration est adéquate.
L'utilisation de produits de nettoyage
à la concentration excessive pourrait
entraîner l'apparition de fissures ou
encore la déformation ou le décollement
des images. Si tel était le cas, cessez
immédiatement de vous en servir.
3 Préparation de nourriture
4 Alimentation
Mise en garde
• Ne placez jamais le produit dans un
•
•
•
•
•
four conventionnel.
Lorsque vous placez le produit dans
un four à micro-ondes doté de la
fonction de gril, n'utilisez JAMAIS
cette fonction.
N'ajoutez jamais d'huile ou de sucre
en grande quantité avant de réchauffer de la nourriture dans le produit.
N'utilisez jamais le produit avec
des plats très huileux ou garnis de
pelures de citron ou d'orange.
Il est possible que des traces apparaissent ou qu'une odeur persiste
sur le produit lorsque vous utilisez
certains aliments de couleur ou dont
l'odeur est forte comme le jus de
carotte ou les oignons.
Soyez prudent lorsque vous chauffez
des aliments au micro-ondes. Mélangez toujours les aliments chauffés
afi n de garantir une répa rtition
homogène de la chaleur et testez la
température avant de servir. Utilisez
des couverts en plastique pour
mélanger les aliments afi n d'éviter
d'endommager le produit.
Avertissement
• Vérifiez toujours la température des ali-
ments avant de les donner à votre bébé.
• Prenez soin de mélanger la
nourriture pendant la phase de
réchauffage au micro-ondes.
• Évitez que votre bébé ne se déplace
pendant que vous le nourrissez.
• Surveillez toujours votre bébé
pendant qu'il mange.
Remarque
• La décoloration n'a aucune consé-
• Respectez toujours les instructions
du four à micro-ondes.
• Lorsque vous utilisez le produit
au micro-ondes, assurez-vous
qu'il contient de la nourriture ou
de l'eau.
• Il est possible que la nourriture
ne soit pas réchauffée de façon
homogène au micro-ondes.
quence sur l'effi cacité du produit.
Évitez de vous servir d'objets durs
ou pointus susceptibles d'endommager le produit.
Precaución
1 Importante
• No utilice productos abrasivos,
• Lea detenidamente este manual
antes de utilizar el producto y
• guárdelo para futuras consultas.
• Utilice agentes limpiadores con
agentes limpiadores antibacteriales
ni solventes químicos.
la concentración adecuada. Los
agentes de limpieza excesivamente
concentrados pueden causar
grietas en el producto, aparición de
burbujas en la etiqueta de gráfi cos
o el desprendimiento de esta. En
ese caso, deje de usar el producto
inmediatamente.
Para proteger la seguridad y
salud de su hijo
Advertencia
• Siempre utilice el producto bajo la
•
5 Rangement
• Rangez le produit dans un lieu
sec et sûr.
• Conservez le produit à l'abri de
la chaleur et de la lumière directe
du soleil.
• Tenez le produit hors de portée de
votre bébé.
•
Utilisation d'un four à micro-ondes
Esp añ ol
•
•
supervisión de un adulto.
Revise el producto antes de cada uso.
Deséchelo ante la primera señal de
daño o desperfectos. Por ejemplo,
si la etiqueta de gráficos comienza a
desprenderse o aparecen burbujas
en ella.
Siempre verifique la temperatura de
los alimentos antes de la ingesta.
Para evitar daños y desperfectos en el
producto, recomendamos:
• Evitar el uso de cubiertos de metal
al preparar los alimentos.
• Evitar utilizar el producto para
preparar alimentos con gran
cantidad de aceite, azúcar o
muy ácidos.
3 Preparación de los
alimentos
Precaución
• No coloque el producto dentro de
un horno convencional.
• Si utiliza el producto en un horno
•
•
2 Limpieza y
esterilización
• Limpie el producto antes y después
de cada uso.
• Limpie el producto con agua tibia y
jabón; enjuáguelo cuidadosamente
y séquelo.
• El producto es apto para el
lavavajillas. Lávelo en la bandeja
superior del lavavajillas.
• No almacene el producto en
gabinetes de secado/esterilización
con elementos que irradien calor.
• No utilice estropajos, cepillos o
esponjas abrasivos para limpiar.
•
•
microondas con función de parrilla,
NUNCA use la función de parrilla.
Si utiliza el producto para calentar
alimentos, no agregue demasiado
aceite o azúcar.
No use el producto con alimentos
condimentados con mucho aceite o
cáscaras de limón o naranja.
Los alimentos de color u olor fuerte,
como el zumo de zanahoria o las
cebollas, podrían dejar manchas de
color u olores duraderos.
Tenga especial cuidado al calentar en
el microondas. Remueva siempre la
comida calentada para garantizar una
distribución uniforme del calor y pruebe la temperatura antes de servirla. Utilice cubiertos de plástico para remover
para evitar daños en el producto.
Uso en microondas
• Siempre siga las instrucciones del
microondas.
• Cuando coloque el producto en
un microondas, verifi que que
contenga alimentos o agua.
• Los alimentos pueden calentarse
de forma despareja en el
microondas.
4 Alimentación
Advertencia
• Siempre verifi que la temperatura de
los alimentos antes de la ingesta.
• Verifi que que los alimentos se
hayan revuelto al calentarlos en el
horno microondas.
• Evite que su bebé corra o camine
mientras lo alimenta.
• Manténgase en todo momento con
su bebé mientras se alimenta.
5 Almacenamiento
• Guarde el producto en un lugar
seco y seguro.
• Mantenga el producto lejos del
calor o la luz directa del sol.
• Mantenga el producto fuera del
alcance de su bebé.
Nota
• La decoloración no afecta el
rendimiento del producto.
• Evite usar objetos duros o afilados
que puedan dañar el producto.

* Your assessment is very important for improving the workof artificial intelligence, which forms the content of this project