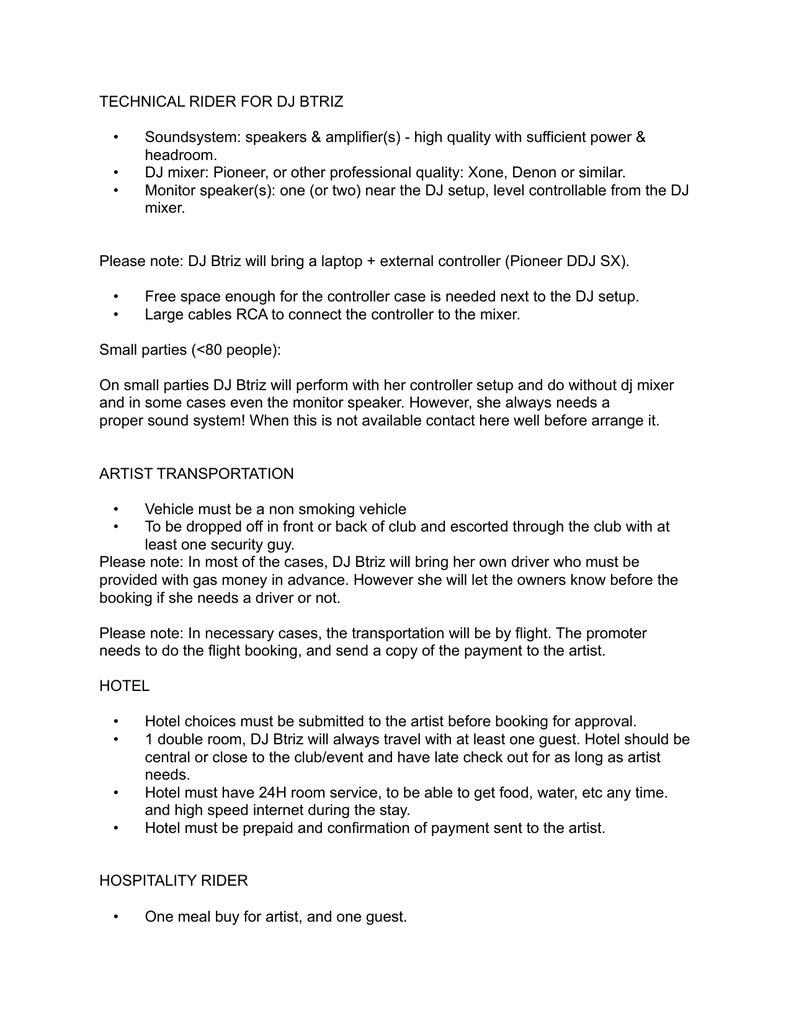 TECHNICAL RIDER FOR DJ BTRIZ
•
•
•
Soundsystem: speakers & amplifier(s) - high quality with sufficient power &
headroom.
DJ mixer: Pioneer, or other professional quality: Xone, Denon or similar.
Monitor speaker(s): one (or two) near the DJ setup, level controllable from the DJ
mixer.
Please note: DJ Btriz will bring a laptop + external controller (Pioneer DDJ SX).
•
•
Free space enough for the controller case is needed next to the DJ setup.
Large cables RCA to connect the controller to the mixer.
Small parties (<80 people):
On small parties DJ Btriz will perform with her controller setup and do without dj mixer
and in some cases even the monitor speaker. However, she always needs a
proper sound system! When this is not available contact here well before arrange it.
ARTIST TRANSPORTATION
•
•
Vehicle must be a non smoking vehicle
To be dropped off in front or back of club and escorted through the club with at
least one security guy.
Please note: In most of the cases, DJ Btriz will bring her own driver who must be
provided with gas money in advance. However she will let the owners know before the
booking if she needs a driver or not.
Please note: In necessary cases, the transportation will be by flight. The promoter
needs to do the flight booking, and send a copy of the payment to the artist.
HOTEL
•
•
•
•
Hotel choices must be submitted to the artist before booking for approval.
1 double room, DJ Btriz will always travel with at least one guest. Hotel should be
central or close to the club/event and have late check out for as long as artist
needs.
Hotel must have 24H room service, to be able to get food, water, etc any time.
and high speed internet during the stay.
Hotel must be prepaid and confirmation of payment sent to the artist.
HOSPITALITY RIDER
•
One meal buy for artist, and one guest.
•
•
5 bottles of water
Free drinks during the event for the artist, and her guest.

* Your assessment is very important for improving the work of artificial intelligence, which forms the content of this project