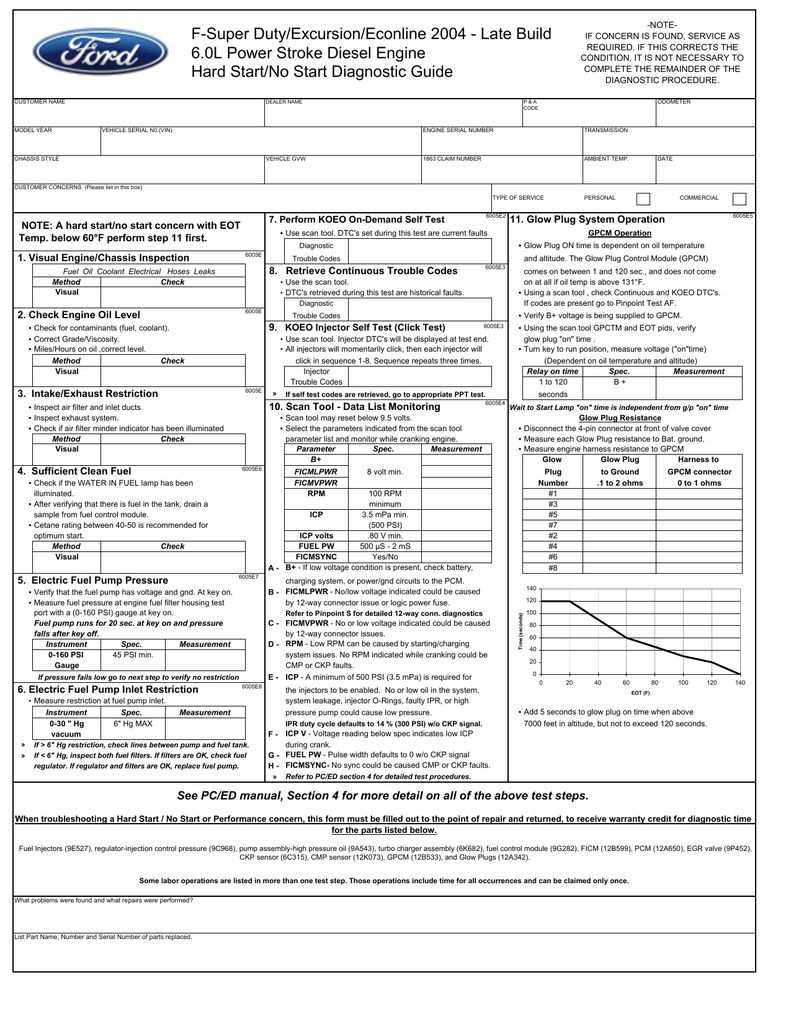 -NOTEIF CONCERN IS FOUND, SERVICE AS
REQUIRED. IF THIS CORRECTS THE
CONDITION, IT IS NOT NECESSARY TO
COMPLETE THE REMAINDER OF THE
DIAGNOSTIC PROCEDURE.
F-Super Duty/Excursion/Econline 2004 - Late Build
6.0L Power Stroke Diesel Engine
Hard Start/No Start Diagnostic Guide
DEALER NAME
CUSTOMER NAME
MODEL YEAR
P&A
CODE
VEHICLE SERIAL N0.(VIN)
CHASSIS STYLE
VEHICLE GVW
ODOMETER
ENGINE SERIAL NUMBER
TRANSMISSION
1863 CLAIM NUMBER
AMBIENT TEMP.
DATE
CUSTOMER CONCERNS (Please list in this box)
TYPE OF SERVICE
6005E
6005E
»
FICMLPWR
FICMVPWR
RPM
• Check if the WATER IN FUEL lamp has been
seconds
Wait to Start Lamp "on" time is independent from g/p "on" time
Glow Plug Resistance
• Disconnect the 4-pin connector at front of valve cover
• Measure each Glow Plug resistance to Bat. ground.
• Measure engine harness resistance to GPCM
8 volt min.
100 RPM
minimum
ICP
3.5 mPa min.
(500 PSI)
ICP volts
.80 V min.
FUEL PW
500 µS - 2 mS
FICMSYNC
Yes/No
A - B+ - If low voltage condition is present, check battery,
sample from fuel control module.
• Cetane rating between 40-50 is recommended for
Check
6005E7
• Verify that the fuel pump has voltage and gnd. At key on.
• Measure fuel pressure at engine fuel filter housing test
port with a (0-160 PSI) gauge at key on.
Fuel pump runs for 20 sec. at key on and pressure
falls after key off.
Instrument
Spec.
Measurement
0-160 PSI
45 PSI min.
Gauge
charging system, or power/gnd circuits to the PCM.
B - FICMLPWR - No/low voltage indicated could be caused
by 12-way connector issue or logic power fuse.
Refer to Pinpoint S for detailed 12-way conn. diagnostics
C - FICMVPWR - No or low voltage indicated could be caused
by 12-way connector issues.
D - RPM - Low RPM can be caused by starting/charging
system issues. No RPM indicated while cranking could be
CMP or CKP faults.
E - ICP - A minimum of 500 PSI (3.5 mPa) is required for
If pressure fails low go to next step to verify no restriction
6005E8
the injectors to be enabled. No or low oil in the system,
system leakage, injector O-Rings, faulty IPR, or high
pressure pump could cause low pressure.
• Measure restriction at fuel pump inlet.
Measurement
IPR duty cycle defaults to 14 % (300 PSI) w/o CKP signal.
If > 6" Hg restriction, check lines between pump and fuel tank.
If < 6" Hg, inspect both fuel filters. If filters are OK, check fuel
regulator. If regulator and filters are OK, replace fuel pump.
Glow
Glow Plug
Harness to
Plug
Number
#1
#3
#5
#7
#2
#4
#6
#8
to Ground
.1 to 2 ohms
GPCM connector
0 to 1 ohms
140
120
Time (seconds)
illuminated.
• After verifying that there is fuel in the tank, drain a
»
»
6005E4
parameter list and monitor while cranking engine.
Parameter
Spec.
Measurement
B+
6005E6
Spec.
6" Hg MAX
(Dependent on oil temperature and altitude)
Relay on time
Spec.
Measurement
1 to 120
B+
• Scan tool may reset below 9.5 volts.
• Select the parameters indicated from the scan tool
4. Sufficient Clean Fuel
6. Electric Fuel Pump Inlet Restriction
glow plug "on" time .
• Turn key to run position, measure voltage ("on"time)
If self test codes are retrieved, go to appropriate PPT test.
10. Scan Tool - Data List Monitoring
Check
5. Electric Fuel Pump Pressure
• Using the scan tool GPCTM and EOT pids, verify
click in sequence 1-8. Sequence repeats three times.
Injector
Trouble Codes
• Inspect air filter and inlet ducts.
• Inspect exhaust system.
• Check if air filter minder indicator has been illuminated
Instrument
0-30 " Hg
vacuum
6005E3
• Use scan tool. Injector DTC's will be displayed at test end.
• All injectors will momentarily click, then each injector will
3. Intake/Exhaust Restriction
optimum start.
Method
Visual
comes on between 1 and 120 sec., and does not come
on at all if oil temp is above 131°F.
• Using a scan tool , check Continuous and KOEO DTC's.
If codes are present go to Pinpoint Test AF.
• Verify B+ voltage is being supplied to GPCM.
Trouble Codes
9. KOEO Injector Self Test (Click Test)
Check
Method
Visual
6005E3
• Use the scan tool.
• DTC's retrieved during this test are historical faults.
Diagnostic
• Check for contaminants (fuel, coolant).
• Correct Grade/Viscosity.
• Miles/Hours on oil ,correct level.
Method
Visual
and altitude. The Glow Plug Control Module (GPCM)
Trouble Codes
8. Retrieve Continuous Trouble Codes
2. Check Engine Oil Level
6005E5
GPCM Operation
• Glow Plug ON time is dependent on oil temperature
Diagnostic
Fuel Oil Coolant Electrical Hoses Leaks
Method
Check
Visual
COMMERCIAL
11. Glow Plug System Operation
• Use scan tool. DTC's set during this test are current faults
6005E
1. Visual Engine/Chassis Inspection
6005E2
7. Perform KOEO On-Demand Self Test
NOTE: A hard start/no start concern with EOT
Temp. below 60°F perform step 11 first.
PERSONAL
100
80
60
40
20
0
0
20
40
60
80
100
120
140
EOT (F)
• Add 5 seconds to glow plug on time when above
7000 feet in altitude, but not to exceed 120 seconds.
F - ICP V - Voltage reading below spec indicates low ICP
during crank.
G - FUEL PW - Pulse width defaults to 0 w/o CKP signal
H - FICMSYNC- No sync could be caused CMP or CKP faults.
»
Refer to PC/ED section 4 for detailed test procedures.
See PC/ED manual, Section 4 for more detail on all of the above test steps.
When troubleshooting a Hard Start / No Start or Performance concern, this form must be filled out to the point of repair and returned, to receive warranty credit for diagnostic time
for the parts listed below.
Fuel Injectors (9E527), regulator-injection control pressure (9C968), pump assembly-high pressure oil (9A543), turbo charger assembly (6K682), fuel control module (9G282), FICM (12B599), PCM (12A650), EGR valve (9P452),
CKP sensor (6C315), CMP sensor (12K073), GPCM (12B533), and Glow Plugs (12A342).
Some labor operations are listed in more than one test step. Those operations include time for all occurrences and can be claimed only once.
What problems were found and what repairs were performed?
List Part Name, Number and Serial Number of parts replaced.

* Your assessment is very important for improving the work of artificial intelligence, which forms the content of this project