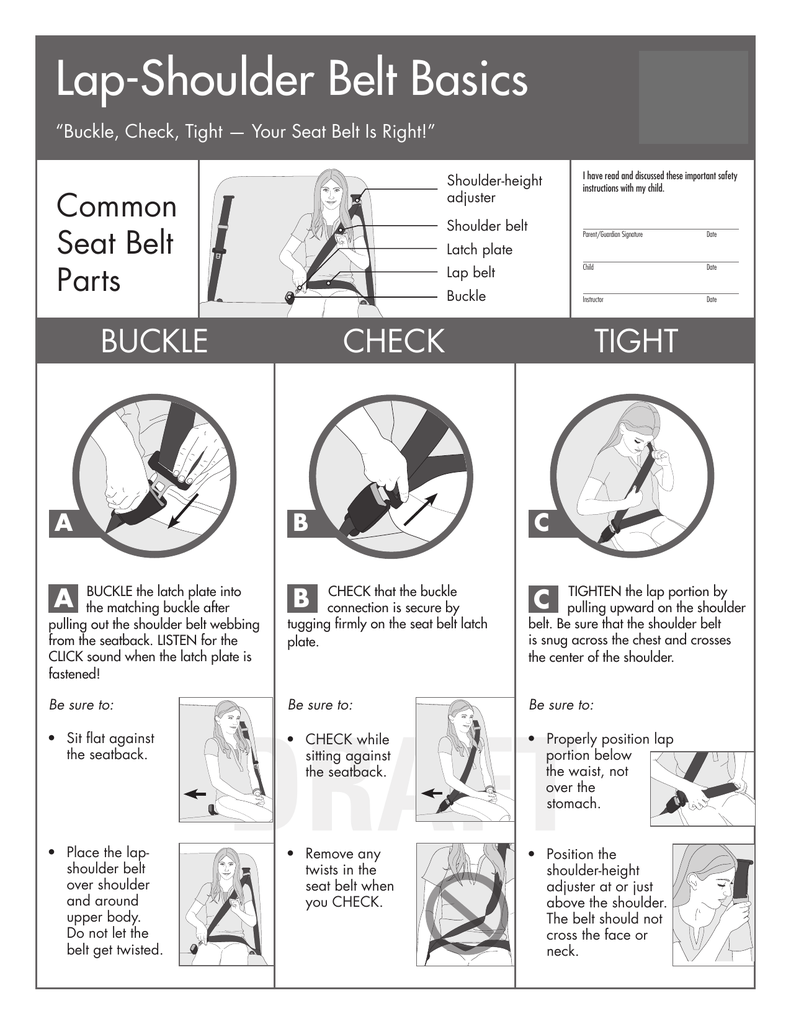 Lap-Shoulder Belt Basics
"Buckle, Check, Tight — Your Seat Belt Is Right!"
Shoulder-height
adjuster
Common
Seat Belt
Parts
Shoulder belt
Lap belt
Buckle
CHECK
A
A
B
B
BUCKLE the latch plate into the matching buckle after pulling out the shoulder belt webbing
from the seatback. LISTEN for the
CLICK sound when the latch plate is
fastened!
CHECK that the buckle
connection is secure by
tugging firmly on the seat belt latch
plate.
Be sure to:
Be sure to:
• Sit flat against
the seatback.
•
Date
Child
Date
Instructor
Date
TIGHT
C
TIGHTEN the lap portion by
pulling upward on the shoulder
belt. Be sure that the shoulder belt
is snug across the chest and crosses
the center of the shoulder.
C
Be sure to:
• Properly position lap
portion below
the waist, not
over the
stomach.
DRAFT
• CHECK while
sitting against
the seatback.
Place the lapshoulder belt
over shoulder
and around
upper body.
Do not let the
belt get twisted.
Parent/Guardian Signature
Latch plate
BUCKLE
I have read and discussed these important safety
instructions with my child.
•
Remove any
twists in the
seat belt when
you CHECK.
• Position the
shoulder-height
adjuster at or just
above the shoulder.
The belt should not
cross the face or
neck.
UNBUCKLING
1.
2.
Push the red button on the buckle and
remove the latch plate from the buckle.
Allow the shoulder belt to retract into
the upper seatback.
3. As a courtesy to the next passenger, move the shoulder-height adjuster up to its highest position.
IMPROPER LAP-SHOULDER BELT USE
NEVER place the shoulder
belt behind your back and
wear only the lap belt.
NEVER place the shoulder
belt under your arm.
NEVER wear the shoulder belt
or lap belt loosely.
NEVER allow the webbing to
be twisted. It should lay flat
against your body.
NEVER insert the latch plate
of your shoulder belt into the
buckle for the seat beside
you. Be sure to use your own
buckle.
NEVER wear your backpack
when you are seated in the
bus. Place it on the floor in
front of your feet.
NEVER sit on the front or side
edge of your seat.
© 2014 ________________
NEVER sit in front of the
buckled lap-shoulder belt.

* Your assessment is very important for improving the work of artificial intelligence, which forms the content of this project