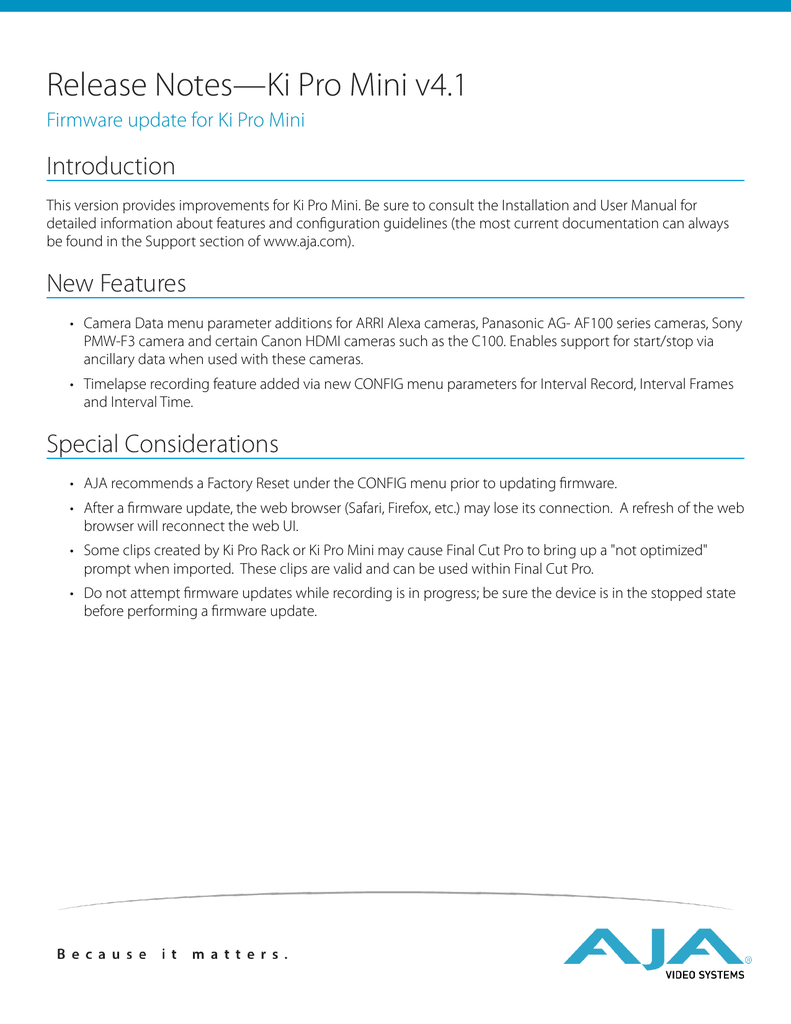 Release Notes—Ki Pro Mini v4.1
Firmware update for Ki Pro Mini
Introduction
This version provides improvements for Ki Pro Mini. Be sure to consult the Installation and User Manual for
detailed information about features and configuration guidelines (the most current documentation can always
be found in the Support section of www.aja.com).
New Features
• Camera Data menu parameter additions for ARRI Alexa cameras, Panasonic AG- AF100 series cameras, Sony
PMW-F3 camera and certain Canon HDMI cameras such as the C100. Enables support for start/stop via
ancillary data when used with these cameras.
• Timelapse recording feature added via new CONFIG menu parameters for Interval Record, Interval Frames
and Interval Time.
Special Considerations
• AJA recommends a Factory Reset under the CONFIG menu prior to updating firmware.
• After a firmware update, the web browser (Safari, Firefox, etc.) may lose its connection. A refresh of the web
browser will reconnect the web UI.
• Some clips created by Ki Pro Rack or Ki Pro Mini may cause Final Cut Pro to bring up a "not optimized"
prompt when imported. These clips are valid and can be used within Final Cut Pro.
• Do not attempt firmware updates while recording is in progress; be sure the device is in the stopped state
before performing a firmware update.

* Your assessment is very important for improving the work of artificial intelligence, which forms the content of this project