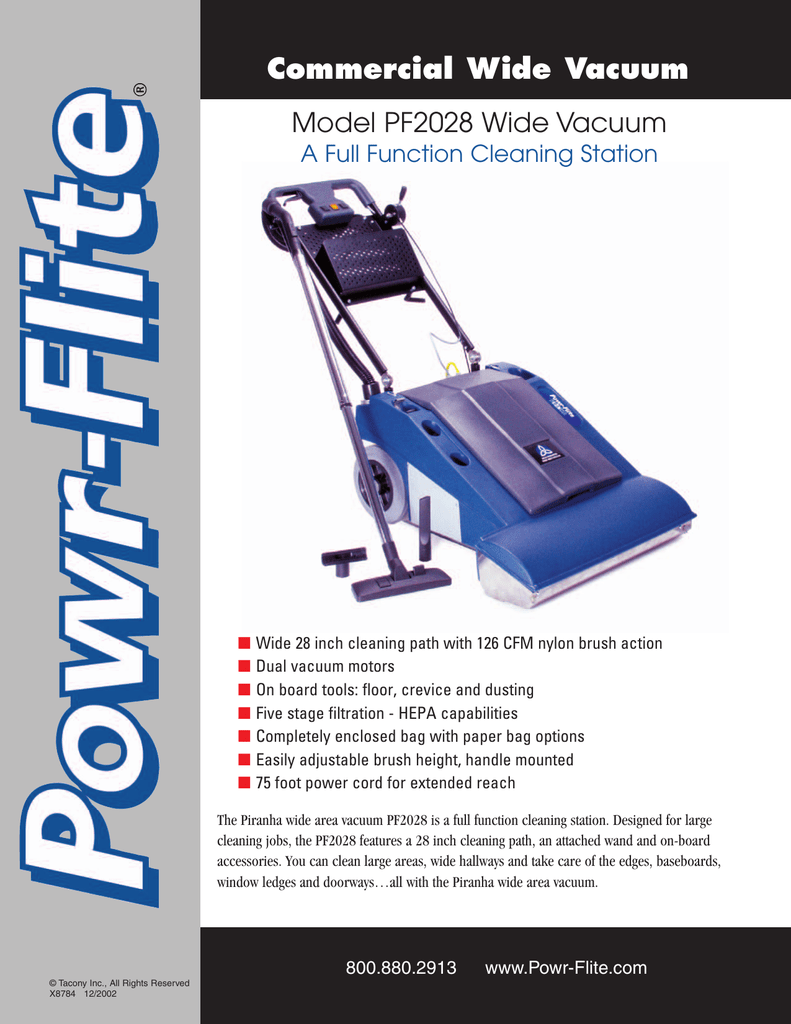 Commercial Wide Vacuum
Model PF2028 Wide Vacuum
A Full Function Cleaning Station
■
■
■
■
■
■
■
Wide 28 inch cleaning path with 126 CFM nylon brush action
Dual vacuum motors
On board tools: floor, crevice and dusting
Five stage filtration - HEPA capabilities
Completely enclosed bag with paper bag options
Easily adjustable brush height, handle mounted
75 foot power cord for extended reach
The Piranha wide area vacuum PF2028 is a full function cleaning station. Designed for large
cleaning jobs, the PF2028 features a 28 inch cleaning path, an attached wand and on-board
accessories. You can clean large areas, wide hallways and take care of the edges, baseboards,
window ledges and doorways…all with the Piranha wide area vacuum.
800.880.2913
© Tacony Inc., All Rights Reserved
X8784 12/2002
www.Powr-Flite.com
External exhaust filter and amp meter with
optional HEPA filter capabilities.
20 feet of hose reach with on board
crevice, dusting and floor tools.
Model PF2028 Specifications
Cleaning Path
Brush Motor
Vacuum Motor
CFM
Construction
Hose Diameter
Filter
Paper Bag Capacity
Dirt Separator
Height
Weight
28"
.33 Hp
2 @ 1.33 Hp
126
Polyethelene
1.5"
5 stages
4 gallons
.3 gallon
17"
66 lbs.
Fully adjustable brush height with LED indicator for total brush action control.
4 gallon enclosed bag housing
and debris collector makes for a quiet dust
free cleaning machine.

* Your assessment is very important for improving the work of artificial intelligence, which forms the content of this project