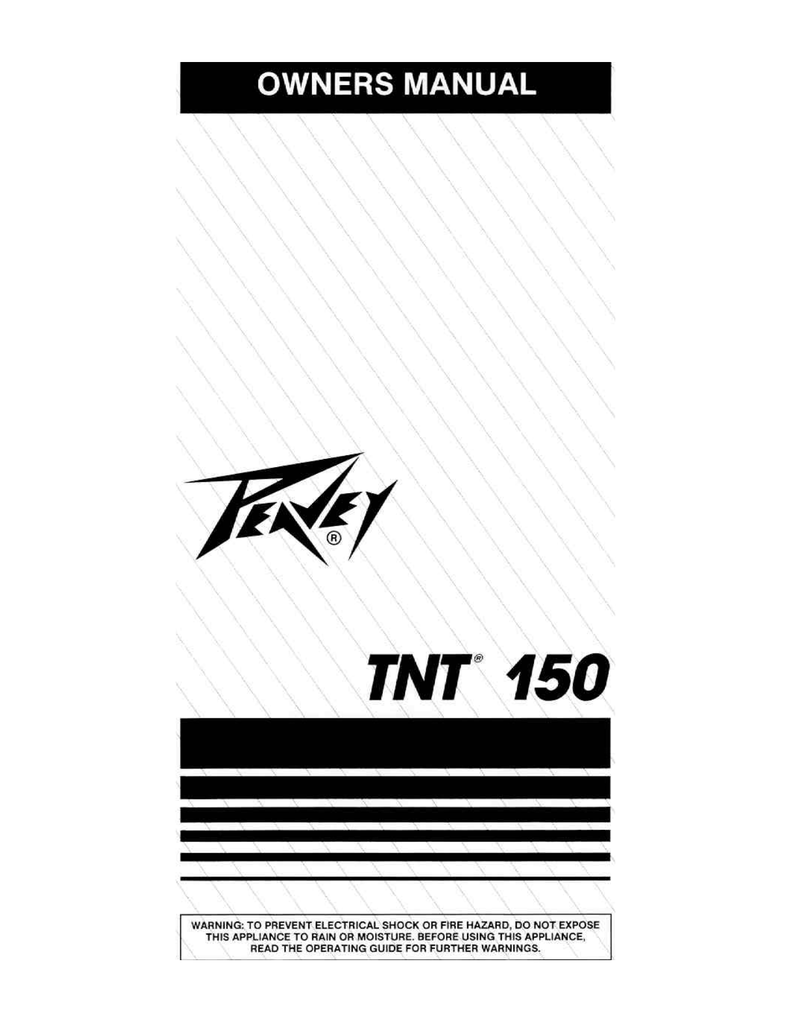 OWNERS MANUAL
INT 150
WARNING: TO PREVENT ELECTRICAL SHOCK OR FIRE HAZARD, DO NOT EXPOSE
THIS APPLIANCE TO RAIN OR MOISTURE. BEFORE USING THIS APPLIANCE,
READ THE OPERATING GUIDE FOR FURTHER WARNINGS.
FRONT PANEL
INPUTE —— Bi SQUELEAT OA SN CAOSSOVER ——— CHDRU5—
т DA = E
=. ig = i
= 3 7 [Ja т | = E
e 5 a els a
4 B C] a E NA ia
[a Ma pe La E CN
EU E E Pear
PATCH
CL
3 i = я 5 в а Эн
] ; ( ) ® = ©: | © ©
= =i
0): ®® | 2 OO:
O: O © vs ! 1 5 ®
"a = De г. 17 ci 10 es man
наи HY реле RATE [EET IDE a
1 2 3 5 6 7 8 g 1 ti Y 1 U 15 = 46 7 19 #
HIGH GAIN INPUT (1)
Used for most electric basses. It is 6 dB louder than the Low Gain input.
LOW GAIN INPUT (2)
Provided for instruments that have extremely high outputs, which can result in overdriving (distorting) the High Gain input. If
both inputs are used simultaneously, the output levels are the same (both are Low Gain).
PRE GAIN (3)
Controls the input volume level of the channel.
BRIGHT SWITCH (4)
Provides a preset boost (+ 8 dB) to treble frequencies. To activate, depress the switch to its "in" position.
PUNCH SWITCH (5)
Provides a preset boost (+8 dB) to midbass frequencies. To activate, depress the switch to its "in" position.
POST GAIN (6)
Controls the overall volume level of the amplifier. The final level adjustment should be made after the desired sound has been
achieved.
LOW EQ (7)
An active tone control (shelving type, +15 dB) that varies the low frequency range. Caution: excessive low frequency boost
causes greater power consumption and increases possibility of speaker damage.
9-BAND GRAPHIC EQ (8)
Provides +15 dB equalization at each center frequency.
HIGH EQ CONTROL (9)
An active tone control (shelving type, £15 dB) that varies the high frequency range.
CROSSOVER FREQUENCY CONTROL (10)
Adjusts the frequency of the crossover dividing network.
CROSSOVER FUNCTION
The amplifier is equipped with a variable electronic crossover network, which allows its use as part of a biamplified system.
A "biamped" system is one in which low-frequency and high-frequency signals are reproduced by separate power amplifiers
and speaker enclosures. Biamped systems provide increased headroom, greater clarity, and superior power handling.
An effective biamplified system may be created using the amplifier with another Peavey product, the 210HP powered
enclosure. To establish this system, connect the Crossover High output to the input of the 210HP. Connect the Crossover Low
output to the amplifier's Power Amp input. High quality shielded cables should be used for these connections. The Crossover
Frequency control should be set at 250 to 300 Hz.
LOW RANGE OUTPUT (11)
Provides a post-crossover low range signal. Signal level is adjusted by the Post Gain Control.
HIGH RANGE OUTPUT (12)
Provides a post-crossover high range signal. Signal level is adjusted by the Post Gain Control.
Signals which appear at this jack may be processed by the chorus circuit.
CHORUS IN/OUT SWITCH (13)
Is used to activate/defeat the chorus circuit. To activate the circuit, depress the switch to its "in" position.
RATE CONTROL (14)
Controls the sweep rate (frequency) of the chorus effect.
DEPTH CONTROL (15)
Controls the depth (intensity) of the chorus effect.
PREAMP OUT/POWER AMP IN (16)
These jacks are provided for in-line patching of effects devices. To patch an effects unit, connect the Preamp Output to the
Input of the device. Next, connect the output of the device to the Power Amp Input (high-quality shielded cables must be used
for these connections). The Preamp Output can also be used to route the amplified signal to a mixing console, tape recorder,
etc. Connect the Preamp Output, using a shielded cable, to an input of the tape recorder, mixer, etc. This patch does not affect
the operation of the amplifier. NOTE: The preamp output level is approximately 1 voit RMS and is of relatively low impedance
(600 ohms). Any effects device used in this effects loop must be capable of receiving 1 volt input and providing 1 volt output
in order to properly drive the power amp. The Power Amp Input has an internal switch which disconnects the internal preamp.
DDT™ COMPRESSION (17)
The amplifier is equipped with the patented DDT compression circuit (U.S. Patent 4,318,053). The compression circuit
eliminates audible power amp clipping, reduces distortion, and protects the loudspeaker.
In use, the Compressor LED may occasionally illuminate, indicating that the compressor is engaging to prevent distortion. If
the LED is continuously illuminated, Gain contrel or Low EQ control settings should be reduced to prevent possible loudspeaker
damage.
POWER LED (18)
llluminates when AC power is being supplied to the amp.
POWER SWITCH (19)
Depress the switch to the "On" position. The red pilot light (LED) will illuminate indicating power is being supplied to the unit.
ER
120 WAG
60 Hr FOOT
500 WATTS SNE, SWITCH
— +
a Ea A
Пава a]
CAUTION +
£15 PREVEST THE RISK OF FIRE AND SHOCK
HAZARD, DO KOT EXPOSE THE APPLIANCE
FRU CASE. 10 USI SEINICEAD E PARTS A PROCUCT OF PEAVEY ELECTROMICS CORP so TE
IH
a Se BUILT UNDER LE. PATENT HO. 4,318,089 4 OHMS
MADE IN U.S.A. PAS DUAR e E
LINE (MAINS) CORD RETAINERS (20)
Allow storage of mains cable for travel.
LINE CORD (120 V PRODUCTS ONLY) (21)
For your safety, we have incorporated a 3-wire line (mains) cable with proper grounding facilities. It is not advisable to remove
the ground pin under any circumstances. If it is necessary to use the equipment without proper grounding facilities, suitable
grounding adaptors should be used. Less noise and greatly reduced shock hazard exists when the unit is operated with the
proper grounding receptacles.
GROUND SWITCH (22)
Three position rocker-type switch which, in most applications, should be operated in its center or zero position. There may be
some situations when audible hum and/or noise will come from the loudspeaker. If this situation arises, position the ground
switch to either positive or negative (+ or -) or until the noise is minimized.
NOTE: Should the noise problem continue, consult your Authorized Peavey Dealer, the Peavey Factory, or a qualified service
technician. THE GROUND SWITCH IS NOT FUNCTIONAL ON 220/240 VOLT MODELS.
CHORUS REMOTE SWITCH JACK (23)
Provided for the connection of the optional remote footswitch. The footswitch is used to activate/defeat the chorus circuit.
TONE SETTING CHART
"IN ROCK ADJUST TO TASTE
= EQUALIZATION CROSSOVER —— CHORUS ——
IN A 5 в
7 5 MI AN
OO: -o0|* 0-6:
* \ 1 a 7 9
+= 15 2 7 Nes o 10 PE
ESMAS = D E о в si BER e MK EC HIGH FREQONENCY CHORUS] RATE DEPTH OL
1
"IN" MATCH TO ENCLOSURE
SPECIFICATIONS. NORMALLY
ADJUSTED FROM 200 - 300HZz.
(BIAMPED OPERATION )
FUNK ADJUST TO TASTE
eA "E 428 a O03 E
3 7 [] з э | Е Lom
O: 2: 000 iO ©;
0 "0 Mea o 10 "15 =» ©
PRE POST LOW SREGLENCY ron ies DEPTH
"OUT"
"OUT" COUNTRY ADJUST TO TASTE
—[ AN r EQUALIATICA 1 CROS pour — GALA —
e Г) "о а ба ala
3 в E E в
OO: © Or ®®| © 0:0
1 E i 8.172 12 12 12
00 e, D 10 |-18 15 -18 15+ a
pe T POST LOW»: al 'ed tED 20 6560 <a PER CO € SC HIGH воен oe RATE СЕРТН
"OUT"
Tone setiings given are general and will vary according to type of guitar, type and gauges of strings, type of pickup and even type of pick.
Personal taste, playing style, and type of music greatly contribute to desired tonality.
BLOCK DIAGRAM
PRE
AMP
HIGH
INPUT
Low
INPUT
HIGH
POST
PRE & ACTIVE Ro
GAIN sn mar aio ACTIVE 6 BAND Ed.
PUSH PUSH
BRIGHT PUNCH
FWA,
LINE PRE FWH, AMP
AMP AMP
4 our IN 150 W 4 CHM
1 YAMS [TW Tas Y SPEAKER
fe "Г a
DoT
(CHORUS
DUT
LOW
OUT
This block diagram shows signal flow within the unit. In order to thercughly understand tha unit's functions, please study the block diagram carefully,
ELECTRONIC
CROSSOVER
DEPTH HATE
FREG.
PUSH
CHORUS
CHORUS
FOOT SWITCH
TNT 150 ENGINEERING SPECIFICATIONS
POWER AMPLIFIER SECTION:
RATED POWER & LOAD:
150 W RMS into 8 ohms
with DDT" compression
POWER @ CLIPPING: (TYPICALLY)
(1 kHz, 120 VAC Line)
155 W RMS into 4 ohms @ 1% THD
165 W BMS into 4 ohms @ 5% THD
FREQUENCY RESPONSE:
+0, -2 dB, 20 Hz to 30 kHz
@ 140 W RMS into 4 ohms
TOTAL HARMONIC DISTORTION:
Less than 0.2%, 100 mW to 140 W RMS,
20 Hz to 10 kHz, 4 ohms, typically below 0.1%
DDT™ DYNAMIC RANGE:
Greater than 20 dB
DDT™ MAXIMUM THD:
Below 0.6% THD for 6 dB overload
Below 1% THD for 16 dB overload
HUM & NOISE:
Greater than 90 dB below rated power
POWER CONSUMPTION: (DOMESTIC)
400 watts @ 120 VAC, 50/60 Hz
PREAMP SECTION:
The following specs are measured @ 1 kHz
with the Low, High & Graphic EQ @ 0 dB; Push Bright, Push Punch &
Push Chorus out (off); Post Gain @ 10. Nominal levels are with Pre
Gain @ 5; minimum levels are with Pre Gain @ 10
PREAMP HIGH GAIN INPUT:
Impedance: High Z, 220K ohms
Nominal Input Level: -20 dBY, 100 mV RMS
Minimum Input Level: -40 dBV, 10 mV BMS
Maximum Input Level: +10 dBV, 3 V RMS
PREAMP LOW GAIN INPUT:
Impedance: High Z, 44K ohms
Nominal Input Level: -14 dBV, 200 mV RMS
Minimum Input Level: -34 dBV, 20 mV AMS
Maximum Input Level: +16 dBV, 6 V RMS
CROSSOVER HIGH/CHORUS OUTPUT: (High Pass Signal)
Load Impedance: 1K ohms or greater
Nominal Output Level: 0 dBv, 1.0 Y AMS
(at the DDT limit of 150 W RMS output)
Maximum Output Level: +18 dBY, 8 V RMS
CROSSOVER LOW OUTPUT: (Low Pass Signal)
Load Impedance: 1K ohms or greater
Nominal Output Level: 0 dBv, 1.0 Y RMS
(at the DDT limit of 150 W RMS output)
Maximum Output Level: +18 dBY, 8 Y RMS
PREAMP OUTPUT: (Full Range Output)
Load Impedance: 1K ohms or greater
Nominal Output Level: 0 dBv, 1.0 Y RMS
(at the DDT limit of 150 W RMS output)
Maximum Output Level: +18 dBV, 8 V RMS
POWER AMP INPUT:
Impedance: High Z, 22K ohms
Designed input level: 0 dBV, 1 V RMS
(Switching jack providing preamp output
to power amp input connection when not used)
SYSTEM HUM & NOISE @ NOMINAL INPUT LEVEL:
(20 Hz to 20 kHz unweighted)
85 dB below rated power
EQUALIZATION:
Low & High: +/-15 dB @ 80 Hz & B kHz, shelving.
9 band graphic: +/- 15 dB
@ 80, 120, 180, 340, 660, 1.3K, 2.6K,
5K, 10K Peak/Notch
Push Bright: +8 dB @ 2 kHz
Push Punch: Special EQ
VARIABLE CROSSOVER:
Frequency range: 200 Hz to 2 kHz
Slope: 12 dB/Octave
CHORUS:
Controls: Depth and rate with Push Switch
Source: Crossover High Pass Output Signal
Re-Mix: With Full Range Output á High Pass Output
Footswitch: External Single Button
EXPOSURE TO EXTREMELY HIGH NOISE LEVELS MAY CAUSE A PERMANENT HEARING LOSS. INDIVIDUALS VARY CONSIDERABLY IN SUSCEPTIBILITY TO NOISE INDUCED HEARING LOSS. BUT NEARLY
DANGER
EVERYONE WILL LOSE SOME HEARING IF EXPOSED TO SUFFICIENTLY INTENSE NOISE FOR A SUFFICIENT TIME,
THE US GOVERNMENTS OCCUPATIONAL SAFETY AND HEALTH ADMINISTRATION (OSHA) HAS SPECIFIED THE FOLLOWING PERMISSIBLE NOISE LEVEL EXPOSURES
SOUND LEVEL dBA. SLOW RESPONSE
0
DURATION PER DAY IN HÔURS
B
Г.
ure referénco
PERMISSIBLE LIMITS COULD RESULT IM SO
AE o т, ca Tr ATION SYSTE 4
- FEOS. E e Supp
nformation on grounding write for our free
tor ful For MBIE 1
3. Obey all cautions in the operating instructions and on the booklet "Shack Hazard and Grounding."
back of the unit. 10. Power supply cords should always be handled carefully.
4. All operating instructions should be followed NES E PEN on power supply cords.
5. This product should not be used near water, ie a Ii arras af Tull of sing oi airans,
—
bathlub. sink, swimming pool, wel basement, atc,
This product should be located so that its position does
nol interfere with ils proper ventilation, II should mot be
placed flal against a wall or placed in a built-in enclosure
thal will impede the flow of cooling air,
. This product should not be placed near a source of heal
such as a Stóve, radiator or another heat producing
amplifier
EE
i
i
Ma
especially at the plug and ihe point where the cord exits
the unit
The power supply cord should be unplugged when the
Unit 18 to be unused lor long pends of lime
If this productis to b ted
support should be provided
rack, rear
nace
14. Care should be taken so that objects do not fall and
liquids are not spilled into tha unit through the ventilation
holas or any other openings.
15, This unit should be checked by à qualified service
technician if;
A. The por supply cord or plug has been damaged.
B. Anything has fallen or been spilled into the unit.
C. The unit does not operate correctly.
D. The uni has been dropped or the enclosure damaged
16. The user should not to attempt tó service this equipment
All service work should be done by a qualified service
techmiciarn,
THIS LIMITED WARRANTY VALID ONLY WHEN PURCHASED AND REGISTERED IN THE UNITED STATES OR CANADA. ALL EXPORTED PRODUCTS ARE SUBJECT TO
WARRANTY AND SERVICES TO BE SPECIFIED AND PROVIDED BY THE AUTHORIZED DISTRIBUTOR FOR EACH COUNTRY.
Ces clauses de garantie ne sont vaiables qu'aux Etats-Unis et au Canada. Dans tous les autres pays, les clauses de garantie et de maintenance sont fixees parle distributeur national et
assuree par lul selon la legislation en vigueur.
Diese Garantie ist nur in den USA and Kanada gultig. Alle Export-Produkte sind der Garantie und dem Service des Importeurs des jewelligen Landes unterworten.
Esta garantia es vallda solamente cuando el producto es comprado en E.U. continentales o en Canada. Todos los productos que sean comprados enel extranjero, estan sujetos a las
garantias y servicio que cada distribuidor autorizado determine y ofrezca en los diferentes paises.
ONE-YEAR LIMITED WARRANTY/REMEDY
PEAVEY ELECTRONICS CORPORATION ("PEAVEY") warrants this product, EXCEPT for covers, footswitches, patchcords, tubes and meters, to be free from defects in material
and workmanship for a period of ane (1) year from date of purchase, PROVIDED, however that this limited warranty is extended only to the original retail purchaser and is subject to the
conditions, exclusions and limitations hereinafter set forth:
PEAVEY 90-DAY LIMITED WARRANTY ON TUBES AND METERS
If this product contains tubes or meters, Peavey warrants the tubes or meters contained in the product to be free from defects in material and workmanship for a period of ninety (90)
days from date of purchase; PROVIDED, however, that this limited warranty is extended only to the original retail purchaser and is also subject to the conditions, exclusions and
limitations hereinafter set forth.
CONDITIONS, EXCLUSIONS AND LIMITATIONS OF LIMITED WARRANTIES
These limited warranties shall be void and of no effect if:
a. The first purchase of the product is for the purpose of resale; or
b. The original retail purchase is not made from an AUTHORIZED PEAVEY DEALER; or
с. The product has been damaged by accident or unreasonable use, neglect, improper service or maintenance, or other causes not arising out of defects in material or
workmanship; or
d. The serial number affixed to the product is altered, defaced or removed.
In the event of a defect in material and/or workmanship covered by this limited warranty, Peavey will;
a. In the case of tubes or meters, replace the defective component without charge;
b. In other covered cases (i.e., cases involving anything other than covers, footswitches, patchcords, tubes or meters), repair the defect in material or workmanship or replace
the product, at Peavey's option;
and provided, however, that, in any case, all costs of shipping, if necessary, are paid by you, the purchaser.
THE WARRANTY REGISTRATION CARD SHOULD BE ACCURATELY COMPLETED AND MAILED TO AND RECEIVED BY PEAVEY WITHIN FOURTEEN (14) DAYS FROM THE
DATE OF YOUR PURCHASE.
In order to obtain service under these warranties, you must:
a. Bring the defective item to any AUTHORIZED PEAVEY DEALER or AUTHORIZED PEAVEY SERVICE CENTER and present therewith the ORIGINAL PROOF OF
PURCHASE supplied to you by the AUTHORIZED PEAVEY DEALER in connection with your purchase from him of this product.
If the DEALER or SERVICE CENTER is unable to provide the necessary warranty service you will be directed to the nearest other PEAVEY AUTHORIZED DEALER or
AUTHORIZED PEAVEY SERVICE CENTER which can provide such service,
OR
b. Ship the defective item, prepaid, to:
PEAVEY ELECTRONICS CORPORATION
International Service Center
Highway 80 East
MERIDIAN, MS 39301
including therewith a complete, detailed description of the problem, together with a legible copy of the original PROOF OF PURCHASE and a complete return address. Upon
Peavey's receipt of these items:
If the defect is remedial under these limited warranties and the other terms and conditions expressed herein have been complied with, Peavey will provide the necessary
warranty service to repair or replace the product and will return it, FREIGHT COLLECT, to you, the purchaser.
Peavey's liability to the purchaser for damages from any cause whatsoever and regardless of the form of action, including negligence, is limited to the actual damages up to the
greater of $500.00 or an amount equal to the purchase price of the product that caused the damage or that is the subject of oris directly related to the cause of action. Such purchase
price will be that in effect for the specific product when the cause of action arose. This limitation of liability will not apply to claims for personal injury or damage to real property or
tangible personal property allegedly caused by Peavey's negligence. Peavey does not assume liability for personal injury or property damage arising out of or caused by a non-Peavey
alteration or attachment, nor does Peavey assume any responsibility for damage to interconnected non-Peavey equipment that may result from the normal functioning and
maintenance of the Peavey equipment.
UNDER NO CIRCUMSTANCES WILL PEAVEY BE LIABLE FOR ANY LOST PROFITS, LOST SAVINGS, ANY INCIDENTAL DAMAGES OR ANY CONSEQUENTIAL DAMAGES
ARISING OUT OF THE USE OR INABILITY TO USE THE PRODUCT, EVEN IF PEAVEY HAS BEEN ADVISED OF THE POSSIBILITY OF SUCH DAMAGES.
THESE LIMITED WARRANTIES ARE IN LIEU OF ANY AND ALL WARRANTIES, EXPRESS OR IMPLIED, INCLUDING, BUT NOT LIMITED TO, THE IMPLIED WARRANTIES OF
MERCHANTABILITY AND FITNESS FOR A PARTICULAR USE; PROVIDED, HOWEVER, THAT IF THE OTHER TERMS AND CONDITIONS NECESSARY TO THE EXISTENCE OF
THE EXPRESS, LIMITED WARRANTIES, AS HEREINABOVE STATED, HAVE BEEN COMPLIED WITH, IMPLIED WARRANTIES ARE NOT DISCLAIMED DURING THE
APPLICABLE ONE-YEAR OR NINETY-DAY PERIOD FROM DATE OF PURCHASE OF THIS PRODUCT.
SOME STATES DO NOT ALLOWLIMITATION ON HOW LONG AN IMPLIED WARRANTY LASTS, ORTHEEXCLUSION ORLIMITATION OF INCIDENTAL OR CONSEQUENTIAL
DAMAGES, SO THE ABOVE LIMITATIONS OR EXCLUSIONS MAY NOT APPLY TO YOU. THESE LIMITED WARRANTIES GIVE YOU SPECIFIC LEGAL RIGHTS, AND YOU MAY
ALSO HAVE OTHER RIGHTS WHICH MAY VARY FROM STATE TO STATE.
THESE LIMITED WARRANTIES ARE THE ONLY EXPRESS WARRANTIES ON THIS PRODUCT, AND NO OTHER STATEMENT, REPRESENTATION, WARRANTY OR
AGREEMENT BY ANY PERSON SHALL BE VALID OR BINDING UPON PEAVEY.
In the event of any modification or disclaimer of express or implied warranties, or any limitation of remedies, contained herein conflicts with applicable law, then such modification,
disclaimer or limitation, as the case may be, shall be deemed to be modified to the extent necessary to comply with such law.
Your remedies for breach of thease warranties are limited to those remedies provided herein and Peavey Electronics Corporation gives this limited warranty only with respect to
equipment purchased in the United States of America.
INSTRUCTIONS — WARRANTY REGISTRATION CARD
1. Mail the completed WARRANTY REGISTRATION CARD to:
PEAVEY ELECTRONICS CORPORATION
POST OFFICE BOX 2898
MERIDIAN, MISSISSIPPI 39302-2898
a. Keep the PROOF OF PURCHASE. In the event warranty service is required during the warranty period, you will need this document. There will be no identification card
issued by Peavey Electronics Corporation.
2. IMPORTANCE OF WARRANTY REGISTRATION CARDS AND NOTIFICATION OF CHANGES OF ADDRESS:
a. Completion and mailing of WARRANTY REGISTRATION CARDS — Should notification become necessary for any condition that may require correction, the REGISTRATION
CARD will help ensure that you are contacted and properly notified.
b. Notice of address changes — If you move from the address shown on the WARRANTY REGISTRATION CARD, you should notify Peavey of the change of address so as to
facilitate your receipt of any bulletins or other forms of notification which may become necessary in connection with any condition that may require dissemination of
information or correction.
3. You may contact Peavey directly by telephoning (601) 483-5365,
4. Please have the Peavey product name and serial number available when communicating with Peavey Customer Service.
Features and specifications are subject to change without notice.
PEAVEY ELECTRONICS CORPORATION 711 A Street/Meridian, MS 39302-2898/U.S.A./(601) 483-5365/Telex: 504115/Fax: 484-4278
©1989 #80300755 Printed in U.S.A.