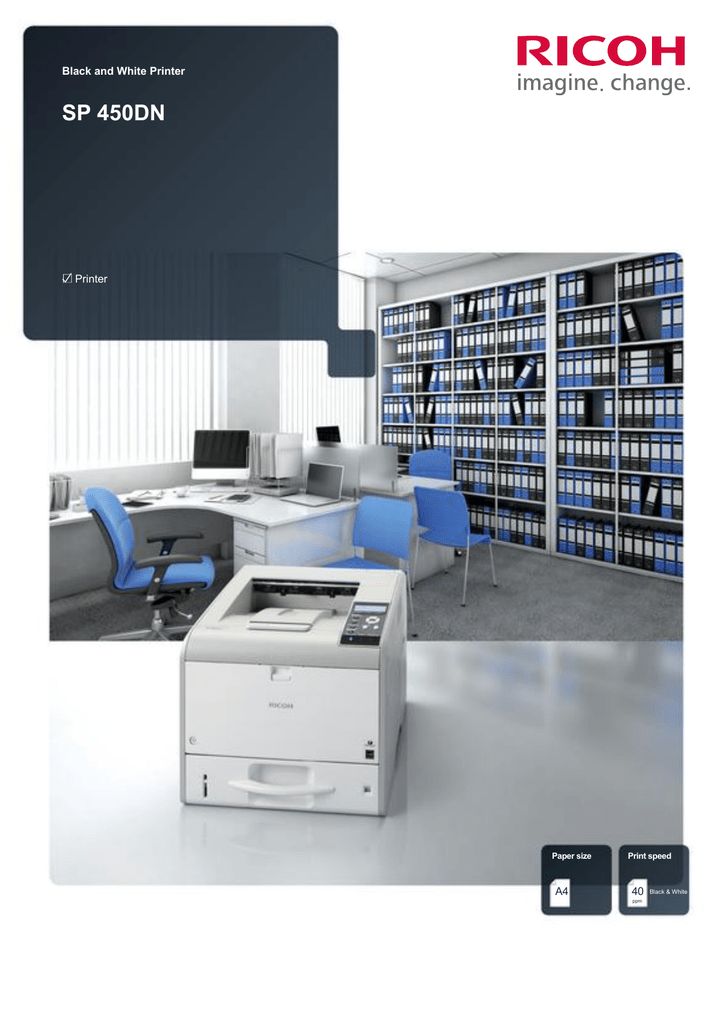 Black and White Printer
SP 450DN
Printer
Paper size
A4
Print speed
40
ppm
Black & White
The perfect, compact solution for challenging
needs.
You demand high-quality in everything you do. The SP 450DN black and white A4 device will meet your
business needs, enhance productivity, help you monitor print usage – and so much more. Its 40ppm
output at 1,200 x 1,200 dpi is only the start of its capabilities, and it features a range of technology in a
small footprint that's designed to be durable, flexible and reliable. And its 600,000 lifetime prints mean
you can meet high-demand with first-class output, all with a lower up-front cost.
Offers Streamline NX support, a suite of integrated, scalable document management applications and tools
Supports mobile printing via AirPrint or Smart Device Print&Scan application
Handles standard office paper and thick paper types via any tray
ECO friendly, low power consumption through Smart LED technology
User-friendly with easy-to-read 4-line LED display panel
More options. More capabilities.
Compact, yet full of functionality.
Small footprint. Quality output.
Our technology is designed to make every function
you need easily accessible. And we've designed
this device with your goals in mind. The 4 line LED
display panel gives you clear instructions and visual
prompts, so you can focus on the task in-hand, and
just get the job done.
Thanks to its LED print-head, this machine is more
compact than devices with traditional laser
technology. You can put it in a corner, or on a desk
of your company or home office and it will take up
minimal space. It can print on both thin and thick
paper types, and print from any tray. Low-power
consumption means your costs can be lower and
it's ECO friendly too.
Seamless mobile printing is here.
You can print images, documents and more using
the Ricoh Smart Device Print&Scan app from your
Apple iPhone, iPad and Android Smart Devices. All
you need to do is download the app and be on the
same network. Or if you're on iOS, you can print
without installing the app too. It's really that simple.
Optimise your workflow with
Streamline NX.
This device can also work with Streamline NX, a
powerful suite of scalable, integrated document
management applications and tools. The
combination of our hardware and software can help
you realise operational cost savings and also help
you support security, compliance and sustainability
objectives.
SP 450DN
MAIN SPECIFICATIONS
Drive (320 GB), RAM (1,024 MB), Bi-directional IEEE 1284, Wireless LAN
(IEEE 802.11a/b/g/n), VM Card, Netware
GENERAL
Technology:
LED
Warm-up time:
17 seconds
First output speed:
5 seconds
CONSUMABLES
Print speed:
40 pages per minute
Starter toner:
CPU:
RM7035C-533L 533MHz
PCU yield:
Black: 20,000 prints
Memory:
Standard: 512 MB
Maximum: 1,024 MB
Toner cartridge (regular yield):
Black: 2,500 prints
Toner cartridge (high yield):
Black: 5,000 prints
HDD:
Option: 320 GB
Toner cartridge (ultra high yield): Black: 10,000 prints
Duty cycle:
150,000 prints per month
Duplex:
Yes
Consumable yield measuring
method ISO/IEC 19752
Dimensions (W x D x H):
370 x 392 x 306 mm
Weight:
15.6 kg
Power source:
220 - 240 V, 50/60 Hz
Black: 3,000 prints
For availability of models, options and software, please consult your
local supplier.
PRINTER
Printer language:
Standard: PCL5e, PCL6, Adobe®
PostScript® 3™, PDF Direct from
Adobe® , Mediaprint (JPEG/TIFF)
Print resolution:
1,200 x 1,200 dpi
Fonts:
PCL (45 fonts, International fonts: 13
Intellifonts), PS3 (Emulation) (136
fonts)
Interface:
Standard: USB 2.0, SD slot, USB Host
I/F, Gigabit Ethernet
Option: Bi-directional IEEE 1284,
Wireless LAN (IEEE 802.11a/b/g/n)
Network protocol:
TCP/IP, IPX/SPX (option)
Windows® environments:
Windows® Vista, Windows® 7,
Windows® 8, Windows® 8.1,
Windows® 10, Windows® Server
2008, Windows® Server 2012
Mac OS environments:
Macintosh OS X v10.5 or later
UNIX environments:
UNIX Sun® Solaris: 9, 10
HP-UX: 11.x, 11i v2, 11i v3
SCO OpenServer: 5.0.7, 6.0
RedHat® Linux Enterprise: 4, 5, 6
IBM® AIX: 5L v5.3, 5L v6.1, 5L v7.1
PAPER HANDLING
Recommended paper size:
A4, A5, A6, B5, B6
Paper input capacity:
Standard: 600 sheets
Maximum: 1,600 sheets
Paper output capacity:
Maximum: 250 sheets
Paper weight:
Paper tray(s): 52 - 162 g/m²
Media capability:
Plain paper, Thick paper, Recycled
paper, Colour paper, Letterhead, Preprinted paper, Thin paper, Special
paper, Envelopes
ECOLOGY
Power consumption:
Maximum: 1,110 W
Sleep mode: Less than 0.56 W
TEC (Typical Electricity Consumption):
1.7 Wh
OPTIONS
1 x 250-sheet paper tray, 2 x 250-sheet paper tray, 1 x 500-sheet paper
tray, 2 x 500-sheet paper tray, Medium cabinet, High cabinet, Hard Disk
www.ricoh-europe.com
ISO9001 certified, ISO14001
certified, ISO27001 certified
All brand and/or product
names are trademarks of their
respective owners.
Specifications and external
appearance are subject to
change without notice. The
colour of the actual product
may vary from the colour
shown in the brochure. The
images in this brochure are
not real photographs and
slight differences in detail
might appear.
Copyright © 2017 Ricoh
Europe PLC. All rights
reserved. This brochure, its
contents and/or layout may
not be modified and/or
adapted, copied in part or in
whole and/or incorporated
into other works without the
prior written permission of
Ricoh Europe PLC.