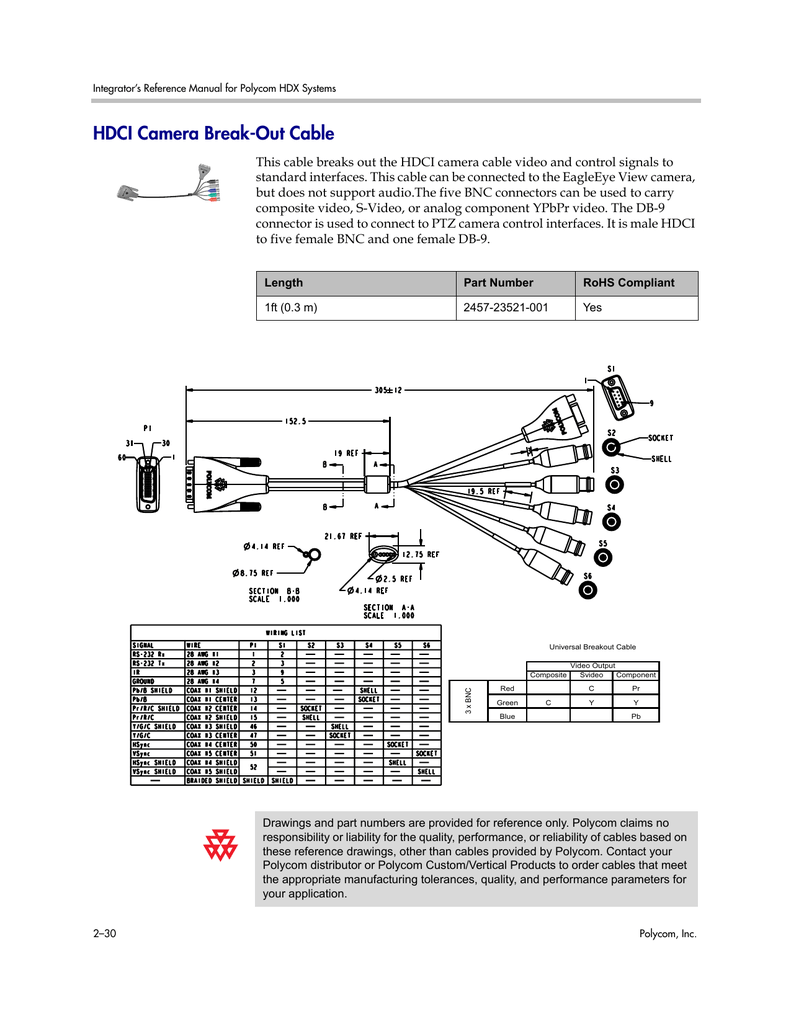 Integrator's Reference Manual for Polycom HDX Systems
HDCI Camera Break-Out Cable
This cable breaks out the HDCI camera cable video and control signals to
standard interfaces. This cable can be connected to the EagleEye View camera,
but does not support audio.The five BNC connectors can be used to carry
composite video, S-Video, or analog component YPbPr video. The DB-9
connector is used to connect to PTZ camera control interfaces. It is male HDCI
to five female BNC and one female DB-9.
Length
Part Number
RoHS Compliant
1ft (0.3 m)
2457-23521-001
Yes
Universal Breakout Cable
3 x BNC
Composite
Red
Green
Blue
Video Output
Svideo
Component
C
C
Y
Pr
Y
Pb
Drawings and part numbers are provided for reference only. Polycom claims no
responsibility or liability for the quality, performance, or reliability of cables based on
these reference drawings, other than cables provided by Polycom. Contact your
Polycom distributor or Polycom Custom/Vertical Products to order cables that meet
the appropriate manufacturing tolerances, quality, and performance parameters for
your application.
2–30
Polycom, Inc.

* Your assessment is very important for improving the work of artificial intelligence, which forms the content of this project