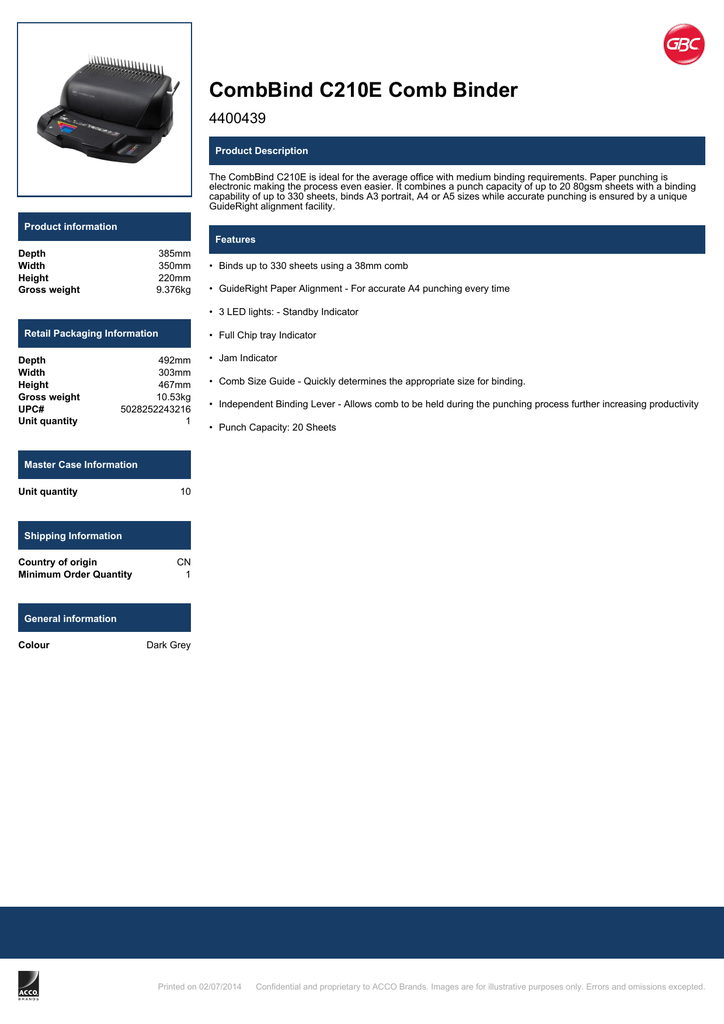 CombBind C210E Comb Binder
4400439
Product Description
The CombBind C210E is ideal for the average office with medium binding requirements. Paper punching is
electronic making the process even easier. It combines a punch capacity of up to 20 80gsm sheets with a binding
capability of up to 330 sheets, binds A3 portrait, A4 or A5 sizes while accurate punching is ensured by a unique
GuideRight alignment facility.
Product information
Features
Depth
Width
Height
Gross weight
385mm
350mm
220mm
9.376kg
• Binds up to 330 sheets using a 38mm comb
• GuideRight Paper Alignment - For accurate A4 punching every time
• 3 LED lights: - Standby Indicator
Retail Packaging Information
Depth
Width
Height
Gross weight
UPC#
Unit quantity
• Full Chip tray Indicator
492mm
303mm
467mm
10.53kg
5028252243216
1
• Jam Indicator
• Comb Size Guide - Quickly determines the appropriate size for binding.
• Independent Binding Lever - Allows comb to be held during the punching process further increasing productivity
• Punch Capacity: 20 Sheets
Master Case Information
Unit quantity
10
Shipping Information
Country of origin
Minimum Order Quantity
CN
1
General information
Colour
Dark Grey
Printed on 02/07/2014
Confidential and proprietary to ACCO Brands. Images are for illustrative purposes only. Errors and omissions excepted.

* Your assessment is very important for improving the work of artificial intelligence, which forms the content of this project