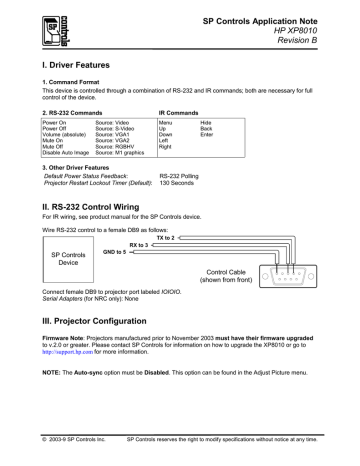 SP Controls Application Note
HP XP8010
Revision B
I. Driver Features
1. Command Format
This device is controlled through a combination of RS-232 and IR commands; both are necessary for full
control of the device.
2. RS-232 Commands
IR Commands
Power On
Power Off
Volume (absolute)
Mute On
Mute Off
Disable Auto Image
Menu
Up
Down
Left
Right
Source: Video
Source: S-Video
Source: VGA1
Source: VGA2
Source: RGBHV
Source: M1 graphics
3. Other Driver Features
Default Power Status Feedback:
Projector Restart Lockout Timer (Default):
Hide
Back
Enter
RS-232 Polling
130 Seconds
II. RS-232 Control Wiring
For IR wiring, see product manual for the SP Controls device.
Wire RS-232 control to a female DB9 as follows:
TX to 2
RX to 3
SP Controls
Device
GND to 5
Control Cable
(shown from front)
Connect female DB9 to projector port labeled IOIOIO.
Serial Adapters (for NRC only): None
III. Projector Configuration
Firmware Note: Projectors manufactured prior to November 2003 must have their firmware upgraded
to v.2.0 or greater. Please contact SP Controls for information on how to upgrade the XP8010 or go to
http://support.hp.com for more information.
NOTE: The Auto-sync option must be Disabled. This option can be found in the Adjust Picture menu.
© 2003-9 SP Controls Inc.
SP Controls reserves the right to modify specifications without notice at any time.

* Your assessment is very important for improving the work of artificial intelligence, which forms the content of this project