Gregg Catalogue Page G064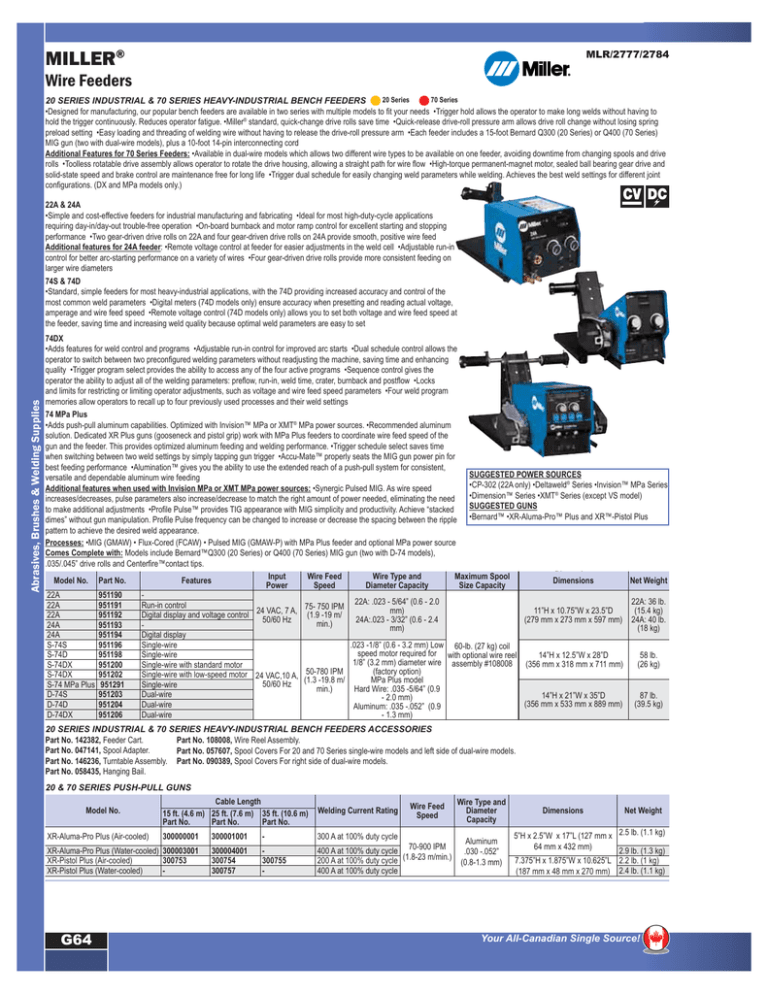 MILLER®
MLR/2777/2784
Wire Feeders
20 Series
70 Series
20 SERIES INDUSTRIAL & 70 SERIES HEAVY-INDUSTRIAL BENCH FEEDERS
•Designed for manufacturing, our popular bench feeders are available in two series with multiple models to fit your needs •Trigger hold allows the operator to make long welds without having to
hold the trigger continuously. Reduces operator fatigue. •Miller® standard, quick-change drive rolls save time •Quick-release drive-roll pressure arm allows drive roll change without losing spring
preload setting •Easy loading and threading of welding wire without having to release the drive-roll pressure arm •Each feeder includes a 15-foot Bernard Q300 (20 Series) or Q400 (70 Series)
MIG gun (two with dual-wire models), plus a 10-foot 14-pin interconnecting cord
Additional Features for 70 Series Feeders: •Available in dual-wire models which allows two different wire types to be available on one feeder, avoiding downtime from changing spools and drive
rolls •Toolless rotatable drive assembly allows operator to rotate the drive housing, allowing a straight path for wire flow •High-torque permanent-magnet motor, sealed ball bearing gear drive and
solid-state speed and brake control are maintenance free for long life •Trigger dual schedule for easily changing weld parameters while welding. Achieves the best weld settings for different joint
configurations. (DX and MPa models only.)
Abrasives, Brushes & Welding Supplies
22A & 24A
•Simple and cost-effective feeders for industrial manufacturing and fabricating •Ideal for most high-duty-cycle applications
requiring day-in/day-out trouble-free operation •On-board burnback and motor ramp control for excellent starting and stopping
performance •Two gear-driven drive rolls on 22A and four gear-driven drive rolls on 24A provide smooth, positive wire feed
Additional features for 24A feeder: •Remote voltage control at feeder for easier adjustments in the weld cell •Adjustable run-in
control for better arc-starting performance on a variety of wires •Four gear-driven drive rolls provide more consistent feeding on
larger wire diameters
74S & 74D
•Standard, simple feeders for most heavy-industrial applications, with the 74D providing increased accuracy and control of the
most common weld parameters •Digital meters (74D models only) ensure accuracy when presetting and reading actual voltage,
amperage and wire feed speed •Remote voltage control (74D models only) allows you to set both voltage and wire feed speed at
the feeder, saving time and increasing weld quality because optimal weld parameters are easy to set
74DX
•Adds features for weld control and programs •Adjustable run-in control for improved arc starts •Dual schedule control allows the
operator to switch between two preconfigured welding parameters without readjusting the machine, saving time and enhancing
quality •Trigger program select provides the ability to access any of the four active programs •Sequence control gives the
operator the ability to adjust all of the welding parameters: preflow, run-in, weld time, crater, burnback and postflow •Locks
and limits for restricting or limiting operator adjustments, such as voltage and wire feed speed parameters •Four weld program
memories allow operators to recall up to four previously used processes and their weld settings
74 MPa Plus
•Adds push-pull aluminum capabilities. Optimized with Invision™ MPa or XMT® MPa power sources. •Recommended aluminum
solution. Dedicated XR Plus guns (gooseneck and pistol grip) work with MPa Plus feeders to coordinate wire feed speed of the
gun and the feeder. This provides optimized aluminum feeding and welding performance. •Trigger schedule select saves time
when switching between two weld settings by simply tapping gun trigger •Accu-Mate™ properly seats the MIG gun power pin for
best feeding performance •Alumination™ gives you the ability to use the extended reach of a push-pull system for consistent,
SUGGESTED POWER SOURCES
versatile and dependable aluminum wire feeding
•CP-302 (22A only) •Deltaweld® Series •Invision™ MPa Series
Additional features when used with Invision MPa or XMT MPa power sources: •Synergic Pulsed MIG. As wire speed
•Dimension™
Series •XMT® Series (except VS model)
increases/decreases, pulse parameters also increase/decrease to match the right amount of power needed, eliminating the need
SUGGESTED
GUNS
to make additional adjustments •Profile Pulse™ provides TIG appearance with MIG simplicity and productivity. Achieve "stacked
dimes" without gun manipulation. Profile Pulse frequency can be changed to increase or decrease the spacing between the ripple •Bernard™ •XR-Aluma-Pro™ Plus and XR™-Pistol Plus
pattern to achieve the desired weld appearance.
Processes: •MIG (GMAW) • Flux-Cored (FCAW) • Pulsed MIG (GMAW-P) with MPa Plus feeder and optional MPa power source
Comes Complete with: Models include Bernard™Q300 (20 Series) or Q400 (70 Series) MIG gun (two with D-74 models),
.035/.045" drive rolls and Centerfire™contact tips.
Dimensions
Input
Wire Feed
Wire Type and
Maximum Spool
Model No. Part No.
Features
Dimensions
Net Weight
Power
Speed
Diameter Capacity
Size Capacity
22A
951190
5/64" (0.6 - 2.0
22A: 36 lb.
22A
951191
Run-in control
750 IPM 22A: .023 -mm)
24 VAC, 7 A, 7511"H x 10.75"W x 23.5"D
(15.4 kg)
(1.9
-19
m/
22A
951192
Digital display and voltage control
50/60 Hz
24A:.023 - 3/32" (0.6 - 2.4
(279 mm x 273 mm x 597 mm) 24A: 40 lb.
min.)
24A
951193
mm)
(18 kg)
24A
951194
Digital display
S-74S
951196
Single-wire
.023 -1/8" (0.6 - 3.2 mm) Low 60-lb. (27 kg) coil
speed motor required for with optional wire reel
S-74D
951198
Single-wire
14"H x 12.5"W x 28"D
58 lb.
1/8" (3.2 mm) diameter wire assembly #108008
(356 mm x 318 mm x 711 mm)
(26 kg)
S-74DX
951200
Single-wire with standard motor
50-780
IPM
(factory
option)
S-74DX
951202
Single-wire with low-speed motor 24 VAC,10 A,
-19.8 m/
MPa Plus model
50/60 Hz (1.3min.)
S-74 MPa Plus 951291
Single-wire
Hard Wire: .035 -5/64" (0.9
D-74S
951203
Dual-wire
14"H x 21"W x 35"D
87 lb.
- 2.0 mm)
(356 mm x 533 mm x 889 mm) (39.5 kg)
D-74D
951204
Dual-wire
Aluminum: .035 -.052" (0.9
D-74DX
951206
Dual-wire
- 1.3 mm)
20 SERIES INDUSTRIAL & 70 SERIES HEAVY-INDUSTRIAL BENCH FEEDERS ACCESSORIES
Part No. 142382, Feeder Cart.
Part No. 108008, Wire Reel Assembly.
Part No. 047141, Spool Adapter.
Part No. 057607, Spool Covers For 20 and 70 Series single-wire models and left side of dual-wire models.
Part No. 146236, Turntable Assembly. Part No. 090389, Spool Covers For right side of dual-wire models.
Part No. 058435, Hanging Bail.
20 & 70 SERIES PUSH-PULL GUNS
Model No.
XR-Aluma-Pro Plus (Air-cooled)
Cable Length
15 ft. (4.6 m) 25 ft. (7.6 m) 35 ft. (10.6 m)
Part No.
Part No.
Part No.
Welding Current Rating
300000001
-
300 A at 100% duty cycle
300755
-
400 A at 100% duty cycle 70-900 IPM
200 A at 100% duty cycle (1.8-23 m/min.)
400 A at 100% duty cycle
XR-Aluma-Pro Plus (Water-cooled) 300003001
XR-Pistol Plus (Air-cooled)
300753
XR-Pistol Plus (Water-cooled)
-
G64
300001001
300004001
300754
300757
Wire Feed
Speed
Wire Type and
Diameter
Capacity
Aluminum
.030 -.052"
(0.8-1.3 mm)
Dimensions
Net Weight
5"H x 2.5"W x 17"L (127 mm x 2.5 lb. (1.1 kg)
64 mm x 432 mm)
2.9 lb. (1.3 kg)
7.375"H x 1.875"W x 10.625"L 2.2 lb. (1 kg)
(187 mm x 48 mm x 270 mm) 2.4 lb. (1.1 kg)
Your All-Canadian Single Source!

* Your assessment is very important for improving the work of artificial intelligence, which forms the content of this project