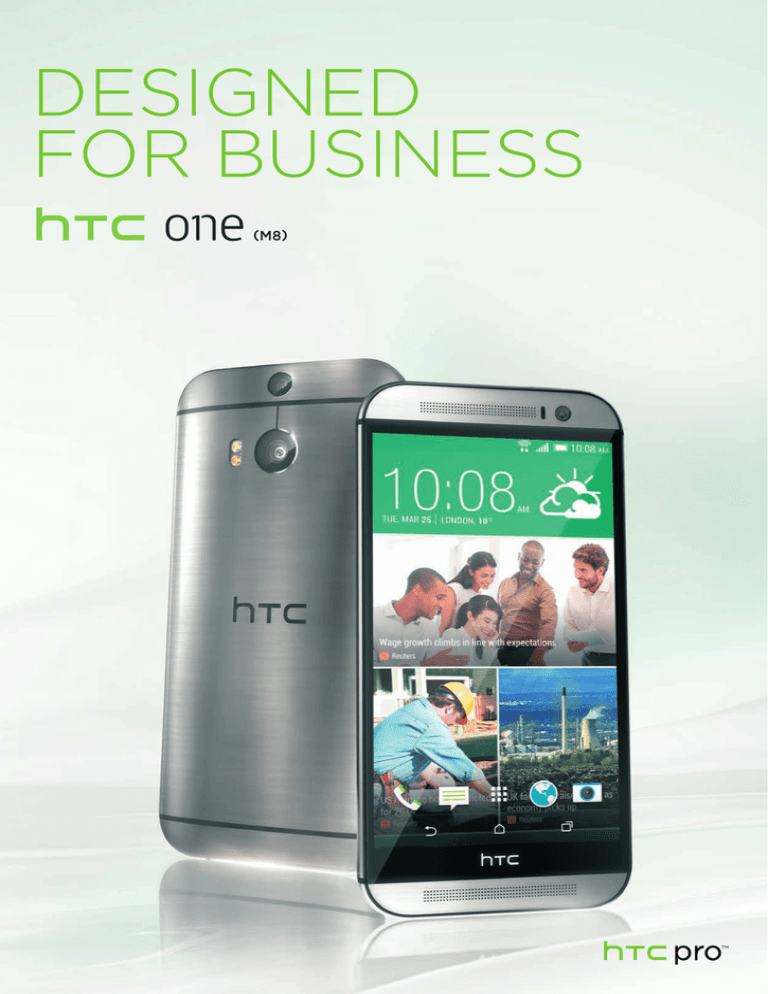 DESIGNED
FOR BUSINESS
ALL ABOUT
YOUR
BUSINESS
The HTC One (M8) is the perfect business partner with intuitive
features designed to help you manage the multiple aspects of your
business life. From a 5" Full HD screen that makes reviewing
documents and emails a pleasure, to a home screen that delivers
the latest news as it happens – you'll be ready for any working day.
WHAT THE HTC ONE (M8) CAN DO
FOR YOUR BUSINESS
DESIGNED FOR BUSINESS
The beautifully designed HTC One (M8) has been packed
with features like a 5" Full HD 1080p screen to help you
make the most of your business. The full metal body has
been built for the demanding businessperson and fits
perfectly in the palm of your hand.
(C)2014 HTC Corporation. All Rights Reserved. HTC, the HTC logo, HTC One, the HTC One logo, HTC BlinkFeed, HTC BoomSound, HTC UltraPixel, HTC Connect, HTC Sense, HTC Sense TV, Dimension
Plus, Motion Launch, UFocus, VideoPic, HTC Dot View, HTC Fetch and Zoe and other HTC product and service names referenced are trademarks or service marks of HTC Corporation in the United States
and/or other countries. All other trademarks are the property of their respective owners and their use herein does not indicate an affiliation with, association with, or endorsement of or by HTC
Corporation. Features are subject to change. The downloading, republication, retransmission, reproduction or any other use of any images used in this brochure is prohibited in all circumstances.
KEEPING YOU AT THE TOP
OF YOUR GAME
WITH HTC BLINKFEED™
Keeping your finger on the pulse of the latest business
news is as simple as turning your phone on. With HTC
BlinkFeed your home screen will be filled with all the
news and trending topics most relevant to you and
your business. In addition to having the latest business
news on your home screen, you can add your company
website or Intranet content to HTC BlinkFeed keeping
you informed and on top of your game*.
If you're pushed for time, simply save HTC BlinkFeed
articles to your HTC Reading List and read them offline
when you have a quiet moment. And as you travel to
your international destination, catch up on the local
news before you arrive with International editions.
*Your company content should integrate with HTC BlinkFeed SDK
categorise, find, view and edit emails, messages, calendar
entries, tasks, notes and documents. And working with
your phone is seamless with comprehensive Microsoft
Exchange features and policy support. On top of that,
you can print anything from anywhere wirelessly with
Google Cloud Print.
SECURITY & MANAGEMENT
The HTC One (M8) is an HTCPro Certified phone, which
means it comes with 256-bit encryption on its internal
memory and microSD™ card. This makes it perfect for
businesses, even those in highly regulated markets.
The phone has built-in support for device, application
and content management, secure authentication, access
protection, Virtual Private Network (VPN), anti-virus
and anti-malware solutions. All of which make the
HTC One (M8) the perfect partner to help keep your
business firing securely on all cylinders.
EASY CONTROL
DUAL PERSONA
The HTC One (M8) handles your business needs
quickly and intuitively. With Motion Launch™ just
swipe the screen to access your home screen,
HTC BlinkFeed, last application opened or to make
a voice call. You can also simply lift the phone to
your ear to answer a call. No buttons to press. Just
responsive business handling when you need it most.
Keep your private and business lives separate on one
phone. With the new HTC One (M8) you'll enjoy
completely separate personal and business profiles,
which you can switch between effortlessly*.
GREAT SOUND FOR
CONFERENCE CALLING
With HTC BoomSound™ and a high definition 5MP
wide angle front facing camera, staying in touch with
your clients by video conference will be high quality,
smooth and seamless. Two stereo speakers cleverly
placed on the front of the phone that combine with
dedicated amplifiers deliver balanced, powerful sound
and clear vocals.
PRODUCTIVITY
Experience something quite different from native
Android with HTC Pro™ Productivity. Being productive
is about more than carrying your business information
around with you. It's about how you interact with
it. That's why the HTC One (M8) makes it easy to
*Powered by VMware / AirWatch
SMART POWER
MANAGEMENT
The 2600 mAh battery lasts up to 40%* longer, giving
you plenty of time to make calls, view emails and get
through tasks. And with a new Extreme power saving
mode, your phone delivers 60 hours of standby time
at 20% power - perfect when there's no plug around.
*Compared with HTC One
SWITCH TO HTC
Moving to the HTC One (M8) couldn't be easier. With HTC
you can move all your personal data, contacts, messages,
photos, videos and apps to your new phone quickly and
easily whether you currently use an Android phone or an
iPhone. And we have just the right solution whether you
use BlackBerry or Nokia.
This is what you can take across from your old Android
to HTC One (M8) via the HTC Transfer Tool:
• Contacts, settings, numbers
• Photos, videos, complete gallery
• Music library
• SMS
• Bookmarks
• Calendar
This is what you can take across from your old iPhone
to HTC One (M8) via HTC Sync Manager:
• iTunes music
• Contacts, settings, numbers
• Photos, videos, complete gallery
• Wallpaper
• SMS
• Bookmarks
• Calendar
• Apps
phone to see the picture from a different angle, cut
someone from one photo and add them to another,
play back a video at variable speeds or even match
images based on colour, shape or texture. Showing
your business products or services in a different light
has never been easier.
ZOE™
Automatically demo your products and business
services in a unique, striking way with Zoe™. Choose
the pictures and videos you want to combine, select
a theme, add a soundtrack* and watch a mini movie
of business play out.
*Do not reproduce, distribute, or otherwise use copyrighted materials in
connection with the Zoe features unless you have secured the copyright
owner's permission first. All content posted via the Zoe app is public and
its use cannot be restricted.
PROCESSOR
Other phones to HTC One (M8) via Bluetooth®:
Use Bluetooth to transfer contacts from your
old Windows, BlackBerry, or other phone to your
new HTC phone with Bluetooth Transfer.
DUO CAMERA
Whether you're taking photos of stock you're
auditing or snaps of a restaurant you're reviewing,
you can take brilliant day or night time shots thanks
to HTC UltraPixel™ technology. It's designed to
capture just the right amount of light in different
conditions. Because the Duo Camera captures depth
in every photo, you'll get greater focus and control
for better photos at work.
PROFESSIONAL
PHOTO EFFECTS
The Duo Camera takes different 'layers' of the same
shot so you can do more with the photo afterwards.
Choose where to focus, soften backgrounds, tilt your
Your business moves at speed. And so does the HTC
One (M8). The Qualcomm® Snapdragon™ 801 quad-core
processor makes just about everything run smoother at
breathtaking speeds, while efficiently using your battery,
so you can get more done in your work day.
PLENTY OF SPACE
The HTC One (M8) comes with an amazing amount
of space. With 16GB internal memory, a slot for a 128GB
microSD™ card and an offer for a total of 65GB Google
Drive cloud storage*, you're unlikely to run out of space
for your documents, photos, videos, music and business
apps any time soon.
*Phone comes with 16GB internal storage, a slot for a microSD card up to 128GB
(card not included). Google Drive comes with free 15GB storage standard.
Ownership of the HTC One (M8) makes the purchaser eligible for an additional
50GB, free for two years. Must redeem Google Drive offer before 1/1/2016.
Fees and/or other terms may apply after offer expires. Google Drive is not
provided by or associated with HTC Corporation.
ACCESSORIES
HTC DOT VIEW™
(HC M100)
The HTC Dot View™ case makes
business more convenient by
letting you answer calls by swiping the
case or lifting it to your ear – no need
to open it. You can also see email
notifications, reminders, weather
updates and more.
RANGE OF
PROTECTIVE CASES
HEADSETS, HANDSETS
AND CONFERENCE CASES
• Support for Bluetooth stereo headphones, wired stereo headphones and
Bluetooth conference speaker.
• Make and receive calls using the Bluetooth-connected HTC Mini+ (BL R120)
handset with access to contacts, call history, calendar events, text messages
and email alerts.
• Output your HTC One (M8) display to any TV or projector with an HDMI
connection using HTC Media Link HD (DG H300).
• HTC One (M8) Flip Case (HC V941)
snugly snaps on to the back of
your HTC One (M8) handset
providing solid protection of
your phone's screen and body.
• HTC One (M8) Double Dip
hard shell (HC C940) – provides
full wrap-around protection, safe
guarding your handset against
bumps and scrapes.
• Support for rugged working
environments with third party
accessory partners including
Belkin, Mophie, Otterbox and
more.
TROUBLE
SHOOTING CASES
*Available in a range of colours
• HTC Guide is a new self-troubleshooting app with tips and a help feature
to quickly identify any faults on your phone.
• LogMeIn is pre-installed allowing IT to take control remotely for faster,
better fault diagnosis.
HANDSET SPECIFICATIONS
STAY
CONNECTED
IN CAR
HTC One (M8)
Platform
Android™ with HTC Sense™
CPU
Qualcomm® Snapdragon™ 801, quad-core CPUs
Size
146.36 x 70.6 x 9.35 mm
Weight
160g
SIM card type
nano SIM
Network1
2G/2.5G - GSM/GPRS/EDGE:
• 850/900/1800/1900 MHz
3G - WCDMA:
• EMEA: 850/900/1900/2100 MHz with HSPA+
up to 42 Mbps
• Asia: 850/900/1900/2100 MHz with HSPA+
up to 42 Mbps
• AT&T: 850/1900/2100 MHz with HSPA+
up to 21 Mbps
• Sprint: 850/1900/2100 MHz with HSPA
up to 14.4 Mbps
• Verizon: 850/900/1900/2100 MHz with HSPA
up to 14.4 Mbps
• TMUS: 850/AWS/1900/2100 MHz with HSPA+
up to 42 Mbps
• HTC One (M8) comes with MirrorLink™ * built in so you
can seamlessly connect your phone's applications to
your car's navigation screen.
• The official HTC Car Kit (CAR D910) securely holds and
charges your HTC One (M8). It automatically links to
your hands-free Bluetooth car kit, activating the HTC
Car application.
• With powerful capability, HTC Car Charger (CC C600)
lets you charge up quickly and easily on the road.
CDMA:
• Sprint: 800/1900
• Verizon: 800/1900
4G - LTE (up to 150 Mbps):
• EMEA: 800/900/1800/2600 MHz
• Asia: 700/900/1800/2100/2600 MHz
• AT&T: 700/850/AWS/1800/1900/2600 MHz
• Sprint: FDD 800/1900 MHz , TDD 2600 MHz
• Verizon: 700/AWS/1800/2600 MHz
• TMUS: 700/AWS MHz
*MirrorLink™ and the MirrorLink Logo are certification marks of the Car
Connectivity Consortium LLC. Unauthorized use is strictly prohibited.
Memory2
HTC
BATTERY
BAR
Charge your phone while
you're on the move with our
9,000mAh HTC Battery Bar
(BB G900). Connects via
micro USB and holds up to
three charges*.
Total storage: 16GB/32GB, available capacity varies
RAM:2GB
Expansion card slot supports microSD™ memory
card for up to 128GB additional storage (card not
included)
Display
5.0 inch, Full HD 1080p
Camera
Duo Camera
• Primary camera: HTC UltraPixel™ camera ,
BSI sensor, pixel size 2.0 m, sensor size 1/3",
f/2.0, 28mm lens.
HTC ImageChip 2. 1080p Full HD video recording
with HDR video
• Secondary camera: capture depth information
Front camera
5MP, BSI sensor, wide angle lens. with HDR capability,
1080p Full HD video recording
*For most phones.
Gallery with UFocus™, Dimension Plus™, Seasons,
Foregrounder, Image Match
HTC
Fetch™
Keep track of your phone with
HTC Fetch™ (BL A100). Just
press the button on the sleek,
compact keychain device
to activate your phone's
ringtone within 15 meters*.
Pair it with your phone and
you'll get awarning beep if
you leave it behind.
*Working range may vary depending
on operating environment.
Connectivity
•
•
•
•
•
3.5 mm stereo audio jack
NFC
Bluetooth® 4.0 with aptX™ enabled
Wi-Fi®: IEEE 802.11 a/b/g/n/ac (2.4 & 5 GHz)
DLNA® for wirelessly streaming media from the
phone to a compatible TV or computer,
• HTC Connect™
• micro-USB 2.0 (5-pin) port with mobile
high-definition video link (MHL) for USB or HDMI
connection (Special cable required for HDMI
connection.)
• Support consumer infrared remote control"
Battery3
Capacity: 2600 mAh
1. Network bands in regions may be different, depending on the mobile
operator and your location. Upload and download speeds also depend
on the mobile operator.
2. Available storage is less due to phone software. Phone storage of 16GB
or 32GB depends upon region. Check with your local supplier.
3. Battery times (talk time, standby time, and more) are subject to
network and phone usage.
Note: Specifications are subject to change without prior notice.
© 2014 HTC Corporation. All rights reserved.

* Your assessment is very important for improving the work of artificial intelligence, which forms the content of this project